June 11, 2023
Reading Time:
6
min
CTRL Investments Review: Analyzing FX Services and More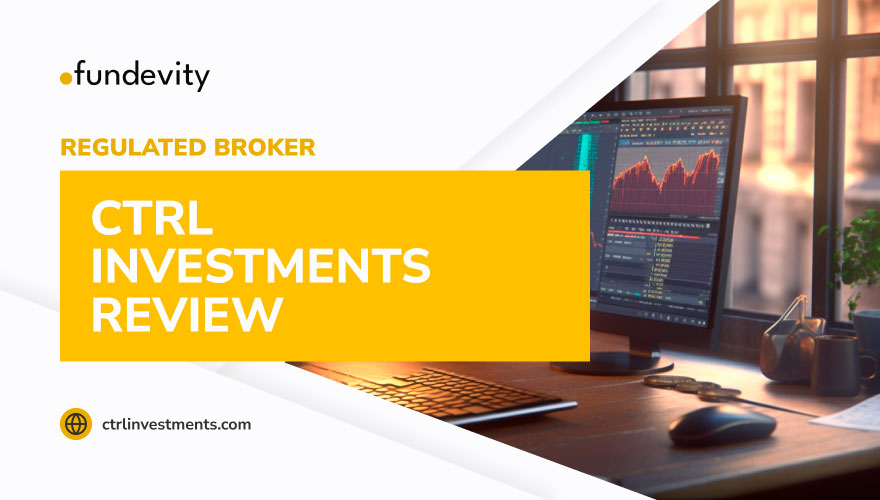 Founded in 2010, this esteemed trading company is part of CTRL Investments Limited. It draws inspiration from New Zealand and Australia's scenic landscapes. They have established a strong presence in these regions.
With two distinct entities, they offer unmatched FX and CFD services globally. Yet, it is necessary to consider their adherence to regulatory frameworks. We explore their policies and procedures. Additionally, we delve deep into their financial statements, unraveling international laws and regulations. Let's dig deeper into this CTRL Investments review!
| | |
| --- | --- |
| Headquarters | New Zealand, Australia |
| Regulated | FMA and ASIC |
| Year Established | 2010 |
| Execution Type | N/A |
| Minimum Deposit | 250$ |
| Trading Platforms(s) | Meta Trader 4 (MT4) |
| Signals | No |
| US Clients Accepted? | Yes, US clients are accepted |
| Islamic Account | Available |
| Segregated Account | Yes |
| Managed Accounts | No |
| Support Hours | N/A |
| Customer Support | Phone and email |
| Demo Account | Yes |
CTRL Investments – Security and Regulation
CTRL Investments operates in New Zealand and is regulated by the Financial Markets Authority (FMA). Our investigation has confirmed that CTRL Investments is listed as a broker in the FMA's database.
Besides, CTRL Investments falls under the regulation of the Australian Securities and Investments Commission (ASIC) as part of the Tier 1 group. ASIC is recognized as a reputable and reliable regulatory body.
However, it is important to highlight that CTRL Investments was previously censured by the FMA for breaching regulations. Although they have cooperated and resolved the issue, there is still a possibility of similar breaches occurring in the future.
On a positive note, CTRL Investments is regulated by both ASIC and FMA. However, there are concerns regarding the transparency of their withdrawal policy. The fact that they have violated regulations in the past is also a cause for concern.
Blackwell Global is another reputable and regulated broker, known for its excellent services and commitment to client satisfaction.
An Overview of Trading Platforms
CTRL Investments provides access to the highly regarded MetaTrader 4 (MT4) platform, known for its terrific interface, advanced charting capabilities, and much more. Traders can benefit from the automated trading and multi-timeframe analysis offered by MT4. Besides, MT4 equips traders with powerful risk management and analysis tools. This lets them make well-informed decisions. It is a reliable and effective platform suitable for traders of all skill levels.
Notably, the MT4 platform excels at lightning-fast trade and order execution. To cater to mobile users, CTRL Investments offers a mobile version of MT4 compatible with Android and iOS devices.
CTRL Investments also provides a web-based trading terminal. Yet, it should be noted that this terminal offers basic charts and graphs. It lacks the extensive features found on the MT4 platform.
Available Account Types
In the trading industry, brokers frequently attract traders with enticing live account offers. These offers aim to encourage higher deposits and maximize potential earnings. Yet, it is worth noting that CTRL Investments does not disclose such offers. 
This lack of transparency raises concerns and potential risks, especially considering CTRL Investments is a licensed broker. Keep that in mind. 
Access to Demo Accounts: A Silver Lining
On a positive note, traders can still access a demo account through MetaQuotes. This feature allows users to practice trading without risking real money. 
Yet, CTRL Investments' website does not provide a typical registration form for a demo account. It's crucial to remember this. 
A Personalized Approach: Contacting the Broker
To get a demo account, traders must contact the broker directly and provide personal information. Sadly, this may leave individuals vulnerable to a barrage of calls from agents seeking to engage them further.
The lack of transparency on account offers and the unconventional process of acquiring a demo account raise questions about many things. Traders should exercise caution and consider potential risks before proceeding.
Trading instruments at CTRL Investments
The availability of diverse trading instruments is crucial when evaluating a trading platform. Without a comprehensive selection, even the most advanced platform can fall short. This broker offers a variety of instruments, including:
Currency pairs: EUR/SEK, USD/JPY, AUD/CAD
Commodities: Brent oil, platinum, natural gas
Indices: DAX 30, CAC 40, S&P 500
Shares: Shopify, American Express
Crypto assets: BTC, ETH, SOL, LTC
Yet, despite this impressive offering, know that there are potential risks to consider. 
Feedback from CTRL Investments' reviews highlights that some traders have experienced issues.
Brokers must implement safety measures like negative balance protection and guaranteed stop-loss orders. CTRL Investments' website lacks information on these essential safeguards. And that leaves traders uncertain about their protection level.
Deposits and Withdrawals: A Look Into the Process
CTRL Investments has established a minimum deposit requirement of $250. What's more, they assert that there are no deposit or withdrawal fees. Yet, some traders express a different opinion on this matter.
Reports suggest that the broker may ask clients to pay excessive upfront fees for certain services, which raises concerns. It is crucial to emphasize that brokers cannot demand fees prior to withdrawals.
According to the broker's official website, the following funding methods are available:
Bank cards

Wire transfers
Yet, it is worth noting that e-wallet options such as Skrill and Neteller were not available. CTRL Investments specifies that withdrawal processing may take up to five business days.
Withdrawal Policy: Terms of Use Guidelines
According to their Terms of Use, you can withdraw your available cash balance by submitting a valid withdrawal request. However, please note that minimum withdrawal amounts apply.
When processing the withdrawal, the amount you receive will be the net amount after deducting any fees or charges incurred. In addition, you will receive any unpaid fees. It's critical to be aware that withdrawals may be restricted if there are suspicions of illegal activity.
Furthermore, certain banks may impose intermediary fees, which you will be responsible for covering. Typically, the withdrawal proceeds will be refunded using the original payment method. This is unless you have provided updated payment details that have been verified. Please be advised that withdrawal payments are exclusively for you and not for any third parties.
Lastly, it's worth mentioning that additional documentation may be required for identity verification purposes. This is to ensure compliance with Anti-Money Laundering (AML) Laws and other applicable regulations.
Education and Resources
CTRL Investments prides itself on providing a diverse array of educational resources. Their expansive Video-On-Demand (V.O.D) section seamlessly integrates instructional videos that cover a wide range of trading topics. In addition, the platform offers a rich selection of eBooks and courses, providing traders with in-depth materials for continuous learning.
By availing themselves of these resources, traders gain access to invaluable insights and guidance. Free video tutorials further enhance their ability to acquire and hone essential knowledge.
Customer Support
CTRL Investments' dedicated customer support team is available for assistance or inquiries. There are several contact options available to cater to your preferences.
For immediate assistance, contact their team via telephone at +64 9 302 0798. Alternatively, you may communicate with them through email by sending your queries to [email protected]. If you prefer the traditional approach, you can reach them via postal mail.
Rest assured that CTRL Investments' customer support team is committed to timely and reliable assistance. They are readily available to address any inquiries or concerns you may have. Your satisfaction is their priority, and they are dedicated to a positive customer experience.
See What Others Are Saying and Find the Best Broker
When considering CTRL Investments as your potential broker, it's crucial to gather insights from experienced individuals. Reviewing feedback and opinions allows you to make an informed decision. It's recommended to consult various sources, including online forums, industry websites, and independent review platforms, for a comprehensive understanding.
During your research, focus on factors like customer satisfaction, reliability, security, and the overall trading experience. Look for testimonials that highlight CTRL Investments' strengths and weaknesses, and take note of any recurring patterns or concerns raised by multiple users.
Keep in mind that finding the best broker depends on your unique needs and preferences. Prioritize aspects such as regulatory compliance, trading platforms, available instruments, fees, and charges, customer support, educational resources, and more.
To find the ideal broker for your needs, feel free to contact us for a free consultation. 
CTRL Investments Summary
CTRL Investments is a licensed CFD & FX broker with a strong presence in New Zealand and Australia. They adhere to regulatory frameworks such as the FMA and ASIC. Transparency and clarity in withdrawal policies are, however, concerns. They also had regulatory breaches in the past.
The broker provides access to the popular MetaTrader 4 (MT4) trading platform. They offer a range of trading instruments, like currency pairs, commodities, indices, and others. There is a minimum deposit of $250 at CTRL Investments, and the funding options are trustworthy.
The broker also provides integrated video tutorials and comprehensive ebooks and courses. To find the most reliable broker such as InstaForex, make sure to contact us.
FAQs
Are my deposited funds protected at CTRL Investments?
CTRL Investments is regulated by the FMA and ASIC. And that means your funds are safe.
Where can I view CTRL Investments' legal documentation?
You can find legal documentation on their website.
What bodies are CTRL Investments regulated by?
They are regulated by the FMA and ASIC.