April 04, 2023
Reading Time:
3
min
Dav Invest Review – All you Need to Know About This Broker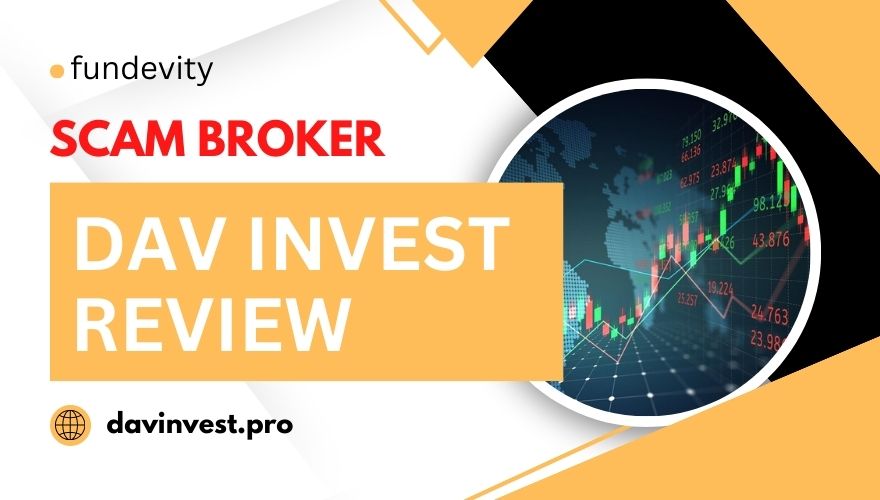 Where do we even start with this one? How about the shady background, the fake address, or the deceitful promises of the moon? Dav Invest broker is not much different from the rest of them in the tactics it uses and the lies it tells.
From the fake address to false claims of being a regulated and licensed broker, there is a lot this investment scam promises.
So without further ado, the Dav Invest broker review will drive a stake right through the fraudster's heart and first debunk the alleged licenses.
| | |
| --- | --- |
| Company | DAV Invest |
| Website | https://davinvest.pro/ |
| Address | 433 Roberts Rd, Subiaco, WA 6008 |
| Email | [email protected] |
| Phone | +61894423701 |
| Minimum Deposit | $500 |
| Leverage | 1:500 |
| Bonuses | Yes |
| Regulation | Unregulated |
| Warning | FCA, CONSOB, FSMA |
Regulation and Security of Dav Invest
Something's really fishy about all the information that Dav Invest provided. The fraudulent broker claims to be stationed at an Australian address while under the regulation of the FCA and the Financial Services Commission of the Republic of Mauritius.
We honestly have no idea how these scammers pick who regulates them. They probably just spin the globe and point the finger. The unauthorized provider managed to get blacklisted by the FCA and that's one financial market big dog you don't want to piss off.
Furthermore, there's no mention of Dav Invest on the website of Australia's financial market regulator,  ASIC. Therefore, we solemnly announce that the broker is unregulated and dangerous.
Trading Platform Overview
Nevertheless, let's see the trading platform that Dav Invest offers. Imagine our surprise, it's a simple web-based trader. Is it great? Nah. Does it provide advanced tools and will it facilitate your trading endeavor? We highly doubt it.
In reality, it's pretty lackluster and a far cry from the "best trading platform," as Dav Invest puts it. We advise you to find a good and reliable broker that is regulated and offers industry standard software MT4 and MT5.
Funding Methods at Dav Invest
In regards to the deposit methods, it's not a surprise at all that Dav Invest only offers crypto. And to be precise only Bitcoin and Tether. Many scam brokers alike use crypto simply because once you invest you will not be able to ask for a refund.
On top of that, there's no info on withdrawals since the scam broker never intended to perform them anyway. No real provider would limit its payment methods to just one. Especially not the least transparent method. 
Dav Invest Account Types Available
We know that Dav Invest offers three account types, which are the following:
Beginner $500
Amateur
Professional $10,000
Now, $500 is not a lot of money in the investment world, but it is a lot of money when you are working with a scam broker like Dav Invest. This is because they don't have any regulation and don't actually offer any security for your money whatsoever.
On top of that, many regulated brokers will let you start as little as $5 and some even with nothing.
Implementation of the Scam
Trading scams basically have the same principle that is being performed through different sites and by different agents.
Nonetheless, the core remains the same. The broker first gets your personal information if you have left it on some sketchy sites and then the constant harassment starts.
It is important to note that scams like this one can happen to anyone. The agents calling you are persuasive professionals who scam people for a living. Even if you say no, they will continue to call you until you agree to make an initial deposit.
The ultimate goal is to compel you to invest at least once, and after you may suspect they are no more than a scam the trap is fully shut and they will do anything to keep your money.  
Dav Invest Summary
Dav Invest is an Australia-based broker targeting people from all over the world. In terms of regulations, it is safe to say they do not follow any, so your funds will not be safe while working with them.
Additionally, they have 3 different warnings issued by regulatory bodies. Another thing we must highlight is the fact that the broker claims to be based in Australia but provides an American address.
Think twice before taking any risks while investing money and keep in mind that legit brokers will ask for as little as $10 in order for you to start trading.
Doing proper research is a must if you are new to the world of trading as many phony brokers pop up overnight. Don't get played by the fairytales they are going to tell you and be careful with your investments.
FAQs About Dav Invest Broker
Is Dav Invest Regulated?
No, Dav Invest is not a regulated broker you can trust so we advise you to stay away from them.
Is Dav Invest a Trustworthy Broker?
Not only are they not trustworthy, but they have been issued several warnings by different regulatory bodies.
What Funding Methods Does Dav Invest Accept?
Like any other fraudulent broker, Dav Invest only offers deposit methods via crypto, such as Bitcoin and Tether.