August 12, 2023
Reading Time:
5
min
DBG Markets Review Gives You a Closer Look at This Broker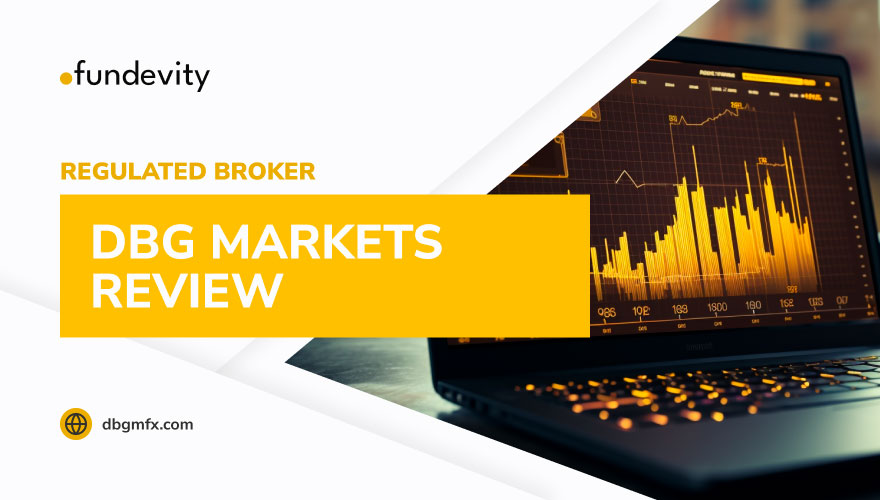 You typically find brokers that are regulated by one financial regulator, but some are part of a larger group regulated by many authorities. This is precisely the case with DBG Markets. So what do you do?
Worry not! We created our DBG Markets Review to tell you all about this broker, its pros and cons, and it will hopefully answer the questions you have. Let's start!
Broker name
Reliable Broker Must Have
Legal name:

DBG Group

Transparently displayed in the disclaimer or legal documents

Regulation:

Regulated

Within your legal jurisdiction – local regulator

Registered in:

UK, Australia, South Africa, Hong Kong, Vanuatu, SVG

Your country or the country whose license applies in your legal jurisdiction 

Established:

2007

The older the domain – the higher the possibility the company is trustworthy

Website:

www.dbgmfx.com

Domain should be from local or international zones, no .xyz, etc.

Financial Authorities Warnings:

No

None

Contacts:

Email:

[email protected]

Phone: +27 0861888221

Phone, email, social media, web form

Is withdrawal possible:

Yes

Yes

Fees:

No fees if you withdraw more than $200 or a fiat currency equivalent

Transparent fees – list of spread and commissions

If Active on Social Media:

No

Often present on social media

Investor Protection:

N/A

Compensation fund
Regulation Info
Let's discuss the dbg markets license first. At the bottom of their page, you can see they are part of the DBG Group, which has many subentities. It says they are registered in the UK, Australia, Hong Kong, South Africa, Vanuatu, and SVG. So what does that mean for you as a trader?
Well, their licenses check out, meaning they are authorized to provide Forex services in those regions, which is a good sign. However, the final two licenses are a bit troubling to us. You will be safe to trade with this broker, just make sure they don't transfer you to the Vanuatu or SVG domains.
Generally speaking, you want your broker to have a legitimate license from a reliable authority, not one like PrevailFX. Some of the best regulators in the world include the UK FCA, US CFTC, South African FSCA, Canadian IIROC, etc. As two of the above regulate DBG Markets, they are safe to trade with.
DBG Markets Profile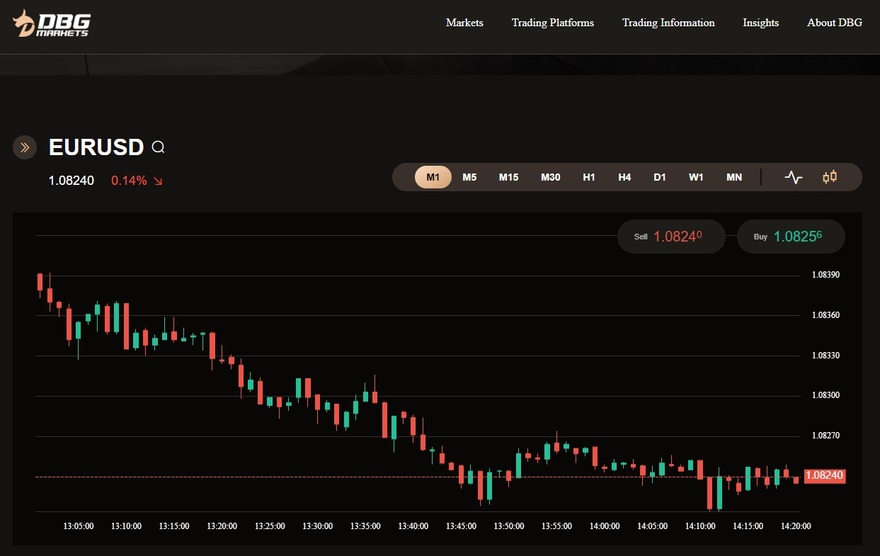 Now let's see if this broker is worth your money. DBG Markets has a compelling offer, but we would argue you could do better. First up, we have the trading platforms – dbg markets meta trader 4, mt5, and the dbg markets web trader.
Traders new or old, know about the first two, as they have been the industry standard ever since they first came to the scene. The third platform is proprietary and subpar in contrast with the previous two. If we had to rank them, we would go with dbg markets mt5, mt4, and the WebTrader at the end.
Moving on to accounts, you have three available options:
The minimum deposit is $100, which is not that high, but you can still open an account for as little as $10 with some other brokers. If you are new to Forex, then the dbg markets demo account is a welcome sight, as you can trade without risking your money.
As far as the instruments are concerned, dbg markets commodities and dbg markets forex trading is available, alongside shares, indices, and precious metals. The leverage is 1:500, which is very high! This can be a double-edged sword, as the high reward opportunity brings high risk as well, so be mindful of your risk tolerance before trading with this broker.
Trading platforms:

MetaTrader 4, MetaTrader 5, WebTrader

Account types:

STD

ECN

VIP

Financial Instruments On Offer:

Forex

Precious metals

Shares

Indices

Commodities

Maximum leverage:

1:500

Minimum Deposit:

$100

Commissions/bonuses:

No

Mobile app:

Yes

Desktop app:

Yes

Autotrading:

Yes

Demo account:

No

Education or Extra tools:

Yes
Is This Broker Safe?
Yes, at least some of their entities. The DBG Group has multiple legitimate licenses, some of which are issued by top-tier regulators. However, they also operate from Vanuatu and SVG, which is not ideal, so if you choose to invest with them, make sure you do not trade on these domains.
We also found an alarming thing in their registration process. For some reason, they ask for certain sensitive details, like identification documents and bank details. You might be okay with this, but it was too much for us, so we did not finish the account creation process.
Trader Reviews – Sharing Experiences
There are not many trader reviews online, which can be a deal-breaker for some, as this carries certain implications. One Reddit reviewer gave dbg markets a closer look, so we got a lengthy review from him or her. As it is quite long for this article, we will link it here so you can read it in its entirety.
While there might be some merit in what the Redditor said, take it with a grain of salt. The reviewer did not have personal experience with the broker but tried to emulate what we are doing in our articles. Since they are not professional reviewers, some things might have slipped their net or they might have been paid to write a negative review on the broker.
How Does the DBG Markets Platform Reach Clients and Who Are They?
DBG Markets is not that active on social media, at least not to our knowledge. However, we make an educated guess and say that they mostly target people in the Asian region. We say this because you have the option to view their website in many Asian languages, like Chinese, Indonesian, and Vietnamese.
Deposits and Withdrawal Methods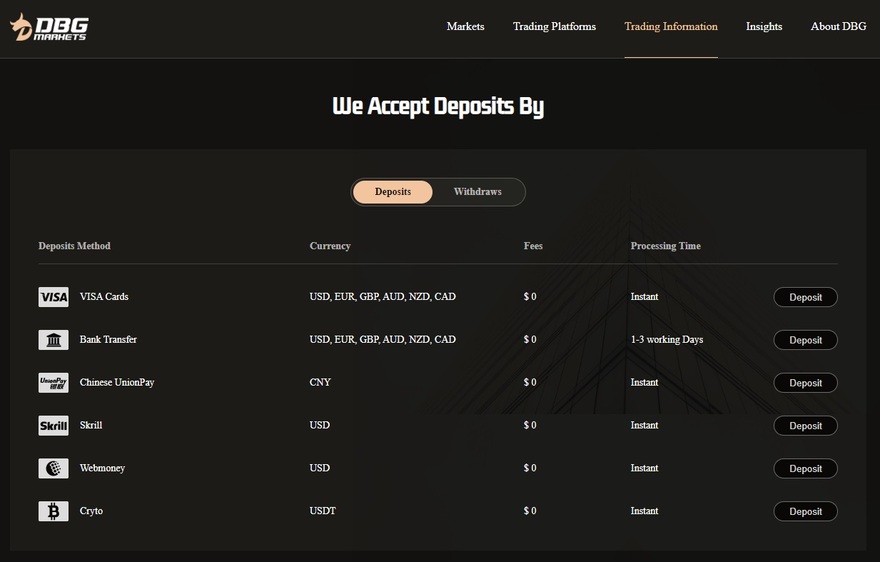 Talking about deposits, this broker accepts several payment methods, including:
Visa

Bank transfers

Chinese UnionPay

Skrill

WebMoney

Crypto
This is an okay offer, which covers many currencies. Visa and bank transfers support multiple currencies, while other methods support only CHY (UnionPay), USD (Skrill, WebMoney), and USDT (Crypto). 
When it comes to dbg markets withdrawals, they are processed immediately, except for bank transfers which take up to a day.
Additionally, there are no dbg markets fees for deposits. The broker also does not charge you for withdrawals on the condition you withdraw more than $200 or a fiat currency equivalent.
Reasons To Avoid This Company
There are some notable pros and cons about this company that may make you conflicted. On the one hand, they have reliable regulations, which ensure your money will be safe! They offer all popular trading instruments, and their trading platforms are excellent as well.
On the other hand, their account situation is not the best, as you have only three available types, which might not be versatile enough for you. Furthermore, the dbg markets leverage is high enough to attract willing risk-takers but deter those more timid.
At the end of the day, it is all a thing of preference. There are no major reasons to avoid them, like with PrimeMarkets, or Pmcrypto, so it is up to you to decide if you should invest with dbg markets.
Long Story Short – DBG Markets
We detailed a broker with an interesting background in our DBG Markets Review. It might be confusing at the beginning, but this broker is safe for business. However, this does not mean they are the best on the market, and if you think so as well, rest assured there are plenty of other options.
If you need help finding your ideal broker or general advice on trading, you can contact us today! We offer free consultations where we can answer all your dilemmas.
FAQ Section
Is DBG Markets Legit?
Yes, DBG Markets is legit. They have a license from the UK FCA and Australian ASIC, among others, making them a reliable broker option.
What is the minimum deposit for DBG Markets?
The minimum deposit at DBG Markets is $100. This is not too high a price, but you can do better with other brokers.
Does DBG Markets Offer a Demo Account?
Yes, DBG Markets offers a demo account. Apart from that, you can open three types of live trading accounts.