May 13, 2023
Reading Time:
4
min
Deluxe Royals Review Exposes Fake Broker Rip-Off Scheme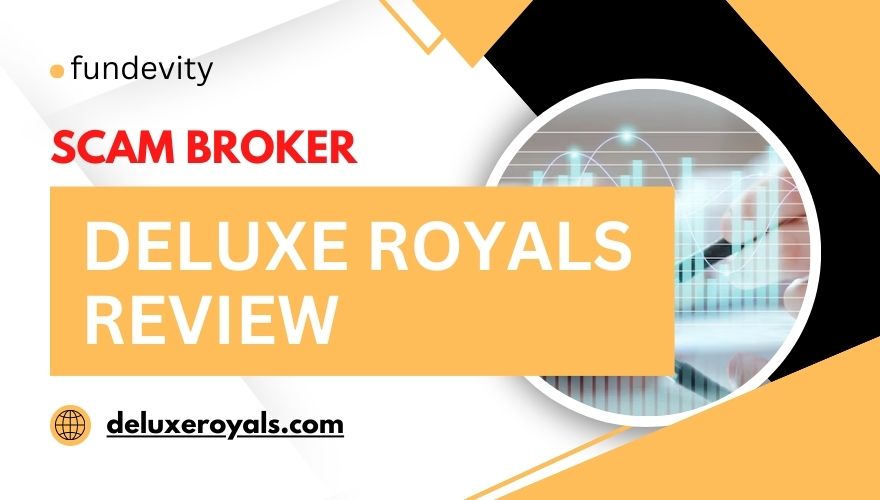 Deluxe Royals review, where we expose the murky dealings of this Bulgarian broker. We've taken a closer look at their licenses, platforms, payment procedures, and more, and the results are alarming.
Let's cut to the chase – Deluxe Royals is far from reliable or trustworthy. In fact, the evidence we've discovered points to something far more sinister – a scam. It's a hard pill to swallow, but it's the truth. Stay tuned!
| | |
| --- | --- |
| Company | Shadlake LTD |
| Headquarters | Bulgaria |
| Website | deluxeroyals.com |
| Warning | CNMV, FSC |
| Platforms | WebTrader |
| Minimum Deposit | $250 |
| Leverage | n/a |
| Spread | 1 pips – 3 pips |
| Review Rating | 1/5 |
Exposing the Grift: The Shocking Truth Behind Deluxe Royals' Regulation
Behind the veil of promises and fancy graphics lies a sinister truth – Deluxe Royals is a scam, plain and simple. 
The nerve of this fake broker knows no bounds as they have not only stolen the entire website but have also blatantly lied about their registration with US financial authorities. It's no surprise that this sham operation has no regulation or trading license, a mirror image of the infamous MBChains.
But don't take our word for it. We delved deeper into the matter and found that the supposed Bulgarian address is the only breadcrumb this company left. Upon further review, we discovered that the Bulgarian Financial Supervision Commission (FSC) has already issued a warning against Deluxe Royals, leaving no doubt about their dubious dealings.
Their lack of compliance with the European Securities and Markets Authorities (ESMA), a regulatory body overseen by Bulgaria's FSC, further highlights the fraudulence of Deluxe Royals. The trail of evidence is clear, and it leads to only one conclusion – this is a broker you should avoid at all costs.
We urge traders to steer clear of Deluxe Royals, BN93, and others and seek out licensed providers regulated by Tier 1 authorities such as the FCA, ASIC, FINMA, CFTC, CNMV, and others. 
Trustworthy brokers prioritize your interests and uphold industry standards, unlike Deluxe Royals, who have been preying on unsuspecting traders since December 2022. Don't fall victim to their deception. Stay informed, and stay safe.
Trading Software Overview
We were allowed to test Deluxe Royals' trading platform, and unfortunately, it left much to be desired. The venue, a simple WebTrader, is not particularly impressive and has limited options and features. It's a far cry from the robust and suave platforms offered by other brokers.
One of the few upsides of the platform is that it's browser-based, which tells that it can be accessed via phone as well. Regardless, this is a small consolation when you consider the platform's overall lack of quality.
The charts, indicators, and graphs on there are elementary at best, providing little to no value for traders who rely on in-depth analysis and technical tools. And if that's not disappointing enough, Deluxe Royals doesn't support valid third-party platforms such as MT4, MT5, or cTrader. This is a significant disadvantage for traders who prefer using these widely-recognized platforms.
All in all, Deluxe Royals' trading platform falls short of expectations, and we cannot recommend it to people looking for a top-quality trading experience. We encourage everyone to seek out brokers who offer reliable and feature-rich platforms that cater to their needs. Choose only the best in the industry.
Available Account Types
As we perused Deluxe Royals' website, we came across their account types. We found it rather disconcerting that the broker has questionable practices when it comes to their offerings. 
The Student account type, requiring a minimum deposit of 250 EUR and a spread of 3 pips, seems innocent enough. 
However, the subsequent accounts – Standard, Islamic, Investor, Deluxe Royal VIP, and Deluxe Royals VIP Platinum – have higher deposit requirements, ranging from 5,000 EUR to 1,000,000 EUR. 
Moreover, the spreads vary from 3 pips to 1 pip. Also, to receive a favorable spread, you would need to invest a whopping one million euros, which is an exorbitant amount for most traders.
Furthermore, we found that Deluxe Royals did not disclose its leverage cap, indicating a lack of transparency on its part. 
This lack of information can be problematic for everyone, as people need to know their leverage limits to manage their risks effectively. Don't settle for anything less than what you deserve in the trading industry.
Deposit and Withdrawal Methods
We discovered that the broker only accepts payments via credit and debit cards. While this may be fortunate for some traders, it limits the options for those who prefer other payment methods. Moreover, the minimum deposit of 250 EUR is too much compared to other legitimate brokers that offer far lower deposit requirements.
However, what's most concerning is Deluxe Royals' withdrawal policy, which imposes outrageous fees on their clients.
The withdrawal fee is steep, especially for those who have just started trading or prefer to withdraw their funds frequently. What's more, the minimum amount of 80 US dollars or 80 Euros is quite high compared to other fair brokers that charge significantly less for withdrawals.
As a result, we advise traders to be wary of Deluxe Royals' payment policy and consider other brokers with more flexible and affordable payment options. Don't let excessive fees and limited payment options hinder your trading journey.
Offshore Broker Scams: How Do They Operate?
Fraudsters are masters of deception, luring victims with the promise of sky-high returns. They'll create a false sense of security by invoking affiliation with legitimate companies, banks, and regulatory bodies. The bait is set, and once the victim takes it, the trap is sprung.
With the victim's money in hand, scammers will manipulate prices and issue fraudulent reports to convince them to invest even more. And when it's time to cash out, the trap tightens further. The scammer demands extra payments disguised as taxes and fees, squeezing every last penny from the victim.
But when the house of cards crashes down, the fraudsters vanish without a trace, leaving behind shattered lives and empty bank accounts. Don't let yourself fall prey to their insidious schemes. Stay vigilant, do your research, and never let greed cloud your judgment.
Remember, your safety should always come first when dealing with companies like Deluxe Royals, Uptos, and other questionable entities.
Deluxe Royals Summary
Deluxe Royals is a Bulgarian broker that has been accused of being a scam. The broker has no regulation or trading license, has a poor quality trading platform, and unclear account types. 
They have limited payment options and impose high withdrawal fees. Notably, traders should avoid Deluxe Royals and opt for brokers licensed and regulated by Tier 1 authorities.
FAQs
Is My Money Safe with Deluxe Royals?
This is an unregulated broker. Therefore, we cannot guarantee the safety of your funds with this broker.
How Long Do Deluxe Royals Withdrawals Take?
Deluxe Royals does not provide information on its website regarding withdrawal processing times.
Does Deluxe Royals offer Demo Account?
No, Deluxe Royals does not offer a demo account for you to test their trading platform.