March 03, 2023
Reading Time:
4
min
DeutscheBit Review: Find Out Why You Should Never Work With Them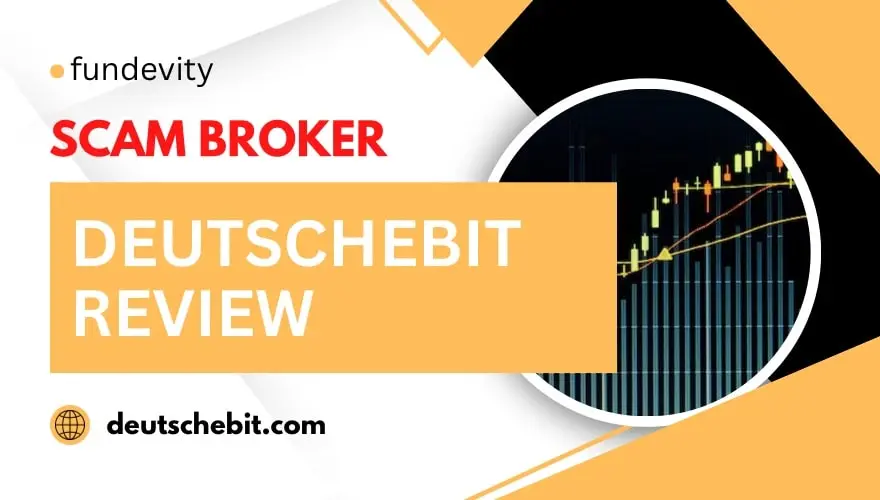 While we lost count of scammers with the same Griffith Corporate Center, Kingstown, Saint Vincent and the Grenadines address, DeutscheBit shows generic characteristics of yet another fraud.
Whatever impression they thought the name DeutscheBit will inspire, the site itself has nothing to do with the implied location. The real residence of DeutscheBit is the notorious SVG, a country without a financial regulator for brokerage services.
As it always is with scamming websites, they pack a load of promises about safe trading, depositing in segregated bank accounts, SSL security, free education and guides. However, we all know how much of that could be true when it comes from a fraudulent Forex firm.
It appears that the German tier one regulator, BaFin, recognizes several similar domains as brokers with scamming tendencies: https://www.bafin.de/SharedDocs/Veroeffentlichungen/DE/Verbrauchermitteilung/unerlaubte/2022/meldung_220725_Deutsche-Bit.html
Let's investigate this further and find out what's the original idea behind this traders name. Read this DeutscheBit review entirely for a detailed report.
Company
N/A
Email
N/A
Domains
https://www.deutschebit.com/ -active
http://deutsche-bit.de/ – inactive
Leverage
1:200
Regulation
Unregulated scam
Headquarters
SVG
Minimum Deposit
$250
Review Rating
1/5
Broker Type
Forex
Platforms
Web trader
Spread
N/A
Blacklisted by
BaFin
DeutscheBit Fund Licensing and Security
Our introduction already mentions the absence of a proprietary financial law to regulate the brokerage activity in SVG. It's the reason why this small but beautiful country is a perfect ground for the scamming activity to bloom.
And while the financial swindlers pop up literally overnight and disappear when they wish, it's our duty to warn you about the risk and consequences. Keep reading our DeutscheBit review and you'll uncover truths you weren't familiar with concerning this con artist.
We've already come to a conclusion that DeutscheBit couldn't have acquired a license from the SVG financial authority. So, to get to the bottom of this, we went on checking other catalogs of brokers with licenses. Every regulatory body has their own respective database. Our scan of FCA, BaFin, AMF, NFA, CySEC, ASIC and IIROC registers for the DeutscheBit name showed no good results whatsoever.
Please use the link we provided to access the warning issued by BaFin against one of the company's domains. Being blacklisted by a leading EU regulator doesn't affect the image of DeutscheBit in a positive way. It is a confirmation of this broker not providing a safe and genuine service.
There's no segregated bank accounts for safekeeping of clients' capital. Leverage limitations and negative balance protection are not mandatory and traders do not have access to compensational funds. Consequently the broker doesn't report all transactions to the respective authorities, either. DeutscheBit conducts banking business and provides financial services they do not have a permission for!
Trader Platform at DeutscheBit
DeutscheBit primarily focuses on trading digital currencies. However, the basic, poorly designed web trader they offer for that purpose is nothing but useless, bogus software. The messy interface doesn't have a single tool with a concrete purpose except decorational one. Even the data you preview originates from the TradingView website that offers this info for free.
With so much better, advanced and incomparably more rich in features software present on the market, there's no need to invest with buggy platforms like this one. Of course, we're talking about MetaTrader 4 and MetaTrader 5. A bunch of popular brokers all prefer these platforms, which is another evidence of their excellency.
What Trading Instruments Are Offered at DeutscheBit?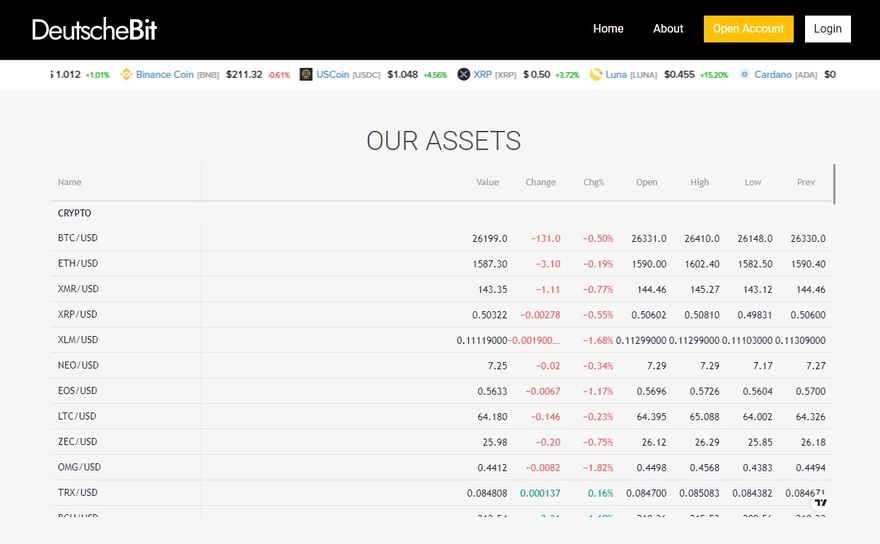 Trading instruments belong to the following asset groups:
Currency pairs (EUR/USD, USD/JPY, GBP/USD, USD/CAD, USD/CHF, NZD/USD)
Stocks (Netflix, Facebook, Alibaba Group, Amazon, Boeing, Toyota, IBM, Tesla)
Crypto (BCT/USD, ETH/USD, XMR/USD, XLM/USD, NEO/USD, DOT/USD)
Commodities (Gold, Palladium, Platinum, Silver, Natural Gas, Sugar, Corn, Wheat)
Deposit and Withdrawal Process

Two payment methods are visible from the client area:
Credit/Debit card (Visa, MasterCard)
Bank wire transfer
Opening a live trading account costs $250, plus the depositing fees. DeutscheBit is not clear how much the fees could be but they do state the funding fee to be at least $3 per transaction.
If you want to close a trading account before the first 30 days pass and before you complete at least 25 trades you have to pay a $150 fee. Another fee is charged for dormant accounts and it's $30.
Withdrawing money from DeutscheBit requires you to apply first and pay the undefined fees. Then you have to wait for the processing to complete within 3 to 10 business days and then another 3 days for the funds to appear in your bank account.
This Is How The Scam Operates
DeutscheBit primarily targets the German traders. Please note that the scam doesn't look like one when you first encounter it. The thieving predators lurk social networks for their victims and shamelessly pester you until you agree to invest. Everything after that is one lie after another, including the profit and piles of money the trading software might show.
It may look like getting rich is a walk in the park, but the reality is grim and painful. Your funds were already transferred to the scammer's wallet. They remain anonymous while they count the money they stole, safe from any legal action or consequences. You will be left defeated and with not many options but to turn to authorities for help.
DeutscheBit Summary
The text above is a compilation of reasons and evidence about DeutscheBit being a scam broker. Hopefully, our readers will find something useful and remember at least some details from this DeutscheBit review that might help later.
Before anything, we've spoken about the importance of a regulation. DeutscheBit is not a regulated Forex brokerage agency, which BaFin confirms in their warning. Although their other domain did shut down, this one remains active and engaged in unscrupulous actions.
Avoid becoming a victim by investing with some of the popular and much preferred brokers we have suggested!
FAQs About DeutscheBit Broker
Is DeutscheBit a Secure Place for My Money?
DeutscheBit doesn't provide security of funds. Their mission is to steal your money, not help you earn.
Is A Demo Account Available from DeutscheBit?
While you can preview the trading platform without making a deposit, you can only place trades after transferring at least $250 to your live account. Demo account doesn't exist.
How Secure Is DeutscheBit?
Safety procedures, MiFID rules and controlled transactions do not apply to DeutscheBit so it's definite that this broker is not safe for trading.