July 15, 2023
Reading Time:
6
min
DIFX Review: A Comprehensive Look at the Next-Generation Trading Platform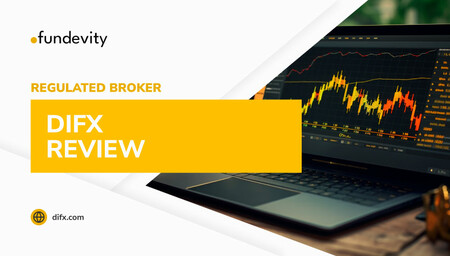 Welcome to our DIFX review, where we delve into the exciting world of crypto trading. We are about to explore the innovative features of the revolutionary trading platform DIFX. In this article, we will take a closer look at how DIFX is transforming the way traders engage in financial markets.  
Whether you're new to trading or a seasoned investor, join us as we uncover the remarkable capabilities and unique benefits that DIFX brings to the table. Let's dive into this review and discover what makes DIFX a game-changer in the world of online trading.
| | |
| --- | --- |
| | General information |
| Name: | DIFX Limited |
| Regulation status: | Regulated by DFSA |
| Warnings from Financial Regulators: | No official warnings  |
| Website link: | https://difx.com/ |
| Active since: | 2021 |
| Registered in: | Grand Cayman |
| Contact info: | [email protected] |
| Trading platforms: | MT5 |
| Majority of clients are from: | United Arab Emirates, India, and Indonesia |
| Customer support: | 24/7, email and live chat  |
| Compensation fund: | Yes |
DIFX Legitimacy: Regulated and Secure Trading
Blockchain and crypto startups have gained renewed attention, especially with the surge of Bitcoin. DIFX allows users to trade various assets, including digital currencies and traditional commodities, all on a secure blockchain-powered ecosystem. With a focus on efficiency and regulation, DIFX aims to bridge the gap between digital and traditional assets, revolutionizing the financial landscape.
DIFX operates under the Dubai Financial Services Authority (DFSA) oversight. That is the regulatory authority responsible for overseeing financial services conducted in or from the Dubai International Financial Centre (DIFC). As a regulated broker, DIFX adheres to the strict standards set by the DFSA, ensuring compliance with regulations and providing investors with assurance and peace of mind. 
The DFSA's oversight ensures that DIFX maintains a secure and transparent trading environment, protecting investors' assets and personal information. This is quite significant. By choosing a regulated platform like DIFX, clients can trade with the assurance that their investments are protected. They can rest assured that the broker operates within a regulated framework.
DIFX Market: A Wide Range of Options
On the DIFX platform, users have access to a diverse selection of trading assets. From major crypto coins like Bitcoin, Solana, Ethereum, and Litecoin to stablecoins such as USD Dollars, USDC, and DAI, DIFX caters to a wide range of traders' preferences. This extensive asset offering enables users to diversify their portfolios and explore other opportunities. 
Besides, DIFX provides cost-effective transaction options. It also ensures transparency by eliminating hidden fees, enhancing the overall trading experience for investors.
Trading Platforms Available: User-Friendly Interfaces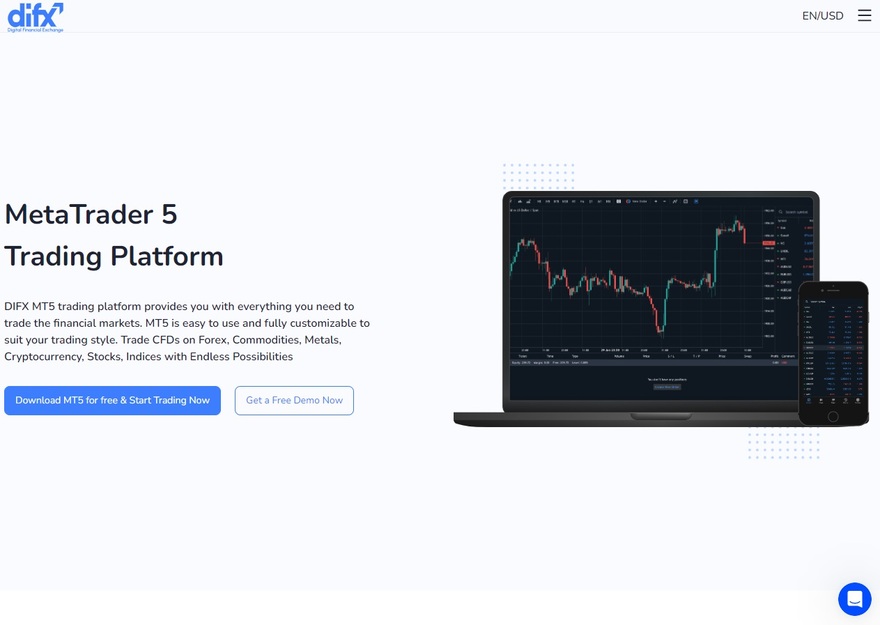 DIFX exchange supports the popular MetaTrader 5 (MT5) platform. DIFX's MT5 platform combines a powerful trading UI with advanced features. It empowers traders to navigate the platform with ease. The intuitive interface caters to all traders, ensuring accessibility and confidence in market engagement.
With the integration of the MT5 platform, DIFX expands its trading capabilities and provides traders access to a sweeping suite of tools and features. With MT5, traders can analyze markets, execute trades, and manage their portfolios efficiently. The platform offers advanced charting capabilities, an expansive range of technical indicators, and automated trading strategies. Clients can customize their trading environment to suit their preferences, enhancing their decision-making process.
DIFX's commitment to user-centric design is evident in its intuitive trading platforms. By prioritizing simplicity and ease of use, difx.com ensures that traders can focus on their strategies and make informed trading decisions without issues. Whether traders are new to the market or experienced professionals, DIFX's platforms provide a conducive trading environment.
The combination of powerful features and modern interfaces empowers traders to pursue investment goals effectively.
Trading Environment at DIFX: Efficiency and Security
DIFX prioritizes efficiency and security in its trading environment. Leveraging blockchain tech, the platform enables high-security networks that reduce settlement time and enhance operational efficiency. 
This innovation improves the exchange of commodities. By using advanced technologies, DIFX creates a safe marketplace for traders to engage in cross-asset trading. The platform's dedication to security and efficiency sets it apart in the market.
With DIFX, you have the opportunity to borrow a crypto asset using another as collateral, expanding your trading possibilities. This unique feature allows you to trade borrowed assets on DIFX's Spot and Derivatives markets. You can also utilize them in the Earn feature, and withdraw funds as needed.
If you're looking to deposit funds into a DIFX account, you'll be happy to know that there are no fees for the process. This means that you can transfer your funds without worrying about any additional charges. Yet, it's critical to note that there may be other DIFX fees associated with trading or withdrawing funds from your account. Be sure to read the fine print before making any transactions.
DIFX Coin
The DIFX token price has been a topic of interest for many investors lately. The price of the DIFX coin at the time of writing this review stands at $0.25. With the increasing popularity of blockchain tech, many are looking to invest in crypto like DIFX. 
Yet, market volatility can make it difficult to predict the future price of the DIFX token. Some experts predict that the price will continue to rise as more people become interested in crypto. Yet, others warn that the market is highly speculative and could crash at any moment. Regardless of the risks, many investors are still eager to see what the future holds for DIFX and other crypto.
Tip: You should check out CloseOption, another regulated broker that offers reliable trading services. Consider exploring their services for a secure and regulated trading environment.
DIFX Academy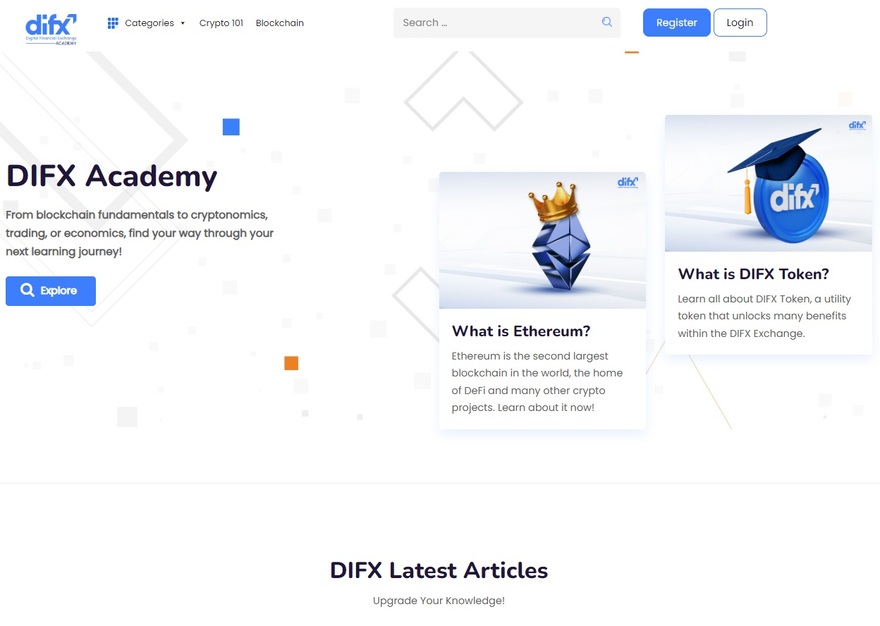 DIFX goes the extra mile in educating its users. It does that through its incredible Academy section on its site. The DIFX Academy offers a wide array of resources and guides covering various crypto and blockchain topics. Whether you're interested in understanding blockchain technology fundamentals or diving into cryptonomics or economics, the Academy has you covered. 
Their dedicated learning platform empowers users on their learning journey. It provides valuable insights and knowledge. DIFX company ensures that users can access the necessary educational resources to enhance their understanding of the crypto space. You can explore the DIFX Academy and embark on an enriching learning experience today!
Payout at DIFX: Seamless Transactions
DIFX crypto exchange facilitates seamless buying and selling processes for its users. You can buy crypto assets using your debit/credit card. With its secure payment system and remittance services, DIFX addresses real-world payment challenges. Traders can confidently transact and manage their assets on the platform. 
Besides, DIFX provides a multi-currency crypto wallet, offering flexibility in managing digital assets. Withdrawing any crypto asset is easy, as you only need a safe crypto wallet. These features ensure traders can easily access funds.
Note: It is strongly advised to avoid suspicious brokers like CIBFX. If you come across any warnings issued by regulators, avoid dealing with that particular company.
Trader Reviews: Positive Feedback
DIFX stock exchange has received positive feedback from traders, with 35 reviews on Trustpilot. The platform has achieved an average rating of 3.7 stars based on these reviews. Traders appreciate DIFX for its high-security transaction network, which ensures safe trading conditions. The platform offers a diverse range of asset classes, providing traders with ample investment options. 
Also, DIFX's fund management services have gained the trust and recognition of investors. The platform's commitment to delivering excellent financial products has contributed to its positive reputation. Traders value DIFX's transparency and reliability, by all means. With 35 reviews on Trustpilot and an average rating of 3.7 stars, DIFX continues to earn traders' trust.
Long Story Short – DIFX
DIFX is a revolutionary cross-asset trading platform. It utilizes blockchain technology to bring together digital and conventional assets. With its secure ecosystem, diverse asset offerings, and UI-friendly interfaces, DIFX is reshaping the financial landscape. 
The platform's dedication to efficiency and transparency sets it apart from traditional trading platforms. Whether you're a seasoned trader or new to the world of investing, DIFX has an innovative solution to meet your needs.
All in all, DIFX presents a unique opportunity for investors to explore cross-asset trading. With its extensive asset selection, superb interfaces, and commitment to customer satisfaction, DIFX is poised to transform how we engage with digital assets. Experience the future of trading with DIFX and unlock a world of investment possibilities.
Feel free to contact us if you would like to explore more trustworthy firms, such as DIFX, Circle Markets, and others. We will ensure that all your questions are answered promptly and comprehensively.
FAQs
Is DIFX Regulated?
Yes, DIFX is regulated by the Dubai Financial Services Authority.
What does DIFX offer?
DIFX offers a comprehensive spectrum of trading services and features.