April 05, 2023
Reading Time:
4
min
DWS Invest Review: All the Lies Behind This Scam Broker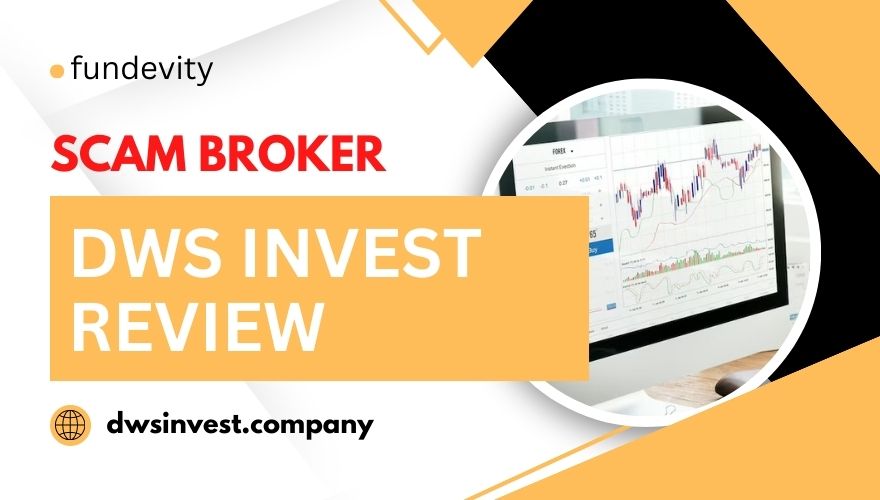 We have no sympathy for financial swindlers that end up on the blacklist such as DWS Invest. This cutthroat provider deserved it after a poor presentation and fake licenses on its website.
From fake phone numbers to fake and illegal regulation documents, DWS Invest broker took it way too far. In the DWS Invest broker review, we plan to explain just why the financial market regulators flagged this as an investment scam. 
| | |
| --- | --- |
| Company | DWS Invest |
| Website | https://dwsinvest.company/ |
| Address | Octagon Point, 5 Cheapside, London |
| Email | [email protected] |
| Phone | +74950454031, +74950454051, +74950454039 |
| Minimum Deposit | $250 |
| Leverage | 1:500 |
| Bonuses | N/A |
| Regulation | Unregulated |
| Warning | FCA, CNMV, AMF, FI |
Regulation of DWS Invest and Fund Security

Since DWS Invest couldn't make up its mind as to whether it was an exclusive UK-based broker, an internationally accepted provider, or an offshore entity, it decided to go with all three. On the website of this con artist, we found three fake licenses. The owner company wasn't disclosed, which means that DWS Invest is an anonymous hoax. It seems that the phony broker deleted all the legal documentation if there was any in the first place. That's because the regulators are hot on DWS Invest's heels. As for the London address, it's also a mask.
So, it's safe to say that DWS Invest is nothing more than just another scam in the sea full of scam brokers. Luckily, they managed to get an official warning not from one but from four different regulatory bodies that include FCA, CNMV, FI, and AMF.
Overview of the DWS Invest Trading Platform
On the fraudster's website, we couldn't find any section dedicated to a trading platform. The scammer only mentions a "multifunctional trading platform with a simple interface." Sorry, DWI Invest, but that won't cut it. Which platform is it? WebTrader?
We believe so because we found a web-based chart below the instrument table. Devoid of any remotely advanced features, it represents the classic choice of scammers in their schemes. Since DWI Invest is an anonymous and unregulated trickster, we wouldn't be surprised if there wasn't any platform available at all.
DWS Invest Account Types Available
When it comes to different account types, DWS Invest allegedly has seven in-store, which include the following:
Welcome on board $250
Beginner $1,000
Bronze $5,000
Silver $10,000
Gold $25,000
Platinum $50,000
VIP $100,000
As you can see, these prices aren't really pleasing. DWS Invest brags about other perks for each account type but we highly doubt that's legit.
Deposit and Withdrawal at DWS Invest
Dws Invest only allows deposits through two shady payment processors which are these two:
As for the withdrawal policy, this information is missing on the brokers' website. It is unclear what traps the fraudsters probably set up in order for you to never get your money back.
Typically, fake brokers make withdrawing money impossible through huge fees and traded volume conditions. We have also found a lot of customer complaints made against this broker. The majority of them stated they are having withdrawal issues and are unable to contact a broker once they have requested this transaction.
How the Scheme Was Implemented
The idea of additional income surely does sound nice. The internet gives the impression that making money through investing is more accessible than ever to non-experts. So, it is no surprise that many scam brokers lurk online for inexperienced traders through flashy advertisements and fake stories of satisfied clients.
Once you fall for it and give your information, they will call you non-stop to invest. However, these fake brokers don't invest the money you give them even though they very confidently assure you that you are generating great profits and should invest more.
Judging by online reviews, the complaints stating withdrawal issues are the majority as many people have problems getting their money. Stay away from brokers that have such negative feedback on the internet.
DWS Invest Summary
In this DWS Invest broker review, we tried to warn you about this online trading scam and the many tactics they use to steal people's money. Once you enter their website and read about all the alleged licenses they have been issued by big regulatory bodies, it's only normal to think they are a legit thing. But we once again encourage you to actually check these claims and not blindly believe in them.
Doing proper research is a must if you are new to the world of trading also because many phony brokers pop up overnight. Don't get played by the fairytales they are going to tell you and be careful with making any investments.
Be sure to read as many reviews as possible because there will always be many complaints about the broker if they are untrustworthy.
In case you had any negative experience with this or any other fraudulent broker, we would greatly appreciate it if you could share it with us as we can assist you by reporting your scammer.
FAQs About DWS Invest Broker
Is It Safe to Trade on DWS Invest?
As they are not a licensed regulated firm, we can confidently say that it isn't safe to trade with them.
Can I Open A Demo Account with DWS Invest?
Unfortunately, you cannot open a demo account with this scam broker which is quite common for frauds of this kind.
What Is The Funding Method of DWS Invest?
DWS Invest has only two funding methods which are Betatransfer and Pay Pound.