May 13, 2023
Reading Time:
4
min
EndoTech Review: Discovering the Truth Behind This Trading Platform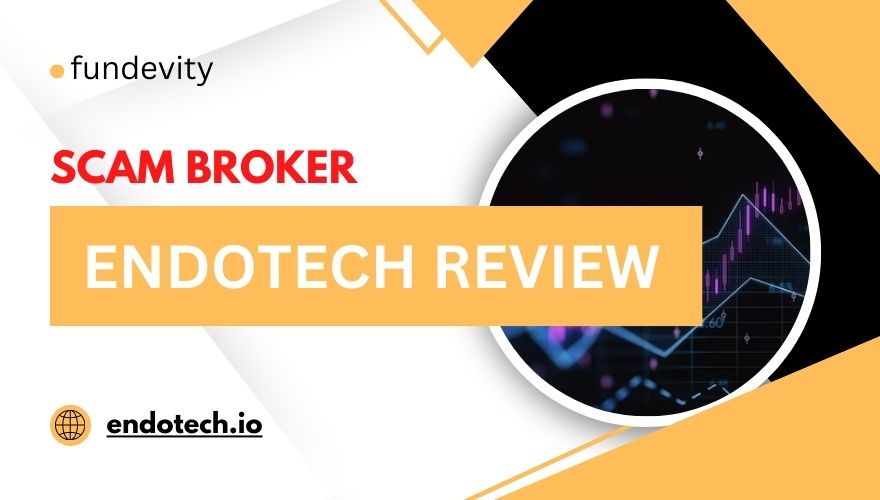 EndoTech Review, When dealing with vast sums of cash, you must ensure that the organization you engage with is trustworthy. Unfortunately, based on customer feedback, EndoTech appears to be anything but reliable. Countless individuals have fallen prey to their deceptions, becoming victims of their fraudulent schemes. 
However, fear not, as we have diligently investigated this business and its investment tactics in our EndoTech review. In this article, we highlighted the essential information you need to know to protect yourself from their nefarious activities. Let's dive in! 
| | |
| --- | --- |
| Company | EndoTech Ltd |
| Headquarters | Israel |
| Website | EndoTech.Io |
| Warning | CNMV, FI, FSMA |
| Platforms | EndoTech Trading Platform |
| Minimum Deposit | $50,000 |
| Leverage | N/A |
| Spread | N/A |
| Review Rating | 1/5 |
Is EndoTech a Legit Broker? Safety and Regulation
When we researched this broker, our top priority was to make sure that they were properly regulated. While the Israel Securities Authority's database was temporarily unavailable at the time of writing, we gathered data from other sources to discover that EndoTech is not regulated in Israel. 
Likewise, they do not have a MiFID passport and are not authorized to operate under the jurisdiction of the European Securities and Markets Authority (ESMA). This fact is supported by the three European regulators that have flagged EndoTech as a scam due to numerous complaints. It is important to note that EndoTech is not authorized to provide services in the United States or Canada either. 
After checking the databases of the US Securities and Exchange Commission and the Investment Industry Regulatory Organization of Canada, we found no record of EndoTech. Essentially, EndoTech is operating without the necessary permits in Europe and North America. Beware, they have scammed clients from various countries, including the US, Canada, Germany, Italy, and France.
In 2021, three European regulators, including the Belgian FSMA, Spanish CNMV, and Norwegian FI, issued official warnings against EndoTech. These warnings indicate that EndoTech is not compliant with ESMA regulations and is unauthorized to operate in Europe. Additionally, there have been many reviews claiming that EndoTech is involved in a pyramid scheme, making it a fraudulent entity to avoid.
Trading Software Overview
EndoTech, a purported trading software provider, has been identified as a scam by various sources. The company claims to offer traders access to real-time market data, news feeds, and advanced trading analytics through its flagship product, the EndoTech Trading Platform. 
However, the software's advertised use of AI, machine learning, and big data analytics has been deemed fraudulent by experts. Moreover, the company's claims of working on all major trading platforms and customization options are baseless. Potential users are advised to avoid EndoTech's trading software to protect themselves from financial fraud.
Note: It is important to prioritize your safety and exercise caution when dealing with companies such as EndoTech, Traderspros, and other dubious entities.
Accounts Available Offered
It is important to note that there have been reports of shady accounts associated with the EndoTech scam. These accounts appear to offer high returns on investments in the forex and crypto markets, but they often turn out to be scams in which people lose their money. 
The pricing plans offered by EndoTech include Retail, VIP Retail, and Institutional options, each with its own subscription and performance fees. It is crucial to thoroughly research any investment opportunity before committing funds. Also, be wary of offers that seem too good to be true.
Deposit and Withdrawal Options
EndoTech's clients have reported issues with the withdrawal process, with some waiting for over a year to access their funds. The problem is particularly concerning for investors who have chosen the Institutional pricing plan. Namely, none of these people have been able to withdraw since 2018. 
Such withdrawal delays are often a telltale sign of a scam, and unfortunately, EndoTech's reputation has been tarnished by these problems. If you believe that EndoTech has breached any terms and conditions, please inform us so that we can raise this issue with the appropriate financial authorities. We value your feedback and aim to help you recover your lost funds.
The Mechanisms of Broker Fraud
Broker fraud is a widespread occurrence that can lead to devastating financial losses for investors. This is a fact! Notably, many brokers and investment firms use deceitful tactics to extract money from their clients. 
In some cases, the broker will take on high-risk investments without the client's knowledge, or they may make unauthorized trades. Other tactics include falsifying account statements or misleading clients about the performance of their investments. Often, brokers or financial advisors will receive commissions or other incentives for steering their clients towards certain investments or products, whether they are a good fit or not.
One common type of broker fraud is "churning," in which the broker makes excessive trades to maximize their commissions. Of course, that is often done at the expense of their clients. Yet, another form is "front running," where a broker uses knowledge of upcoming market moves to buy stocks for their account before executing trades for clients.
Other fraudulent practices include Ponzi schemes, unregistered securities, and pump-and-dump scams. These schemes rely on false promises to lure investors into handing over their money, only to disappear once they have taken the funds.
To protect yourself against broker fraud, research the broker or investment company before investing. This goes without saying! Look for registered firms with a good track record and always review your account statements closely. Be wary of high-pressure sales tactics and promises of unrealistic returns.
Remember, if something sounds too good to be true, it probably is. If you suspect fraudulent activity, report it to the appropriate authorities and seek legal advice. By staying vigilant and informed, you can minimize the risk of falling prey to broker fraud.
Final Verdict
EndoTech is an investment firm that offers forex and crypto trading services. However, the company has faced multiple allegations of fraudulent practices and has been issued warnings by regulators in various countries, including Belgium, Spain, and Norway. Among the issues reported by clients are problems with the withdrawal process, long waiting times, and issues with account management. 
Besides, the company's pricing plans have raised suspicions, with some plans requiring a minimum deposit of $50,000 and charging high subscription fees. Notably, there have also been reports of shady accounts associated with the EndoTech scam, offering high returns on investments that turn out to be scams. 
It is crucial for you to thoroughly research any investment opportunity before allocating funds. Make sure to be wary of companies such as EndoTech, and XBTFX, and offers that seem too good to be true. Staying informed and vigilant can minimize the risk of falling prey to fake practices in the investment industry.
FAQs
Is EndoTech a regulated broker?
EndoTech has faced warnings from regulators in many lands, indicating that it is not compliant with regulations and may be bogus.
What is the minimum deposit at EndoTech?
To access EndoTech's services, clients must have a minimum balance of $50,000 for the Retail pricing plan.
What account types are available at EndoTech?
EndoTech offers three pricing plans: Retail, VIP Retail, and Institutional, each with additional fees and requirements.