March 24, 2023
Reading Time:
4
min
ENS Invest Review – Truth Behind ENSInvest.Com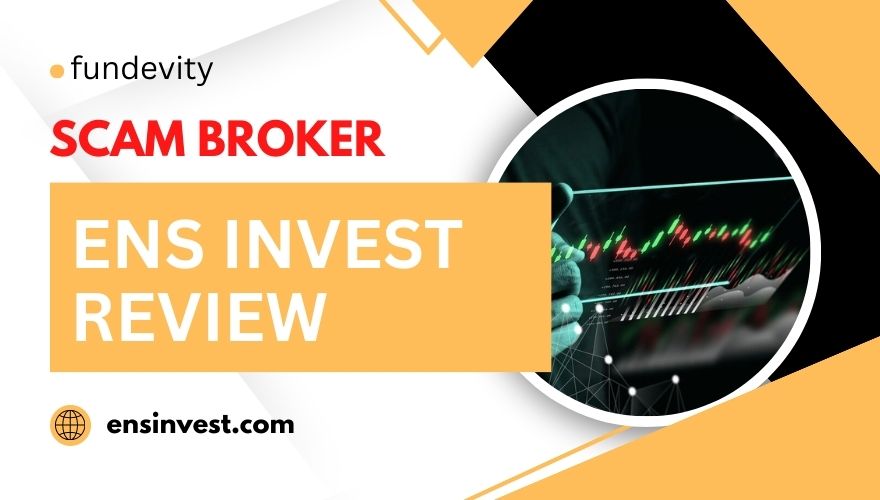 This ENS Invest review is just another in a long line of scam broker reviews as they basically follow the investment scam guide book to the letter.
To start off they offer a ridiculous leverage that is set to 1:500 something that no legitimate broker offers for their clients. This raises the second red flag that they state that they follow all FCA (the UK regulatory body) yet their 1:500 leverage is in blatant violation of that.
And here we run into yet another contradiction, this broker also states that their address is Dimostheni Severi 1080 Nicosia which is in Cyprus. This would put them under the regulatory jurisdiction of CySEC, another top tier regulator.
All in all this broker is clearly more than happy to lie to their clients and this is just one of the major reasons they should not be trusted.
| | |
| --- | --- |
| Company | ENS Invest  |
| Website | ensinvest.com/ |
| Address | Dimostheni Severi 1080 Nicosia  |
| Email | [email protected] |
| Phone | +357 22665643 |
| Minimum Deposit | $1000 |
| Leverage | 1:500 |
| Bonuses | N/a |
| Regulation | Not regulated  |
| Warning | n/a |
Is ENS Invest a Legit Broker? Safety and Regulation
This brokerage is anything but safe to invest in and one of the reasons is the fact that we have no idea where they are actually based. This is due to the fact that they state that they follow all FCA regulations which would place them in the UK. They then contradict this by listing an address that is in Cyprus putting them in CySEC jurisdiction.
The reality is that this broker and the terms that they offer all point to one thing and that is the fact that they are not at all regulated and are likely to actually be based in some offshore location that allows scams such as this one.
When looking for a broker it is crucial that you first verify that the broker you are interested in is actually located in the country that they say they are. One of the ways you can do this is by searching for them on the local regulators website.
Supported Trading Platform at ENS Invest
This is yet another investment scam that talks about some revolutionary platform with futuristic features that will put MetaTrader 5 to shame. Following the trend so far this is just another lie that this scam investment firm is happy to tell potential clients.
The platform that they offer is functional in that it is able to offer its users the very bare minimum in terms of available tools and features. This pales in comparison with industry favorites like MetaTrader 5.
MetaTrader 5 offers its users a ton of useful tools that are there to aid them in their every trading decision. Aside from the tools on offer, users are also completely in control of the platform, as this industry standard offers a near endless degree of customizability.
When choosing a broker, pay close attention to the trading platform that they provide, as this will heavily influence your trading experience.
ENS Invest Account Available
Oddly enough this broker has decided to only offer a single account type which they call "Experienced". This is in opposition to the standard scam broker tactic which is typically 3-4 accounts on offer each with an increasingly absurd minimum deposit requirement.
In this case a single account with a ridiculous deposit is meant to cover all traders needs and wants, which as you can imagine is highly unlikely. Especially when the only things that traders can trade with this account would be the odd pairing of crypto currency and metals.
On the "plus" side the broker at least pretends to take their clients safety seriously in that they say that they offer deposit insurance. However, they never bother to mention this again nor do they take that one chance as an opportunity to explain what they mean.
Deposit and Withdrawal Options
When it comes to taking your money this brokerage goes back to basics by offering its clients only one means of funding their accounts. Of course this is via untraceable and %100 anonymous crypto currency payments.
It is very common for scam brokers to only accept payments with crypto currency as there is quite literally nothing that victims of this kind of scam can do to retrieve their funds.
When choosing a brokerage to invest your hard earned money with always make sure that they accept legitimate forms of payment like credit card and wire transfer as in this situation a recall or a chargeback can occur and you can get your money back.
In terms of making a withdrawal from this broker it should be clear that it is unlikely that a withdrawal would be possible. They do however mention that they do not charge a commission on withdrawals.
How the Fraud Is Conducted
Financial frauds based on shady offshore brokerages typically have a similar structure. Potential victims click on a Facebook or social media ad, which directs them to a website where they are prompted for their email in order to gain access to a video or an article that offers a get-rich-quick plan which is of course based around investing with their brokerage.
Once they acquire the victim's email address, the con artists will harass them with a bombardment of "special offers" in an effort to induce a first deposit. If that fails, the con artist will ask the victim for more ways to contact them and will then make an extra effort to persuade the victim to pay a deposit.
They usually require the deposit to be made Via untraceable crypto currency and that is about the end of the story in terms of the victim having access to those funds ever again.
ENS Invest Summary
Overall there is not much to say about this scam broker as they are fairly uncreative when it comes to stealing people's hard earned money. The one area where they do display some degree of creativity is in offering a single trading account type with an absurd minimum deposit of $1000.
The broker also blatantly lies to their users as they state that they follow FCA regulations while also saying that they are based in Cyprus. The reality is that this broker is just an offshore scam as they do not follow the regulations of CySEC nor the FCA, both top tier regulators.
When it comes to choosing a broker, pay close attention to how they accept payments, where they are based, are they registered with a top tier regulator, and what their minimum deposit requirement is. These are all tell tale signs of a scam waiting to happen.
FAQs About ENS Invest Broker
Is ENS Invest Regulated Broker?
ENS Invest is not a regulated broker.
What Is the Minimum Deposit at ENS Invest?
According to this brokers website the minimum deposit is $1000.
What Account Types are Available at ENS Invest?
The only account type that they list on their website is "Experienced".