October 11, 2023
Reading Time:
4
min
EquBot Review: Smart Investments Simplified and Analyzed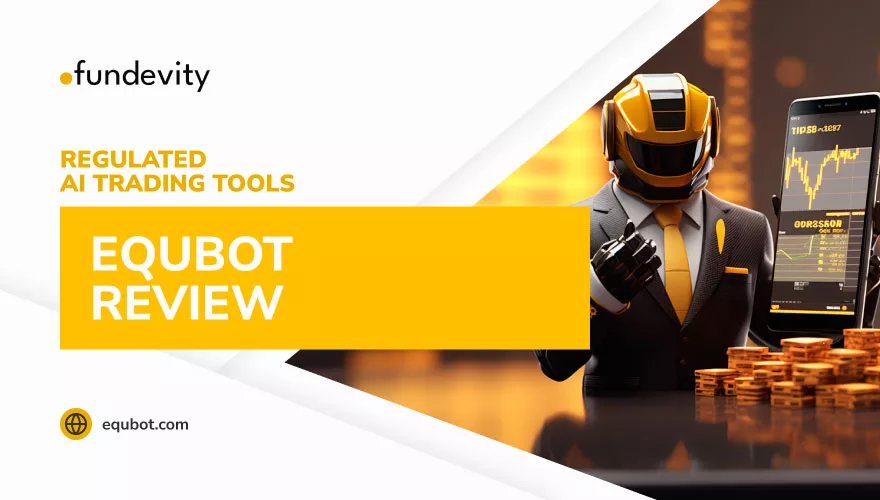 Learning more about trading or different investments isn't just beneficial – it's essential. We all understand this concept. 
QuantumStreetAI, powered by IBM Watson, stands as a pioneer in this financial revolution. In this EquBot review, we won't just look at the surface. We will dive into the core of the company. Let's find its secrets, explore its offerings, and understand why it's causing ripples in the industry. Keep reading for more details! 
| | |
| --- | --- |
| | General information |
| Name | EquBot |
| Type of company | AI Investment Advisor |
| Regulation status | Regulated by SEC |
| Warnings from Financial Regulators | No official warnings |
| Website link | equbot.com |
| Active since | 2020 |
| Registered in | 450 Townsend Street. San Francisco, California, 94107, United States |
| Contact info | [email protected] |
| Trading platforms | Web Terminal |
| Majority of clients are from | India; United States; United Kingdom; Canada; Germany |
| Customer support | Email and contact form |
| Compensation fund | Yes |
EquBot Business Details – In-Depth Company Analysis
EquBot is an investment advisor registered with the US Securities and Exchange Commission. Speaking of institutional solutions, these are accessible at www.quantumstreetai.com. But what makes them so special? Let's see!
When it comes to reliable investment advisors, QuantumStreetAI leads the pack. This is the new institutional division of EquBot.
Understanding a company's potential shouldn't be challenging. Namely, QuantumStreetAI simplifies the process. Their analysis covers everything, from financial health to management strategies. As we can see, it's not just raw data.
AI Solutions for Wealth Management
This company might as well be a steadfast partner in your investment journey. How? Well, their AI platform is a guiding light for skilled investors, providing an edge in research, alpha generation, and risk management. 
Thanks to IBM Watson, this platform processes vast amounts of data. It covers news articles, alternative sources, and traditional financial data, transforming it into actionable insights.
Key Features
Global coverage.

This platform keeps you updated on over 50,000 global companies and asset classes. This is so you never miss a market beat.

No-code platform.

Creating and running models is effortless, adapting many assets and themes without the complexity of coding.

AI-driven offerings.

These new offers truly suit all your investment preferences and needs.

ESG integration.

Try using their unique

ESG deep learning models

, for responsible and profitable investing.

Continuous signal assessment.

Stay in the loop with hundreds of unique AI signals evaluated 24/7/365 for each company and asset class. We will cover some asset classes they support below.
Explore QuantumStreetAI's Asset Variety
This AI company has a range of asset classes for your wealth management. Here are some examples of them:
Equities (stocks)

Bonds

Private Equity

Cash equivalents or money market instruments

Real estate

Futures

Commodities

Crypto coins (Bitcoin, Ethereum, Dash, and Ripple)

Income trusts, like real estate investment trusts (REITs)

Collectibles and assets like fine art, stamps, rare wines, and more
Tip: Are you looking for a trustworthy and regulated broker? If so, check out Exness, as trading with this company is quite straightforward. 
The Web Terminal
What about the platform? This investment company uses a simple-to-use web terminal. You can set your own trading parameters based on your comfort and goals. It's all about what works best for you. Plus, there's no hassle here! As we mentioned, this software is web-based, meaning no downloads, installations, or constant updates. It's clearly designed to be straightforward, keeping things simple for you.
However, it's important to note that the company lacks MT4 and MT5 compatibility. So, this can be a downside for some users seeking those specific features.
This platform really boosts your strategies, manages risks, and crafts portfolios with finesse.
Tip: Who benefits most from this investment firm? Wealth managers, hedge fund managers, investment banks, and asset managers find their spot here. 
Why Choose Them?
Let's take a look at a few reasons why this company sounds tempting. Read on!
Performance.

These AI-driven solutions help you exceed expectations in performance, prices, and customization.

Risk management.

You can manage risks, extracting alpha from both ends of the spectrum.

Product innovation.

Launch new products or refine existing strategies easily, thanks to these smart AI applications.

Process efficiency.

Fast research, model risks, and overall efficiency allow you to focus on what truly matters: your money and assets.
Reviews From Other Investors
Now, there is one notable concern here. This investment company lacks Trustpilot reviews from real investors, which does make us wonder. When it comes to your assets, transparency and real experiences matter. 
So, it may be a better idea to lean towards firms that have solid ratings, preferably around 4.5/5. These truly show reliability and positive customer experiences. After all, a bit of caution can go a long way.
Note: If you're in the UK and seek a reliable FCA-regulated broker, consider BP Prime. This brokerage offers many benefits for investors and traders alike.
Can I Earn Money From Online Trading?
Yes, you can! What's more, we've got your back with our innovative support. Our free consultations are here to help you every step of the way. So, if you need expert advice about top-notch trading platforms, contact us now! 
And finally, meet our super-smart AI Analysis Bot. This tool takes the stress out of research, giving you spot-on advice and predictions.
And the best part is? You can try it out for free for 20 days! No upfront payments, no catch. During the trial, you'll get 5 detailed FX analysis reports and 5 thorough stock analysis reports every month. Ready to boost your profits effortlessly? Check it out now!
In Conclusion
In this EquBot review, we've tried to fully describe the transformative world of QuantumStreetAI. They indeed have many things to offer on their platform that are extremely beneficial. Also, they have a safety net established.  
Overall, this company is solid, innovative, and prosperous. Still, what's better than solid is our AI Analysis Bot. Your financial adventure is about to reach new heights if you try it out now!
FAQs
Who owns EquBot?
EquBot is owned by its CEO and co-founder, Chida Khatua.
Is EquBot regulated?
Yes, EquBot is regulated by the US Securities and Exchange Commission as an advisor.
What is the revenue of EquBot?
We could not find information on the revenue of EquBot.