June 18, 2023
Reading Time:
6
min
Exness Review: The Reality Behind This Epic Brokerage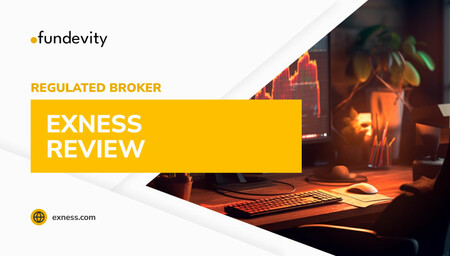 In our Exness review, we delve into the reality behind this epic brokerage. Exness is a trusted trading entity that takes legal compliance seriously. It is regulated by the world's most prominent authorities. These regulatory measures ensure that Exness adheres to high operation and consumer protection standards. With multiple regulatory affiliations and approvals, Exness demonstrates its commitment to operating within the legal framework. Read on to discover more about Exness and its exceptional trading features and more.
Exness: A Highly Regulated Broker for Secure Trading
Exness trading broker takes regulatory compliance seriously. The company is subjected to the oversight of some of the most stringent regulatory bodies in the financial industry. Among these reputable authorities are the UK's Financial Conduct Authority (FCA) and the Cyprus Securities and Exchange Commission (CySEC), ensuring that Exness adheres to high standards of operation and consumer protection. 
Moreover, Exness is regulated as a securities dealer by the Seychelles Financial Services Authority (FSA). This further reinforces its commitment to maintaining a secure and trustworthy trading environment.
In addition to these notable regulators, Exness has also obtained approval from the FSCA (South Africa), enabling it to cater to customers in South Africa. The FSCA, recognized as a top regulatory broker in South Africa, holds a respected position within the financial industry.
Overall, Exness's multiple regulatory affiliations and approvals underscore its dedication to operating within the legal framework. These regulatory measures prove Exness's commitment to upholding high standards and ethical business practices.
Consider checking VT Markets, another legit broker, for a reliable trading option.
| | |
| --- | --- |
| | General information |
| Name: | The Exness Group |
| Regulation status: | Regulated Broker, SFSA, CBCS, FSC, FSCA, CySEC, FCA |
| Warnings from Financial Regulators: | No official warnings |
| Website link: | https://www.exness.com/ |
| Active since: | 2008 |
| Registered in: | Cyprus |
| Contact info: | +35725030959, [email protected] |
| Trading platforms: | MT4, MT5, Exness Terminal, Exness Trader app |
| Majority of clients are from: | Thailand, Vietnam, India, Indonesia, South Africa |
| Customer support: | 24/7, live chat, email, phone  |
| Compensation fund: | Yes |
Exness Trading Assets Available: A Comprehensive Overview
When it comes to trading assets, Exness has a full range of options for every trader. Here, we will provide a detailed overview of the available trading assets, including examples for each category.
Commodities
Commodities are popular trading assets due to their tangible nature and global demand. Exness offers a variety of commodities, including:
Aluminium

Coffee

Cocoa

Natural Gas
These commodities provide opportunities for traders to speculate on price movements. Also, traders can take advantage of market trends. 
For example, aluminum is widely used in industries such as construction and transportation. So, it is a valuable commodity for trading.
Forex
FX, or foreign exchange, is the largest and most liquid financial market globally. Exness provides access to a wide range of currency pairs. 
This allows traders to participate in the FX market. Some examples of forex pairs available on the Exness platform include:
EUR/USD (Euro/US Dollar)

GBP/JPY (British Pound/Japanese Yen)

AUD/CAD (Australian Dollar/Canadian Dollar)
These currency pairs represent major economies and offer ample trading opportunities based on economic events and geopolitical factors.
Stocks
Stock trading is a popular choice for investors looking to profit from the performance of publicly traded companies. 
Exness offers a selection of stocks from various global exchanges. Here are a few examples:
Apple Inc. (AAPL)

Amazon.com Inc. (AMZN)

Microsoft Corporation (MSFT)
These stocks are well-known companies with significant market capitalization. This makes them attractive options for traders seeking exposure to the stock market.
Indices
These represent a basket of stocks and provide a broader view of market performance. Exness offers a range of popular indices, including:
S&P 500

FTSE 100

NASDAQ Composite
These indices track the performance of companies listed on their respective exchanges.
Trading Platform Overview: A Seamless Trading Experience
Exness provides traders with a variety of trading venues to suit their preferences. The available trading platforms include:
MetaTrader 4 (MT4): Exness MT4 is a widely recognized and highly regarded trading platform. It is known for its UI-friendly interface, advanced charting, and a range of technical analysis tools. It offers a comprehensive suite of features that cater to both beginner and experienced traders.
MetaTrader 5 (MT5): Exness MT5 is the successor to MT4 and offers enhanced features and functionality. It provides access to a broader range of markets, stocks, and commodities, in addition to forex. MT5 is known for its powerful analytical tools and advanced order types.
Mobile Exness Trader: Exness also offers mobile trading apps for both iOS and Android devices. These apps provide traders with the flexibility to trade on the go, monitor their positions, and access real-time market data.
Trading Platforms: Setting the Bar Higher in Exceptional Trading Experiences
Each Exness trading platform is highly regarded for several reasons:
Modern Interface: The platforms are designed to be intuitive and UI-friendly. This makes them suitable for traders of all experience levels. Whether you are a beginner or an experienced trader, you can easily navigate the platforms and execute trades efficiently.

Advanced Charting and Analysis Tools: Exness platforms provide a wide range of technical analysis tools. This includes indicators, charting options, and customizable layouts. Clients can perform analysis and make informed trading decisions based on real-time market data.

Execution Speed and Reliability: The platforms are optimized to ensure quick order processing and minimal downtime. This lets traders take advantage of market opportunities without delays.
Exness Trading Features: Enhancing Your Trading Experience
In addition to a wide range of trading assets and amazing platforms, Exness offers several notable trading features that enhance the overall trading experience. Let's explore these features in detail.
Exness Spreads: Competitive Pricing for Traders
Exness offers competitive spreads across its range of trading assets. Spreads refer to the difference between the buying and selling prices of an asset. 
They represent the cost of trading and can impact profitability. Exness aims to provide traders with tight spreads to minimize costs and maximize potential returns.
For example, on the Standard Cent Account, the spreads start from as low as 0.3 pips for currency pairs like EUR/USD. On the Standard Account, traders can benefit from tight spreads starting at 0.1 pips for major currency pairs. 
The Professional ECN Account offers raw spreads, allowing traders to access interbank liquidity with a small commission per trade.
Exness Copy Trading: Follow the Success of Experienced Traders
Exness offers a copy trading feature that allows traders to replicate the trades of experienced and successful traders. Copy trading is particularly beneficial for beginners or those who prefer a more hands-off approach to trading. 
By copying the trades of proven traders, individuals can learn from their strategies and potentially achieve similar results.
Exness provides a UI-friendly interface that allows traders to browse and select from a wide range of signal providers. These signal providers have a track record of successful trading, and their performance metrics, such as win rate and average returns, are transparently displayed. Traders can choose signal providers based on their risk appetite, trading style, and desired level of diversification.
Decoding Exness Brokerage Charges
Trading with Exness incurs fees starting at $3.50. Also, Exness spreads range from 0.01 pips to 0.3 pips. 
Also, commission-free trading is available with certain account choices. Keep this in mind. 
Funding Methods at Exness: Convenient and Secure Transactions
Exness prioritizes ease of use and security when it comes to withdrawal and funding methods. Traders can choose from a range of convenient options to deposit funds into their trading accounts or withdraw their profits. Here are some commonly available ways:
Wire: Traders can initiate deposits and withdrawals using bank wire transfers. This allows for secure and direct funds transfers between their bank accounts and the trading account.

Credit Cards: Exness accepts major credit cards. It provides a quick and convenient way to fund accounts. It's important to note that particular credit card issuers may have their terms and conditions regarding international transactions.

E-Payment Systems: Exness supports popular e-payment systems like Neteller and Skrill, which offer secure and fast transactions.
Exness: Minimum Deposit
Exness stands out with its incredibly low minimum deposit requirement of just $10. 
This industry-leading feature makes it exceptionally accessible for clients who are new to trading or have limited capital. With a minimum deposit of only $10, traders can open an account with ease. The broker ensures that everyone can have a pleasing trading experience. 
Customer Support
At Exness, customer support takes center stage. It ensures that traders receive prompt and reliable assistance whenever they need it. The dedicated customer support team is available round the clock, ready to address any queries, concerns, or technical issues that traders may encounter. 
Exness's customer support team is committed to providing comprehensive and personalized assistance. With their expertise and friendly demeanor, they strive to foster a positive trading experience for all customers.
Tip: People should consider exploring another regulated broker like T1Markets for added peace of mind. This is to ensure a comprehensive evaluation of their trading options.
Trader Reviews About Exness
Exness has garnered an outstanding reputation on Trustpilot with a stellar 4.4-star rating. This high rating is a testament to the exceptional trading experience they provide. Traders who have engaged with Exness praise the Exness platform, enabling seamless trade execution. Exness withdrawal review is excellent, so you don't have to ask yourself 'Can Exness be trusted?' 
The broker's commitment to transparency is evident through their prompt customer support. Besides, Exness is commended for its competitive pricing, low spreads, and diverse range of trading instruments. These positive reviews and the impressive Exness Trustpilot rating make Exness a reliable choice for traders.
A Conclusion About Exness Broker
Overall, Exness markets are trusted and reliable. It is backed by stringent regulatory oversight and a stellar reputation among traders. With multiple regulatory affiliations and approvals, the Exness website operates within the legal framework, ensuring high standards and ethical practices. 
Their comprehensive range of trading assets, competitive spreads, and convenient funding methods further enhance the trading experience. With exceptional customer support and positive trader reviews, Exness forex broker stands out as a reliable choice for traders. Book a consultation with us to discover more brokers like Exness and Dukascopy.  
FAQ Section
Is Exness Legit and Safe?
Yes, Exness is a legit and safe broker. It is regulated by reputable authorities such as the UK's Financial Conduct Authority (FCA) and the Cyprus Securities and Exchange Commission (CySEC).
Can Exness Be Trusted?
Absolutely, Exness can be trusted. With its multiple regulatory affiliations and approvals, Exness demonstrates its commitment to operating within the legal framework.
How To Find A Broker For Safe Trading?
Conduct thorough research, read reviews, and assess security protocols. Our consultation is free and has no obligation, and we can provide guidance on finding a safe broker tailored to your specific needs.