June 25, 2023
Reading Time:
7
min
Etrader Review: Revealing the Features and Performance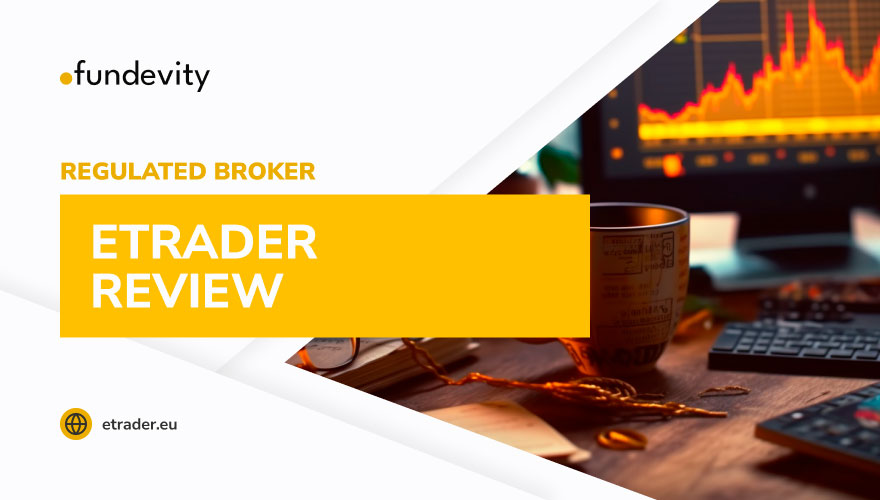 TopTrader (Etrader) is a reputable brokerage firm. It is based in Limassol, Cyprus, and was established in 2014. It operates under the registered brand Goldenburg Group Limited and is authorized and regulated by CySEC.
TopTrader provides many trading opportunities, which is a good sign. Traders can diversify their portfolios and explore various financial markets. Stay tuned for more info and read our Etrader review. 
Is Top Trader Safe? Safety and Legitimacy
TopTrader has gained international recognition for its exceptional trading services and tech. This goes without saying. This solidifies its credibility in the brokerage industry.
TopTrader or Etrader operates as a secure broker under the Cyprus Securities and Exchange Commission (CySEC). Its allegiance to regulatory compliance ensures traders' safety and confidence. This is what makes it a trusted choice for secure investments. TopTrader keeps client funds separate. That provides an extra layer of protection, by all means. 
The broker also offers protective measures such as negative balance protection, preventing losses exceeding the balance.
Besides, they provide Investor Compensation Fund Protection to ensure security in the event of bigger financial difficulties. Traders can have peace of mind and security with TopTrader. They can be sure their funds and accounts are protected.
To find additional brokers that have robust regulations, you can explore Tradovate.
| | |
| --- | --- |
| | General information |
| Name: | Etrader; TopTrader |
| Regulation status: | Regulated by CySEC |
| Warnings from Financial Regulators: | No official warnings |
| Website link: | https://toptrader.eu/, https://toptrader.io/ |
| Active since | Etrader.eu – 2007; toptrader.eu – 2015 |
| Registered in | Cyprus |
| Contact info: | +35725349800 Support desk and +35725349811 |
| Trading platforms: | TopTrader and MetaTrader 5 |
| The majority of clients are from | The United States, India, Australia, Canada, and the United Kingdom. |
| Customer support: | Yes, (phone, email, and live chat Monday to Friday from 9 a.m. to 6 p.m. UTC+2 ) |
| Compensation fund: | Yes |
Reasons For Migration from Etrader.eu to TopTrader.eu
There are several compelling reasons for migrating. One significant factor is the issue with naming. Etrader.eu faced a challenge due to the existence of a similarly named platform holding the same license issued in Dubai. 
To avoid confusion and ensure a separate brand identity, the decision to change the domain was made. This strategic move not only helps in avoiding any potential legal conflicts. Yet, it also allows for clearer differentiation between the two entities. 
It is worth noting that the ownership of this broker lies with the esteemed Goldenburg Group. This is a reputable organization known for its expertise in the financial industry. By migrating to TopTrader.eu, the broker aims to establish a strong and unique presence while maintaining the credibility and trust associated with the Goldenburg Group.
Trading Platforms
This superb company includes two robust trading platforms. These are the Top Trader Platform and the MetaTrader 5 Platform. 
Top Trader Platform
The Top Trader Platform stands out for its superb interface, intuitive navigation, and advanced tools. It provides real-time market data, modern charts, and a wide range of technical indicators. This empowers clients to make informed trading decisions. 
The platform's smooth and fast order processing ensures timely trade execution. Yet, traders should pay attention to the potential complexity of advanced order types and risk management. This truly requires careful consideration and understanding.
Based on its features and performance, TopTrader's platform has received a high rating of 8.9 out of 10 compared to over 500 other brokers. This positive rating is attributed to its inclusion of the popular MT5 professional trading platform.
MT5
On the other hand, the MetaTrader 5 is renowned for its extensive functionality and versatility. It offers a broad range of trading instruments. This includes commodities, forex, indices, and crypto coins. 
With its comprehensive charting capabilities, algorithmic tools, and access to a vast marketplace of trading bots and indicators, the MT5 platform appeals to both beginner and experienced traders. Traders should be mindful of the learning curve associated with using its advanced features effectively. 
Also, they should familiarize themselves with the platform's automated trading capabilities before engaging in complex strategies. Both platforms provide traders with powerful tools. Still, it is essential to remain attentive to their specific features and intricacies to maximize trading success.
Trading Assets
Experience a boundless array of trading possibilities with this visionary broker. Explore an exquisite collection of over 2000 cutting-edge CFDs. There is a diverse range of captivating asset classes including stocks, ETFs, Indices, commodities, crypto, and FX. With their revolutionary platform, indulge in the excitement of trading across multiple markets around the clock, unleashing your potential without limitations.
Note that TopTrader has a rich selection of trading instruments. However, we humbly acknowledge that a few renowned asset classes, such as futures and bonds, are not supported.
Account Types
TopTrade offers three account types: Standard, Pro, and VIP. Each account type has its own deposit rule, spread, commission, leverage, and margin call level. Select the account type that suits your trading needs.
Standard
The Standard account requires a minimum deposit of EUR 1000. It has a competitive spread starting at 0.6 pips. Traders can access a wide range of instruments, including FX, crypto, energies, metals, stocks, ETFs, indices, treasuries, and futures. 
With a maximum leverage of 1:30, this account provides a balanced trading environment.
Pro
The Pro account is designed for more experienced traders and requires a minimum deposit of EUR 2000. Traders can enjoy tighter spreads starting at 0.4 pips while enjoying zero commission charges. 
The Pro account has the same extensive range of instruments as the Standard account. Also, it provides a higher leverage option of 1:500.
Vip
For elite traders, the VIP account is available with a minimum deposit of EUR 10000. Traders with a VIP account enjoy tight spreads starting at 0.1 pips and zero commission charges. 
It has the same broad range of tradeable instruments as the other accounts and provides leverage of 1:500. 
How to Open a TopTrader Live Account?
This process is relatively straightforward. Many people reported that they could open an account within minutes. You should follow the sign-in page and follow the guided steps:
Select and click on the "Open an Account" page

Enter the needed data (name, email, cell number, etc).

Verify your data by uploading proof of residence, ID, etc.

Complete the online quiz to confirm your experience

After activation is complete, proceed with the money deposit.
Demo Account
TopTrader includes a free demo account. This demo account is a learning tool, enabling traders to enhance their skills and gain practical experience. 
It allows users to practice many strategies and make trial trades in a risk-free environment. That is before live trading with real funds. This demo account reflects TopTrader's dedication to supporting traders at all skill levels.
General Trading Environment
TopTrader is known for its competitive trading conditions. They include favorable spreads, leverage options, and reliable platforms. They have a range of features and conditions to support their trading activities.
Trading instruments. (FX, crypto, energies, metals, stocks, ETFs, indices, treasuries, and futures)

Demo account

Competitive spreads and leverage (1:30, 0.7 pips)

No commission charges

Risk management tools

Educational resources

Efficient withdrawals
Overall, Top Trader strives to create a favorable trading environment for all. 
Calendars
TopTrader includes three types of calendars. Let's take a look at them: 
Economic Calendar. Stay updated with significant economic events and their impact on the markets.
Crypto Calendar. Track cryptocurrency-related events and announcements.
Holiday Calendar. Know about upcoming holidays and market implications.
Education
The broker recognizes the value of educational resources. TopTrader provides traders with access to many valuable materials. They are as follows: 
Tutorials

Webinars

Articles

Demo accounts
These educational resources are particularly beneficial for novices. In fact, they are helpful for any trader looking to expand their knowledge and enrich their skills.
Customer Support
TopTrader places a high priority on providing responsive customer support. Traders can seek help through various channels. These include phone, email, and form. Customer support is available via:
Deposits & Withdrawals
As payment options, Toptrader accepts bank wire transfers, cards, and popular e-wallets such as Skrill, Neteller, and Dotpay. All transactions are secure and private. This firm does not store any financial information of its clients. Users can also set up automatic payments to ensure their account is always funded. TopTrader allows people to open trading accounts without having to make any deposits. Please note that certain funding methods may charge a small deposit or fee, so check the details.
TopTrader prioritizes smooth and efficient withdrawals. The broker aims to process withdrawal requests within three to five working days of approval. They truly guarantee that clients have access to their funds. To ensure security, TopTrader requires clients to submit documents and other verification information. They also use two-factor authentication and encryption tech for the safety of their clients.
Insights From Traders
Traders find TopTrader reliable and modern. This is because it offers many assets, competitive conditions, and fantastic support. These factors contribute to a positive trading experience and attract traders looking for a reputable brokerage.
TopTrader has become a preferred choice for traders, both rookies and professionals. The platform has a strong focus on customer service, with a dedicated team of professionals. As a result, traders can easily and confidently navigate the platform and access the financial markets.
Pros and Cons of the TopTrader Platform
Pros

: Availability of trading options across various financial markets, allowing clients to diversify their portfolios. The platform prioritizes safety and legitimacy, being regulated by CySEC and keeping client funds separate for extra protection. It provides advanced trading tools and a mind-blowing interface.

Cons

: It does not offer certain asset classes like futures and bonds. The platform's advanced order types and risk management features may also require careful consideration. Traders must familiarize themselves with the specific features and complexities of the platform. 
Long Story Short – TopTrader
TopTrader, a legit firm established in 2014, operates under the registered brand Goldenburg Group Limited. This one is regulated by CySEC. You can find many trading opportunities here, across multiple financial markets. 
This ensures portfolio diversification. With a focus on safety and legitimacy, TopTrader keeps client funds separate and provides strong protective measures. The platform's interface, avant-garde trading tools, and high rating make it a preferred choice among traders. 
Still, traders should familiarize themselves with the platform's intricacies for optimal trading success. Do you have inquiries or require guidance in choosing a secure broker? If so, please don't hesitate to reach out. Our team provides free advisory services dedicated to assisting our readers. To explore other legit brokers like StoneX, TradeUP, and TopTrader, schedule a free consultation with us!
FAQ
What Bank Owns TopTrader?
TopTrader is a company owned by Goldenburg Group Limited.
How Much Money Do I Need to Start Trading on the TopTrade Platform?
The minimum amount to start trading on TopTrade varies. There is no minimum deposit requirement.
How To Find A Broker For Safe Trading?
Research broker registrations and compliance. Keep in mind that our team provides free advisory services dedicated to assisting our readers.