September 02, 2023
Reading Time:
5
min
EverestCM Review: A Review of Legitimacy and Offshore Broker Risks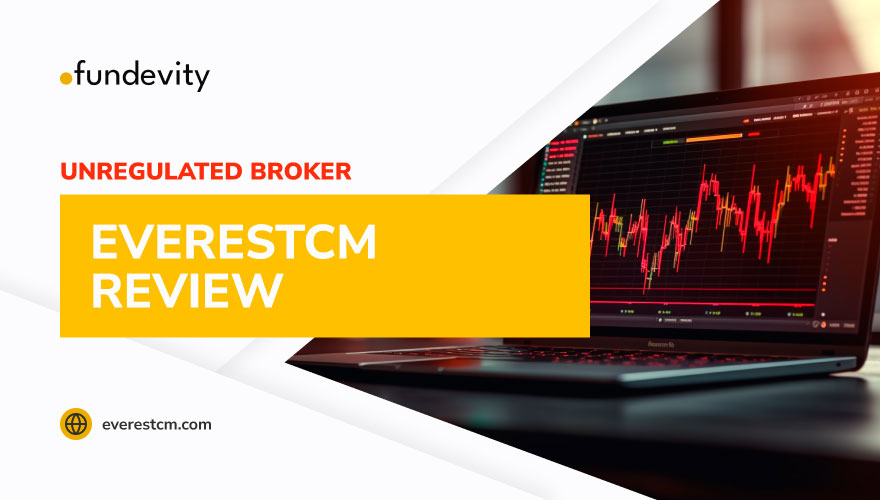 Is EverestCM legit? EverestCM is not your typical offshore broker like those registered in places like Mauritius or SVG. They offer two popular platforms, MetaTrader 4 and MetaTrader 5, with good trading conditions. Still, remember that dealing with offshore brokers comes with risks. Alarmingly, EverestCM already has a warning. So, make sure you're well-informed before you think about joining them. Keep reading our EverestCM review!
General information
Name:

EverestCM

Regulation status:

Unregulated Broker

Warnings from Financial Regulators:

CNVM, republished by IOSCO and FSMA

Website link:

https://everestcm.com/

Active since

2013

Registered in

n/a

Contact info:

Data is hidden

Trading platforms:

MT4 & MT5

The majority of clients are from:

Cyprus

Brazil

Malaysia 

Singapore

Customer support:

email

Compensation fund:

n/a
EverestCM Regulation and Licencing
EverestCM allegedly operates under the name of Myrtle Ltd., a company regulated by the Mauritius Financial Services Commission (FSC). To validate this, we checked the FSC register and found Myrtle Ltd., but without a listed domain address. This makes verifying EverestCM's link with the FSC-regulated firm quite challenging.
Yet, it's important to note that an offshore license doesn't match up to the standards of solid forex broker regulation. Offshore regulators like Mauritius' FSC cannot oversee global brokers like EverestCM. In other words, their regulations don't align with esteemed financial institutions such as the UK's Financial Conduct Authority (FCA), the Cyprus Securities and Exchange Commission (CySEC), or the Australian Securities and Investments Commission (ASIC).
What's worse, EverestCM unlawfully targets EU traders and has been blacklisted by Spain's CNMV financial regulator. Considering these factors, along with its relatively loose regulation, traders should explore more dependable partners.
Brokers authorized by respected institutions like CySEC or the FCA adhere to strict criteria. They shield clients from potential investment scams and provide assurances about fund security.
Trading Assets Available
At EverestCM broker, there are 300 assets, classified into five classes:
Forex

. Explore over 60 currency pairs, including major, minor, and exotic crosses, tailored to diverse trading preferences.

Cryptocurrencies

. 10 crypto assets available for trading against the USD, featuring icons like BTC, ETH, LTC, XRP, DSH, EOS, NEO, and XMR.

Indices

. Access a compelling lineup of 11 highly liquid indices CFDs, including AUS200, UK100, HK50, and JP225.

Stocks

. See a portfolio of 220+ stocks CFDs, with names like Apple, Airbus, BMW, BP, Meta, Tesla, and X.

Commodities

. Discover 9 spot contracts CFDs available for trading. These include 7 metals like Gold, Platinum, Palladium, and Silver, as well as 2 energy spot contracts, UK Oil, and US Oil. 
They promise tight spreads and speedy executions. However, opting for a regulated broker guarantees your safety, unlike here where security might be lacking. Remember this!
EverestCM's Robust Trading Platforms
Here is one surprise! EverestCM backs both MetaTrader 4 and MetaTrader 5, beloved by many. These platforms bring advanced charting, market analysis tools, and many features. 
There's automatic trading through Expert Advisors, multi-threaded Strategy Testers, signals, community chat, add-on markets, and more. 
Remember, for the security you deserve, it's wise to choose a regulated broker with these platforms. Please avoid this unregulated and fake alternative.
EverestCM's Trading Accounts and Conditions
Trading with EverestCM comes with distinctive options. They offer two main trading accounts and they are as follows: 
EverestCM Classic Account.

Ideal for investors focused on bid and ask prices, this account type eliminates extra expenses. The floating spreads begin at 0.8 pip for major pairs (only available with the MT5 platform), without any commissions. The Classic account boasts a maximum leverage ratio of 500:1, and traders can get started with a minimal initial deposit of just 100 USD/EUR/GBP.

EverestCM Raw Spread Account.

Made for all traders, this ECN model account provides lower spreads in exchange for a trading commission. Starting at 0.0 pip for major FX pairs, the spreads are floating, but a round-turn lot attracts a trading commission of $7. Also, the Raw Spread account requires an initial deposit of 100 USD/EUR/GBP and a maximum leverage ratio of 500:1.
Besides, EverestCM caters to Islamic beliefs by offering swap-free accounts. The platform also has impressive MAM & PAMM software.
It's worth noting that EverestCM's maximum leverage ratio for forex and commodities trading is 500:1, whereas for indices trading, it's 200:1, and for stocks and crypto trading, it's 5:1.
However, it's vital to keep in mind that EverestCM operates as an unregulated broker. So, given this fact, traders are strongly advised to avoid their services to be on the safe side.
As of now, EverestCM's trading accounts are available in USD, EUR, and GBP, subject to account specifications and the client's jurisdiction.
EverestCM's Rollover Rates
As of March 11, 2021, EverestCM's rollover rates for the EUR/USD are -4.45 for holding an overnight long position of 1 lot. And it is -0.11 for holding an overnight short position of 1 lot, with a 3-day swap on Wednesdays. 
In comparison to other leading brokers, these swap rates from EverestCM are within the average range.
Withdrawals with EverestCM
Investing and withdrawing with EverestCM is straightforward. 
They require a minimum investment of $100, and you have multiple payment options, including wire transfer, credit or debit card, Skrill, Neteller, Pago Facil, China UnionPay, Boleto, and PayNet. While deposits and withdrawals don't incur fees, do keep in mind that there's a monthly inactivity fee of $10.
Note: Even offshore, CPT Markets broker does have some regulation that is valid. 
Unregulated Broker with Positive TrustPilot Reviews
EverestCM showcases a TrustPilot rating of 4.6, which might catch your attention. However, it's important to exercise caution, as this broker remains unregulated. 
Don't let the positive reviews only guide your decision, as some may not be genuine. For better security, it's highly advisable to opt for a regulated broker or investment firm. 
Still, do you need help in selecting the top-notch brokers? If yes, contact us for a free consultation today!
Popular Scam Strategies
When dealing with scam brokers, their tactics are diverse. Stay vigilant against the temptation of unrealistically high profits. Also, always approach their vague claims about regulations with caution. Don't be tricked by their urgency to rush into quick investments.
In every scenario, conduct thorough research before completing your FX broker selection. Bear in mind that if an offer appears overly attractive, it's likely a trap. Protecting your financial security is pivotal, and maintaining awareness acts as your foremost protection against these unsafe tricks.
Always remember to stay away from poorly regulated or unregulated brokers. One such example is FXGlobe.
Long Story Short – EverestCM
All in all, EverestCM presents itself as a good platform offering MetaTrader 4 and 5 with solid trading conditions. Yet, it's important to recognize that dealing with offshore brokers like EverestCM or RoiFX has certain risks. The broker's association with a regulatory body is somewhat challenging to verify. Besides, its offshore license doesn't align with the rigorous standards set by esteemed financial institutions. 
EverestCM's regulatory issues, blacklisting by Spain's CNMV regulator, and targeting of EU traders raise concerns about its reliability. While the broker boasts a variety of trading assets and platforms, opting for a regulated broker remains a safer choice for investors seeking security and peace of mind.
FAQs
Is Everestcm Regulated?
EverestCM operates with an offshore license, lacking alignment with reputable standards.
How Much Is Everestcm's Withdrawal Fee?
EverestCM operates offshore, lacking alignment with reputable standards.
How to Contact Everestcm?
There is a "Contact Us" section for email and phone information.