June 17, 2023
Reading Time:
5
min
EverFX Review: Learn More About Everfx.com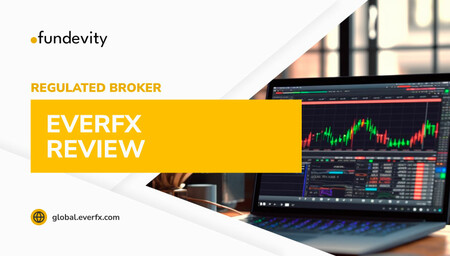 EverFX is a legit brokerage launched in Cyprus and serves clients in the Cayman Islands. Our EverFX review focuses on its core principle of providing equal opportunities for success in the trading world. They prioritize a strong foundation of knowledge and expertise. EverFX ensures that each client receives a favorable trading environment and access to a superb platform. Their commitment to helping clients achieve their targets is unwavering. Stay tuned for our detailed review of EverFX's solid offerings.
EverFX's Commitment to Security and Regulation
EverFX, operating under ICC Intercertus Capital Ltd, is a Cyprus-based corporation. It's worth noting that the firm maintains compliance with the rigorous norms set by the Markets in Financial Instruments Directive (MiFID).
In addition to its Cyprus firm, EverFX has a presence in the Cayman Islands, registered with the local Cayman Islands Monetary Authority (CIMA). Being located in an offshore zone may raise concerns about reliability. Still, the combination of European regulation and the Cayman Islands' presence positions EverFX as a broker that meets regulatory conditions. We can be sure that it offers legitimate trading options.
EverFX prioritizes fund security. Regulatory requirements impose mandatory rules, ensuring client funds are always segregated and inaccessible to the company. In the unfortunate event of a company's insolvency, clients are protected through repayment schemes. Moreover, EverFX undergoes constant audits and provides indemnity proof, instilling confidence in its clients.
EverFX has gained traction across the globe, attracting clients from various countries. The broker's geographical distribution of clients is as follows: Canada (24.4%), the United Kingdom (14.1%), the United States (6.9%), Spain (5.9%), Australia (5.4%), and other countries (43.4%). This diverse client base showcases EverFX's international popularity. 
Regulatory Warning Against EverFX
It's crucial to note that EverFX faced a ban on their services from the UK's FCA regulator. Despite operating under a valid license, concerns were raised regarding the broker's marketing approach. 
The regulator found their practices misleading, involving high-pressure tactics and difficulties approving withdrawals. Given these circumstances, it would be wise to explore alternative broker options.
General information
Name:

EverFX

Regulation status:

Regulated Broker, FSA, and CIMA

Warnings from Financial Regulators:

FCA

Website link:

Everfx.com, global.everfx.com

Active since:

2016

Registered in:

Cyprus

Contact info:

[email protected]

, +357 25 885000

Trading platforms:

MetaTrader 4, MetaTrader 5, Zulutrade, Status

The majority of clients are from:

Canada, the United Kingdom, the United States, Spain, and Australia

Customer support:

24/5

Compensation fund:

Yes, €20,000
Note: EverFX obtained its CySEC license in 2016. Yet, upon closer analysis, we uncover potential concerns, namely their loss of the CySEC license.
EverFX's Diverse Investment Opportunities
EverFX provides a wide selection of trading instruments, carefully categorized into different classes. Some assets may exhibit high volatility, coupled with high leverage risks. Still, there are numerous opportunities to explore. Here are some examples.
Forex: USD/EUR, AUD/NZD, EUR/NOK

Commodities: oil, gold, natural gas

Indices: AU200, DAX30, BE20

Shares: AMD, Intel, NVIDIA

Crypto: Bitcoin, Cardano, Ripple
Despite high leverage, a solid range of instruments, combined with a reliable platform such as MT4/MT5, can yield favorable outcomes for traders. It's essential to exercise caution. Always adopt appropriate risk management strategies while exploring these trading opportunities.
Exploring EverFX's Trading Platforms
EverFX allegedly supports popular platforms such as MT4, MT5, and a proprietary Status WebTrader. Among them, MT4 holds widespread recognition in the trading industry due to its reliability and extensive features. EverFX provides access to both MT4 and MT5. These platforms offer a dependable trading experience, equipped with refined indicators, robust charting options, and more.
However, it's imperative to note that certain EverFX reviews highlight potential issues. While the platforms themselves are reliable, users have reported concerns. It is wise to consider these reviews and perform due diligence when selecting the most suitable trading platform. This is based on your individual needs and preferences.
Overall, EverFX offers a range of reliable trading platforms with advanced functionalities. Yet, it is advisable to be aware of potential issues reported by users. By doing your research, you can enhance your trading with EverFX, IFC Markets, and other legit firms.
EverFX: Navigating the Trading Environment
The broker employs various strategies to attract and engage users. They utilize different communication methods and conversational styles to interact with clients. As a responsible trader, exercise caution and remain vigilant. This is the unwritten rule.
Leverage: Exploring Trading Opportunities
We all know that leverage plays a significant role in trading. This goes without saying. The broker offers leverage of up to 1:400. While this provides potential opportunities for enhanced gains, it's essential to consider the associated risks. 
Adhere to proper risk management practices and consider leverage regulations in your region. This is essential to keep in mind.
Mobile App: Trading on the Go
EverFX includes a phone trading app, providing users with the flexibility to trade from their smartphones or tablets. These apps often feature avant indicators, charting options, and social trading tools, enhancing the trading experience. 
Yet, it's worth noting that some EverFX reviews have raised concerns. These relate to potential issues with the app's performance or functionality. Keep that in mind. 
Demo Account: Practice Trading Skills
EverFX provides a demo account option, allowing clients to practice their skills and explore the platform without risking too much. Yet, it's wise to approach demo trading with caution. Habits developed during virtual trading may not necessarily translate to success in live trading. It is best to exercise diligence and acquire sufficient knowledge before transitioning to real trading.
Special Bonuses: Additional Features
EverFX may offer special bonuses to incentivize traders, providing additional benefits or rewards. Besides, the broker may support auto-trading functionality, enabling users to automate their trading strategies. 
These features can greatly enhance the trading experience. The terms and conditions of these should, however, be clearly understood.
Can I Earn & Withdraw from EverFX?
Earning and withdrawing funds from EverFX is a possibility. When it comes to withdrawals, EverFX offers various options for global clients. Generally, clients can choose from e-payment methods like Neteller, Alipay, Skrill, and QIWI, as well as traditional options such as Visa and Mastercard. 
Besides, online bank transfers are available, offering a reliable and secure way to withdraw funds. It's critical to note that EverFX may charge a commission for certain withdrawal methods, except bank transfers. Traders are advised to review the specific terms and conditions regarding withdrawals.
Customer Support
EverFX provides customer support to assist traders with any questions or concerns they may have. The broker aims to offer reliable and responsive assistance. It is recommended to reach out to EverFX's customer support team for accurate and up-to-date information regarding deposit and withdrawal policies. 
While the terms and conditions of the broker's services should comply with regulatory standards, traders must review the specific details. 
Note: Libertex is another reputable broker known for its superb platform and diverse selection of tradeable assets.
EverFX: Trader Reviews
When examining EverFX traders' reviews, it's critical to consider users' feedback on various platforms. For instance, on Trustpilot, out of 180 comments, approximately 65% are rated with just one star. These reviews come from customers in countries such as the United Kingdom, Canada, Australia, Spain, and France. 
It is worth noting that a significant number of these reviews express dissatisfaction with the withdrawal process. While it is essential to approach these reviews with caution and consider them as individual experiences, users' concerns warrant attention. Traders should carefully evaluate the feedback and make an informed decision based on their own risk tolerance.
Long Story Short –  EverFX
EverFX is a brokerage based in Cyprus and serves clients in the Cayman Islands. It operates under ICC Intercertus Capital Ltd and is regulated by the FSA and CIMA. EverFX offers a diverse range of investment opportunities. That includes forex, commodities, indices, shares, and crypto. It provides trading platforms such as MetaTrader 4, MetaTrader 5, and Status WebTrader.
EverFX has faced regulatory warnings from the UK's FCA. Still, it remains critical to consider these issues. Traders should exercise caution and review user feedback. Always look at platforms like Trustpilot to make an informed decision.
Looking for a trustworthy broker tailored to your unique requirements? Reach out to us, and we'll connect you with the right broker to meet your needs.
FAQs
Is EverFX Legit and Safe?
EverFX is a broker that has faced regulatory concerns in the past, such as a ban on their services from the UK's FCA regulator.
How Do I Know EverFX Scammed Me?
If you suspect you have been scammed by EverFX or any other broker, it's crucial to gather evidence and seek advice from professionals. Look for red flags such as withdrawal problems, misleading practices, or high-pressure tactics.
How To Find A Broker For Safe Trading?
Finding a trustworthy broker for trading requires careful consideration and research. Start by checking if the broker is regulated by reputable authorities. If you need assistance finding a secure broker, please contact us for a free consultation.