October 25, 2023
Reading Time:
4
min
ExpertOptionBot Review: Is This the Right Trading Partner for You?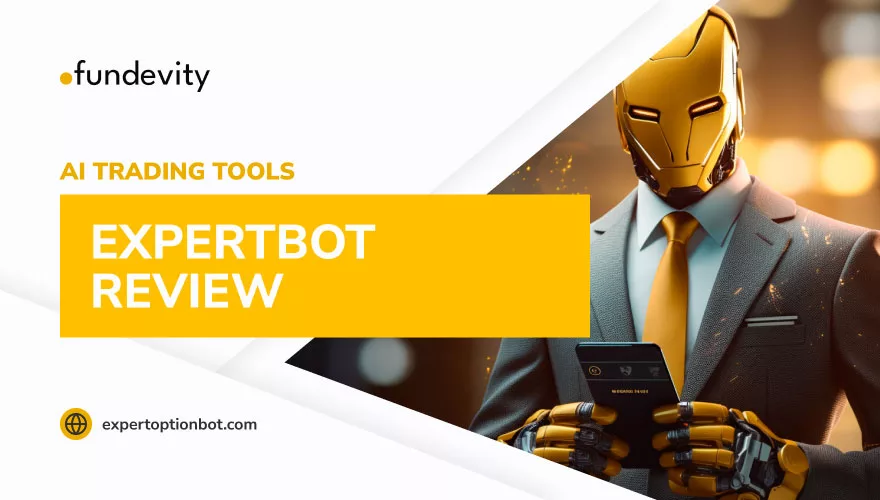 Welcome to our thorough investigation of this smart trading bot. In this ExpertOptionBot review, we aim to answer some main questions, providing you with detailed insights. Our mission is to empower you with the knowledge needed to make a good decision. So, let's further explore ExpertOption and ExpertOptionBot, uncovering every crucial detail you need to know. Read on! 
| | |
| --- | --- |
| | General information |
| Name | ExpertOptionBot |
| Type of company | AI Trading Tool  |
| Regulation status | Unregulated/Not expected |
| Warnings from Financial Regulators | No official warnings |
| Website link | expertoptionbot.com |
| Active since | 2022 |
| Registered in | N/A |
| Contact info | [email protected] |
| Trading platforms | iOS and Android |
| Majority of clients are from | South Africa; India; Iraq; Saudi Arabia; Brazil |
| Customer support | Email  |
| Compensation fund | No |
Understanding ExpertOption Broker 
ExpertOption, established in 2014, is a binary market broker. It serves a vast community of over 30 million clients worldwide. Despite lacking official licensing, ExpertOption has garnered trust through robust encryption algorithms and a dedicated client base. 
Awards like the Best Trading Platform in 2017 validate its commitment to traders. Offering binary options, ExpertBot smart trading software provides more than 100 trading instruments and 6 real account types. Their aim? To make trading accessible and rewarding for everyone. 
Now, it's time to focus on another part of their company – the ExpertOptionBot.
Meet ExpertOptionBot
ExpertOptionBot, closely linked with ExpertOption, is a good auto-trading tool made with simplicity in mind. With a nice 72% bid accuracy and a user base of 2,200+, it offers proven trading strategies. We can see that it also offers customizable notifications and a risk-free $10,000 demo account. 
Also, there's the app and many assets that simplify the trading process. Technical analysis tools and real-time market updates are there to boost your trading experience. Plus, withdrawals are hassle-free. All of this sounds good to us. Yet, there are some issues with transparency. We will talk about that soon. 
Simple Feature Overview
This bot offers several trading features to its users. These include:
Proven Strategies:

ExpertOptionBot provides reliable trading strategies for smart decisions.

Custom Alerts:

Get real-time market updates tailored to your preferences.

$10,000 Demo:

Practice risk-free with a $10,000 virtual account to hone your skills.

Easy App Access:

Manage trades conveniently with the user-friendly mobile app.

Test Before Use:

Try the auto-trading bot on the demo account for confidence.

Diverse Assets:

Trade from 100+ assets and stocks for varied investment options.

Insights:

Use technical analysis tools and the latest market news for insights.

Simple Withdrawals:

Effortlessly withdraw profits from your bank card or e-wallet without fees.
Payment Methods
As this is not mentioned on their site, we had to ask their support for more details. They told us that ExpertOptionBot accepts cards and electronic wallets. What's more, they said that we must go to the ExpertBot login page to see other payment options. 
While these options are nice, we understand the importance of a transparent breakdown of available methods. We know that clear payment details are necessary for a seamless trading experience. Knowing exactly how and where your money is handled provides peace of mind. Clearly, this allows you to focus on your trades with confidence.
Understanding Win Rates
When it comes to win rates on ExpertOptionBot, it's essential to grasp a few key points. We reached out to their support team again to get a clearer picture.
According to them, the accuracy of trading depends on several factors. These are the market situation, asset choice, transaction time, and the strategy used. To improve accuracy, they offer a tool called the Summary Indicator. This tool is activated for free when you make a deposit. Also, by using multiple indicators simultaneously, the Summary Indicator greatly boosts the chances of successful trades.
Their team shared an interesting statistic: about 63% of users noticed a remarkable increase in successful transactions. And this happened when they used the Summary Indicator. Also, they strongly advise against interrupting the auto-trading robot during transactions. Your chosen strategy will not be able to work to its full potential if you stop it halfway through.
Fraud Prevention Issue
We all know that transparency in fraud prevention is crucial for your trust and confidence. 
Their support told us that this trading bot complies with Google Play Store standards. Still, this is not solid proof that this company cares about fraud prevention. We do care about the need for additional details about their fraud prevention strategies. And we got nothing aside from this! 
Remember, a clear and detailed fraud prevention approach ensures a secure trading environment for all users. Trust is earned through openness, and we believe in building trust with our users at every step of their trading journey.
Tip: RaceOption is a legit binary trading company that processes more than 150,000 orders daily.
A Missing Piece on Trustpilot
Now, what is there to know about trader reviews on this trading platform? 
One thing that caught our attention during our review was the lack of Trustpilot reviews for the Expert Option Bot. For many users, Trustpilot is the go-to platform for genuine reviews and experiences. 
The absence of any reviews raised some eyebrows and piqued our curiosity. While it's not unusual for new services to start without reviews, it does add an element of suspicion. Transparent user feedback can truly provide useful insights. So, this does leave a few questions unanswered for us.
Your Gateway to Profit in Trading
Are you ready to begin your online trading journey? We invite you to explore our AI Analysis Bot, your friendly and smart companion in the world of trading. 
With expert consultations and detailed analysis reports, our AI Analysis Bot simplifies difficult trading decisions. Best of all, you can try it free for 20 days, with no upfront payments required. Start your path to financial success today by making confident trading decisions backed by expert insights.
Still, it's vitally important to know that trading profits are not guaranteed. Trading always comes with certain risks. 
Tip: PMcrypto seems untraceable, making it essentially an anonymous crypto exchange and likely a scam. Stay cautious.
Final Thoughts
So, is ExpertBot legit? All in all, ExpertOption and ExpertOptionBot offer promising options for online traders. Clearly, there is room for improvement in transparency regarding payments and fraud prevention. Ultimately, these platforms provide a strong foundation for trading. 
Still, for a user-friendly and precise trading experience, consider our AI Analysis Bot. Your trading journey should be empowering, ensuring every decision you make is backed by knowledge. Trade wisely, and may your trading experiences be filled with success and prosperity!
FAQs
What Is ExpertBot?
ExpertBot is an auto-trading tool with strategies and alerts for simplified crypto trading.
Is ExpertBot Legit?
ExpertBot's legitimacy is questionable. Keep this in mind.
How Does ExpertBot Work?
ExpertBot uses proven strategies, customizable alerts, and a demo account.