May 12, 2023
Reading Time:
4
min
Exteom Review: The Whole Truth About Exteom.com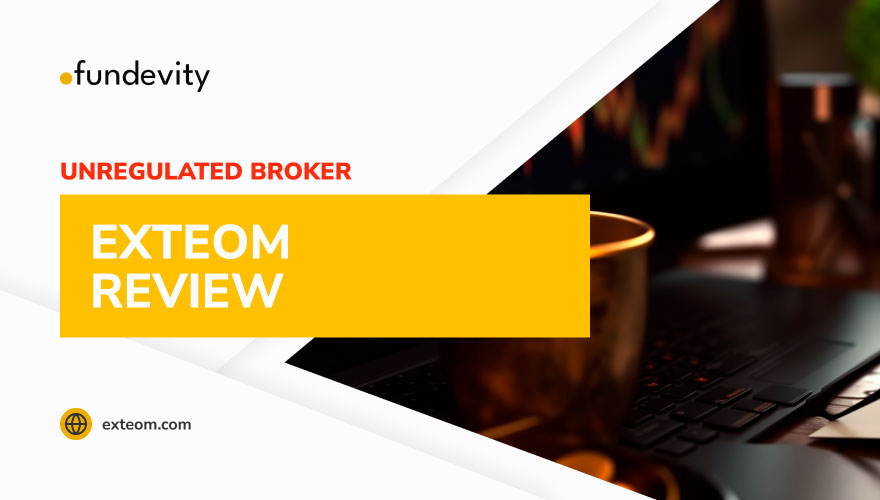 Exteom Review, Research on investing forums and social media platforms revealed many negative experiences and conflicting opinions about Exteom. Due to its unreliability, potential investors should conduct a thorough examination before investing. This comprehensive Exteom review shows that not everything is as good as it seems. Read on to find out more about this suspicious offshore broker.
| | |
| --- | --- |
| Company | Wirrerium LLC |
| Headquarters | St. Vincent and the Grenadines. |
| Website | exteom.com |
| Warning | CNMV |
| Platforms | MT4, WebTrader |
| Minimum Deposit | N/A |
| Leverage | 1:30 |
| Spread | 1.4 |
| Review Rating | 1/5 |
Regulation and Fund Security at Exteom 
Indeed, the broker we are writing about lacks a license number on its website.
Many countries have established regulatory bodies to watch broker activities within their jurisdictions. 
It stands to reason that this particular broker is conducting business in a country where FX trading is not regulated by law. Namely, the broker comes from St. Vincent and the Grenadines.
Yet, it is worrying that this broker has chosen not to acknowledge this on their website. That indicates that your investment may not be secure in their custody.
They cannot ensure the safety of your capital at all. Since they are not accountable to any regulatory authority, this broker can treat you however they wish.
That is precisely why people often suffer losses when dealing with unregulated brokers such as this one, Leadtradesfx, and many more. 
Trading Software at
Exteom 
Your trading platform is the gateway to executing your trades in the market. That is, in fact, a crucial component of your trading experience. Exteom includes some of the most powerful trading platforms available on the market, including the popular MT4 and MT5.
These venues boast cutting-edge technology and numerous tools to meet your every need. But that's not all – Exteom also offers a convenient WebTrader that requires no downloads. Exteom also offers mobile trading solutions that allow you to trade on the go from wherever you are.
Yet, as you already know, not everything is as good as it seems. Remember that you are dealing with an offshore broker with no license. Keep in mind the fact that they are not transparent. Also, don't forget the lack of regulation. 
Account Types Offered
Now, let's talk about the account types. This suspicious company offers three account types. They are as follows: 
You can also choose an account currency such as EUR, USD, and GBP.
Exteom also offers a demo account for people to practice trading. Demo accounts are virtual platforms that can be quite beneficial. Thanks to them, traders can practice strategies and test platforms risk-free. 
Novice and experienced traders familiarize themselves with different features and learn new strategies. It is the unwritten rule that demo accounts are valuable tools for developing skills without risking real money. 
However, make sure that you choose a regulated broker, and try this feature on a legitimate and safe platform. 
Deposit and Withdrawal Methods
When it comes to investing, it's important to take precautions to make sure that your money is secure. Unfortunately, there are scam brokers out there that take advantage of unsuspecting investors. 
One such company is Exteom. If you have deposited funds with Exteom, it's imperative to be aware that there is a risk that your funds may not be safe. This company hasn't even disclosed the payment options it supports.
To protect your investment, it's best that you request the withdrawal of your funds from Exteom as soon as possible. However, it's imperative to note that Exteom may delay the process and make it difficult for you to file a complaint. 
It's essential to be persistent in following up with them until your withdrawal is completed. However, if you have persistent withdrawal issues, please do not hesitate to contact us. 
How the Fraud Has Carried Out
In order to gain your trust, scammers often send you fake returns to lure you into investing money. Then they ask for even more money or the recruitment of others to extract as much money as possible. After they are sure you cannot invest anymore, they close your account and disappear.
It is common for scam companies to appear trustworthy. To look reputable they use fictitious locations and regulatory licenses. It is important to be aware of these schemes and recognize them. We urge you never to trust an unregulated broker like Exteom, XBTFX, or others.
Exteom
Summary
Exteom, an offshore trading platform, has received mixed reviews on social media and forums. Yet, the majority of these reviews indicate potential unreliability. The broker lacks a license number on its website, along with many other details. That is cause for concern since it may not ensure your deposit or investment's safety. 
Exteom offers powerful trading platforms, and it offers a demo account. Still, its lack of transparency and regulation is worrying. The trading platform offers three account types, Standard, Premium, and VIP, that may look tempting. 
Depositing funds with unregulated brokers is not a good idea. Investors should immediately request a withdrawal from Exteom or any other broker scam. It's essential to exercise caution when dealing with fake and unregulated brokers.
FAQs
Can I trust Exteom broker?
No, you can not trust an unregulated offshore broker. Beware of that.
What kinds of accounts does Exteom provide?
Exteom provides three account types: Standard, Premium, and Vip.
What is Exteom's minimum deposit amount?
This information is not disclosed anywhere on their website.