October 12, 2022
Reading Time:
6
min
Filing Bankruptcy for Student Loans: Everything You Need to Know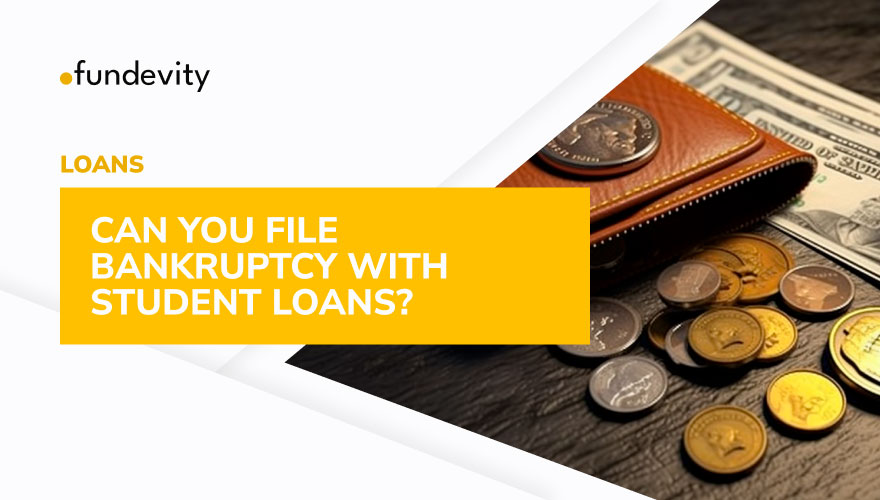 Student loans can be one of the most burdensome debts you'll ever take on, especially when they're combined with credit card debt and medical bills. Despite their weighty impact on your budget, though, there's no guarantee that bankruptcy will solve your problems. In fact, if you're struggling to pay back federal student loans due to disability or unemployment (or both), filing for bankruptcy may actually make it harder for you to get a fresh start from your creditors.  
There are a lot of myths and misconceptions out there about student loan bankruptcies. Keep reading to find out more about this complex issue.  
Just because you have student loans doesn't mean that you're out of options. In fact, there are several alternatives to bankruptcy that can help relieve your debt burden. The first step is figuring out what type of loan you have and whether or not you are eligible for student loan bankruptcy discharge.  
When it comes to any loan, bankruptcy may seem like the easy way out. But is it? Here are some things you need to know about filing for it.  
First, to answer the question can you file for bankruptcy on student loans?  
The short answer is: yes, you can, however, there are a few things you should know before taking this route.  
This will not erase your student loan debt. It may, however, give you some relief from your monthly payments.
It will likely damage your credit score and make it difficult to get new lines of credit in the future.  
And lastly, depending on the loan you took, conditions will be different. For example, if you took a federal loan (which includes Stafford loans and PLUS), the following conditions must be met to get them discharged:  
You were totally disabled when the loan was made  
Your school closed before your graduation date and did not offer any other education program within a reasonable distance for at least six months afterward, barring extreme circumstances; or  
You were enrolled in an eligible educational institution at least half time but could not complete coursework due to a medical condition that prevented you from completing it, fully withdrawing from school before 60% completion of your program, or having been expelled or suspended by the school  
What You Should Know About Bankruptcy
Bankruptcy is a legal process that can help you get rid of debt. If you are having trouble making payments on your loan, going through this process may be an option for you.   
For starters, filing for bankruptcy on student loans will not get rid of your debt completely. Student loans are in general considered to be "secured" debt, which means that they are backed by collateral (in this case, your future earnings). This makes them different from other types of debt, such as credit card debt, which can be completely discharged in bankruptcy.  
Another thing to keep in mind is that even though you can technically file for bankruptcy, it's not always a good idea. That's because this will stay on your credit report for up to 10 years and will make it difficult to get approved for new lines of credit.  
In case you're struggling to make your student loan payments, you may want to consider consolidating or refinancing your loans to get a lower interest rate or monthly payment. You can also look into income-driven repayment plans, which will base your monthly payment on a percentage of your earnings.  
Chapter 7 vs. Chapter 13 Bankruptcy: Which Is Best for You?
There are two main types of bankruptcy on student loans that can help you with the debt you collected: Chapter 7 and Chapter 13. Here's a look at how each one works and which might be best for your situation.  
The process of liquidating your assets to pay back creditors is referred to as Chapter 7 bankruptcy. In this type of bankruptcy, you are allowed to keep certain types of property under protection from creditors (called exemptions), including your car and home. If your income is above a certain amount set by the court each month, you will also be required to pay something toward your debts each month after filing for Chapter 7 bankruptcy.  
Chapter 13 bankruptcy is sometimes called "reorganization" bankruptcy because it allows you to reorganize your debt and create a repayment plan that suits your personal situation. You don't have to sell any of your assets, but you do have to make payments on your debt for three to five years. After that, the remaining debt is discharged.  
Depending on the amount of debt you accumulated, one or the other option may be better for you. If you have a lot of other debt that you need to get rid of, Chapter 7 might be the better solution. But if you can afford to make payments, Chapter 13 might be a better choice.  
Talk to a bankruptcy attorney to find out which type is the best fit for you.  
How to File for Bankruptcy for Student Loans
To file for bankruptcy for student loans, you must first file a petition. This is the document where you list your debts and assets. Next, submit a schedule of your debts, which lists all of your outstanding obligations as well as their total amounts. You also need to submit a statement of intent if you want to keep some property or if there are certain parts of your life that are particularly important to you, such as home ownership. Finally, include a plan of repayment in your bankruptcy filing so that creditors can be made aware of how they'll be repaid over time—and whether they'll ever get paid at all.  
If you do decide to go through with this process, you'll also need to complete a means test to see if you are a good fit. This test takes into account your income and expenses to determine whether you can actually repay your debts. If the court finds that you cannot, your student loans may be discharged.  
Keep in mind that even if your student loans are discharged in bankruptcy, you may still owe money to the government. If you have a Direct Loan or a Perkins Loan, the government can garnish your wages or take money out of your tax refund to collect on the debt.  
How to Demonstrate Undue Hardship for Student Loans
In case you want to discharge your student loans in bankruptcy, you have to demonstrate that paying them would create an undue hardship for you. There are different ways this can happen.  
One way that is most common is if bankruptcy will leave you with no money for food or shelter. This can be demonstrated by showing how much money you owe and how much income you have (or expect). If there is no money left over after paying all expenses, then that shows that there is not enough money left over for basic needs like food or a place to live.  
Another way for a debtor who owes student loans to show undue hardship involves proving that repaying the debt would prevent the debtor from working full time at an income level sufficient enough to support him/herself and any dependents. 
If you think you may be able to qualify for student loan discharge through bankruptcy, it's important to speak with an experienced attorney who can help you navigate the process.  
Is Filing Bankruptcy for Student Loans a Good Idea?
Bankruptcy with student loans can be a good option for someone who is struggling to pay the money back. But, it's not the best solution for everyone, and it's important to know what you're getting into before filing.  
If you have no other options, bankruptcy for student loans might be your best bet. If you are unable or unwilling to get a job that pays enough money for you to make regular monthly payments on your loans, applying may be the only way out of debt and into financial stability. But don't forget there are other options available, such as working in another field, and then this process may not be right for you at all—and it could make things worse in the long run!  
It's also important to note that if your income has increased since leaving school but hasn't reached a level where your monthly student loan payments would be affordable on their own yet, this doesn't mean that declaring bankruptcy will help get rid of those debts any faster than they would've been otherwise. In fact, depending on how much money was owed when filing occurred plus how much was already paid prior (as well as how much interest accrued during this time period), it could end up costing more overall than just waiting out until everything was paid off normally through normal channels anyway! So, think carefully about whether bankruptcy really makes sense before taking action here. Otherwise, it might backfire big time later down the road when taxes come due after years spent paying instead.  
So, while it is possible to discharge your loans through bankruptcy, it's not an easy process. And if your loans are not eligible for discharge, you will still be responsible for repaying them in full. 
Alternatives to Student Loan Bankruptcy
There are a number of options available to struggling borrowers who are considering bankruptcy on a student loan. Some of them we already covered in this article, but now, we will take a more in-depth look into them.  
Student loan forbearance: This option allows you to temporarily stop making payments on your loans. It can be helpful if you're facing financial hardship or are going through a tough period financially.  
Student loan deferment: This option allows you to postpone your student loan payments for a certain period of time. This can be helpful if you're returning to school or are experiencing financial difficulties.  
Loan consolidation: This will allow you to combine multiple student loans into one single loan with one monthly payment. It can be a great help if you're struggling to keep track of multiple loans or want to lower your interest rate. 
Bottom Line
Bankruptcy and student loans are serious topics and should be considered carefully. You should never assume that filing for bankruptcy will solve all your problems with student loans because there are many factors involved with such a decision (including whether or not it will even affect them at all). There are other options for dealing with these loans that may be more effective than filing for bankruptcy. If you are considering doing so either way, talk to an attorney about your options.  
Don't forget that student loans are treated differently than other types of debt in bankruptcy, and there's a process you must follow to get them discharged.