March 28, 2023
Reading Time:
3
min
Finaguide Review: Details Regarding This Scam Broker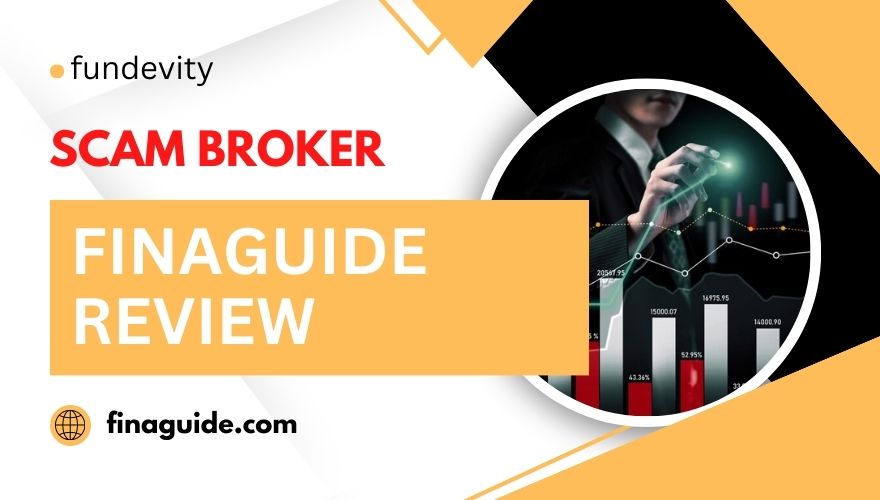 While Finaguide may look professional, it doesn't necessarily mean they're legit. In fact, they're just another shady offshore broker that requires an exorbitant amount of cash to open an account and a referral code just to view their platform.
Other brokers out there are much safer and offer better trading options. Check out this Finaguide review to learn more about this scam.
| | |
| --- | --- |
| Company | Finaguide Ltd |
| Website | https://finaguide.com/ |
| Address | SVG/8 Finance Street, Hong Kong |
| Email | [email protected] |
| Phone | +18009516353 |
| Minimum Deposit | $2,500 |
| Leverage | 1:400 |
| Bonuses | n/a |
| Regulation | No |
| Warning | AMF, The Financial Commission |
Regulation and Fund Security at Finaguide
Finaguide is a broker that shows a fake address. They are registered in St. Vincent and the Grenadines, but this should raise suspicion for sure. The financial authority in St. Vincent and the Grenadines only regulates the banking sector and does not monitor the activities of FX brokers.
Consequently, brokers operating in this country are not held to the same high standards as those in heavily regulated markets like the UK, EU, and Australia. Brokers in these environments are strictly regulated and require adherence to clear laws and regulations.
They must maintain a minimum operational capital, keep the money in segregated bank accounts, and offer negative balance protection. These measures ensure the safety of funds and provide transparency in the trading process.
There Is More to This
Using a legit broker is of paramount importance when trading in the markets. This is because the broker plays a critical role in providing a secure trading environment. With this, you can trade with confidence and peace of mind.
A legit broker is one that is regulated by a respected financial authority, such as the Financial Conduct Authority (FCA) or the Securities and Exchange Commission (SEC). These provide oversight to ensure that the broker complies with strict regulatory standards and rules.
One of the most important benefits of using a legitimate broker is the safety of investor funds.
Trading Software Available at Finaguide
Supposedly, Finaguide boasts an advanced platform for trading. They claim it is equipped with many trading features and charting tools. Nevertheless, we couldn't test this 'outstanding' platform since the broker demands a referral code to open an account.
This condition raises doubt since legit firms don't usually rely on referral codes. Instead, they showcase their services through demo accounts to attract potential clients. Unfortunately, scammers use referral codes as a tactic to target their victims through endless calls and emails.
Are you interested in exploring a potent trading platform? If so, turn to brokers that offer MetaTrader 4 or MetaTrader 5. These platforms provide a fantastic charting and analysis package. They also provide valuable features such as Expert Advisors, VPSs, Strategy Testers, signals, and more.
Finaguide Account Types
Finaguide offers 6 account types. Let's take a look at them below!
Beginner
Standard
Intermediate
Advanced
Integral
VIP
These accounts may look tempting and all, but do not trust anything this broker claims to offer. They are a fake company that wants to rob you.
Deposit and Withdrawal Methods
If you put your money in a broker that's not regulated, it's not safe. So, you should ask for your money back as soon as possible. Yet, we know it's not easy. The broker may take a long time to give you your money back.
If it takes more than six months, you won't be able to do anything to get your money back. You'll lose it permanently. Even if you ask for it many times, you may never get it back. If you signed the Managed Account Agreement, you gave control of your account to the broker. They may use up all your funds, and you won't be able to get them back.
How the Fraud has Carried Out
Phony FX brokers are everywhere. These offshore firms are a constant threat to new investors and traders. That is true! These rogue brokers usually operate in countries with loose regulations. What is more, they hide behind a veil of anonymity to dupe their victims.
They lure people with false promises of high returns, hidden fees, and manipulative tactics. Once they have your money, they often become hard to contact.
After all, they can disappear with your cash, leaving you with no recourse. It's vital to be vigilant and thoroughly research any broker before investing your money. This is the unwritten rule.
Finaguide Summary
All in all, always be mindful if you think about investing your money. This is the unwritten rule, by all means.
Finaguide's use of referral codes, unregulated status, and withdrawal issues are clear indicators of potential deceitful activities. Thus, you must do your due diligence to avoid falling victim to such shady companies.
FAQs
Can I Trust Finaguide Broker?
It is not advisable to trust Finaguide as they are unregulated and hide many things, such as requiring a referral code to open an account.
What Kinds of Accounts Does Finaguide Provide?
They include 6 account types: Beginner, Standard, Intermediate, Advanced, Integral, and VIP.
What Is Finaguide Minimum Deposit Amount?
The minimum deposit amount that this fake broker asks for is $2,500. This is extremely high.