August 18, 2023
Reading Time:
6
min
Finflow X Review: Exploring the Pros and Pitfalls of Finflow-x.com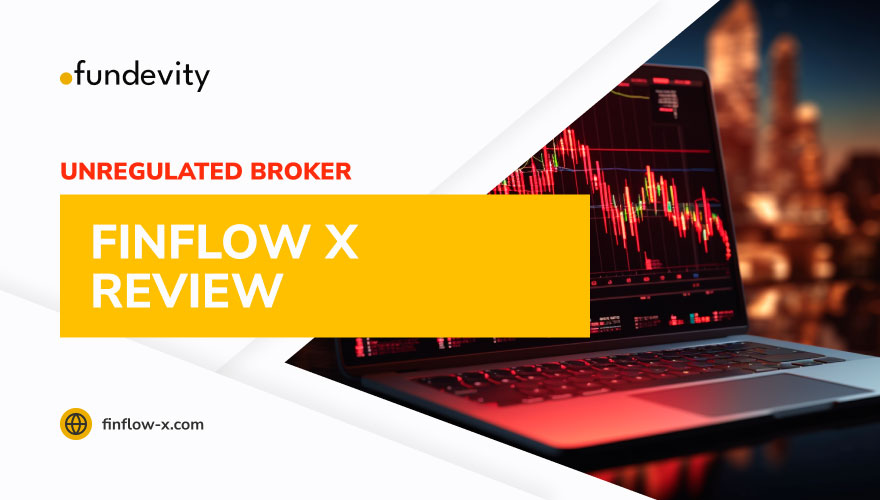 In the world of anonymous shady platforms, a new player has arisen. And that is a broker-Finflow-X. They caught the attention of the competitive field of online trading. 
Yet, it's vital to look beyond and understand its strengths and possible drawbacks. This Finflow X review aims to clarify its regulatory status, accounts, range of offerings, and more. Our goal is to provide an unbiased and authentic assessment of Finflow-X, enabling you to fully grasp its performance. We will give you all the info you need to decide whether they align with your trading objectives.
Finflow X Legitimacy: Unveiling the Regulatory Maze
As we delve into the depths of Finflow-X, one crucial aspect to examine is its legitimacy. Hailing from Switzerland, a country well-known for its financial standards, one would expect Finflow-X to be regulated and licensed by FINMA, the Swiss Financial Market Supervisory Authority. 
But, upon closer check, a disturbing revelation surfaces. A search through the FINMA database reveals that Finflow-X is absent from the commercial register. Likewise, they even find its place on their warning list. Such a glaring red flag raises doubt about the platform's credibility.
General information
Name:

Finflow X

Regulation status:

Unregulated Broker

Warnings from Financial Regulators:



Blacklisted by FINMA

Website link:

finflow-x.com

Active since

2023

Registered in

Switzerland

Contact info:

Address: Bahnhofstrasse 37, 8001, Zürich, Switzerland

Trading platforms:

Finflow X  Webtrader

The majority of clients are from:

Canada

Spain 

Australia 

United Kingdom 

Netherlands 

Customer support:

Yes (24/5 live chat)

Compensation fund:

No
Diverse Asset Classes at Finflow-X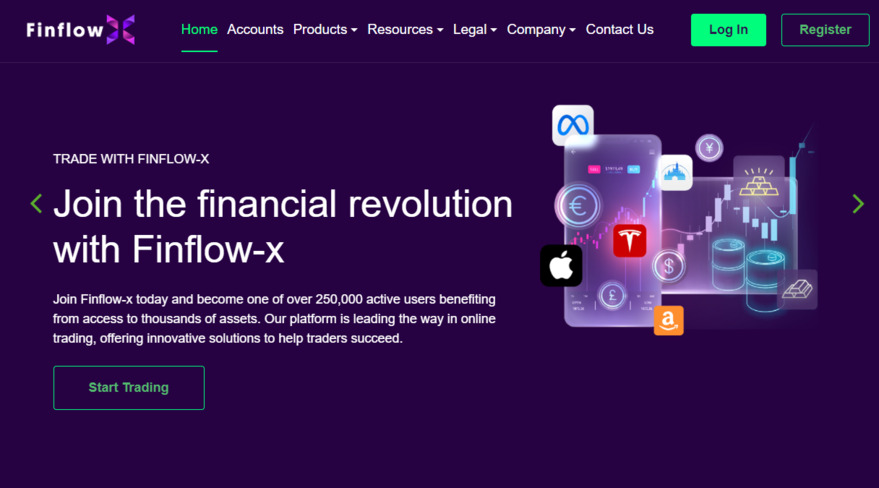 With trading options across six diverse asset classes, Finflow-X tries to suit a broad spectrum of investor preferences. They offer stocks, currencies, indices, FX, crypto, and ETFs. Finflow X crypto opens doors to the realm of digital assets. Yes, this odd platform offers a rich variety of assets to diversify investment portfolios. Yet, they did not expand their portfolio to include more Finflow X NFT options.
Despite all this, remember they are unregulated, just like UOP Capital. Investing in unregulated brokers carries a high level of risk and may result in big financial losses. So, it is important to be aware of the risks and to do your research before investing.
Finflow X Trading Platforms
Finflow X offers a web trading platform that has some strengths and weaknesses. The platform offers transparent fee reports and excellent chart and workspace customizability. Yet, certain aspects demand scrutiny, by all means. 
The platform has advanced features and round-the-clock customer support. For some, Finflow X has garnered a reputation for being a versatile and customizable FX platform. Let's look at some of their offerings below! 
Real-Time Data. Real-time data access equips us with the agility to make well-informed judgments. Finflow X ensures we stay ahead in a fast-paced trading domain.
Advanced Market Insights. Finflow X's advanced market insights empower traders with real-time analytics and market trends. That may enhance their ability to predict and capitalize on market movements. But beware of the risks. 
Customizable Control. Finflow X's standout feature lies in its customizable options. It enables traders to shape their investment strategies.
General Trading Environment at Finflow X
Let's take a closer look at the basic trading environment this shady FX broker has to offer. We will look at the account types, leverage, mobile app, and more. Let's dive in! 
Finflow X Account Types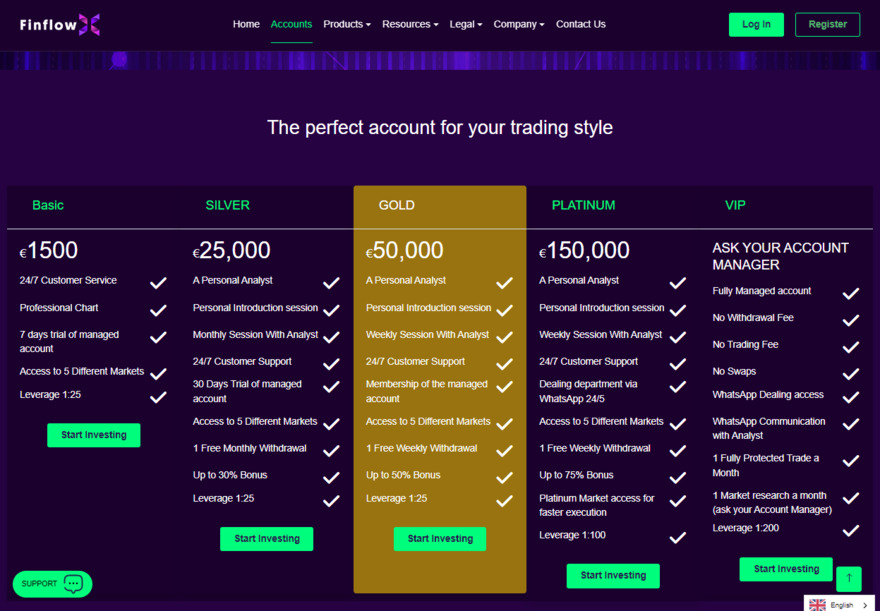 Finflow X presents a hassle-free account opening process, with account verification taking less than two hours. The $1500 minimum deposit is relatively expensive and not suitable for beginner traders.
The platform offers a range of account types, with varying pricing, platforms, and execution methods. People can choose from the Basic Account to the VIP Account. 
Accessing your trading account begins with the Finflow X login details. However, it's truly advisable to avoid this unregulated company. 
Finflow X Leverage
Leverage, a key feature in trading, is available on Finflow-X, enabling traders to boost (or lose) their potential returns. 
However, it's essential to approach leverage with caution, as it also magnifies potential losses. Traders should only use leverage if they understand the risks involved. Similarly, they should ensure that they have proper risk management strategies to mitigate any losses.
Mobile Trading App
Finflow-X's mobile trading app provides a solid trading experience on handheld devices. 
With a user-friendly interface and efficient search function, traders can stay connected to the markets while on the move. Still, remember to look for regulated brokers that have a proprietary app. 
Note: Uptrend Center lacks regulation from any governing bodies. It's essential to note that the Ontario Securities Commission has identified it as a scam.
Demo Account: A Learning Opportunity Missed
Another notable drawback of Finflow-X is the absence of a demo account feature. 
For rookie traders, this could hinder their learning curve. We know that demo accounts provide a risk-free environment for practice and skill development. Still, this is no surprise for a suspicious broker. 
Note: Finflow-X offers a competitive fee structure with no deposit fees and free withdrawals. Yet, it's important to note the presence of inactivity fees and fees related to stock CFDs.
Finflow-X Education Tools
Finflow-X claims to offer an impressive range of educational resources suitable for traders at all stages. Those are:
Tutorial videos

extensive educational videos, 

interactive webinars, 

and thought-provoking written materials.
The veracity of these claims, yet, deserves a closer look. It remains to be seen whether these tools foster true self-assuredness in trading strategies. Further review is needed on the degree of personalization and practical guidance provided. We cannot confirm that Finflow-X lives up to its promise of being a beacon of learning. It's more like it simply adds another layer to the marketing façade.
Finflow X Withdrawals and Deposits
Financial transactions are crucial for any trading journey, and Finflow-X seeks to facilitate solid interactions. The platform supports an array of options, from credit/debit cards to electronic wallets. 
While free withdrawals are enticing, traders should be mindful of the platform's limitations concerning supported currencies.
Traders' Reviews and Customer Support
We all know that guidance is often essential, and Finflow-X steps in with solid customer support. With a trust score of 4 out of 5 on Trustpilot, the platform demonstrates a devotion to addressing user concerns. 
However, a critical assessment of customer reviews suggests room for improvement. Also, given the unregulated status of this broker, some reviews may even be fabricated. This is a big ambivalence right here! 
Trustpilot reviews offer a glimpse into the real-world experiences of Finflow-X users. While the platform garners an overall positive rating (3.8), some users express dissatisfaction through one-star reviews. It's essential to acknowledge these perspectives as part of the broader evaluation of the platform.
How the Scam Operates 
Tricky brokers use different methods to deceive you. They often create issues when you want to withdraw your money or ask further questions. They may also impose odd and excessive charges. 
These charges can be very steep, occasionally surpassing 20%. Besides, they might label them differently, such as "withdrawal processing fees." Furthermore, they usually demand an upfront fee, claiming it's for your future earnings. Please be cautious about this. 
Another red flag is unrealistically promised returns. This is a frequent tactic as well. Scammers always assure you of massive, guaranteed profits. Yet, be cautious, as trading with things like leverage can be risky. Don't fall for a scam that guarantees substantial earnings in a short time span.
Long Story Short – Finflow X
All in all, Finflow-X emerges as a candidate with distinct strengths and weaknesses. While its diverse asset classes, modern interface, and tools offer enticing prospects, you must be cautious. This is mostly due to concerns surrounding regulatory status, trading fees, and mixed user experiences. 
As you begin trading, a balanced assessment of any broker will empower you to make the best decision possible. 
As of now, Finflow-X is not licensed or regulated by any official authority. The same goes for another shady broker called Valuta Markets. It is best to research the company thoroughly and check for any updated information before making any decisions. 
We suggest that you look for other brokers that are regulated and have a good reputation. If you're interested in learning more about those brokers, contact us for help!
FAQ Section
What is Finflow X?
Finflow X is just another unregulated broker to avoid.
Does Finflow X Have a Mobile Trading App?
Yes, they do. Finflow-X claims to provide an exceptional mobile trading platform.
How Much is Finflow's Withdrawal Fee?
Finflow-X allegedly offers free and efficient deposit and withdrawal options.