April 23, 2023
Reading Time:
5
min
Fintegral Review: Find Out Why This Broker Is a Scam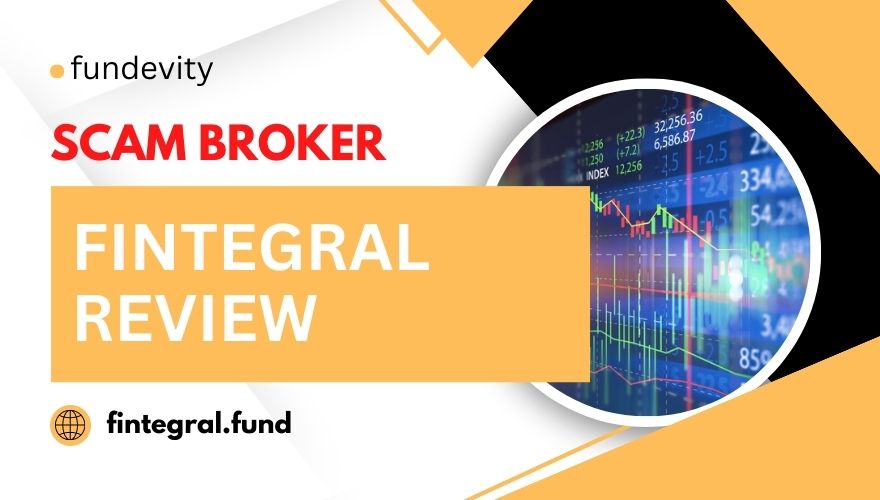 Fintegral is a type of broker that operates offshore. However, offshore brokers like Fintegral may not be the best choice for managing your finances due to the lack of regulation. Unfortunately, some offshore brokers, like Fintegral, can be fraudulent and include legal clauses restricting your withdrawal rights. Moreover, the trading conditions provided by these types of brokers may not be trustworthy. Therefore, avoiding Fintegral and other offshore brokers exhibiting these concerns is best. For a detailed Fintegral review, keep on reading! 
| | |
| --- | --- |
| Broker Status: | Unregulated Broker Scam |
| Regulated by:  | No Regulation |
| Operating Status:  | Active |
| Scammers Websites:  | https://fintegral.fund/ |
| Blacklisted as a Scam by: | n/a |
| Broker Owner:  | Ethereal Group LLC |
| Headquarters Country: | Saint Vincent and the Grenadines |
| Foundation Year:  | 2021 |
| Online Trading Platforms: | WebTrader |
| Mobile Trading:  | Yes |
| Minimum Deposit: | $500 |
| Deposit Bonus:  | Yes |
| Crypto Asset Trading: | No |
| CFD Trading Option: | Yes |
| Available Trading Instruments: | FX, commodities, indices, bonds, shares |
| Maximum Leverage: | 1:100 |
| Islamic Account:  | No |
| Free Demo Account:  | No |
| Accepts US clients: | Yes |
| Site Grid: | fintegral.cloud |
Security and Compliance at Fintegral
Fintegral is an FX broker that should be approached with caution. Despite its claims of being a subsidiary of a legitimate Fintegral firm, this company is actually a clone firm of Ethereal Group LLC. This company is registered in Saint Vincent and the Grenadines. 
The fact that Fintergal is not regulated is particularly concerning, as it means the company is not held to any specific standards or oversight. Unfortunately, the lack of financial regulations in Saint Vincent and the Grenadines has led to the proliferation of fake firms like Fintergal. These firms are taking advantage of many unsuspecting clients. 
It's critical to note that legitimate Fintegral has issued a warning against this scheme broker. Keep in mind that the FSA directive requires brokers to obtain a license from reputable Tier 1 providers like FCA, ASIC, BaFin, and FINMA. Our study confirms that Fintergal is an unregulated clone company, and we advise investors to avoid doing business with them.
Beware that there is no shortage of crypto scam brokers, and CertaInvest is also one to be mindful of.
Website's Trading Platform Overview
When it comes to trading platforms, Fintegral offers only one option: WebTrader. While it has a decent appearance, it does not have all the advanced features that other platforms offer, such as social trading and EAs. 
Hence, if you are looking to start trading, it's always better to opt for a legitimate company that provides MT4 or MT5 software. These platforms are known for their reliability, and your funds are much more secure. Plus, they offer so many advanced trading tools to help you make informed decisions and maximize your profits.
Note: It's wise to exercise caution and carefully evaluate risks before making any investments with your money.
Account Types at Fintegral
We do not consider the Fintegral account types as important since this company is shady. Yet, we would like to provide you with a quick overview of what they entail. Fintegral offers 4 different types of accounts, each with varying minimum deposit amounts and features. These accounts are as follows:
Mini account with a minimum deposit of $500

Standard account with a minimum deposit of $1,000

Classic account with a minimum deposit of $5,000

VIP account with a minimum deposit of $10,000
These accounts differ in contract size and asset access. For instance, clients with a Mini account can trade only currency pairs, while a VIP account gives access to all 5 markets. Thus, depending on your investment objectives, experience, and economic capability, you can choose the most appropriate account type. 
Note: While they may appear different on the surface, both Roisea and Fintegral brokers have been identified as deceitful crypto scams. These should be avoided at all costs.
Deposit and Withdrawal at Fintegral
This company offers multiple payment options. These include crypto assets and credit cards. However, before depositing crypto, it's crucial to ensure you trust your broker as crypto payments are difficult to trace and recover. 
Besides, Fintegral's minimum deposit requirement is relatively high at $500. This is much higher than the industry standard of $10 for opening a micro account with a reputable firm. Here are some more details about Fintegral's payment options and minimum deposit:
Crypto payments: Fintegral accepts payments in various crypto assets such as Bitcoin, Ethereum, and Litecoin. Yet, it's essential to be cautious when using crypto assets for transactions. Why? Well, they are not backed by any government and can be volatile in terms of value. Hence, it's crucial to choose a trustworthy broker like Fintegral when making such payments.

Credit card payments: Apart from crypto, Fintegral also accepts credit card payments. This option may be more convenient for some investors. However, it's important to ensure that you have sufficient funds in your account to avoid unnecessary interest or overdraft charges.

Minimum deposit: Fintegral has a minimum deposit requirement of $500, which may seem high compared to other firms. Yet, this may be suitable for investors who want to trade with larger amounts of capital or have more experience in the market. It's important to consider your goals and financial capability before choosing a broker and depositing funds.
How Did This Brokerage Perpetrate Fraud?
It's sad but there are many unscrupulous brokers who use a variety of tactics to scam gullible investors. One of the most common signs of a scam broker is withdrawal issues – you may experience delays or have trouble withdrawing your funds. Another red flag is unexpected or unusually high fees, which may be disguised as withdrawal processing fees.
In addition, many scam brokers require you to pay profit fees in advance, even before you make any actual profits. It's important to know that guaranteed returns are often used as a deception method. These fraudsters will make promises of massive guaranteed returns, but it's essential to remember that trading leveraged instruments carries risks. No broker can guarantee returns. Anyone claiming otherwise is likely a fraudster.
To protect yourself, it's wise to choose brokers that are regulated and trustworthy. By doing that, you can minimize your risk of falling victim to these typical scams. Always stay ahead of the game. 
Fintegral Summary
Fintegral is an offshore broker that is not regulated and should be approached with caution. The lack of regulation makes it easier for criminal entities like Fintegral to operate and deceive clients. Fintegral is a clone firm of Ethereal Group LLC, headquartered in Saint Vincent and the Grenadines. 
Legitimate Fintegral has warned against this scheme broker. Fintegral offers only one trading platform, WebTrader, which is limited in its features. What's more, this broker has 4 account types, each with varying minimum deposit amounts and features. It accepts multiple payment options, including crypto assets and credit cards. 
Yet, Fintegral's minimum deposit requirement is relatively high at $500. Clients may experience withdrawal issues, delays, or unusually high fees, which may be disguised as processing fees. After all, it is best to avoid unregulated brokers like Fintegral and select legitimate enterprises that provide MT4 or MT5. 
FAQs
Is My Money Safe With Fintegral?
No, you should not trust this unregulated and suspicious firm.
What Is The Minimum Deposit for Fintegral?
The minimum deposit that this company asks for is set at $500.
Does Fintegral Offer Demo Account?
No. This is a fake broker that does not offer a demo account.