March 18, 2023
Reading Time:
6
min
Fiona Personal Loans Review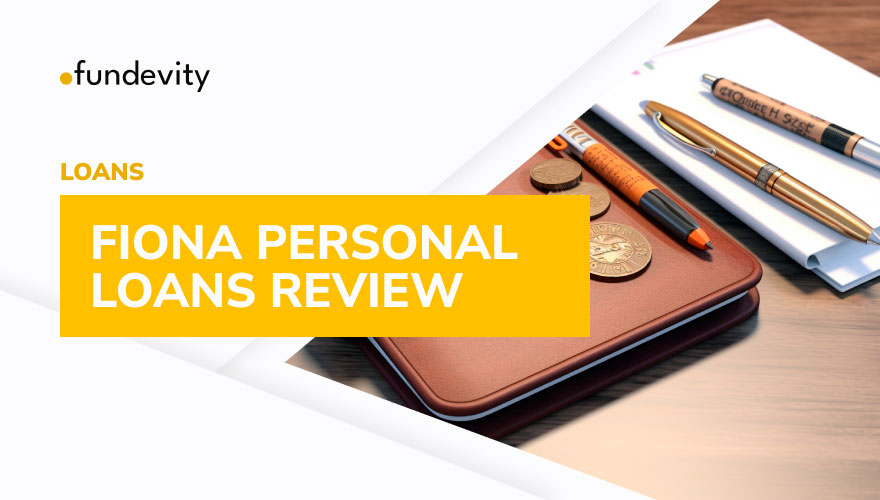 When you're in need of a personal loan, it's important to do your research so you can make an informed decision. One lender that should be on your radar is Fiona, a company focused on providing loans with competitive terms and great customer service.
In this Fiona personal loan review, we will provide an up-to-date detailed breakdown of them as loan servicers. We'll also look at all the services they offer, their rates and fees, and what customers have to say about their experience. By the end of this Fiona lending service, you should have all the information you need to decide if they are right for you.
Fiona is a personal loan marketplace that connects borrowers with multiple lenders. Fiona offers loans from as little as you would like and up to $250,000 and terms from 6 to 144 months. Fiona does not charge origination, application, or prepayment fees but their lenders might charge you.
They also offer a simple online application process and provide access to multiple lenders with a single loan application. Borrowers can check their rates without affecting their credit scores. Once approved, borrowers select their desired loan amount and term. Fiona sends the loan to the borrower's bank within one business day.
| | |
| --- | --- |
| Website | https://fiona.com/ |
| Loan Amount | Up to $250,000 |
| Loan Terms | From 6 to 144 months |
| APRs | 3.49% to 35,99% |
| Origination Fee | No |
| Prepayment Fee | No |
| Immigration Status Considered | U.S citizens or permanent residents |
| Employment Statuses Considered    | Full or part time, self employed |
| Intended Use | Debt consolidation, home improvements, large purchase, baby, wedding, business, medical expenses, moving  |
| Joint Loan Applications Accepted | Yes |
| Verification Documents Required  | Social Security number, pay stubs, tax returns  |
| Late Fee | No |
| Minimum Credit Score | All credit scores accepted |
| Minimum Income | N/A |
| Loan Purpose | Personal use |
| Supported Income Types | All |
| How Long To Get Funds | 1- 2 business days |
| Other Prerequisites | Must be over 18 years old |
Fiona Overview
Fiona is a service you can use to search for providers of personal loans, as well as savings accounts, student loan refinancing, and more. New York-based Even Financial created Fiona, which is not a direct lender. Instead, it uses relationships with lenders to connect consumers with funding options.
Loan requirements depend on the individual lender, but loans are available for almost any credit score, according to Fiona. There is no cost to use the service and submitting an application won't impact your credit score.
Besides using Fiona to get connected to a certain lender that suits your needs, Fiona can also help you get the best credit card for your debt. Overall, they are considered a legit and reliable company that has a variety of loan lenders.
Is Fiona a Lender?
Fiona is an online marketplace where you can explore different lender options based on your credit, how much you want to borrow, what you want to use the loan for, and where you live. If you decide to apply for a loan through its platform, Fiona helps you compare lenders from its network.
Fiona can match consumers with preapproved and prequalified loan offers from its network of providers. Users can submit a single application with Fiona and see loan offers in under a minute. Each lender has its own product offerings and credit requirements, but almost any credit score can be matched, according to Fiona.
How Does Fiona Personal Loans Work?
Fiona is a personal loan matching service that connects borrowers with multiple lenders. Fiona doesn't lend money directly to consumers.
That's what makes Fiona unique: The company does not lend money but instead partners with a variety of lenders to show you the best loans with competitive rates. The process is totally personalized, so you can see the best options for your financial situation, and it doesn't require a hard credit pull for you to see initial offers.
Fiona makes money by charging lenders a fee for connecting them with borrowers. Borrowers don't pay any fees to use Fiona's service.
How to Apply for Fiona Personal Loans
When you're looking for a personal loan, it's important to find a lender that best suits your needs. Fiona can help you compare different personal loan offers from a variety of lenders in just a few minutes. All you need to do is fill out a short online form and Fiona will do the rest.

Here is how it works:

Submit a form with Fiona.

Review loan offers, then select a lender if interested.

Apply and accept loan terms with the lender.

Follow the repayment plan.
Remember that if you do submit your information with Fiona, you're not obligated to accept any loan offers or to move forward with an official application if you're unhappy with the offers listed.

Here is also a list of what you will need to provide:

Loan amount

Your credit rating

Loan purpose

Name and email address

Date of birth

Whether you rent or own

Education completed

Address and phone number

Employment status

Annual income and pay frequency

Social Security number
Fiona Personal loans Pros and Cons
There are many personal loan options available on the market today, so it can be difficult to choose the right one for your needs. However, if you're looking for a personal loan with competitive rates and flexible repayment options, Fiona Personal Loans may be a good option for you.

But just like any other lender or loan servicer, Fiona has both pros and cons that you should consider and weigh out before making a decision. One of the major benefits working with Fiona brings is that they are a BBB-accredited company that also has an A + rating.

But on the downside, Fiona is not a direct lender and they do share your personal information with third parties.
| | |
| --- | --- |
| Pros | Cons |
| No origination, prepayment or late payment fee | Shares your info with third parties |
| Long loan terms | Not a direct lender |
| High loan maximum | Lending process is done with a lender and no through Fiona |
| All credit scores accepted | Their lenders can charge you a fee |
Is My Information Safe on Fiona?
In regards to Fiona being a safe and legit company, we can give you a mixed reaction. When it comes to legitimacy and reputability, they are on top of their game. Their ratings and reviews prove that since they have a score of 4.8 out of 5 on their online ratings.
Regarding that specter, you don't have to worry if they will scam you. But on the other hand, even though they state on their website they don't resell your information to third parties, we came upon a lot of complaints regarding that issue. Mainly because it turns out they do sell your information to third parties and they just bluntly lied on their website.
Overall, they are a reputable company but if you are not okay with your information being sold, which we completely understand, we don't recommend you to work with them. And in case you want to work with a lender that will not sell your information to third parties, feel free to reach us. We can help you find a good lender.
Is Fiona a Legit Service?
Fiona is a personal loan servicer that connects borrowers to the right lender. They are a legitimate service that is registered with the Better Business Bureau and has an A+ rating.
Additionally, Fiona has been in business since 2014 and has helped over 500,000 people get the funding they need.
Besides personal loans, they offer many more loan options as well as credit cards and insurance. And if you decide to try out their services, you will have the opportunity to search among 100+ providers, compare the rates you got and decide whether to apply or not.
Summary of Fiona Personal Loans
Fiona is an online platform that matches a borrower with the right lender.

There is no minimum loan amount and the maximum is set at $250,000. Loan terms vary from lender to lender but can be anywhere from 6 months to 144 months. 

There are no origination fees or prepayment penalties with Fiona's loans.

To qualify for a Fiona personal loan, you must have a minimum annual income of $24,000 but all credit scores are considered. 

Additionally, you must also be a US citizen or permanent resident with a valid social security number.

The application process for a Fiona personal loan is entirely online and takes just minutes to complete. Once you're approved and accept your loan terms, funds will be deposited into your account within 1-2 business days.
Fiona Loans FAQs
1. Is there a minimum credit score required to apply for a loan through Fiona?
There is no minimum credit score you must have in order to apply for a personal loan with Fiona.
2. What types of loans can I find through Fiona?
Besides personal loans you can also get student loan refinance, auto refinance, mortgage, or mortgage refinance loans.
3. How long does it take to receive a loan through Fiona?
After getting approved, it only takes 1 to 2 business days to get the funds deposited into your account.