March 07, 2023
Reading Time:
3
min
Flipunique Market Review: Details Regarding This Scam Broker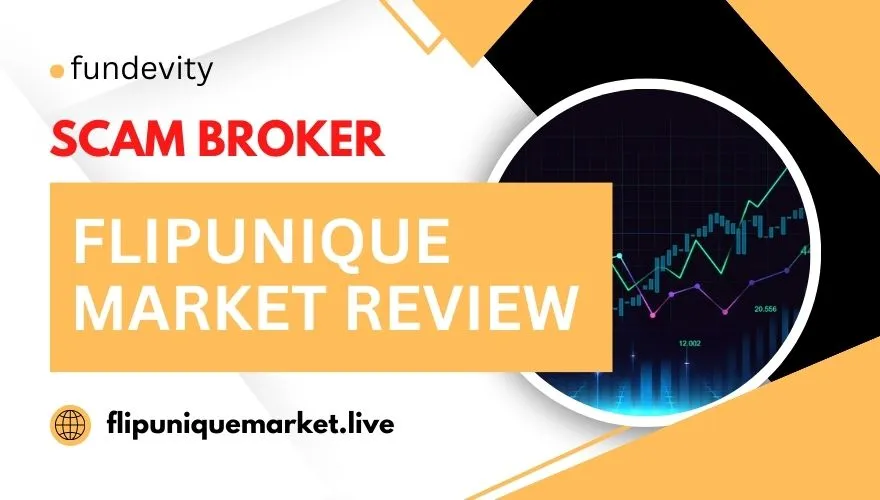 This Flipunique Market review will reveal that this so-called broker is a big scam. Offshore brokers are sadly all too common in this day and age. This company has received a warning from the regulatory agency that controls the markets in Seychelles.
That is not all, however! There are many unfortunate facts that hide behind this unregulated broker. Let's dive into more valuable details about this broker scam below.
| | |
| --- | --- |
| Company | n/a |
| Website | http://flipuniquemarket.live/ |
| Address | n/a |
| Email | [email protected] |
| Phone | n/a |
| Minimum Deposit | n/a |
| Leverage | 1:500 |
| Bonuses | No |
| Regulation | No |
| Warning | FSA |
Regulation and Fund Security at Flipunique Market
Flipunique Market broker scam unlawfully uses the name of TopFX, a broker licensed by CySEC as well as the Seychelles FSA. Flipunique Market seemingly stole their identity. That proves that this is a scammy scheme made to trick people out of their funds.
Yet, this broker is an officially revealed fraud as the Seychelles FSA issued a warning against it. The authority says that they have an illegal website that does not relate to any entity authorized by the FSA in any way!
That said, it is advisable to trade with regulated brokers only! For instance, CySEC (Cyprus) and FCA (Britain) brokers are safe. This is because both authorities set tight rules to ensure the security of clients' funds. The obligatory laws include client account segregation, risk-reducing steps like leverage restraints, negative balance protection, and more.
Whereas, most notably, both CySEC and FCA brokers include deposit insurance. Conversely, trading with suspicious brokers will leave you unprotected and vulnerable to scams. It's never advisable to trust your funds with such entities.
Trading Software Available at Flipunique Market
This broker scam claims to deliver Desktop, iOS, Android, and Web software. Yet, the fraudulent brokerage does not even provide access to any of those platforms. You won't be able to download any files.
After you sign up, your account will remain pending. It will never get the approved status. KYC is a practice among authorized brokers. Yet, it's inappropriate to lock the account entirely!
Demo accounts are non-existent with this broker, which is a big red flag! Regulated brokers should provide access to virtual funds accounts. This is useful so you can test the platform before making a deposit.
Still, Flipunique Market is a revealed scam and a clone. Always use regulated brokers who support MetaTrader 4 and MetaTrader 5 if you want to trade. The firms are highly regulated and safe. Also, they provide terrific trading tools and instruments.
Deposit and Withdrawal Methods
Of course, we can expect evident withdrawal issues. Flipunique Market's minimum deposit amount is unknown.
Fraudulent businesses facilitate payments via non-refundable options. One of those options is crypto. It is best to think about making payments via a credit or debit card. By using them, you have the option to request a refund.
The investment scam does not have any proof of successful withdrawals. Scammers create ways to keep your money for a long time. Ultimately, that money will disappear without a trace. This broker does not have any withdrawal procedure. Be aware of this!
Tip: What about customer support? Flipunique Market does not give any addresses. There is no assurance in the customer service data. Scammy companies usually cut off any contact after receiving your funds.
How the Fraud Was Carried Out
Scammy brokers have many deceitful tactics in their pockets. You will see withdrawal issues and many complaints. The other thing to worry about is bizarre fees. Sometimes, the fees will even go above 20%. Those fees will also hide behind many descriptions, such as processing fees, for instance.
Fraudulent web pages will want you to pay in advance before any withdrawal request.
Similarly, there are absurd guaranteed returns that they promise. This is another popular fraud scheme that you should be aware of. Scammers will claim you will receive large amounts of money. Don't forget that trading is risky.
Any broker scam will try to convince you that the profits are guaranteed. Stay with regulated brokers who use MT4 or MT5. These will often post a warning about the losses.
Tip: Firms that market systems—such as signal sellers or robot trading—often sell products that are not safe and do not yield profitable results. These scammers often pray on people on Telegram groups or forums. Be mindful of this!
Flipunique Market Summary
We hope this Flipunique Market review has helped you. It's important to be cautious about these types of fraud. Flipunique Market broker is a fraudulent entity. There's a risk of losing all your funds if you stay with this broker.
Don't forget they received a warning from the regulatory agency. Always read reviews from trustworthy sources and do proper research. Likewise, if you want to report this scammer, we can help you with that!
FAQs About Flipunique Market Broker
Can I Trust Flipunique Market Broker?
You should never trust Flipunique Market broker. They are fraudsters who will steal your money.
What Kinds of Accounts Does Flipunique Market Provide?
There's a lack of any legitimate accounts for trading. They don't even offer demo accounts.
What Is Flipunique Market Minimum Deposit Amount?
The minimum investment amount of this broker is unknown, which is kind of odd.