August 02, 2023
Reading Time:
6
min
ForexMart Review: Is It the Right Broker for You? A Detailed Analysis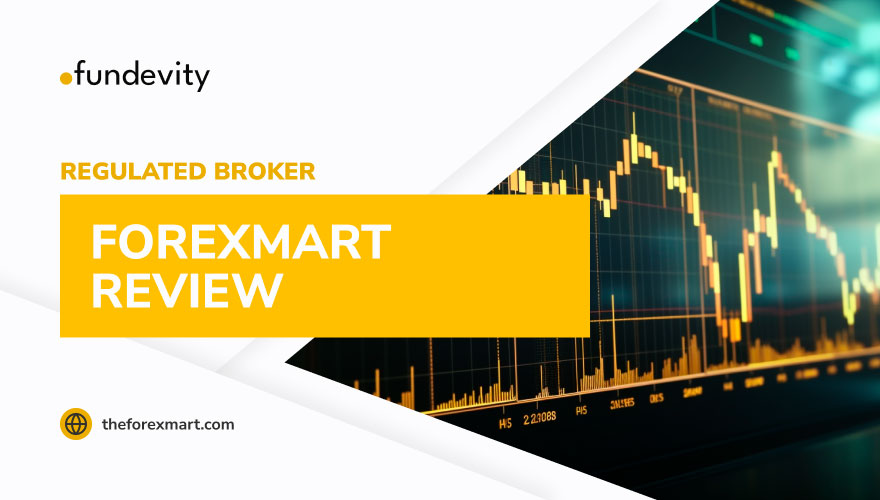 Like our other reviews, this ForexMart review sheds light and exposes the truth about brokers like Novotrend, Novelis Capital, or ForexMart. Discover information on the broker's minimum deposit, the traders they work with, payment options, and much more. 
A professional trader's opinion on the ForexMart welcome bonus, the trading interface, and a general evaluation of the broker and its offerings are also provided as a bonus. To make an educated conclusion, continue reading our in-depth examination. 
Who Is ForexMart? All About the ForexMart Broker
ForexMart, a 2022 subsidiary of Tradomart SV Ltd. and Finateqs, offers trading in forex, CFDs, shares, indices, energy, metals, and cryptocurrency. 
Despite offering various departments, phone numbers, web forms, and social media accounts, the broker lacks independent regulation.
General information
Name:
ForexMart, Tradomart SV Ltd, Finateqs Corp
Regulation status:

Finateqs is regulated by Belize FSC

Warnings from Financial Regulators:
Website link:
theforexmart.com
Active since:
2022
Registered in:

Tradomart SV Ltd. (Reg No.23071, IBC 2015) Shamrock Lodge, Murray Road, Kingstown, Saint Vincent, and the Grenadines
Finateqs (Reg No.23071, IBC 2019) Second Floor No. 24, Albert Hoy Avenue, Belize City, Belize

Contact info:
Email

[email protected]

,

[email protected]

,

[email protected]

,

[email protected]

  

Phone + 442 030 976 697 (Viber, Whatsapp, Telegram)

Skype support_forexmart 

www.facebook.com/forexmartofficial

Trading platforms:
ForexMart Web Terminal and MT4
Majority of clients are from:
Malaysia 

Brunei

Indonesia

United States

South Africa

Customer support:
24/5 Live Chat Support
Compensation fund:
None
Regulation Info
With its office in Shamrock Lodge, Murray Road, Kingstown, Saint Vincent and the Grenadines is where Tradomart SV Ltd. (Reg No. 23071, IBC 2015) is registered. While Finateqs is registered as (Reg No. 23071, IBC 2019) at Second Floor No. 24, Albert Hoy Avenue, Belize City, Belize, it is governed by Belize FSC under license number 000160/344.
Both Tradomart SV Ltd. and Finateqs have several restricted areas, like the United States of America, North Korea, Sudan, Syria, and others, while being subject to Belize FSC regulation. It's important to remember that conducting business in these areas without the appropriate regulation creates concerns and poses hazards for the clients who reside in these nations.
Brokers must be licensed by competent authorities in their countries to offer services in restricted areas. The U.S. SEC and CFTC oversee financial sector regulation, while the Syrian Commission on Financial Markets and Securities (SCFMS) oversees financial regulation in Syria.
ForexMart Broker Profile
There are a total of five account types available at ForexMart, with a 1:500 maximum leverage. The last account type with zero spreads is where the $6 commission begins. Although traders have an option between trading on the ForexMart MT4 platform and the ForexMart Web Terminal, we always advise MT4.
Account types:

Classic, Pro, Cents, Zero Spread

Financial Instruments On Offer:

Forex

(EURUSD, EURGBP, USDNOK)

Cryptocurrencies

(BTC, ETH, XRP)

Metals

(Gold, Silver, Platinum)

Indices

(S&P 500 Index, Dow Jones Industrial Average, FTSE 100 Index)

CFDs on Shares

(Facebook, Tesla, Netflix)

Energies

(Brent Crude Oil, WTI Crude Oil, Natural Gas)

Maximum leverage:

1:500

Minimum Deposit:

$15, $200, $500

Commissions/bonuses:

Commission from $6

Mobile app:

Yes

Desktop app:

Yes

Autotrading:

Yes

Demo account:

Yes

Education or Extra tools:

Economic Calendar, Market Analysis, Economic News, Currency Converter, Glossary, Education Brochure, Forex Calculator
ForexMart Account Types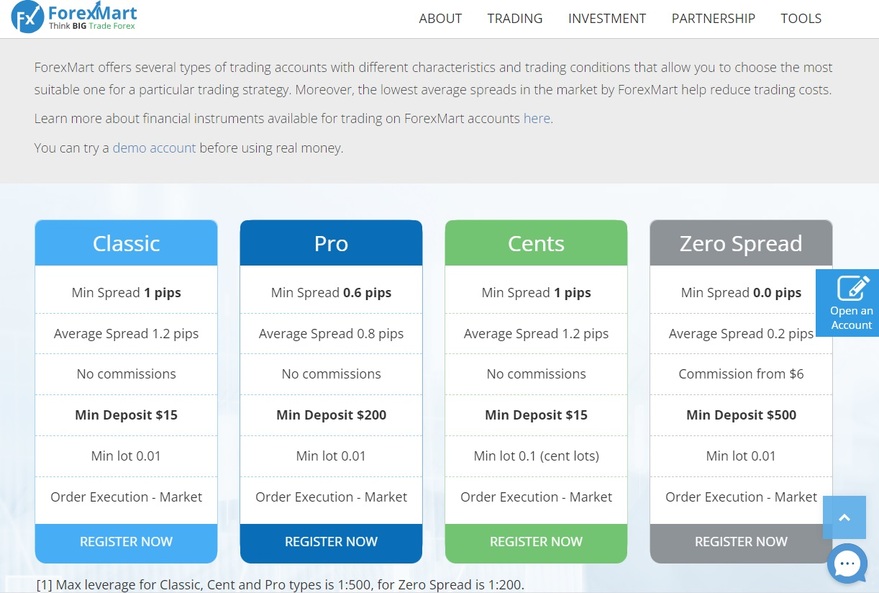 With different account types, different deposits are required. The ForexMart minimum deposit depends on the account type you choose and four account types are:
Classic Account:

Minimum Spread: 1 pip

Average Spread: 1.2 pips

Commissions: None

Minimum Deposit: $15

Minimum Lot: 0.01
Pro Account:

Minimum Spread: 0.6 pips

Average Spread: 0.8 pips

Commissions: None

Minimum Deposit: $200

Minimum Lot: 0.01
Cents Account:

Minimum Spread: 1 pip

Average Spread: 1.2 pips

Commissions: None

Minimum Deposit: $15

Minimum Lot: 0.1 (cent lots)
Zero Spread Account:

Minimum Spread: 0.0 pips

Average Spread: 0.2 pips

Commission: Starting from $6

Minimum Deposit: $500

Minimum Lot: 0.01
Each account type is created to accommodate various risk appetites and trading preferences. ForexMart offers a variety of options to pick from to improve your trading experience, regardless of whether you are a novice or seasoned trader.
Is ForexMart Safe To Trade With?
We cannot deem the broker safe in light of all the warning signs, especially the trader reviews. There are numerous claims that the company is operating under different names, and many traders have complained about withdrawal costs and other problems. Reports of withdrawal fees and other costs that are added once you want to withdraw your money serve as evidence of the lack of openness. 
ForexMarket is not regulated to operate in the countries it does, and that is also a major red flag. When dealing with unregulated brokers as possible investors, it's imperative to use caution, especially in nations where regulatory authorities play a major role in safeguarding traders' interests. To provide a safer and more secure trading experience, traders should take into account brokers who are recognized and regulated by respected financial authorities.
ForexMart Review: Traders' Thoughts and Opinions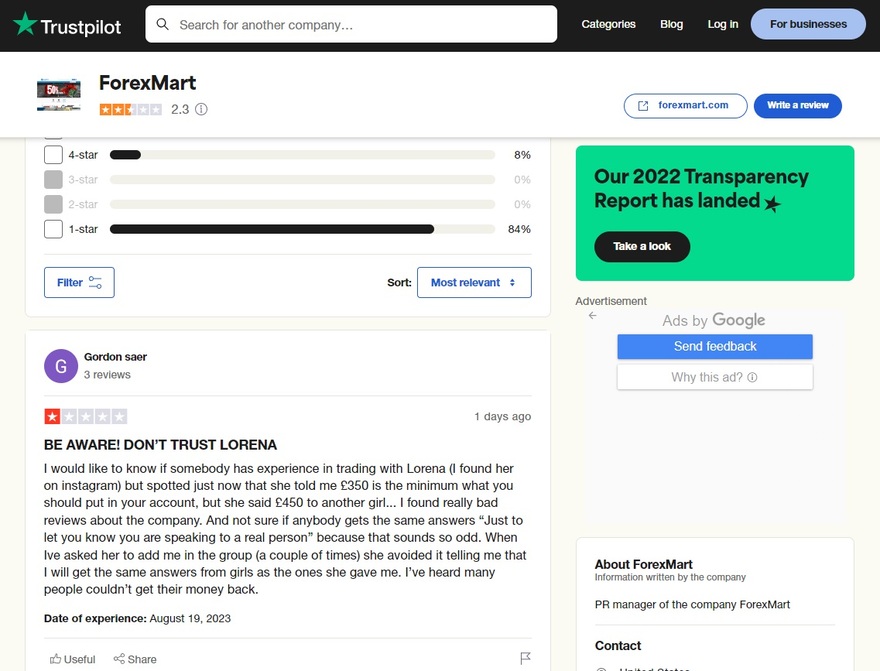 With only 13 total reviews and a poor rating of 2.0, ForexMart's Trustpilot page paints an unsettling picture. Even if there aren't many reviewers, the fact that more than 90% of them are critical raises serious questions.
The complaints primarily center on withdrawal problems and unreported withdrawal costs, which are crucial features of any trustworthy broker. Traders have voiced their dissatisfaction with the platform and the manipulation of pricing quotes, raising the possibility of unethical conduct.
A Look at ForexMart's Traders They Serve
Introducing Broker and Online Partner programs offer compensation incentives for introducing new customers to the platform through social media advertising and interaction. Participants can earn commissions based on the first deposit of their referred customers, making these programs attractive for those looking to profit from their network. This is what mostly attracts clients. 
Despite these alluring offers, it's crucial to keep in mind that ForexMart operates illegally in several nations, including Malaysia, Brunei, Indonesia, the United States, and South Africa. Transparency, investor protection, and adherence to local laws are all concerns due to the lack of adequate regulation in these areas.
Finding a licensed broker can be very difficult, especially if you are new to the industry and have no prior trading experience. Due to their lack of experience, most unsuspecting individuals fall for something like the ForexMart scam. No matter if you are a novice or an experienced trader, get in touch with us so that we can offer you a different way to approach trading. 
ForexMart Withdrawal and Deposit Methods
The payment methods available are 
Visa

Skrill

Neteller

PayCo

fasaPay

Bitcoin

Bitcoin Cash

Tether

Local Bank
ForexMart does not assess deposit fees, but all deposits have a 24-hour processing time, excluding FasaPay and PayCo. Withdrawals are subject to fees depending on the chosen payment method. Visa, FasaPay, and PayCo cards have no fees, but a 48-hour waiting period. Skrill, Neteller, Bitcoin, and local banks have 1%, 2%, and 3% fees. 
ForexMart Pros and Cons
Pros
Cons

Educational Material

Minimum deposit of $15

Bad reviews

Unregulated

Active since 2022
Long Story Short – ForexMart
Just like Nuvo Markets, despite being relatively new to the market, ForexMart already has a poor image that causes grave alarm. Lack of transparency is one of the major warning signs, which makes clients wonder about the broker's methods and business dealings. Numerous unfavorable customer evaluations bring attention to problems with withdrawal hold-ups, hidden fees, and subpar customer service, which point to a lack of dependability and responsibility.
Due to their troubling history, traders should proceed with the utmost caution and steer clear of ForexMart. Prioritizing your investments and seecting a broker with a solid reputation can help ensure a safer and more secure trading experience. Additionally, the ForexMart no deposit bonus policy is ridiculous. 
Look no further if you're looking for a trustworthy broker for your trading endeavors! Finding a licensed broker who can fulfill your needs is what our staff is here to help you with. Call us right now, and let's explore the trading world together. Our top priority is your success!
FAQ Section
Is ForexMart Safe?
Unfortunately, due to a lack of regulation and the aforementioned red flags, ForexMart is not considered safe to trade with. Reach out to us and we can provide you with some of the best and most regulated alternatives.
What Is the Minimum Deposit with ForexMart?
Depending on the account type you choose, the minimum deposit can be $15, $200, or $500. For the Classic and Cents account is $15, the Zero Spread account is $500, and $200 for a Pro account.
Does ForexMart Have a Mobile Trading App?
The ForexMart trading platform offers only a web terminal but the MT5 offers a mobile app along with the desktop app.