April 10, 2023
Reading Time:
5
min
Freedom 24 Review – All About freedom24.com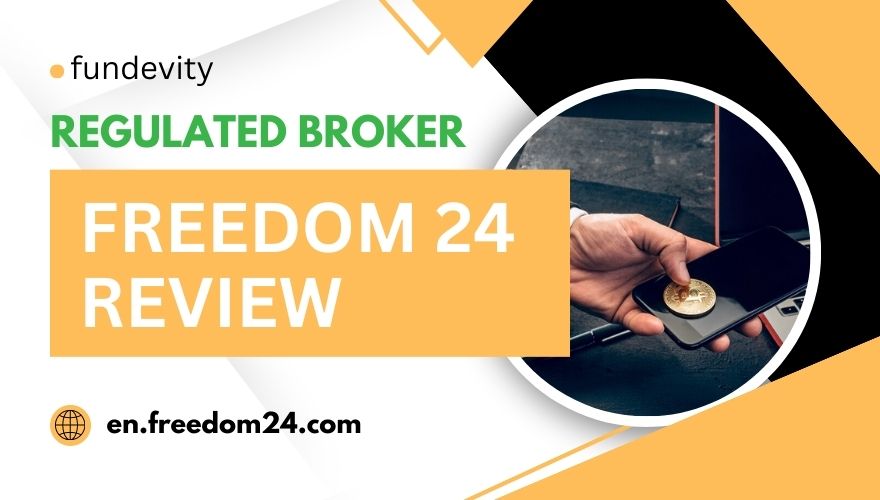 Freedom 24 is the European division of a US-based broker offering trading with stocks, ETFs, and bonds. Registration in Cyprus means that the broker operates under MiFID II rules, which is a legislative framework with high levels of investor protection. If you are a resident of the European Union and intend to trade in such financial instruments, a broker like Freedom 24 will give you the highest level of transparency and security. 
In continuation of our Freedom 24 broker review, we will give you all the needed information regarding their services and explain why we think they are a good choice for investing. The table below will also give you all the necessary information about things like minimum deposit, demo account, and educational materials.
| | |
| --- | --- |
| Leverage | N/A |
| Regulation | CySEC |
| Headquarters | Cyprus |
| Minimum Deposit | $0 |
| Review Rating | 4/5 |
| Broker Type | Forex, CFD, ETF |
| Platforms | WebTrader |
| Spread | N/A |
Is Freedom 24 regulated? Regulation and Security 
One of the first questions you should ask when deciding whether to work with a broker or not is – is it regulated?
Regulatory bodies monitor the behavior of the brokers and if things go wrong, they will take necessary action. Before trading online with any broker, you should be sure they're a legitimate online agent. And as for this broker, we can assure you that Freedom 24 is legit and possesses licenses for providing trading services.
The company holds a license in Cyprus . Its license number checks out, and its domain is among the list of approved ones. This means you will be able to make use of the market protections the EU, and the CySEC in particular, enforce.
Freedom 24 Trading Instruments
We took a look at the trading instruments that Freedom 24 has to offer to its customers and the primary instrument traded is forex. The company also supports the trade of CFDs, cryptocurrencies, metals, commodities, indices, and energies, among others. There is a total number of around 300 across major and most traded instruments.
We also found that this broker has a Market Range Score of 7 out of 10 for 300+ financial instruments among Currencies, Indices, Metals, Cryptocurrency CFDs, and Share CFDs.
In conclusion, if you decide to invest with this broker there is a wide range of opportunities to choose from.  And because of that, we do personally recommend it.
Freedom 24 Fees and Cost
Freedom 24 offers three basic service plans – Smart, Fix, and Super. The monthly fee respectively is 0 EUR, 10 EUR, and 200 EUR. In addition to this, new customers can take advantage of a 30-day promotion where they pay no commissions per share traded and no SMS notification fees. After the expiry of the promotional period, Promo accounts are automatically converted to Smart.
The Smart Account pays 0.02 EUR /USD per share traded plus a minimum of 2 USD/EUR per order. In the case of the Fixed Account, the commissions are reduced to 0.12 EUR/USD and 1.2 EUR/USD. The Super Account pays 0.008 EUR/USD per share. When trading US commodity options, all accounts pay a commission of 0.65 USD per contract.
Freedom 24 Deposits and Withdrawals
Freedom 24 offers many deposit methods including:
Visa or MasterCard
Bank Wire
PayPal
There are no deposit fees, but when withdrawing funds via bank transfer the customer must pay a fee of 7 EUR. The website and legal documentation do not indicate a set minimum and maximum deposit and withdrawal amounts. However, most leading financial service providers offer a wider choice of payment methods, which includes popular e-wallets such as PayPal,Skrill, and sometimes even cryptocurrencies.
Lastly, this broker has no online complaints made against them regarding withdrawal issues or any other problem traders often face while working with some other trading firms. This is why we always urge people to invest with brokers who haven't violated any terms and conditions as this will ensure your money is safe.
Trading Platforms at Freedom 24
As a stockbroker, Freedom24 does not provide access to a conventional trading platform like MetaTraer4. The broker has the following web-based software available instead. It has a mobile app.
The platform allows easy and quick navigation between stock exchanges in the US, Europe, Russia, and Hong Kong, as well as search through the available shares and funds. The platform also provides organized information on account balance, trade history, pending orders, etc., as well as a chart with a large number of technical indicators.
But it lacks the more advanced functionality found in the most widely used trading platforms in the industry, MT4 and MT5. These platforms have established themselves as an industry standard because they offer a wide range of features, including a variety of options for customization, multiple account usage, designing and implementing custom scripts for automated trading, and back-testing trade strategies.
Available Account Types at Freedom 24
Freedom24 is a safe and legitimate broker – but its service might not be what you expect. Most brokers offer access to CFD trading – this trading mode relies on traders entering in contracts for the difference between the prices of assets, without actually owning these assets. On the other hand, Freedom24 is a stockbroker, which means the firm enables its clients to purchase stocks directly from the markets. To that end, the firm boasts of it being the only NASDAQ registered EU broker.
These unique features of Freedom24 mean that the firm offers access to some rather different accounts than what you are accustomed to. Firstly, these come in the form of a subscription service, with traders being able to choose between paying $10 and $200. The higher tier account comes with a lower commission and free SMS notifications. However, there is also a free option, and Freedom24 is therefore quite flexible in the services it offers.
What's more, the company offers access to a savings account with an interest rate of 3% annually. This is higher than what most banks offer, of course. The only restriction of this account, or the D plan, as Freedom24 calls it, is the inability for clients to trade with the funds within, as it is solely a trading account.
Educational Resources
This broker offers many different forms of educational materials including:
Articles
eBooks
Video tutorials
Webinars
Podcasts
You can easily access all of this material under the recourse tab on their website. They also have a YouTube channel full of tutorials that show you how to navigate the platforms provided.
This is great, especially for all of those who are new to trading and may be hesitant to ask many questions. Compared to the other brokers on the market, the level of analysis this broker provides is nothing short of impressive.
Both beginners and advanced traders will find the information easy to grasp and very useful in making trading decisions.
Customer Service
Customer support is available 24 hours a day, 5 days a week. You can reach them via phone, email, or through live chat on their website. They offer support in English, Chinese, Thai, German, Portuguese, Italian, French, and many other languages.
There is also a comprehensive FAQ section where you would most likely get answers to many of your questions. Additionally, you can reach Freedom 24 via social media on Facebook, Twitter, LinkedIn, and YouTube or even Play Store.
Overall, the Freedom 24 customer service is amazing and a lot of customers are praising them for their speed and also heplfullnes.
Freedom 24 Overall Summary
Overall, Freedom24 seems to be a reliable stockbroker. The firm is licensed by CySEC, which is very important. It is transparent with its fees and it does not go overboard on them. The platform they provided is good as well.

Additionally, they offer a demo account, dedicated customer service, and various types of educational material which can all help you make your trading journey as smooth as possible.
So if you are interested in starting your trending journey but just waited to find a good firm, Freedom24 can be a great choice for you.
FAQs About Freedom 24 Broker
Is Freedom 24 Regulated?
They absolutely are a regulated and licensed brokerage. They hold a license and regulation from CySEC.
What is The Minimum Deposit for Freedom 24?
When it comes to the minimum deposit Freedom 24 sets it to $0.
Is Freedom 24 a Trustworthy Broker?
Yes they absolutely are a good and trustworthy broker and it's a good choice.