August 17, 2023
Reading Time:
6
min
FRXE Review: Avoiding the Pitfalls of Trading with Unregulated Brokers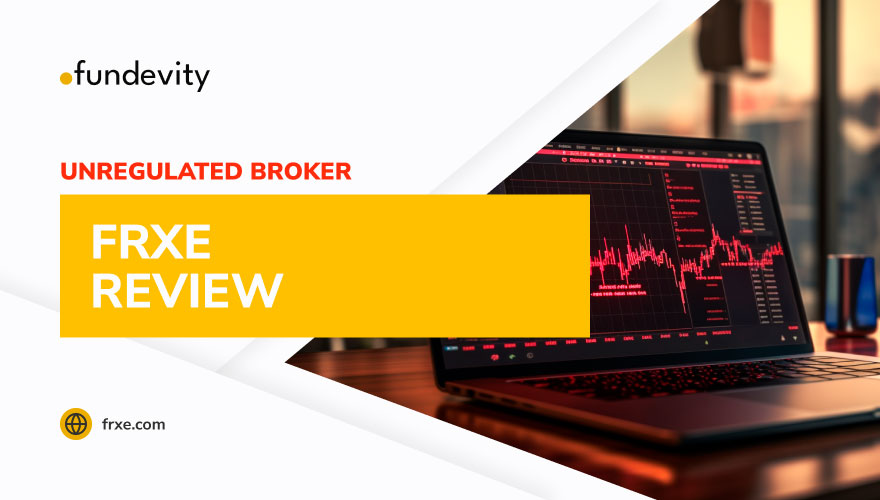 We must mention that it's crucial to navigate FX brokers with caution and choose them wisely. FRXE, an allegedly Malaysia-based broker, claims to offer a range of services and features. But, many concerns about its legitimacy have surfaced. Many clients have labeled it a scam broker. In this comprehensive FRXE review, we delve into the shadows surrounding FRXE. We will expose its questionable practices and urge traders to stay vigilant.
General information
Name:

FRXE Limited

Regulation status:

Unregulated Broker

Warnings from Financial Regulators:

No official warnings

Website link:

https://frxe.com/

Active since

2013

Registered in

Cyberjaya Selangor, Malaysia.

Contact info:
[email protected], (+60) 18 903 3941
Trading platforms:

MT5

The majority of clients are from:

the United States

India 

Brazil 

Germany 

Customer support:

Email and phone

Compensation fund:

No
FRXE Regulation: Unveiling the Smoke and Mirrors
FRXE Markets presents itself as a platform focused on trust, respect, and success for its clients. However, its legitimacy remains in question, with little to no concrete evidence supporting its claims. Operating under the guise of an alleged location in Malaysia, FRXE's credibility becomes even more fishy. 
Shady and false promises pepper their narrative, from enabling client success to promoting financial risk hedging. A closer look reveals a lack of transparency and authenticity.
When choosing a broker, it's smart to go for the ones with Tier 1 licenses. These licenses, like those from ASIC, FCA, or SEC, are like quality stamps. They show the broker plays by strict rules. This adds more safety and keeps you away from shady deals. So, stick with licensed brokers for a smoother and safer trading experience.
Vulnerable Targets
FRXE appears to have a particular interest in traders from the United States, India, Brazil, and Germany. If you hail from any of these countries, extra caution is advised. Scam brokers often target regions with large and diverse trading communities, hoping to capitalize on their interest in financial markets. 
Whether it's the charm of promising profits or attractive bonuses, these brokers often tailor their strategies to appeal to specific demographics. Traders from these countries should be especially alert and perform thorough due diligence before engaging with platforms like FRXE. Remember, protecting your assets starts with informed decision-making.
FRXE: Trading Assets Available
FRXE claims to offer an array of trading assets, from CFD stocks to foreign exchange. However, the absence of proper regulation casts doubt on the reliability of these offerings. 
The importance of selecting a reputable broker cannot be overstated, as established platforms typically provide a wide range of assets, including FX, cryptocurrencies, CFDs, indices, and commodities. Traders should steer clear of platforms like FRXE and opt for regulated alternatives that offer more trustworthy options.
Trading Platforms: The Dubious MT5 Offering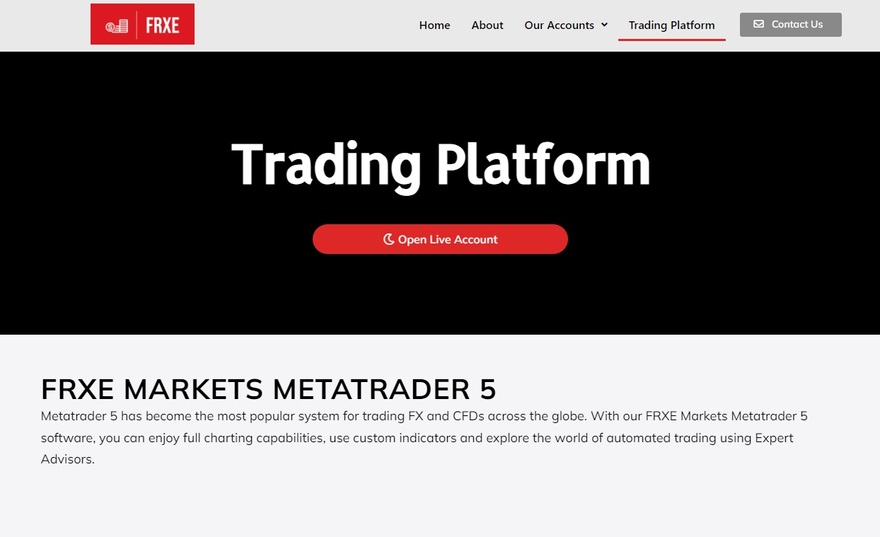 The inclusion of the MT5 platform by FRXE raises eyebrows, as it's uncommon for unregulated brokers to provide such a sophisticated tool. This discrepancy points to potential deception. Traders are advised to seek brokers regulated by trustworthy authorities and offering platforms like MT4 or MT5. Steer clear of FRXE and other shady entities like UOP Capital to ensure a safe trading experience.
MT4 and MT5, or MetaTrader 4 and MetaTrader 5, are like the superheroes of trading platforms. They're UI-friendly, packed with powerful tools, and trusted by millions of traders worldwide. MT4 is known for its simplicity and quick execution, making it a favorite among beginners and experts alike. On the other hand, MT5 steps up the game with more assets and advanced features. 
Both platforms offer real-time charts, helpful indicators, and even automated trading. So, if you're looking for a trading sidekick that's reliable and efficient, MT4 and MT5 have got your back.
Trading Environment: Illusions of Profitable Offers
FRXE presents a trading environment that might seem appealing. They offer a welcome bonus, high leverage of 1:1000, tight spreads starting at 0.01 pips, and rapid order execution. They also offer an array of services like market insights, education, and demo accounts. Yet, given the lack of regulatory oversight, these claims deserve careful consideration.
In contrast, verified and trustworthy brokers offer greater transparency. They typically provide spreads that reflect real market conditions, offering a clear view of trading costs. Moreover, they offer more reasonable leverage ratios (for the US, it is 1:50), ensuring reliable trading practices. 
With regulated brokers, traders experience a secure and steadfast trading atmosphere, free from the uncertainties associated with fake platforms like FRXE and Uptrend Center. It's important to prioritize brokers that stick to industry standards and provide a level playing field for traders.
FRXE Account Types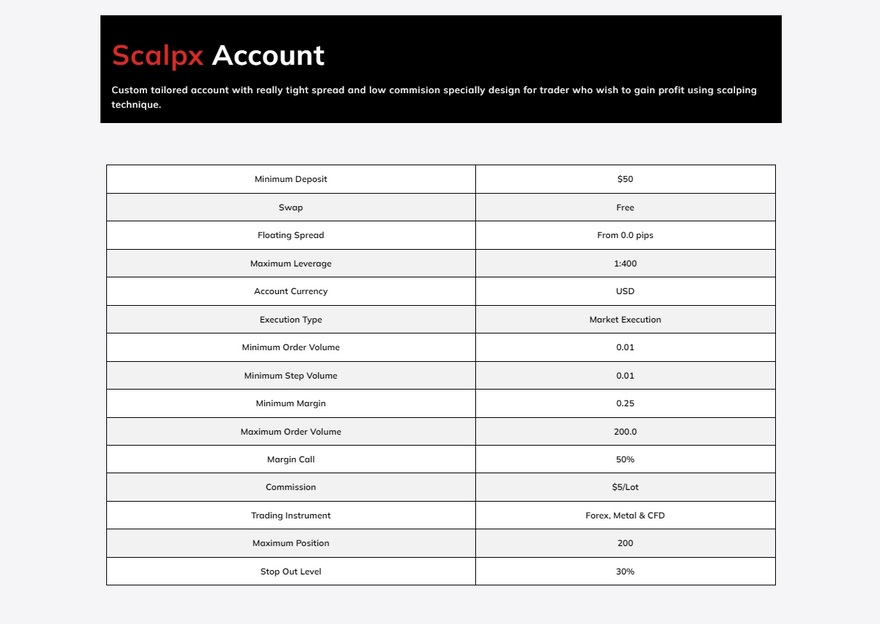 FRXE broker scam offers a variety of account types that potential traders might consider. Here's a breakdown of these options:
Cent Account:

Requires a minimum deposit of $1.

Pro Account:

Demands a minimum deposit of $50.

ScalpX Account:

Also sets a minimum deposit of $50.
While these account types may seem nice, it's important to acknowledge FRXE's lack of regulation. 
Have you been asking yourself how to trade with demo account in FRXE? The broker offers a demo account, but it's wise to exercise caution when dealing with a platform that's already under scrutiny. Engaging with unregulated brokers can lead to potential risks and losses. Please always remember this. 
FRXE Withdrawals: Limited Options Raise Worries
FRXE platform offers a limited range of withdrawal methods. They only included bank transfers and Neteller e-wallet on their site. This restricted selection pales in comparison to regulated brokers like Webull, which provide a broader range of options for clients to choose from. 
Such limitations can raise questions about the platform's reliability and transparency. This truly further highlights the risks associated with trading on unregulated platforms.
Top-tier regulated brokers prioritize your financial security by providing a span of reliable payment options. These include bank transfers, e-wallets like PayPal and Neteller for convenient digital transactions, and cards for flexibility. Cryptocurrency enthusiasts can also rejoice, as some brokers accept digital currencies like Bitcoin, Cardano, and Ethereum. 
These diverse choices cater to different preferences, ensuring you have a method that suits you best. With these reputable brokers, you can trade with peace of mind. You will know that your funds are handled securely and efficiently, regardless of your preferred payment avenue.
Trader Reviews: A Poor Trustpilot Score
FRXE's Trustpilot reviews give us a rather gloomy view, showing a poor rating of just 2.4 stars. This low rating is definitely a concern and should make potential traders think twice. It's a clear warning sign. If you're looking to trade safely and confidently, it's wise to pick brokers that shine with ratings of 4.5 stars or higher. This goes without saying. 
Reviews from fellow traders are like road signs. They are here to help you avoid surprises and guide you toward brokers that have a good track record. Remember, regulated brokers will keep you content and secure.
Scam Broker Tactics: Unveiling Deceptive Practices
The sole purpose of scam brokers is to deceive traders into making ill-informed decisions with their money. These tactics are cunningly crafted and often involve promising unrealistic profits that sound too good to be true. Moreover, they dangle excessive bonuses with hidden terms, trapping traders in a web of legal complexities. 
Aggressive marketing tactics are another weapon in their arsenal. They often bombard traders with relentless persuasion. For instance, they might use high-pressure sales calls or flood your inbox with seemingly attractive offers.
Recognizing these red flags is essential for safeguarding your investments. Regulated brokers, with valid licenses from respected authorities, offer a shield against such tactics. Brokers like ASIC, FCA, or BaFin-approved firms adhere to strict standards, ensuring a transparent and accountable trading environment. By steering clear of brokers that use these deceitful practices, you can navigate the risky domain of the trading world more confidently.
Long Story Short: FRXE
In FX trading, caution is paramount. FRXE is an unregulated broker with dubious practices. This one confirms the risks associated with trading on platforms lacking proper oversight. From its questionable legitimacy to limited offerings and poor reviews, the signs point to a platform that traders should steer clear of. When venturing into the world of FX trading, prioritizing regulated brokers with positive reputations is essential. Think about this to protect your investments and trading experience.
As you consider your options, remember that the allure of quick gains can often lead to traps. Prioritize research, due diligence, and choosing platforms that are certified by reputable regulatory bodies. By doing so, you can navigate online trading with confidence and minimize the risk of falling prey to corrupt brokers like FRXE.
Contact us now for a free consultation. We will do our best to provide you with the fairest broker recommendations. 
FAQs
Is Frxe Regulated?
No. This is a shady unregulated broker everyone should be aware of.
How Much Is Frxe's Withdrawal Fee?
This is unknown as they only mention the 0 charges on funding.
Does Frxe Offer a Demo Account?
Yes, this bogus broker offers a demo trading account.