August 26, 2023
Reading Time:
5
min
FXCess Review: Disclosing the Broker's Promises and Performance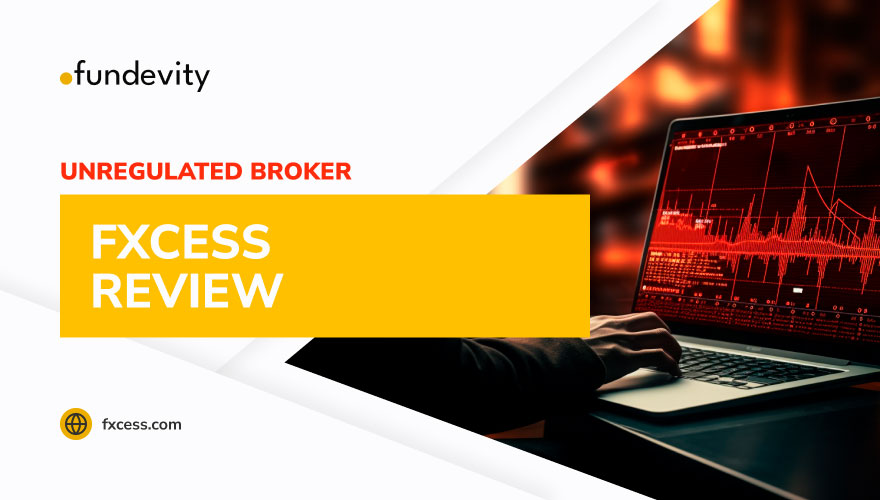 In trading, selecting a good broker can make all the difference. Enter FXCess, a broker that boldly claims to empower traders with its motto "Trade. But Better!". 
But does FXCess truly live up to this promise? In this comprehensive FXCess review, we will navigate through the various aspects of FXCess. We will check its legitimacy, account types, fees, trading platforms, and more. So, fasten your seatbelts as we dive into the world of FXCess, examining every detail to provide you with an informed perspective.
General information
Name:

FXCess – Notesco Limited

Regulation status:

Unregulated Broker

Warnings from Financial Regulators:

No official warnings

Website link:

fxcess.com

Active since

2020

Registered in:

Bermuda

Contact info:

+44(0)2032827777

Trading platforms:

MT4, PMAM

The majority of clients are from

Malaysia

United Kingdom

Nigeria 

Indonesia

Cyprus

Customer support:

Yes 25/7, phone support 

Compensation fund:

Yes (not confirmed)
FXCess Regulation: Untangling the Complexities
The question of FXCess's legitimacy is a complex puzzle. While the broker claims association with Notesco Limited, a Bermuda-registered company, the key concern remains: does FXCess hold a valid license from the Bermuda Monetary Authority (BMA)? Our search yielded no concrete proof, leaving this aspect uncertain.
Adding intrigue, a firm with a similar name is registered with the UK's FCA. This connection suggests ties to Notesco UK Limited (regulated by the FCA) and Notesco Financial Services Limited (regulated by CySEC). FXCess's operations under UK company trading names further raise questions, especially as it offers services banned within the EU and UK.
FXCess's omission of specific regulatory claims and limited reference to its Bermuda registration casts doubt. While a link to Notesco UK suggests progress toward legitimacy, the puzzle isn't complete.
Securing a foothold in Bermuda requires FXCess to demonstrate a $250,000 capital. However, this doesn't match the rigorous FCA standards.
In this intricate landscape, FXCess's legitimacy remains elusive. Traders should approach with caution, conducting research before navigating this enigmatic terrain. 
Note: Wise traders might opt for brokers regulated by Tier 1 authorities for added security and credibility.
FXCess Trading Platforms
The platforms offered by FXCess serve as the tech backbone of the trading experience. FXCess offers two platforms: the FXcess PMAM and the renowned FXCess MetaTrader 4 (MT4). 
The PMAM platform allows traders to efficiently manage multiple MT4 accounts simultaneously. Invented with advanced tools, it caters to both professional traders and money managers, promising an intuitive money management solution. 
On the other hand, the MT4 platform, an industry standard, provides traders with many benefits. Those are a customizable interface, comprehensive analytical tools, technical indicators, and a robust charting system. Both platforms offer distinct advantages. They give traders a range of options to choose from based on their trading preferences.
Note: Traders hailing from Malaysia, the United Kingdom, Nigeria, Indonesia, and Cyprus are among FXCess's targeted audience, remember that.
FXCess and its Trading Environment
FXCess amps up its offerings with an IB Reward Program and deposit bonuses. 
Within FXCess's trading ecosystem, an enticing array of options awaits. The broker beckons traders with its IB Reward Program, a gateway to lucrative cash prizes. By referring active clients, traders can not only earn rebates but also rake in extra cash rewards of up to $5,000 each month. The more referrals trade, the larger the rewards. Operating on a monthly basis, this plan propels traders toward their targets, with rewards waiting at the end of each qualifying calendar month.
In addition to the IB Reward Program, FXCess's deposit bonuses inject a boost of excitement into the trading experience. The Credit Bonus, offering up to $5,000, accompanies every deposit. Similarly, the Power Bonus, reaching up to $4,000, provides traders with a unique way to share losses with the broker. 
Yet, while these offerings seem nice, a prudent approach is essential. Keep that in mind! Traders are advised to favor brokers with transparent regulation details, ensuring smooth transactions. With a spectrum of rewards and bonuses, FXCess invites traders to explore a world where potential gains are matched by careful considerations.
FXCess Account Types
Navigating through FXCess's offerings, traders encounter a choice between two distinct account types. They are as follows: 
the Classic account and 

the ECN account. 
The Classic account boasts zero commissions but incorporates variable spreads. These spreads start at a competitive 0.5 pips. 
On the other hand, the ECN account trades spreads for commissions, presenting traders with a spread of 0 pips. But it charges $2.25 per lot per side or $4.5 per lot round-turn. The choice between these account types allows traders to tailor their experience according to their trading strategies.
Remember: Staying safe when trading is key. So, it's wise to avoid trading with suspicious firms like ViaChains.
FXCess Fees
A crucial aspect of any trading experience revolves around fees. 
So what about the FXCess fees? The broker approaches fees with a differentiated system depending on the account type. The Classic account attracts no commissions, as we mentioned. Yet, the ECN account embraces no spreads while charging a reasonable commission ($2.25 per lot per side or $4.5 per lot round-turn). It is imperative for traders to carefully evaluate these fees in relation to their trading style and frequency.
Also, they say they do not charge any fees for deposits. 
FXCess Support
Navigating the intricate world of trading can be hard at times. And as with anything else, good customer support can tell a lot about the company. FXCess acknowledges this by offering support through calls and live chat. 
Traders can seek assistance via a dedicated phone line (+44(0) 203 282 7777) and engage in real-time discussions through live chat. Still, it is essential for traders to exercise caution and verify the legitimacy of brokers. This is the unwritten rule. 
It's wise to go for those with Tier 1 regulations (ASIC, FCA, BaFin) to ensure a safe and reliable trading journey.
FXCess Withdrawal & Funding
Earning and withdrawing funds are pivotal aspects of any trader's journey. 
FXCess offers some payment options for account funding. Traders can deposit funds through various methods, such as Visa, Mastercard, and wire. Afterward, traders gain access to trade over 300 instruments. 
Still, it's best to prioritize brokers that offer transparent payment methods, such as PayPal, Skrill, bank cards, and cryptocurrencies. These payment options enhance security and transparency, contributing to a smoother trading experience.
Important Note: Prioritizing safety is of utmost importance. It's highly advised to steer clear of trading with companies like Marketfxm.
Trader Reviews on Trustpilot
A glance at trader reviews on platforms like Trustpilot can offer valuable insights into a broker's reputation. This is a fact! 
FXCess, on Trustpilot, maintains an average star rating of 3.7. While this rating is noteworthy, traders are encouraged to consider brokers with ratings of 4.5 stars or higher. This is good for an added layer of confidence in their chosen platform.
Understanding Unregulated Brokers: Risks and Realities
Unregulated brokers, like Dot Fin Capital, often operating in the shadows, function without oversight from any official regulatory body. They lack the stringent checks and balances that regulated brokers adhere to. This freedom can sometimes lead to risky practices, as unregulated brokers might not safeguard traders' interests. Namely, they might promise tempting bonuses or lower fees, but this can come with hidden strings attached. The absence of regulatory protection means traders might not have recourse if disputes arise. 
While some unregulated brokers might be legitimate, the lack of oversight raises concerns about transparency and accountability. It's a landscape where caution is crucial. So, trading with regulated brokers offers a safety net that unregulated ones can't match.
Long Story Short – FXCess
Notably, FXCess presents an intriguing proposition with its range of account types, platforms, and unique offerings. 
However, the question of legality looms due to the lack of verifiable regulatory affiliations. As traders, it is crucial to prioritize brokers with Tier 1 regulations and transparent payment methods, ensuring a secure trading journey. Ultimately, the decision lies in the hands of traders, armed with knowledge and wisdom as they navigate the complex world of finances.
You can always contact us for a free consultation regarding the best brokers on the market! 
FAQs
Is FXCess Legit?
FXCess's legitimacy remains uncertain due to unverified licenses.
What is the Minimum Deposit for FXCess?
The minimum deposit for FXCess varies based on the chosen account type and starts from $250.
Is It Safe to Trade with FXCess?
Trading with FXCess poses some risks due to its uncertain legitimacy.