June 26, 2023
Reading Time:
6
min
FXCM Review: Is FXCM the Perfect Broker for Your Trading Needs?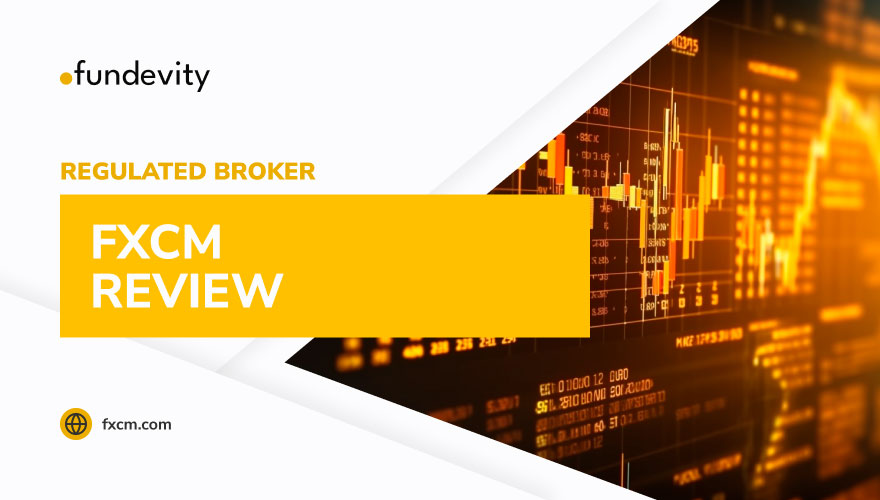 Since its establishment in 1999, FXCM has emerged as a leading online trading provider. It simplifies FX and CFDs trading in diverse assets. Headquartered in London, UK, FXCM adheres to rigorous regulations set by esteemed authorities including the ASIC (Australia), Financial Conduct Authority (FCA), and FSCA (South Africa). 
With an unwavering commitment to financial excellence, FXCM empowers traders worldwide. It does that through cutting-edge tools and adherence to stringent financial standards. Keep reading our FXCM review for more! 
FXCM: A Trustworthy Broker Regulated by Renowned Authorities
Headquartered in London, UK, the FXCM Group has established itself as a global presence in the financial industry. With a strong commitment to customer support, FXCM serves clients from various locations, maintaining a global chain of offices across the US, UK, Australia, France, and Italy.
FXCM LTD operates under the regulatory supervision of the Financial Conduct Authority (FCA). Adhering to FCA regulations, FXCM upholds stringent financial standards. This includes capital adequacy requirements, transparent business practices, and the protection of client funds held in segregated accounts. Besides, each global office of FX Capital Markets Limited is subject to the laws of the respective countries in which it operates. 
FXCM Australia Pty. Limited is regulated by ASIC, FXCM Germany by BaFin, and FXCM Italy by CONSOB. It has additional authorization from the FSCA in South Africa. This multi-regulatory approach ensures FXCM's compliance with local regulations and provides a secure trading environment. 
| | |
| --- | --- |
| | General information |
| Name: | FXCM LTD |
| Regulation status: | Regulated Broker, FCA, ASIC, CySEC, CONSOB, BaFin, BMA |
| Warnings from Financial Regulators: | No official warnings |
| Website link: | https://www.fxcmaffiliates.com/ |
| Active since: | 1999 |
| Registered in: | London EC2V 7JE, United Kingdom |
| Contact info: | [email protected] |
| Trading platforms: | MT4, MT5, Trading Station, NinjaTrader |
| Majority of clients are from: | United States, United Kingdom, India, France, South Africa |
| Customer support: | [email protected] |
| Compensation fund: | Yes |
Diverse Investment Opportunities at FXCM
FXCM includes a full list of investment products. All of these provide traders with diverse opportunities to explore the financial markets. The availability of these products may vary based on your trading account entity. With FXCM, you can choose from a wide spectrum of market instruments, including popular markets and exotic pairs.
FX

: FXCM enables traders to engage in Forex trading, the largest and most liquid market globally. Take advantage of major currency pairs like EUR/USD, GBP/USD, USD/JPY, and AUD/USD, as well as a multitude of other currency pairs. This will enable you to capitalize on international currency fluctuations.

Indices:

Explore indices trading with FXCM. Gain exposure to leading stock market indices such as the S&P 500, FTSE 100, and DAX 30. By tracking the performance of these key benchmarks, you can speculate on market trends.

Commodities:

FXCM provides access to the commodities market. This allows clients to participate in the trading of precious metals, energy resources, and agricultural products. Examples include gold, silver, crude oil, natural gas, corn, and soybeans. Seize opportunities arising from global supply and demand dynamics in these essential commodities.

Crypto:

Embrace digital assets with FXCM's crypto trading. While the underlying asset is not traded directly, you can trade cryptocurrency through CFDs.

Spread Betting

(UK and Ireland residents only): For residents of the UK and Ireland, FXCM offers spread betting. This is a unique form of trading where you can speculate on the price movements without owning the underlying asset. This allows for potential profit opportunities in both rising and falling markets.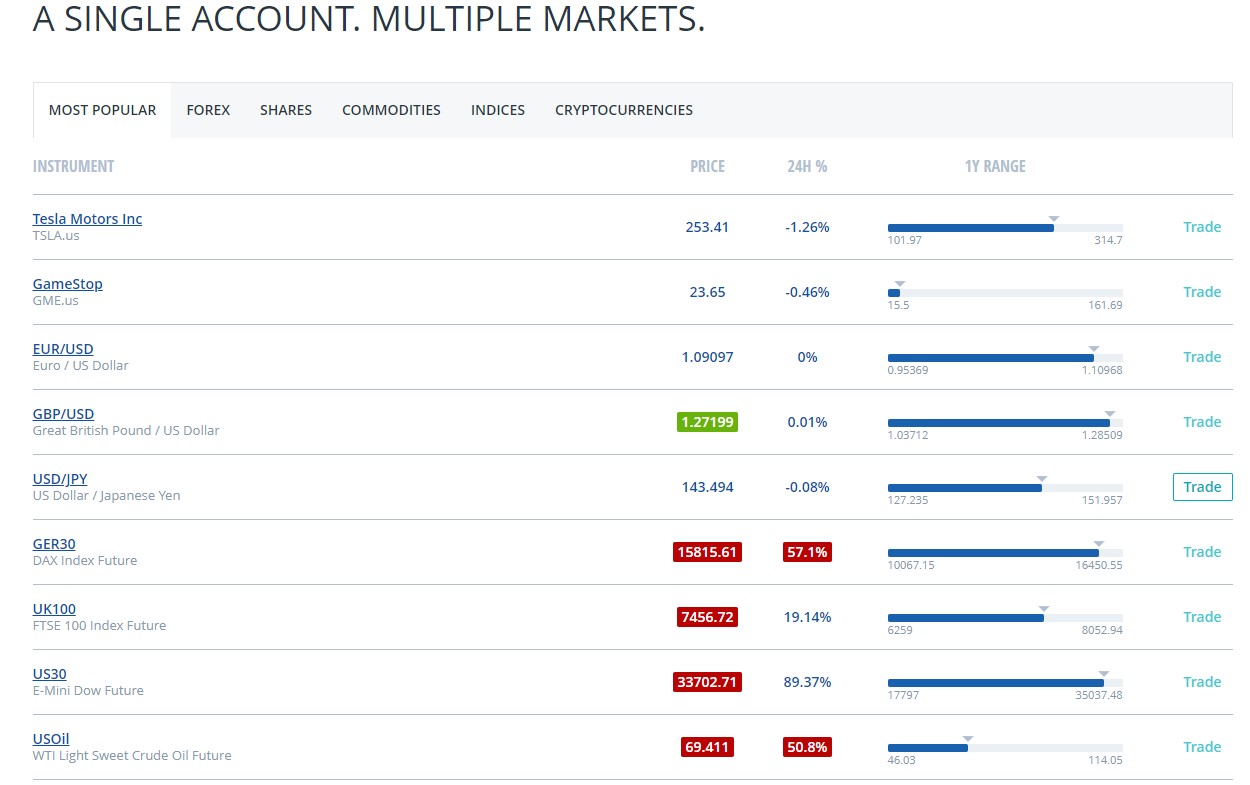 By providing access to these diverse assets, FXCM empowers traders to diversify their portfolios. If you're interested in discovering more regulated brokers like City Index and FXCM, schedule a free consultation with us today.
FXCM Affiliates: Unlock Lucrative Partnership Opportunities
FXCM has a range of dynamic and rewarding affiliate programs. These allow affiliates to earn substantial commissions for every qualified client they refer.
Fixed CPA plan. Joining the program opens doors to a fixed CPA commission structure, allowing affiliates to earn up to $750 per qualified client. This transparent and generous commission plan ensures that affiliates receive a fair reward for driving valuable traffic to FXCM.
Performance reports. Gain comprehensive insights and maintain complete control over your affiliate performance. FXCM's affiliate program offers sophisticated reporting tools that provide a detailed overview of your referral activities. This enables you to optimize your strategies and maximize your earnings.
Quick and user-friendly setup. Getting started with FXCM's Affiliate Program is seamless. With a user-friendly environment, you can easily sign up and access the program, diving into lucrative partnership opportunities easily.
Affiliate manager. As an affiliate with FXCM, you receive personalized support and guidance every step of the way. An experienced Affiliate Manager stands ready to assist you, ensuring you have the resources and knowledge needed to thrive in the program.
Marketing materials. FXCM equips affiliates with high-quality marketing materials and an extensive banner repository available in different sizes. These resources empower affiliates to effectively promote FXCM's offerings and drive traffic to the platform.
Regular payments. FXCM values its affiliates' contributions. Affiliates receive commissions monthly, enjoying consistent financial rewards.
By joining FXCM's Forex Affiliate Program, individuals and businesses can capitalize on these vast offerings. This will enable them to benefit from a fruitful partnership with a reputable broker.
Account Options: Sleek Trading with FXCM
FXCM simplifies trading with a single account. This account covers a diverse scope of trading instruments. People can quickly open a live forex trading account after starting with a FXCM demo account. This streamlined process ensures a seamless transition from practice to live trading. Notably, this allows traders to refine their skills and gain confidence.
FXCM's unified trading account offers comfort and flexibility. With a single account, traders can easily manage their activities without multiple account types. This is one benefit other brokers may not have. One single account provides access to a broad range of trading instruments. Highly beneficial! 
Explore Innovative Trading Platforms at FXCM
FXCM provides a diverse selection of cutting-edge trading platforms that cater to the needs of traders. With industry-leading platforms like MT4 and MT5, as well as sophisticated options such as FXCM Trading Station, and NinjaTrader, traders have a wide range of choices to suit their preferences and trading strategies.
Web Trading Platform
Web platform offers traders the flexibility of accessing their accounts and trading through a web browser. 
With a modern interface and robust features, traders can execute trades readily. They can also access avant charting tools, and use FXCM's Real Volume indicator.
Mobile Trading Platform
Clients on the go can stay connected and execute trades on FXCM's mobile trading platform. Available for both iOS and Android devices, the mobile platform provides a seamless trading experience with real-time market data. 
There are also order execution and comprehensive charting capabilities. Stay in control of your trades anytime, anywhere.
Desktop Trading Platform
FXCM's desktop trading platform, Trading Station, proposes a powerful and superb environment for traders. Benefit from advanced charting tools, multiple order types, and automated trading strategies with testing and optimization capabilities. Take advantage of the platform's intuitive interface and great tools.
These trading platforms present unique features that cater to traders' needs. Whether you prefer the convenience of web trading, the flexibility of mobile trading, or the robustness of desktop trading, FXCM has a platform to meet your trading requirements.
There are numerous payment methods to ensure smooth transactions for clients. Whether you're funding your account or withdrawing funds, FXCM provides various options. Let's explore the deposit and withdrawal process, including specific terms and potential challenges.
Deposit options.

FXCM supports multiple payment options for account deposits. These options typically provide quick and secure transactions. This includes credit and debit cards, EFT & wire transfers, and e-payment via Skrill. The minimum deposit requirement varies based on the FXCM entity you're trading with.

Withdrawals.

Withdrawing funds from your FXCM account is hassle-free. You can use the same payment methods used for deposits. Credit card and debit card withdrawals are fee-free, while international bank wire requests incur a $40 withdrawal fee.

Processing time.

FXCM's accounting department typically processes and confirms withdrawals within 2 business days. Yet, additional processing time may be required by your payment provider.
FXCM strives to ensure a seamless deposit and withdrawal process. Still, it's recommended to be aware of potential delays imposed by payment providers.
Expand Your Trading Knowledge with FXCM's Education
FXCM has mind-blowing educational resources to help traders succeed. Access free research, insights, and strategies to stay informed about the markets. Use FXCM's handy tools like FXCM Plus, Market Scanner, and Trading Signals at all technical levels. Enhance your skills with the Free Online Live Classroom, a practical learning opportunity. 
FXCM's educational materials provide fantastic opportunities for everyone interested in trading. They offer a solid foundation and guidance to start your trading journey on the right path.
A Stellar 4.6-Star Rating on Trustpilot
FXCM has earned a remarkable 4.6-star rating on Trustpilot. This reflects traders' high satisfaction and positive experiences. With a focus on excellent service, reliability, and customer support, FXCM has gained its clients' trust and confidence. 
The outstanding rating underscores FXCM's commitment to transparency, security, and a superior trading experience. Traders appreciate FXCM's platform, advanced tools, and solid educational resources. This 4.6-star rating on Trustpilot solidifies FXCM's reputation as a reliable broker. This goes without saying! 
Long Story Short – FXCM
FXCM emerges as a leading online FX provider. It has resourceful trading platforms and market access. Regulation by esteemed authorities ensures financial excellence. 
With a diverse range of investment opportunities, FXCM empowers clients to scour markets. FXCM's educational resources and a stellar 4.6-star rating on Trustpilot cement its position as a reliable broker. For more information about regulated brokers like FXCM and EverFX, feel free to reach out to us.
Are you curious about finding more regulated brokers like ST Global Markets and FXCM? If so, schedule a free consultation with us.
FAQs
Is FXCM Trustworthy?
Yes, FXCM is trustworthy and regulated by reputable authorities such as FCA, ASIC, CySEC, CONSOB, BaFin, and BMA.
What countries does FXCM broker operate in?
FXCM operates in various countries, including the US, UK, Australia, France, Italy, and South Africa.
Is FXCM good for beginners?
Yes, FXCM is a good option for beginners due to its UI-friendly platforms, educational resources, and customer support.