May 23, 2023
Reading Time:
4
min
FxElite Review Exposes the Suspicious Broker's Secrets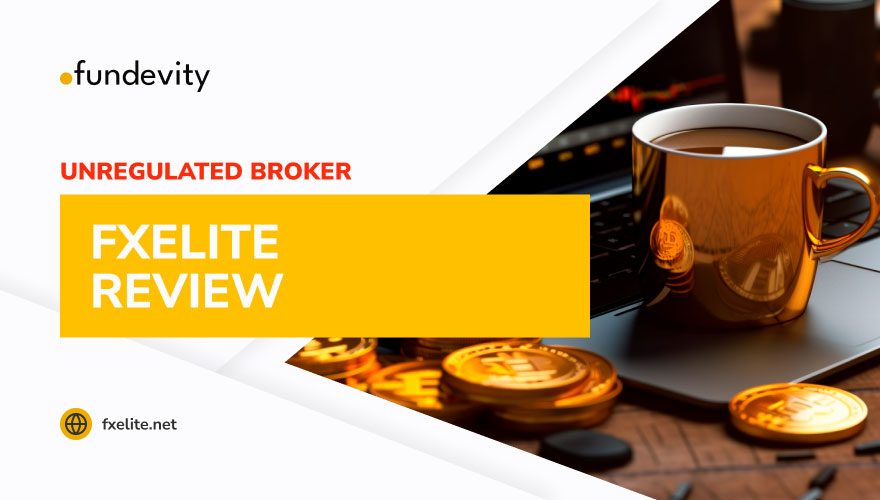 Step into a world where caution is your best ally. FXElite, a seemingly enticing investment opportunity, lures you with the promises of a prosperous future. But pause for a moment. 
Investing your hard-earned money in unregulated entities is far from wise, and the path ahead appears dim. Embark on our FXElite review journey, where we unravel the intricate web of details, shining a light on the suspicious undertones that cover this broker. Prepare to navigate the risky waters of the financial realm as we reveal the truth behind this enigmatic company.
| | |
| --- | --- |
| Company | N/A |
| Headquarters | N/A |
| Website | fxelite.net |
| Warning | N/A |
| Platforms | N/A |
| Minimum Deposit | $20 |
| Leverage | N/A |
| Spread | N/A |
| Review Rating | 1/5 |
Shedding Light on FxElite's License and Regulation Status
FxElite's legitimacy is highly doubtful. It lacks regulation, operates anonymously, and was established in March 2021. Despite being hosted in Canada, it is not recognized by Canadian or US regulatory bodies. It also fails to comply with ESMA regulations. Keep this in mind. Always look for brokers with Tier 1 licenses from trusted authorities like FCA, CFTC, ASIC, BaFin, or IIROC for a safer choice.
Brace yourself for a perilous journey, as the FXElite broker scam may leave you navigating treacherous waters without a lifeline. In addition, it is highly recommended that you also avoid investing in BN93 at all costs. Keep this in mind. 
As a result of the lack of regulation, investors have no meaningful channel for voicing their concerns. If you find yourself ensnared in this web of deceit, unable to withdraw your hard-earned funds, don't despair. Reach out to us, and together, we will navigate the path toward justice.
Trading Software Overview
Delving into FxElite's website, we encounter an enigma shrouded in mystery. While the platform is advertised, crucial details remain elusive. Generic images adorn the home page, offering little clarity or substance.
Sadly, the absence of a demo account further compounds the lack of transparency. Without the opportunity to explore and experience the platform firsthand, we are left with unanswered questions. These accumulating red flags only strengthen our recommendation against opening an account with FxElite.
It becomes apparent that FxElite does not support any reputable third-party platforms, such as MT4, MT5, CTrader, or SiriX. Besides, mobile trading remains conspicuously absent from their offerings. This limited scope and absence of established platforms raise further concerns about FxElite's reliability and legitimacy.
Essential trading conditions like minimum deposit requirements and leverage ratios are also not disclosed. This lack of transparency should serve as a clear signal for you to seek greener pastures elsewhere.
FX Elite's Dubious Account Types
Step into the world of FxElite, where classic trading account tiers are replaced by a questionable array of investment packages:
Bronze – Starting at $20

Silver – Starting at $100

Gold – Starting at $150

Platinum – Starting at $600

Crown – Starting at $1,200

Mutual Fund – Starting at $5,000
Within these packages, FxElite entices potential investors with the allure of multiple awards, loyalty bonuses, enticing incentives, and even daily returns. Yet, it is crucial to approach these claims with skepticism. In the unpredictable realm of volatile markets, no one is able to provide specific percentages of returns. These promises may appear enticing, but they are akin to a mirage that dissolves upon closer inspection. Exercise caution and stay vigilant when faced with such alluring propositions.
Deposit and Withdrawal Methods
As we explore FxElite's website, we discover a list of purported payment methods. They are as follows:
Skrill

PayPal

Forte

Braintree

Stripe

Moneris

Bitpay

Chase

Authorize.net

Bitcoin
However, beyond this list, the fog of uncertainty descends. FxElite's withdrawal policy remains conspicuously absent, leaving users in the dark about essential details. Associated fees remain shrouded in mystery, further complicating the decision-making process for potential investors.
These cryptic elements surrounding deposits and withdrawals only reinforce the growing doubts surrounding FxElite.
Decoding the Schemes of Offshore Broker Scams
Offshore brokers are notorious for deception. These unscrupulous entities employ a range of tactics to ensnare individuals. One common method involves tantalizing potential investors with the promise of extraordinary profits that defy logic and reason. They will fervently assert possessing a secret formula capable of generating unrivaled returns
In their quest to appear trustworthy, these fraudulent brokers fabricate positive reviews, creating a mirage of an impeccable reputation. Similarly, they employ insidious psychological tricks, manipulating investors into making impulsive decisions. These tricks include fake deadlines, misleading claims of limited offers, and a manufactured sense of urgency.
To further compound the risks, some murky brokers entice investors with the allure of "risk-free" trades, luring them into investing without proper due diligence. In this unsafe landscape, it is imperative to remain vigilant and well-informed about these tactics. Do not allow these corrupt brokers, such as FxElite or Uptos, to strip away your hard-earned money. Stay resolute in protecting your investments.
Discover the Best Broker: Reach Out for Expert Guidance
If you're searching for the right broker to meet your trading needs, look no further. Our team of experts is here to help you navigate the vast landscape of brokers and find the ideal match for your goals. 
With extensive knowledge and background, we can provide personalized recommendations tailored to your specific requirements. Whether you're a seasoned trader or just starting out, reaching out to us will ensure that you're equipped with the details and guidance needed to make an informed decision. Don't hesitate to contact us today and embark on a successful trading journey with the finest broker by your side.
FxElite Review: Final Words
Our review reveals FxElite's lack of license and regulation, raising red flags. With limited transparency in their trading software and account types, it's best to steer clear. Also, the scarcity of clear deposit and withdrawal information adds to the concerns. Always be careful of offshore broker scams and protect your money. 
To assure a safe trading experience, we recommend reputable brokers favored by experienced traders. Reach out to our expert team for personalized guidance in finding the most suitable broker. Make informed decisions and protect your assets in the unpredictable world of trading.
FAQs
Is My Money Safe with FxElite?
Unfortunately, your money is not safe with FxElite. This suspicious broker operates without regulation.
How Long Do FxElite Withdrawals Take?
The withdrawal process with FxElite remains uncertain.
Does FxElite offer a Demo Account?
No, FxElite does not provide a demo account.