May 22, 2023
Reading Time:
4
min
FXRally Review: Check This Scam Artist's Background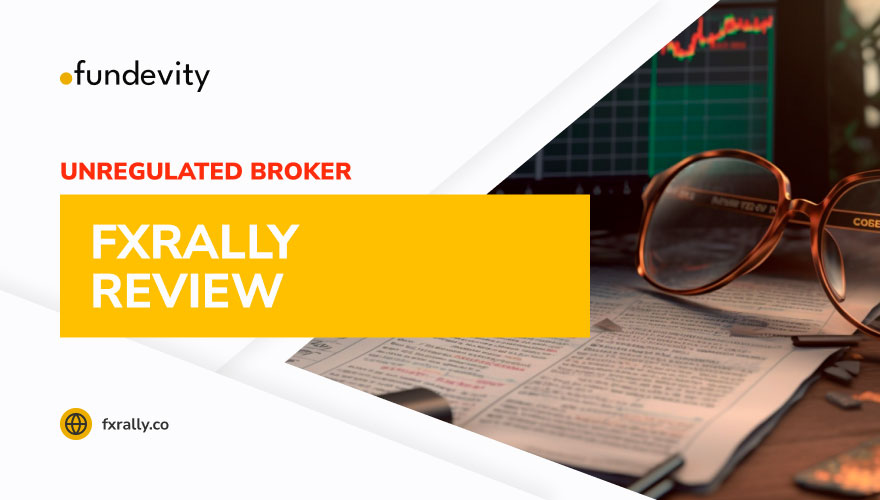 Gather around, fellow seekers of financial freedom. Here's a tale of caution and intrigue in the world of offshore brokers. We all yearn for the simplicity of lower taxes and ease of business, but let us not forget the dangers that lurk in the shadowy corners of the financial world. It is a treacherous path to navigate, but we have taken it upon ourselves to delve deep into the murky depths of offshore brokerages to bring you the truth about FXrally. 
In our FXrally review, we have uncovered all the secrets and shady dealings that this suspicious broker may be hiding. So come journey with us, and arm yourself with the knowledge.
| | |
| --- | --- |
| Company | Giant Solutions Ltd |
| Headquarters | British Virgin Islands |
| Website | fxrally.co |
| Warning | FCA |
| Platforms | WebTrader |
| Minimum Deposit | 250 EUR |
| Leverage | N/A |
| Spread | N/A |
| Review Rating | 1/5 |
Regulation and Security of
FXRally
FXrally is a brokerage run by Giant Solutions Ltd, based in the British Virgin Islands, an offshore island with relatively loose financial regulations. In contrast to stricter regulators like the FCA and Australian ASIC, the FSC of the BVI has minimal requirements for compensation funds and licensing. FXrally, unfortunately, failed to meet even these minimal requirements and is therefore operating illegally.
It's vital to invest with properly regulated brokers to ensure the safety of your funds. As FXrally operates without any regulations, any investment made with them is at risk. We strongly advise against investing with FXrally or any other fraudulent broker like Coin2FX. Stay vigilant and protect your assets by choosing reputable, regulated brokers for your investments.
It's important to know that FXrally is operating in the UK, Australia, and Canada, though it's likely they're targeting investors worldwide.
Note: This broker has received a warning from the FCA (Financial Conduct Authority).
FXRally's Trading Platform: Is it Reliable or a Red Flag?
This suspicious broker touts a variety of trading platforms, but don't be fooled by the smoke and mirrors. In reality, they have only a proprietary WebTrader, which hardly lives up to the lofty promises they make. And while they claim that you can invest in all assets via MT4, there's no link to download the platform or any concrete evidence to support this claim.
It's clear that FXrally is using deceptive tactics to lure clients into investing with them. Once they've signed up, however, they're left with nothing more than a subpar WebTrader. But that's not all. FXrally also offers a basic mobile app that's nothing to write home about.
Deposit and Withdrawal Procedure
When it comes to FXrally, one thing is abundantly clear: transparency is not their strong suit. Despite many attempts to reveal basic information, this suspicious broker remains tight-lipped about which payment methods they accept. This lack of clarity puts investors at risk.
But that's not all. FXrally's penchant for charging exorbitant fees is a cause for concern. In particular, their inactivity fee is a real wallet-buster. If your account remains inactive for 30 days or more, be prepared to cough up a cool $100 per month. That's enough to make anyone think twice about doing business with this fraudulent firm.
Investors, beware of FXrally's hidden fees and lack of transparency. Your money deserves better than this. Opt for a trustworthy broker that puts your interests first.
Exploring FXRally's Enigmatic Account Types
When considering FXRally, you'll come across three distinct account types to choose from. These options may look promising but remember that this is a suspicious broker. Let's explore each account type:
Starting Plan – Starting at 250 EUR

Advanced Plan – Starting at 5,000 EUR

Expert Plan – Starting at 20,000 EUR
These account types differ in terms of sessions with an account manager, access to expert advisors (EAs), and the level of trading education provided.
It's critical to carefully consider your investment goals and risk tolerance before choosing an account type. Remember to conduct thorough research and exercise caution when dealing with suspicious brokers like FXRally or Coin2FX.
How Do Fraudulent Offshore Brokers Operate?
The realm of broker fraud poses a grave threat to everyone. Driven by greed, many brokers and investment firms resort to deceitful tactics, exploiting their clients' trust and vulnerability.
These unscrupulous brokers employ manipulative strategies, such as engaging in covert high-risk investments or executing unauthorized trades, eroding trust. False account statements embellished with misleading information perpetuate the illusion of success. This masks the impending disaster awaiting unaware investors.
Motivated by self-interest, brokers and financial advisors receive substantial commissions for directing clients to unsuitable investments. This ethical breach ensnares clients in ventures that serve the broker's interests, not their own.
Common broker fraud tactics include "churning," where excessive trades maximize broker commissions at the expense of portfolios. "Front running" exploits insider knowledge to prioritize personal accounts over clients'. Ponzi schemes, unregistered securities, and pump-and-dump scams amplify the deception, luring investors with false promises before vanishing.
To protect against broker fraud, conduct thorough research on brokers and investment firms. Seek registered firms with ethical track records and exercise caution when reviewing account statements. Beware of persuasive sales tactics and unrealistic promises. If something seems too good to be true, it probably is. Report any suspicious activity to the authorities and seek legal guidance. Stay vigilant, armed with knowledge, and fortify yourself against broker fraud.
FXRally Summary
In light of our review, FXRally appears to engage in deceitful and questionable practices that put investors' funds at risk. Lack of proper regulation, limited trading platforms, and a lack of essential information are all red flags. The broker's absence of clarity regarding payment methods and hefty fees also raise concerns about their integrity and customer-focused approach.
People should approach FXRally's account types with caution, remembering the nature of this suspicious broker. Thorough research and risk assessment are crucial before making investment decisions. Overall, choosing reputable, regulated brokers that prioritize transparency and investor protection is key to safeguarding your assets.
Preventing broker fraud requires due diligence and informed choices. Beware of that. Lastly, should you require assistance in locating the ideal broker tailored to your specific needs, feel free to contact us for a free consultation.
FAQs
Is FXRally Regulated?
No, FXRally is not regulated. Keep that in mind.
Does FXRally Offer a Demo Account?
No. This broker does not offer a demo account.
What is the Minimum Deposit for FXRally?
The minimum deposit amount that this firm asks for is 250 EUR.