March 24, 2023
Reading Time:
5
min
GateBits Review: Be Careful With GateBits.Com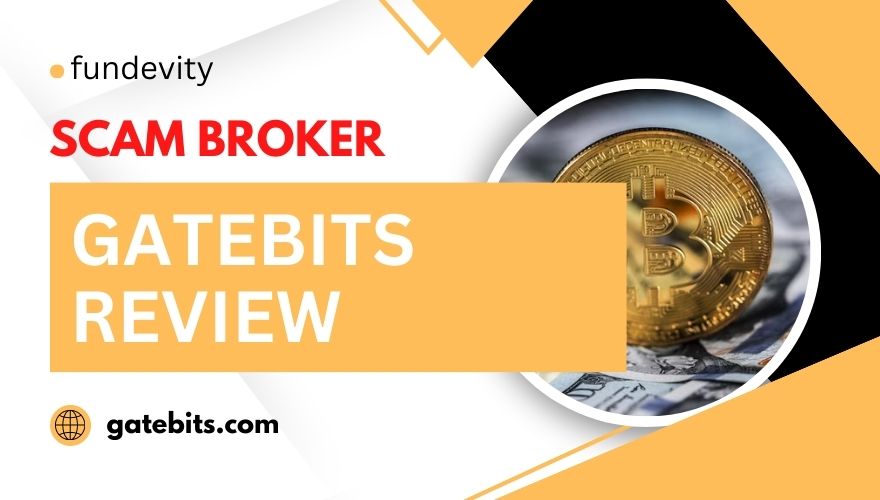 Finding a reliable broker that fits your needs can be difficult and as this GateBits review points out scam artists make it far more difficult than it really has to be. This broker goes through all the trouble to at least seem legitimate to those without much experience with scam brokers.
If you were trying to find out where this broker is located for example you would have to do quite a bit of digging as it is not exactly forthcoming with this information. All of that hiding is due to the fact that they are located in Saint Vincent and the Grenadines. This means that pretty much anyone with some experience will know that that makes them a scam broker who is 100% unregulated.
Other issues with this broker stem from their minimum deposit being set at $250 quite a bit higher than most reliable brokers ask from their clients.
| | |
| --- | --- |
| Leverage | 1:100 |
| Regulation | Not regulated |
| Headquarters | Saint Vincent and the Grenadines  |
| Minimum Deposit | $250 |
| Review Rating | 1/5 |
| Broker Type | Forex |
| Platforms | Web Trader |
| Spread | 3 |
GateBits Compliance and Safety
This scam broker is not in compliance with any of the regulations that regulators set in place to protect traders from predatory business practices of investment scams.
As we have stated earlier in this GateBits review this brokerage tries to hide the fact that they are really based in Saint Vincent and the Grenadines by burying it deep in their terms of service agreement.
The reason they have tried to hide this vital piece of information is because this location has become well known as a haven for investment scams over the last decade or so. Meaning when you see that a broker is based there you should turn and look for another broker that will actually meet your needs without running off with your money..
Legitimate brokerages state where they are from and provide all of the necessary information that you would need to look them up in their regulators database. Make sure that brokers that you are considering meet this bare minimum requirement.
Trading Platform at GateBits
One of the most important things that a broker can offer their clients (aside from healthy and safe trading conditions) is a top tier platform. As you can probably assume GateBits does not do this for their clients.
At best GateBits offers their clients a middling web trader platform that does have some useful tools but can not compare to industry favorites like MetaTrader5. MetaTrader 5 is an industry standard for a reason after all.
MetaTrader5 offers its clients all of the tools they could possibly need to come to the best decisions possible in regards to their trades. On top of this MetaTrader 5 is also highly customizable so each trader can create a unique trading experience for themselves that suits their trading style.
GateBits Trading Instrument
GateBits offers their users a fairly limited selection of tradeable instruments. Primarily with this broker users are able to exchange the following:
Stocks:
Or crypto currencies
Bitcoin
Ethereum
Litecoin
All in all not much of a selection to be honest especially when compared to the full service brokers that legitimately offer their clients everything from crypto to forex all the way to CFDs.
Overall this is not a great selling point for this broker.
GateBits Offers Trading Bonus
This broker offers its users a bonus that is based on referrals. They explain it briefly in 2 sentences or so.
The essence of this bonus scheme is for you to bring your friends in and the you will hypothetically receive 10% of each of their deposits with a hard limit placed on 25000 USD per referral.
Over all this isnt an impossible to believe bonus scheme but coming from this broker its highly unlikely to actually work at all.
GateBits Account Types Available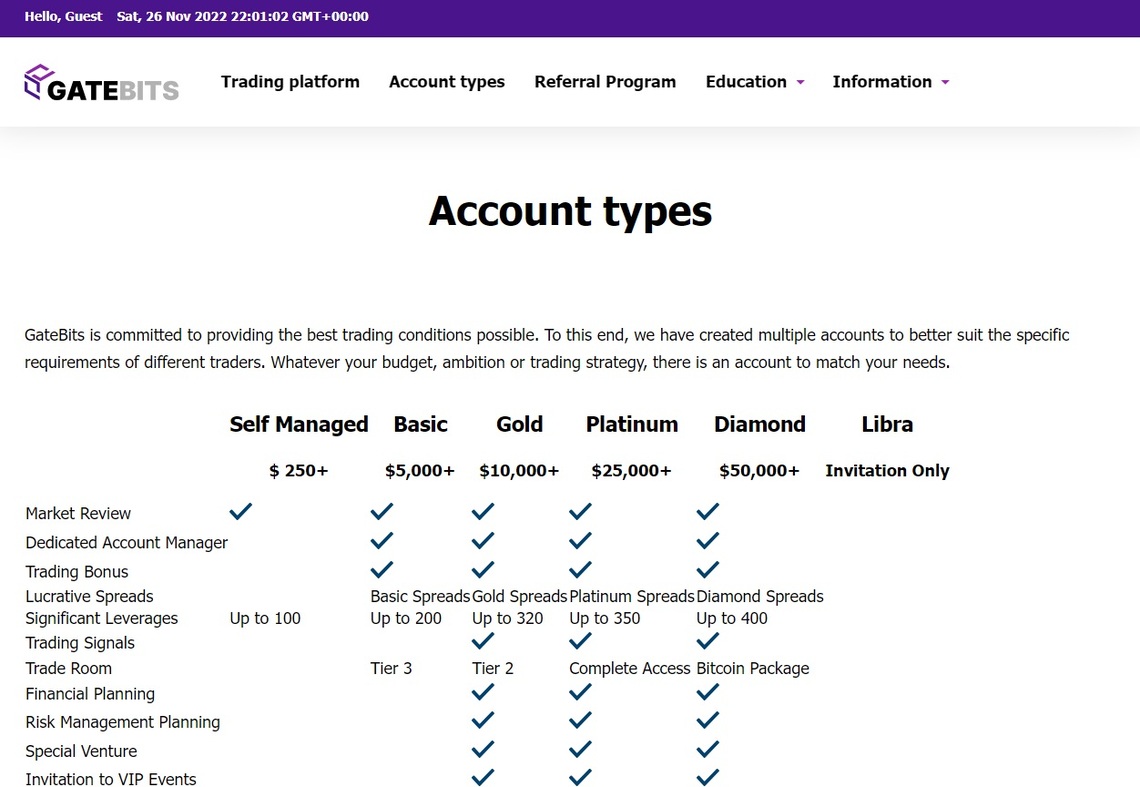 Like most other scam brokers GateBits offers a bunch of accounts with silly none connected names including an account type which is by invitation only. The account types available with Gate Bits are as follows:
Self managed: $250 minimum deposit
Basic: $5000 minimum deposit
Gold: $10000 minimum deposit
Platinum: $25000 minimum deposit
Diamond: $50000 minimum deposit
Libra: Invitation only
As you can see the minimum deposits for each account type are absolutely ridiculous going all the way up to $50000 for the Diamond account which barely differs from the others, other than that it comes with the Bitcoin Package, something this broker does not bother to explain.
Additionally the Libra account type is of great concern as there is no available information about this account nor about why it is by invitation only.
Deposit and Withdrawal Method
It is not exactly clear what the deposit and withdrawal methods are with this scam broker as they state that all payments must pass through "customer service". This is far from typical and should be a great warning that this is nothing more than a scam.
In the case that you have paid by credit card we advise that you request a chargeback as soon as possible because there is no indication that these scam artists intend to make a withdrawal possible.
Legitimate brokers will always provide their clients with a safe way to pay with one or more reversible options such as credit card, wire transfer, or e-wallet.
How the Fraud was Perpetrated
Most offshore brokers generally take the same approach when trying to part their victims from their hard-earned money.
In exchange for an email address or other kind of contact information, they run a series of social media advertisements that direct victims to a website that promotes a get-rich-quick plan.
At this point, they keep bombarding the victim with more and more alluring offers until she caves and deposits, in the case of FXmyTrades, $500. Some con artists are now content with the money they have obtained from their victims. Many people go above and beyond and charge a 20% withdrawal fee or bogus profit fee.
The percentage-based withdrawal fee that can be added to gains is a prevalent fraud that traders should be aware of. The broker manipulates the trading software in order to make it appear as though the trader has made a sizable profit. The con artists then tell the trader that there is a down payment that is calculated as a proportion of the profit the trader has made. These costs could reach 20% of the enormous (and overstated) profit. This is a desperate attempt to get a victim to part with a little more cash before cutting their losses.
GateBits Summary
This GateBits review is a great guide to how scam brokers generally operate in that this broker does pretty much exactly what the rest of the scam brokers do.
The first thing that gives them away as a blatant scam is the fact that they try to hide their location and if someone is able to uncover where they are actually based there is plenty to conclude from that. They are located in Saint Vincent and the Grenadines, a location famous for being home to scam brokers of all types.
Secondly this broker fails to provide their users/victims with the bare minimum and that is a safe way to fund their accounts. With GateBits you can look forward to customer service processing your payment which can only mean one thing, your money is gone for good unless you request a chargeback or a recall.
When selecting a broker make sure that they are regulated and that they offer a healthy trading environment which allows you to fund your account in a safe way and withdraw your funds in a hassle free way.
FAQs About GateBits Broker
Is GateBits Legitimate Broker?
GateBits is as far from a legitimate broker as one can be.
What is the Minimum Deposit for GateBits?
This scam broker requires a minimum deposit of $250
What Trading Products Are Available With GateBits?
With this broker you can trade stocks and Crypto currencies.