August 01, 2023
Reading Time:
6
min
GCM FX Review: An In-Depth Assessment of Safety and Security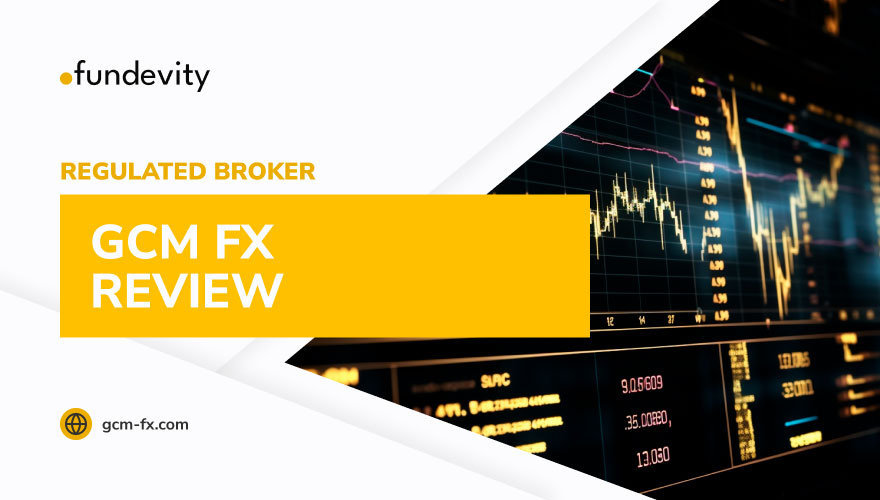 This GCM FX review is an in-depth assessment of their platform, regulation, traders they serve, and more! Keep reading to find out everything there is to know about GCM FX so you can decide if they are a good option for you. 
Also check out our MountainWolf, Nash Markets, and Nextonbid reviews to learn more about other alternatives you should avoid. 
Who Is GCM FX? All About Gcm-fx.com
GCMFX.com is a brokerage company registered at Global Capital Market Limited, offering trading in forex, futures, indices, and commodities since 2012. They provide trading services in various markets with offices in Dubai, Cairo, Istanbul, and Delhi.
General information
Name:
Global Capital Markets LTD
Regulation status:
Regulated by Labuan Financial Services Authority MB/20/0056 
Warnings from Financial Regulators:
Website link:
www.gcm-fx.com
Active since:
2012
Registered in:
Labuan, Malaysia (Company Number: LL16397).
Contact info:
Email:

[email protected]

 

Phone:+44 20 8089 1301 

Web Form

Live Chat

Trading platforms:
GCM trading platform and MT4
Majority of clients are from:
Turkiye

India 

United States 

United Kingdom

Canada

Customer support:
Live chat, email
Compensation fund:
None
GCM FX Partnership
An introducing broker maintains a direct connection with customers when trading futures contracts, forex, or commodities options. The broker manages trading on the client's behalf or trades directly with the company. Compensation is based on new business. The company offers competitive remuneration packages for Introducing Brokers (IBs) and Independent Sales Representatives (ISRs), with ISRs and IBs earning money within the first month.
White Label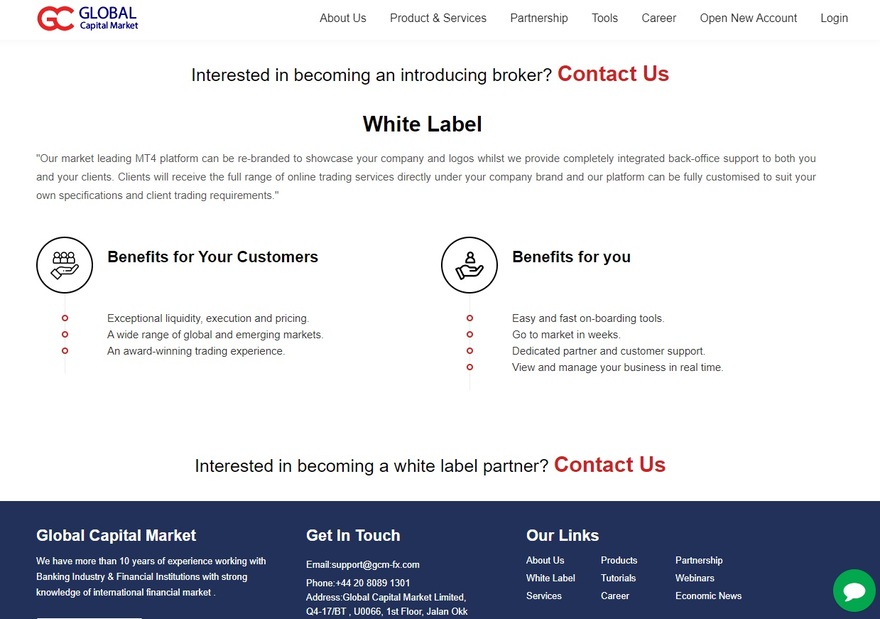 Their market-leading MT4 platform can be re-branded to showcase their company and logos while they offer fully integrated back-office support to both them and their clients. Their clients will receive the complete range of online trading services directly under their company brand, and the platform can be fully customized to meet their own specifications and client trading needs.
Regulation Info
GCM FX is regulated by  Labuan Financial Services Authority (License Number: MB/20/0056). While LFSA is not a well-known and trustworthy regulator, especially not in the countries the broker is operating from, it's important to note that they at least have a license. 
The broker operates from multiple countries and lacks the authorization required by regulatory organizations to do business there, including: 
Turkiye: Capital Markets Board of Turkey (CMB) 
India: Securities and Exchange Board of India (SEBI)
United States: Securities and Exchange Commission (SEC)
United Kingdom: Financial Conduct Authority (FCA)
Canada: Investment Industry Regulatory Organization of Canada (IIROC)
Ontario Securities Commission (OSC) and other provincial regulators. (Note: Canada has multiple provincial regulators, and the regulatory landscape may vary across provinces.)
GCM FX Broker Profile
The GCM FX CFD brokerage company even offers a career opportunity, where you can fill out the form and apply for a job to become a member of their team. 
Trading platforms:

MT4

Account types:

Silver, Gold, Platinum, Palladium

Financial Instruments On Offer:

Forex

(EURUSD, EURGBP, USDNOK)

Cryptocurrencies

(BTC, ETH, XRP)

Indices

(S&P 500 Index, Dow Jones Industrial Average, FTSE 100 Index)

Commodities

(Crude Oil, Natural Gas, Corn)

Futures

(E-mini S&P 500 Futures, Crude Oil Futures, Gold Futures)

Shares

(Facebook, Tesla, Netflix)

Energies

(Brent Crude Oil, WTI Crude Oil, Natural Gas)

Bonds

(Bund, JGB, U.S. Treasury Bonds)

Maximum leverage:

N/A

Minimum Deposit:

N/A

Commissions/bonuses:

N/A

Mobile app:

Yes

Desktop app:

Yes

Autotrading:

Yes

Demo account:

Yes

Education or Extra tools:

Tutorials, Webinars, Economic Calendar, Economic News
GCM FX Trading Platforms
GCM FX customers can access the popular MetaTrader 4 (MT4) trading platform, known for its powerful features and functions. MT4 simplifies real-time market quotes, trades, and positions management, offering technical indicators, charting tools, and customized templates. 
It also features Expert Advisors (EAs) for automated trading, suitable for both inexperienced and seasoned traders. GCM FX also offers its own GCM trading platform, but traders have expressed concerns about its dependability and safety. Customers can now use MT4 as an alternative, providing a reputable and well-established platform for their trading needs. The GCMFX mobile platform is available for both MT4 and GCM trading. 
GCM FX Demo Account
You have the option to check out GCM FX's demo account and test trading with them to see whether they suit your trading tastes before committing blindly to their genuine account. You should always test a trader and their platform with dummy money before investing real money because you never know if they will meet your needs. 
The mere fact that a broker provides a demo account does not guarantee his reliability. To determine whether the broker is trustworthy or not, many additional critical details are crucial. The best course of action would be to conduct in-depth research before trading with anyone. 
Is GCM FX Safe To Trade With?
GCM FX, a reliable broker with various trading services, may appear trustworthy at first glance. However, a review reveals several red flags, such as hidden fees, which can undermine transparency and make it difficult to trust the broker. Additionally, GCM FX is not regulated by a reliable financial authority, which is crucial for ensuring brokers adhere to strict standards, protect clients' funds, and maintain ethical business practices. 
The lack of proper licensing for US and UK traders also raises doubts about GCM FX's legitimacy and compliance with local regulatory requirements. Despite its positive aspects, the cons outweigh their positives, making it unsuitable for trading. It is essential for traders to choose transparent, reputable brokers that prioritize safety and client interests. Contact us today to find a suitable broker for your investments.
A Look at GCM FX's Traders They Serve
Thanks to its previously mentioned affiliate programs and strategic alliances, GCM FX has been successful in drawing in a wide variety of customers. They thus serve a large, multinational clientele from many different nations.
Their clients mostly come from Turkey, India, the United States, the United Kingdom, and Canada. While GCM FX may draw clients from these nations, it is crucial to remember that due to a lack of formal license, traders from regulated jurisdictions like the US and UK should proceed with caution. When picking a trading partner, clients should carefully weigh the hazards involved with working with an unlicensed broker and put their safety and interests first.
Deposits and Withdrawal Methods
Standard payment options are accepted such as credit cards, wire transfers, and e-wallets. You can request a withdrawal at any time and it is normally processed within 1-4 business days, depending on the payment option. Deposits are through instantly, so you can start trading as soon as you make an account. 
There is no explanation of the withdrawal procedure and no reference to a withdrawal form or verification. Brokers that conceal withdrawal details are anything but reputable and good. Avoid dealing with those kinds of brokers. 
GCM FX Pros and Cons
Pros
Cons

Regulated

MT4

Demo account

Not regulated by a trustworthy authority

Hidden fees

Limited information

Lack of transparency

No info about leverage, or minimum deposit

Lack of social media networks
Long Story Short – GCM FX
On the well-liked MT4 platform, GCM FX offers cutting-edge trading tools and capabilities, along with a sample account for beginners to experiment without risking real money. The regulation gives traders some initial security, making it a tempting choice.
Due to the pros and downsides of brokers, experts advise care when dealing with them. Concerns regarding corporate compliance and responsibility are brought up by the regulatory agencies' lack of dependability. Hidden fees make it harder to trust the broker because they might have a detrimental influence on traders' profitability and show a lack of openness. Questions regarding the company's past and reputation are raised by the lack of information available.
Schedule an obligation-free consultation with our team of professionals to improve your trading experience. We'll demonstrate transparent, knowledgeable, and profitable trading methods. Collaborate to support your financial success in the thrilling world of trading. Don't miss out on this opportunity.
FAQ Section
Is GCM FX Regulated?
Yes, GCM FX is regulated by the Labuan Financial Services Authority under license number MB/20/0056. However, LFSA is not a well-known or reliable authority so there is still a risk for investors.
Does GCMFX Have a Mobile Trading App?
Both the MT4 and their own GCM trading platform are available as mobile apps.
Is It Safe To Trade With gcm-fx.com?
They are regulated and have some good advantages, but the disadvantages outweigh them, making them risky to trade with. If you want to learn more about better options for this broker, get in touch with us right away.