May 22, 2023
Reading Time:
5
min
GIC Markets Review: All You Need to Know About GIC Markets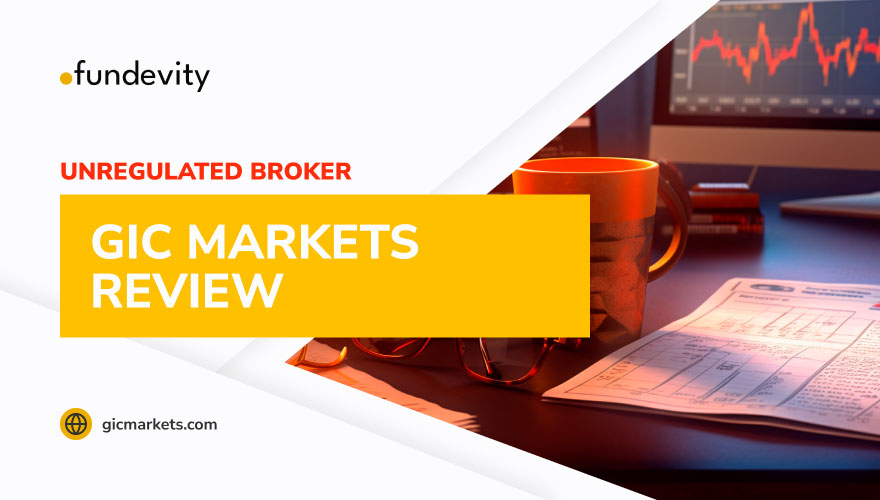 GIC Markets (GICM) operates as an STP (Straight Through Processing) forex broker, offering a range of account types. However, bigger accounts do not receive any improvements. The Standard account type provides Islamic-free (swap-free) options. 
Moreover, GICM's spreads are variable, and the available leverage may range up to 1:200, depending on the account type. They offer diverse trading instruments, including currency pairs, commodities, stocks, and indices. Nevertheless, the question remains: are they reliable? To find out, read our comprehensive GIC Markets review.
| | |
| --- | --- |
| Company | Global Integrated Captech Markets LTD |
| Headquarters | St. Vincent & the Grenadines |
| Website | gicmarkets.com |
| Warning | N/A |
| Platforms | MetaTrader 5  |
| Minimum Deposit | $50 |
| Leverage | up to 1:200 |
| Spread | 0.1 pips |
| Review Rating | 1/5 |
Safety and Regulation
GICM, or Global Integrated Capitech Markets, is a company registered in St. Vincent and the Grenadines. Yet, it is difficult to feel confident about their regulatory oversight due to the loose regulatory environment in which offshore companies generally operate. On the other hand, brokers registered with reputable regulatory bodies adhere to stringent rules that ensure client protection. For instance, ASIC requires brokers to follow mandatory account segregation. 
This keeps client funds separate from broker accounts to prevent fraudulent practices and ensure the safety of all customer funds. Similarly, brokers must maintain sufficient capital reserves to safeguard client investments in the event of bankruptcy. In addition, they are obligated to provide regular audits and reports on their financial operations. 
ASIC imposes a minimum capital holdings rule of AUD 1 million on brokers. This sets a high financial barrier that deters potential scammers who cannot meet these capital obligations. Given these factors, we approach offshore brokers with caution and skepticism as they do not adhere to the same guidelines as regulated firms. The lack of regulatory oversight raises many concerns. Keep that in mind. 
Overview of the Trading Platform
GICM offers traders access to one of the most prominent and widely favored trading platforms on the market: MT5 (MetaTrader 5). This venue is available across web browsers, computers, Android, and iOS devices. One of MT5's standout features lies in its exceptional charting capabilities. 
This provides people with access to a wide range of charting tools and indicators. These tools enable comprehensive technical analysis and accurate market predictions. Moreover, the platform offers flexibility through its customization options, allowing traders to personalize their trading environment to suit their preferences. 
MT5's popularity is further enhanced by its support for automated trading, including expert advisors. Expert advisors are trading bots that execute trades based on pre-defined strategies. Traders have the option to create their own expert advisors or purchase them. These expert advisors analyze the market and execute trades on behalf of the trader, saving time and ensuring precise and timely trade executions.
Bonuses and Promotions
One notable aspect of this broker is its odd deposit bonus offer, which is $10 and described as 'no bonus'. Traders should carefully consider whether this bonus aligns with their trading goals and preferences. 
While some may appreciate the opportunity to boost their initial funds with this bonus, others may find it less enticing. It is advisable to thoroughly evaluate the bonus terms and conditions before making any decisions.
Trading Accounts Offered
The GICM platform provides traders with demo accounts for trading familiarization. Besides, GICM offers three main trading account types: Classic, Pro, and VIP. Each account type offers different features and benefits.
The Classic account is designed for beginners seeking straightforward trading experiences. With a minimum initial deposit of $50, it is accessible to a wide range of traders. The Classic account provides somewhat competitive trading conditions.
For experienced and active traders, the Pro account is available. With a minimum initial payment of $100, the Pro account offers additional features. Traders can expect lower spreads, faster execution speeds, and access to better trading tools.
VIP accounts are for high-volume and professional traders who require VIP trading conditions. The initial deposit for a VIP account is $500, offering the highest level of features and benefits. However, please bear in mind that this broker is suspicious. 
Available Funding Methods
GIC Markets, a broker with a suspicious reputation, claims to offer many payment methods that include both traditional and online solutions. Notably, GIC Markets supports wire transfers, allowing traders to transfer funds directly from their bank accounts. Besides, they accept cards as a widely used payment option. 
GIC Markets has incorporated cutting-edge solutions like Neteller, Skrill, and China Union Pay, trying to keep up with the evolving online payments landscape. E-wallets often offer faster processing times and enhanced security measures, which can be advantageous compared to international bank transactions. Despite these payment options, it is crucial to exercise caution about this firm due to its suspicious nature.
Tip: Be careful with organizations like GIC Markets and Bitech Max to ensure your safety.
How Does the Scam Intervene?
Scammers frequently employ online advertisements to fool many individuals. They often showcase extravagant displays of wealth and luxurious lifestyles to mask their fraudulent activities. These deceptive ads can lead users to fake broker websites.
Once users land on these platforms, they are prompted to provide their phone numbers and email addresses. This allows scammers to initiate contact and convince people to invest. Moreover, this marks the initial phase, commonly referred to as the "first wave" of scammers, whose main objective is to ensnare victims in the scheme.
After the user makes the initial deposit, they are assigned "account managers" or expert scammers who excel at manipulating and prolonging the user's involvement in the scheme. Employing various tactics, these people strive to persuade traders to invest substantial sums of money. At this stage, recovering funds becomes challenging but not impossible.
It is possible to reclaim funds lost to such scams by seeking legal assistance and reporting the fraud to the relevant authorities. 
Remaining knowledgeable, vigilant, and familiarizing yourself with fraudulent schemes' red flags are crucial. Staying informed and implementing preventative measures are essential steps to avoid scams.
GIC Markets
Summary
GIC Markets (GICM) is an STP forex broker offering various account types, including swap-free accounts. They have variable spreads and leverage up to 1:200 depending on the account. Yet, their reliability is questionable as they operate as an offshore company. Reputable regulated brokers follow strict rules to ensure client funds' safety. GICM lacks such oversight, causing security concerns.
They provide access to the popular MT5 trading platform. Also, this broker offers demo accounts and three main trading account types: Classic, Pro, and VIP, each with different features. They accept bank transfers and credit/debit cards, as well as online solutions like Neteller, Skrill, and China Union Pay. 
GICM also has a bonus system for traders and many trading instruments such as FX, stocks, and more. The company has a customer support team available 24/7. Yet, they are not regulated or secure. Therefore, be extra cautious when trading with GICM and RoboticsForex. Lack of regulation implies no oversight and no protection of customer funds.
We're here to assist you in finding the perfect broker that suits your needs. Reach out to us for a free consultation!
FAQs
The GIC Markets are regulated?
No, they are not. They are an offshore broker.
Is the GIC Market a safe place to invest my money?
GIC Markets cannot be a safe place for anybody's money. Stay away from them.
Is a demo account available on GIC Markets?
Yes, a demo account is available.