May 02, 2023
Reading Time:
5
min
GlobalX Review: Avoid This Broker at Any Cost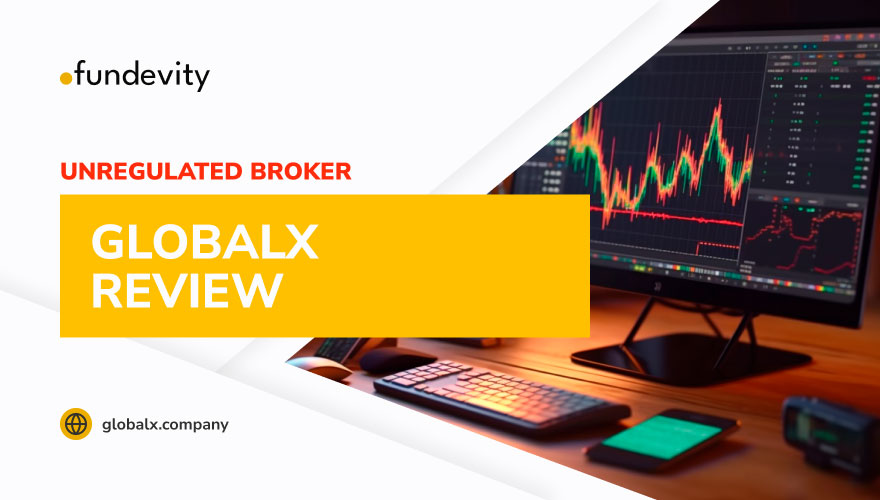 GlobalX may seem like a legitimate broker but don't be fooled. Despite claiming to be regulated by several authoritative jurisdictions, they are in fact unlicensed. Moreover, they have been flagged by the UK's Financial Conduct Authority. It's crucial to steer clear of this dubious firm for your own safety. Our comprehensive GlobalX review delves deeper into the reasons why this firm should be avoided at all costs.
| | |
| --- | --- |
| Broker Status: | Unregulated Broker Scam |
| Regulated by:  | No Regulation |
| Operating Status:  | Active |
| Scammers Websites:  | globalx.company |
| Blacklisted as a Scam by: | FCA |
| Broker Owner:  | Global X Management Company LLC |
| Headquarters Country: | London, UK |
| Foundation Year:  | n/a |
| Online Trading Platforms: | Web |
| Mobile Trading:  | No |
| Minimum Deposit: | $250 |
| Deposit Bonus:  | No |
| Crypto Asset Trading: | No |
| CFD Trading Option: | No |
| Available Trading Instruments: | ETFs |
| Maximum Leverage: | 1:50 |
| Islamic Account:  | No |
| Free Demo Account:  | No |
| Accepts US Clients: | No |
| Site Grid: | No |
Regulation and Fund Security of
GlobalX
In the vast sea of suspicious Forex brokers, GlobalX is yet another fish. It claims to be situated in London, UK, and regulated by multiple well-known financial authorities such as FCA, CySEC, FINMA, and FSA of St. Vincent and the Grenadines. However, the truth is far from what it seems. GlobalX broker has not been licensed by any of these regulatory bodies. This is easy to verify by searching their registers. 
Moreover, after a thorough investigation, we discovered that the FCA released an official warning against GlobalX. It states that the firm is not authorized to offer financial services and is therefore not trusted. It's essential to be aware of these issues and read our detailed review to uncover more reasons why you should avoid this shady broker.
GlobalX's false claim of being regulated by the FCA has been debunked as it was blacklisted by the same authority. Furthermore, the broker's assertion of being licensed by the FSA in St. Vincent and the Grenadines is a blatant lie. 
The website clearly states that it doesn't license forex brokerage activities. Both the FCA and FSA warn against investing in unregulated firms as it poses a huge risk of being scammed. Thus, it's advisable to invest only with regulated and reliable brokers who adhere to the requirements and regulations.
Beware of GlobalX, Moneta Markets, FTX, and other shady companies. Your safety is a priority. 
Trading Platform Available at GlobalX
GlobalX brags about its "multifunctional trading platform" with a "simple and intuitive interface" which may appeal to some traders. Yet, we were skeptical about its claims and decided to test it. 
After registering, we found that the platform is indeed simplistic with limited features, offering only basic tools and custom indicators. There are no refined features or tools to enhance trading experiences. It's safe to say that the platform does not live up to the broker's grandiose claims. If you're looking for a more comprehensive trading platform, you should consider other brokers that offer better features and functionalities.
Looking for a reliable trading venue is crucial when investing in forex. Sadly, GlobalX's platform is just mediocre and not worth your attention. Instead, opt for legitimate firms that offer truly unique platforms like MetaTrader 4 or MetaTrader 5. These platforms are preferred by the most reputable brokers for a logical reason. 
They offer fantastic features like Expert Advisors that can perform the trading for you based on certain conditions. Likewise, the platforms are user-friendly and easy to use, even for novices. Besides, they are very secure, ensuring all transactions and IP addresses are encrypted.
Account Types Offered at
GlobalX
It's quite alarming to note that GlobalX, the so-called forex broker, does not provide any information on its account types. This raises several red flags and leaves potential clients confused about what options they have to choose from when opening an account. GlobalX's lack of transparency regarding account types is quite concerning because it shows a lack of commitment to building a trusting relationship with clients. 
This omission is especially suspicious because most legitimate brokers offer multiple types that address varying investment needs. GlobalX's failure to do so suggests that the broker is either inexperienced or purposefully withholding information for dubious reasons. 
As a result, potential clients should think twice before trusting their funds to such a broker. Instead, they should opt to work with brokers who are transparent and upfront about their account types and fees.
Deposit and Withdrawal Methods
GlobalX hides in mystery when it comes to payment methods, which raises a red flag for potential investors. This lack of transparency makes it hard to trust the broker, especially when dealing with transactions. 
Despite this, we decided to test the waters. To our surprise, there were only two options available – Visa/Mastercard payment and crypto transactions with Bitcoin. While these methods may be suitable for some, it's hard to believe that a reputable broker would only offer such limited options. 
It's critical to consider the accessibility and security of payment methods when choosing a broker. GlobalX's lack of transparency on this matter is concerning. As an investor, you want to be able to deposit and withdraw funds easily and securely. This is why it's better to opt for brokers who offer a wide range of payment options with a proven reliability track record.
How Does The Scam Actually Work?
In today's world of investment, one must always be on the lookout for fraudulent brokers. They use all sorts of tactics to lure investors, but the most common method is promising significant profits. Don't fall for their lies! These fake brokers will pressure you into investing your money and engaging in bogus trades. All they want is to run away with your cash. Beware of that!
Offshore brokers are mainly notorious for their deceitful tactics. They often try to appear credible by claiming to be licensed by well-known authorities, but this is not always the case. That's why it's crucial to do thorough research before you invest. Check reviews and ratings online, and ask questions or seek help from independent financial advisors.
Remember to always be cautious about your personal and financial information. Don't disclose it to anyone unless you're confident that the company is reliable and trustworthy. Stay safe! 
It should be noted that GlobalX and Eurivex exhibit numerous similarities. This is because they are both unregulated firms with a track record of defrauding their customers.
Final Words
GlobalX, a London-based forex broker, claims to be regulated by many financial authorities such as the FCA, CySEC, FINMA, and FSA of St. Vincent and the Grenadines, but it is, in fact, unlicensed. The FCA has warned against investing in GlobalX, as it is not authorized to provide financial services. 
The broker's idea of being licensed by the FSA in St. Vincent and the Grenadines is also false, as the website clearly states that it does not license forex brokerage activities. The broker's trading platform is basic and not as advanced as claimed, and it does not offer information on account types, which is unsettling. GlobalX only offers two payment options – Visa/Mastercard payment and Bitcoin, which raises doubts about its reliability. It is better to choose regulated and reliable brokers to be on the safe side.
FAQs
Is GlobalX Broker Regulated?
GlobalX is not a regulated broker, based on broadly relevant evidence.
How Much Is The Minimum Deposit for GlobalX?
The minimum deposit for this broker is $250 which is moderately ordinary.
Does GlobalX Offer a Demo Account?
No. This broker does not offer any type of demo account.