January 31, 2023
Reading Time:
4
min
GlobeSignals Review: Find Out Why You Can't Trust This Firm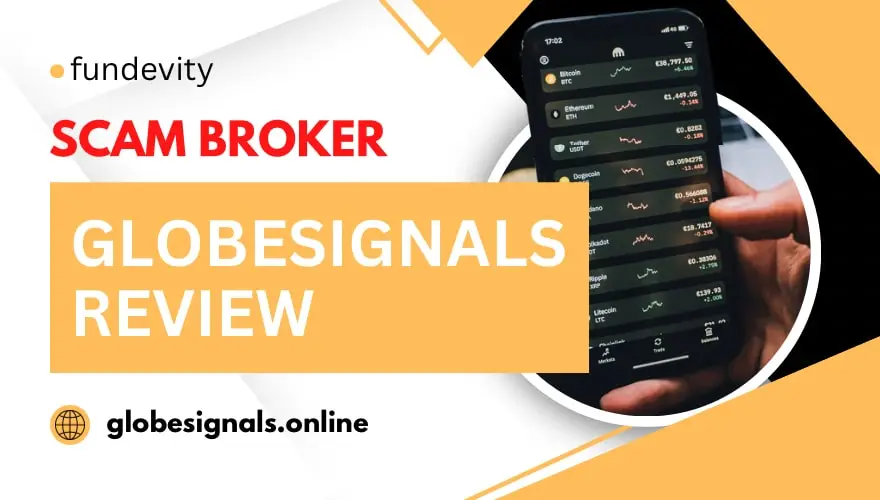 Globesignals is allegedly a US-based broker trying to operate absolutely anonymously, which automatically rules it out as a genuine broker. We could not find any company name listed anywhere, and no Terms and Conditions or other documents were available.
We don't know how familiar you are with a world of trading and legit brokers in general, but these common practices of trying to stay anonymous are a huge red flag. The broker should always be transparent and show you what you are getting yourself into.
In this in-depth GlobeSignals broker review, we will give you an insight into how this elaborate scam operates and why you should stay away.
| | |
| --- | --- |
| Company | N/A |
| Website | http://globesignals.online/ |
| Address | 52 Vanderbilt Ave, New York, US |
| Email | [email protected] |
| Phone | N/A |
| Minimum Deposit | $250 |
| Leverage | 1:500 |
| Bonuses | N/A |
| Regulation | Unregulated |
| Warning | N/A |
GlobeSignals Funds Security and Regulation
If a broker is legitimate, one thing you should find easily on their website is clear information about the company that owns and operates it, where it is based, and what licenses it has. However, this broker fails to provide the most basic info and this very much indicates that you are dealing with an investment scam.
GlobeSignals doesn't claim to follow any regulations, and after just a quick search, we concluded that they do not.
Always check carefully whether the broker you chose really has the necessary licenses. There are numerous benefits to working with a broker who hasn't violated any terms and conditions. Regulatory bodies such as CFTC in the US, FCA in the UK, or some EU regulators like CySEC in Cyprus should have the broker's name, company, and license number in their database for the broker to be considered legit.
The Trading Platform Used on Their Website

This may be surprising, but this anonymous broker doesn't provide any information about the forex trading software they use as well.
There is no demo account so you cannot take a look at their platform before you actually commit and register on their website.
Funny enough, even after registering an account, the trading software is nowhere to be found so it is safe to say that GlobeSignals scam broker has no trading platform at all. This should only be a further proof that you are dealing with a low-effort scam targeting people without enough experience and knowledge about trading.
Deposit and Withdrawal at GlobeSignals
GlobeSignals broker only allows cryptocurrency deposits, which can be expected from just looking at their lousy website. Cryptocurrencies are the payment method of choice for most financial scammers. The reason behind this is that crypto transactions make it much harder for someone to get a refund.
Legitimate brokers typically offer their clients a wide choice of transparent payment methods so use this info as one of the indicators of who you are dealing with.
The lack of available Terms and Conditions or Client Agreement just means that this scammer likely has set many traps such as hidden fees so the clients will come upon many withdrawal issues.
After reading many reviews we found that this is true and there can be found many complaints about the broker and the services they provide.
How Did This Broker Carry Out the Scam?
Scam brokers aren't that original when it comes to putting together the fraud.
It all starts with naive phone calls from various agents to see if you are open to investing and of course making quite a lot of money by doing so. Even if you say no, they will continue to push you until you agree or until they are certain you will not give them any money.
In case you have been scammed by this or any other broker claiming to provide legit services, getting your money back is possible! There is no need to feel ashamed since this can happen to anyone. We would also be grateful if you can share with us your experience since we can assist you in reporting your scammer to the authorities.
GlobeSignals Summary
We conducted this GlobeSignals review so you could see what kind of scam they are trying to pull off on a daily basis. Even though they claim to be a US-based broker, we could not find any information to support this as the address they provided is likely false as well. We were also not surprised that this broker failed to put even the most basic information on their website as many lousy scams decide to leave them out. You should look at it this way, the more they put online, the easier they are to track and later suffer the consequences of their actions.
This is why you should always choose a reputable legit broker as they stand behind the service they offer.
There could also be found many complaints about this broker in particular and the services they provide. Be cautious and try to avoid brokers that have this many negative reviews online.
FAQs About GlobeSignals Broker
Is My Money Safe with GlobeSignals?
No, GlobeSignals is a broker who has no licenses and follows no regulations so your money isn't safe with them.
Does GlobeSignals Offer Demo Account?
No, there is no demo account available so you need to sign up and make a deposit in order to access the platform.
What Is the Minimum Deposit for GlobeSignals?
The minimum deposit so you could start trading with GlobeSignals is $250. However, we still advise you to never give them any money.