October 10, 2023
Reading Time:
3
min
GPBots Review: Your Ultimate Guide to Making a Wise Decision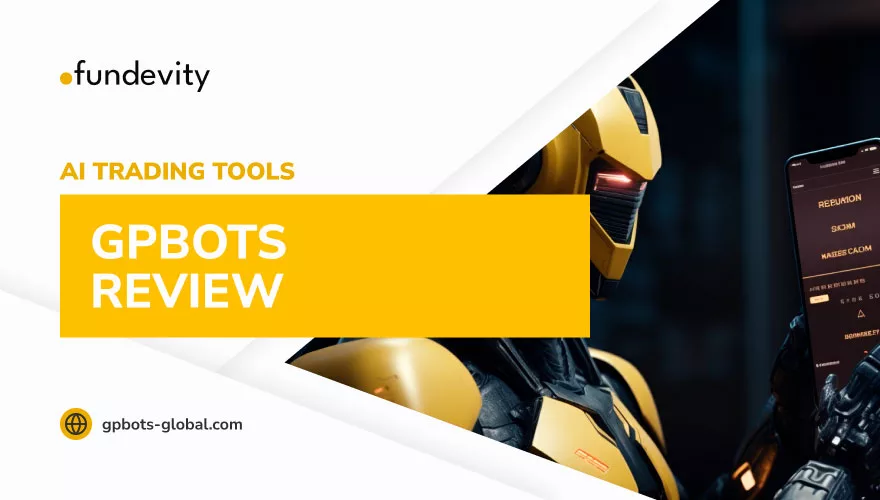 Are you wondering about GPBots and their promises in the cryptocurrency world? Stay tuned, because we're diving deep into the GPBots universe. 
We'll unravel the facts, helping you decide if it's a golden opportunity or a potential ambush. Keep reading our GPBots review for more facts! 
| | |
| --- | --- |
| | General information |
| Name | GPBots |
| Type of the company | AI Trading Tool |
| Regulation status | Not expected |
| Warnings from Financial Regulators | No official warnings |
| Website link | gpbots-global.com |
| Active since | June 2023 |
| Registered in | n/a |
| Contact info | Data is hidden |
| Trading platforms | n/a |
| Majority of clients are from | Brazil; United States; Poland; United Kingdom; Czechia |
| Customer support | n/a |
| Compensation fund | No |
Bitcoin Arbitrage: A Simple Guide
First of all, what is Bitcoin arbitrage? Let's say you invest substantial capital across different exchanges, holding both USDT and BTC in your portfolio. When a good opportunity arises, you buy BTC on one exchange at a low price and swiftly sell it for USDT on another where it's higher. It's the art of buying low and selling high, just across two exchanges. 
Your portfolio grows, but it's scattered. Managing these profits, spread across multiple platforms, poses a challenge, primarily for crypto newcomers. Remember that! 
GPBots – The Reality 
Now, let's talk about the GPBots scam. First things first, this company is completely anonymous. Also, they brag about 1% daily returns and the potential for 200–300% ROI. 
Impressive, you'd say? They claim it takes just a minute a day. If this were true, it'd be a game-changer for all. However, it's vital to approach such claims with caution. 
While the concept of BTC arbitrage is nice, understanding the risk and questioning bold promises is key. In the crypto world, knowledge matters a lot.
Note: We urge you to avoid VerifyFX. Their shady techniques can jeopardize your investments. Always choose legit brokers with a secure trading environment. Your financial safety matters.
How You Earn and What You Pay
Here's where it gets interesting. This company asks you to invest anywhere from $20 to $10,000. Your potential earnings? They claim up to 1% daily ROI. 
But beware, these returns are not backed by solid proof. And there's more. Your earnings depend on bringing more people into the fold. This is definitely an MLM Ponzi scheme! 
Investment Tiers
This shady trading company has some price tiers. Let's take a quick look at the investment models this company offers:
$20

$50

$100

$200

$500

$1000

$2500

$5000

$10,000
Note: Stay away from ViaChains. Their questionable tactics can lead to big financial losses.
GPBots's Shady Trustpilot Rating
GPBots has an average 3.3-star rating on Trustpilot, but this number demands careful consideration. 
Such ratings indicate mixed experiences among traders. This truly brings out potential concerns within the platform. 
Remember, when choosing where to invest your money, it's key to take these reviews seriously. Going for FX companies with 4.5-star ratings or higher provides a stronger sense of security. Higher ratings often signify satisfied clients, reliable services, and good support. So, as a savvy investor, choose platforms with stellar Trustpilot ratings for safer trading.
Tip: Are you considering brokers with artificial intelligence trading? It's a solid option, but always go for reliable platforms and trade with confidence.
How to Trade Safely?
Ready to ace your trading game? Let's take a look at these straightforward steps:
Real experience matters. Learn from genuine trader stories. Their insights reveal a tool's true potential.

Stay skeptical and safe. Avoid tools promising unreal gains. If it sounds too good, it probably isn't. Make sure you stick to deals grounded in reality.

Customize your tools. Make your tools fit your style. Day traders love real-time data, while personalized alerts boost strategies.

Trust safe sources. Seek advice from experts and trusted forums. We're here too, offering expert consultations just for you.

AI. Use AI wisely and safely. Always verify suggestions, trust your gut, and watch for our upcoming feature – our innovative AI Analysis Bot.
These practical tips will guide you to secure and successful trades. Stay sharp!
Simplify Your Trading Journey
As you can see from our GPBots review, it's vital to avoid fake platforms and opt for tools that truly work for you. That's where we come in. We're here to lend a helping hand, so your trading experience is smooth and hassle-free. 
Our team offers free consultations, guiding you through any questions you may have. 
Plus, meet our AI Analysis Bot – your intelligent companion for making the best judgments. This powerful tool simplifies your analysis, providing accurate advice and predictions without any difficulties. And here's the best part – you can give it a try risk-free for 20 days. During this trial period, you'll receive 5 FX analysis reports and 5 stock analysis reports every month. Dive in and simplify your trading today!
Final Verdict: Is It Worth the Risk?
In a nutshell, all the claims of this trading company lack substantial evidence. We couldn't find any concrete proof of their trading activities. The anonymity of its founders and the reliance on recruitment for earnings make it a risky deal.
When it comes to investments, trust your instincts. GPBots might seem solid, but without clear info and real results, it's a gamble. Your money deserves better. So, always stay cautious, and choose investments wisely. After all, it's your financial future on the line.