May 20, 2023
Reading Time:
5
min
Greendax Review: Location, Features, Fees, and More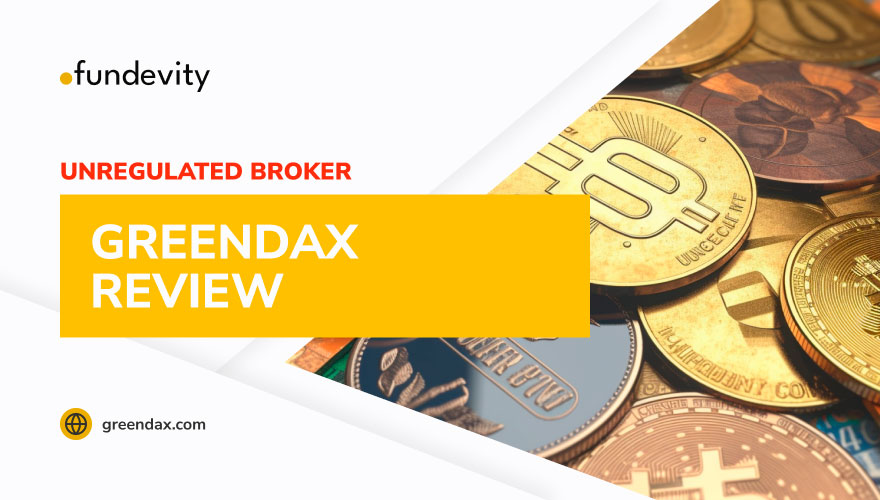 Greendax may appear like any other mysterious broker situated offshore, offering a trading experience that boasts groundbreaking services and a commitment to assisting traders in achieving their objectives. However, upon closer examination, these assurances seem empty and unsupported. 
Unfortunately, this broker will swiftly vanish with your funds as soon as you invest. Greendax is a company with numerous red flags, including no regulation, questionable fees, and exorbitantly expensive trading. If you wish to avoid financial losses, it is advisable to steer clear of engaging in trading activities with this entity. For further insights, continue perusing this Greendax review.
| | |
| --- | --- |
| Company | Greendax Limited |
| Headquarters | Hong Kong |
| Website | greendax.com |
| Warning | CSA, AMF |
| Platforms | WebTrader |
| Minimum Deposit | $2500 |
| Leverage | up to 1:400 |
| Spread | N/A |
| Review Rating | 1/5 |
Security and Compliance for Greendax
Let's uncover the fundamental truths here. We encounter a puzzling revelation regarding the ownership and operation of GreenDax. On one occasion, they claim it is under the helm of Greendax Ltd., while on another, it is allegedly controlled by Some Company Ltd., an offshore establishment nestled in SVG. Hence, the identity of the true driving force behind the business remains elusive.
Yet, a more pressing concern eclipses the ambiguity surrounding GreenDax. Namely, this broker operates without any type of regulation. Neither the Securities and Futures Commission (SFC) in Hong Kong nor the Financial Services Authority (FSA) of SVG, pay any significant attention to the FX industry.
It is vital to note that proper regulation acts as your sole defense against unscrupulous actors in online trading. Therefore, we strongly urge you to exercise caution by diligently verifying any prospective broker's credentials. If they lack licensing or authorization from esteemed regulatory bodies like the Financial Conduct Authority (FCA) in the UK, the Cyprus Securities and Exchange Commission (CySEC), or the Australian Securities and Investments Commission (ASIC) – just to mention a few – it is prudent to avoid them entirely. For your convenience, you can check out the FCA-regulated brokers in the UK.
Important reminder: Exercise caution when dealing with entities such as Greendax and Networkfsi to safeguard your security and well-being.
Trading Platform Overview
When you sign up with Greendax, they promise to provide you with a reliable and powerful trading venue. This platform is available as a web version, as well as Android and iOS apps. However, what sets them apart from legit brokers is the absence of demo accounts for testing this advanced platform. 
Our attempt to register a real account was met with a demand for a referral code, without which we were unable to proceed. This referral requirement is not typical of reputable brokers and is a favored tactic among scammers. These fraudulent brokers prefer to select their victims discreetly and keep their scams concealed. Typically, they distribute referral codes through phone calls or emails, ensuring the scheme remains hidden from public scrutiny. Consequently, we were unable to evaluate this broker's platform.
We recommend trying out MetaTrader 5, the industry's most popular software. It offers a truly robust platform designed to enhance your trading experience. Not only does it provide ample charting and analysis tools, but it also has exceptional additional features. These include preprogrammed Expert Advisors that monitor markets and trade automatically. 
They also include the ability to export charts, options to set price signals, a community chat, a market for add-ons, and much more. MT5's newer versions even offer netting options. This platform is accessible even for novices while providing seasoned professionals with a vast array of tools. To experience MT5 with a reputable broker, conduct a test run with confidence.
Discover Greendax's Trading Landscape
Proceed with caution as we delve into the trading instruments offered by this suspicious broker. Despite their claims, Greendax presents an extensive trading library that raises eyebrows. While they do offer options across popular trading tool categories, each section is shrouded in uncertainty. Here, we cautiously present the most commonly traded assets. On greendax.com, you can trade the following product categories:
Forex

Stocks

Commodities

Indices

Cryptocurrencies
Exercise the utmost caution when thinking about any involvement with this broker's offerings.
Note: Please be mindful of your safety and exercise caution when engaging with companies like Greendax, Nexospro, and other fishy entities. Your security should always be a top priority.
Greendax's Account Tiers
Greendax.com offers a range of trading accounts, each with its own elements and requirements. However, it's important to approach these account tiers with a critical eye, considering the suspicious nature of this broker. Let's explore the account types available on greedax.com:
Beginner – $2,500

Standard – $5,000

Intermediate – $25,000

Advanced – $50,000

Integral – $100,000

VIP – $250,000
While the account tiers may seem enticing, be careful before making any decisions, considering the dubious reputation of this broker.
Deposit and Withdrawal
Prepare yourself for an unusually high minimum deposit requirement at Greendax – a mind-boggling 2500 USD for their Beginner account type. It's crucial to note that most reputable brokers typically allow you to open a trading account with 10 USD. Payment can be made using VISA or Mastercard.
However, the payment methods accepted by Greendax extend beyond traditional options. They claim to accept Bitcoin as well, but we were unable to verify this information.
Stay vigilant when navigating Greendax's intricate terrain, given its suspicious nature and unconventional deposit requirements.
How Did This Brokerage Perpetrate Fraud?
There is a lot of deception involved in offshore brokers' treacherous world. Among their arsenal of tactics, one commonly deployed strategy involves luring people with the promise of outrageously high profits. They brazenly assert possession of a secret formula that supposedly guarantees astronomical returns.
To bolster their illusory reputation, fraudulent brokers may concoct positive reviews, weaving a web of deceit to dupe potential investors. Moreover, they employ psychological tricks designed to induce hasty decision-making. These manipulative maneuvers include imposing fake deadlines, falsely claiming limited offers, and instilling a false sense of urgency.
Also, certain unscrupulous brokers may entice investors with "risk-free" trades, hoping to bypass proper due diligence. It is imperative to remain vigilant and well-informed about these malicious tactics. Do not let corrupt brokers plunder your hard-earned money. Stay on guard and protect your financial well-being.
Greendax Summary
Greendax is a highly suspicious broker that raises numerous red flags. The lack of regulation, questionable fees, and overly high minimum deposit requirements make it untrustworthy. Engaging in trading activities with Greendax may result in significant financial losses. It is crucial to exercise caution and avoid this broker. Instead, consider reputable brokers that prioritize security and compliance. 
Besides, the elusive ownership and operation of Greendax further contribute to its dubious nature. To protect your investments, always verify a broker's credentials and opt for those regulated by respected authorities.
If you need assistance finding the most suitable broker that meets your requirements, don't hesitate to reach out to us for a free consultation. We're here to help you navigate the vast options and make an informed decision.
FAQs
Is My Money Safe With Greendax?
No. This broker is not legitimate and your money is not safe with them.
What Is The Minimum Deposit for Greendax?
The minimum deposit is $2500. This is overly high!
Does Greendax Offer Demo Account?
No. This broker does not offer a demo account.