May 31, 2023
Reading Time:
4
min
GroupTFM Review: Discover the Truth Behind GroupTFM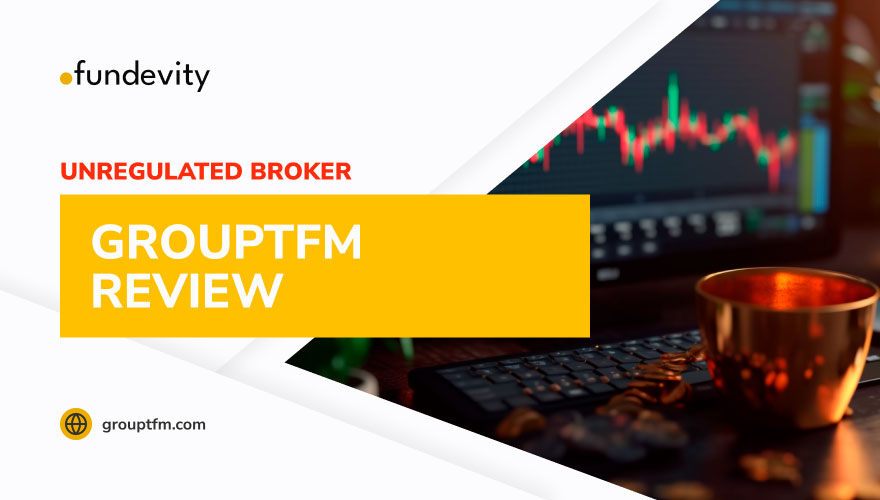 In this review, we delve into the true nature of GroupTFM, categorizing them as a broker scam. Contacting the company proves to be a challenging task, as their website only offers a contact form. 
Moreover, GroupTFM's lack of legal documentation and discernible trading platform raises significant concerns about its credibility. To conduct this thorough GroupTFM review, we undertook extensive research, collecting vital information. Keep on reading for more details.
| | |
| --- | --- |
| Company | N/A |
| Headquarters | N/A |
| Website | grouptfm.com |
| Warning | N/A |
| Platforms | Web Trader |
| Minimum Deposit | $250 |
| Leverage | 1:600 |
| Spread | N/A |
GroupTFM: License and Security Measures
The lack of transparency on their website makes it impossible for us to verify their headquarters. For brokers, obtaining a trading license from a reputable regulator in a developed nation is of utmost importance.
Within the EU, MiFID is one of the regulatory standards implemented by ESMA. EU standards encompass a minimum trading capital of €730,000 and a compensation scheme of €20,000. Leverage is limited to 1:30, and bonuses are strictly prohibited. On the positive side, traders benefit from Negative Balance Protection and Segregated Bank Accounts.
Our team encompassed the databases of various Tier-1 regulators, including FCA, FINMA, BaFIN, FMA, CONSOB, CNMV, CySEC, Australian ASIC, and Canadian New SRO. No information about GroupTFM and its license was found. This concrete evidence strongly suggests that GroupTFM operates without any form of regulation.
This lack of regulation comes as no surprise, considering that GroupTFM offers leverage as high as 1:600 and bonuses up to 35%, despite operating in multiple EU nations. Such unlawful practices lead us to conclude that GroupTFM is, indeed, a scam company.
Trading Platform Overview
Scammers often overestimate the capabilities of their trading platforms. They do that by using enticing buzzwords like "cutting edge" and "innovative," yet failing to deliver on their promises. 
In the case of GroupTFM, their WebTrader stands out as outdated and simplistic trading software that can only be accessed through a browser. GroupTFM's lackluster approach to providing a functional platform sets it apart. Despite proclaiming the existence of a trading program, it is conspicuously missing.
On their website, the buttons are intended to lead users to the trading platform. Yet, they redirect them to the account creation page. Upon logging in, the dashboard only offers links for "deposit" and "withdrawal," with no trace of the actual trading platform.
Account Types at GroupTFM
Today's market requires a variety of account options. Traders need access to different strategies and markets to succeed. Unfortunately, GroupTFM does not offer a variety of accounts or a demo account to practice with. That truly makes it difficult for traders to explore different options and try out the platform.
GroupTFM deviates from this norm. Namely, their accounts only differ based on accumulated deposits. As clients reach certain deposit thresholds, they are upgraded to higher account types.
Let's examine these accounts. They are as follows: 
Basic Account – $250

Premium Account – $2,500

Business Account – $25,000
Furthermore, GroupTFM does not provide demo accounts. Even if one were available, it would be useless since there is no trading platform to test or trade on.
Deposits and Withdrawals
GroupTFM's lack of withdrawal policy transparency raises concerns.
Besides the general lack of information on their website, their withdrawal policy remains obscure. There are no functional links to legal documents, only placeholders. GroupTFM boldly claims that deposits and withdrawals will be processed instantly, but this claim is far from the truth.
Online sources reveal a lot of criticism about GroupTFM's withdrawal process. In the absence of genuine company information, scammers simply cut communication. That leaves people uncertain and frustrated. In some cases, payouts may even need legal intervention.
Unveiling the Scam: How It Operates
Broker scams, including those exemplified by fake entities like GroupTFM and ProfitiX, often operate in a shroud of secrecy. They are leaving many to wonder how they manage to deceive countless individuals. These scam companies employ common tactics that are often prevalent in the industry.
One of their primary methods involves luring victims with enticing promises of guaranteed income through automated trading. Exploiting the widespread fascination with AI, these brokers claim to use advanced computing algorithms, offering clients the allure of effortless passive income. 
However, such claims are audacious and deceptive. The reality is that the technology necessary for such precise predictions does not currently exist. What's more, no legitimate broker can guarantee profits in the volatile world of trading markets.
In addition, many of these scam brokers implement referral programs as part of their scheme. They entice individuals to recruit more members into their network, enticing them with the prospect of earning bonus funds. This referral system bears an uncanny resemblance to a pyramid scheme rather than legitimate broker practices.
People need to remain vigilant and educate themselves about the warning signs of broker scams. By recognizing these tactics, potential victims can protect themselves from fraud.
Find the Best Broker – Contact Us Now!
Looking for the best broker? Look no further! Contact us today to discover the top-notch broker that suits your needs perfectly. 
Our team of experts is here to provide you with guidance in choosing the ideal broker for your journey. Don't miss out on the opportunity to work with the best! Reach out to us now and take your trading experience to the next level!
GroupTFM Summary
Based on our thorough review, GroupTFM emerges as a scam. Their lack of transparency, dysfunctional links, and absence of a trading platform raise significant doubts regarding their legitimacy. Furthermore, our investigation uncovered no evidence of regulation or licenses for GroupTFM. The outdated trading venue and limited account options they offer also raise concerns. 
The withdrawal process is unclear, and payouts have been subjected to criticism. Lastly, traders must steer clear of any involvement with GroupTFM or Kurmay Global to safeguard their investments.
FAQs About
GroupTFM
What kinds of accounts does GroupTFM have?
They have a Basic account, a Premium, and a Business account.
How is my security assured when using GroupTFM?
Entrusting your funds to them poses a significant risk to your money.
What funding methods are accepted at GroupTFM?
GroupTFM uses Bitcoin, MoneyGram, Neteller, Skrill, and bank transfers.