March 31, 2023
Reading Time:
4
min
Grow Pro Markets Review: Be Careful With GrowProMarkets.Com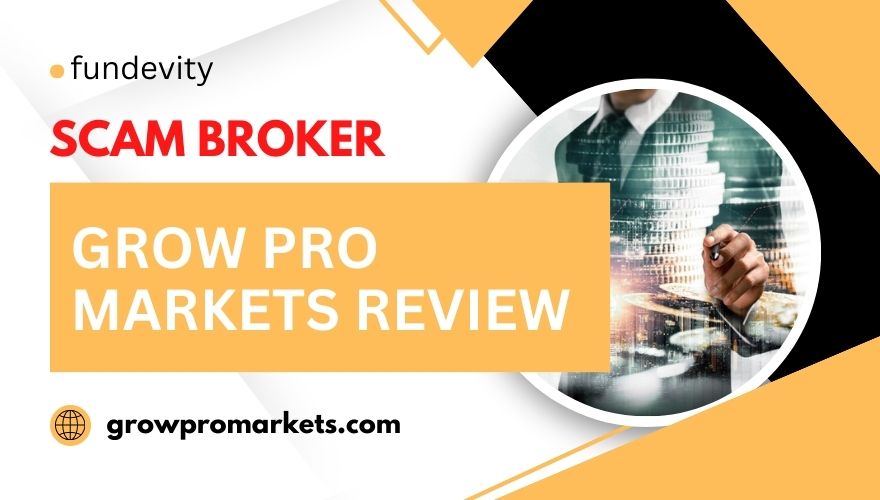 Let's see why you should avoid GrowPro Markets at all costs! This broker is as shady as they come and isn't even licensed to operate. They received a warning from a trusted EU financial institution. This is an important thing to remember.
Don't risk your investments with them. This GrowPro Markets review will show you why it's best to steer clear! Let's dig deeper into the article!
| | |
| --- | --- |
| Leverage | 1:200 |
| Regulation | No |
| Headquarters | 439 Oxford Street, London/ SVG |
| Minimum Deposit | 250 EUR |
| Review Rating | 1/5 |
| Broker Type | Forex |
| Platforms | Web/MT4 |
| Spread | 1.7 pips |
Grow Pro Markets Compliance and Safety
Many people would think that Grow Pro Markets is a legit broker with top-of-the-line tools, top-notch security measures, and excellent customer service. But wait, there's more to this story. After doing some digging, we found some odd things.
Despite claiming to be based in the United Kingdom, we couldn't find any evidence to support this. Instead, their address is Saint Vincent and the Grenadines, which is suspicious. We also couldn't find any evidence that they were regulated by the Financial Conduct Authority (FCA), as they claimed.
We were surprised to learn that they weren't in the FCA's database. To make things worse, the Spanish financial authority, CNMV, recently issued a warning against this firm for operating without proper license and regulation. Keep this in mind before doing any business with them!
Trading Platform at Grow Pro Markets
Looking for a reliable trading platform? Look no further than MT4 and MT5! These two here have been proven to be the industry standard for years, and it's not hard to see why. Brokers who support these platforms offer a seamless and efficient trading experience. This makes them the go-to choice for many traders, by all means.
In contrast, Grow Pro Markets does have a visually appealing web-based platform. However, remember that it is fake and it's not compatible with the MT4 platform. This is a red flag because it limits your possibilities and can lead to a less reliable trading experience.
MT5 is the newer version of MT4 and offers even more traits and benefits. For instance, it allows more types of orders. Besides, it supports more types of charts, including 21 timeframes and more than 80 analytical tools. Overall, MT5 offers a more refined trading experience than MT4.
So, if you're looking for a reliable trading platform, it's best to stick with brokers who support MT4 or MT5.
Grow Pro Markets Account Types Available
Despite their claims of being a financial savior, Grow Pro Markets is not all that it seems. Look underneath their shiny exterior, and you'll find a darker side. Their seven account types, ranging from Standard to Diamond, are completely shady. This leaves many wondering if they are legitimate.
As a broker, Grow Pro Markets is nothing more than a mirage, with new traders being lured into a world of trickery and serious fraud. It's essential to be cautious and do thorough research before trusting any broker with your hard-earned money.
Don't fall for their fancy website or promises of financial prosperity without first investigating their credentials. You want a respected and trustworthy company. In this case, Grow Pro Markets is not.
Deposit and Withdrawal Methods
When it comes to depositing money with GrowPro Markets, nothing seems to be good. Despite promising the option of card deposits, they only seem to accept bank wire transfers.
If you want to access payment details, you'll need to get in touch with an account manager. After all, this can leave you open to being urged to use a different payment method. This can be quite disturbing since wire transfers are often irreversible. So, this leaves you with limited options for getting your money back.
While the broker claims not to charge deposit and withdrawal fees, other fees can quickly add up. An inactivity fee of $30 is imposed after 60 days without any activity. There's a hefty $75 quarterly maintenance fee that can make a dent in your investment over time.
Each executed trade also incurs a 1% clearance fee. Yes, this may not seem like much, but it can quickly add up and eat into your profits. All of these fees can make for a less-than-thrilling investment experience with GrowPro Markets. It's crucial to be aware of these costs upfront and weigh them against the potential benefits. Do this before you make any decisions.
How the Fraud was Perpetrated
Fake brokers employ many deceitful techniques. There are withdrawal difficulties and poor reviews. In addition, you will see astronomical fees. These fees can often exceed 20%. In addition, they will charge a profit-sharing fee. Fraudulent websites will prefer to rob you before initiating a withdrawal. Know that this is almost always the case!
Moreover, there are always profits that they swear by. This is another regular fraud method that you should keep in mind. These fraudsters promise guaranteed returns. Trading with leveraged assets entails certain risks. Try not to ignore this!
Fraudulent brokers will tell you that profits are guaranteed. This is a big red flag.
Make sure you trade only with legitimate brokers. Regulated brokers are often from Europe, the United States, the United Kingdom, and Australia. They must post a note about the percentage of people who suffer losses at their venues.
There are some things you can do if you've been victimized by fraud. The most appropriate action to take is to file a chargeback. Regardless, this will only be possible if the trader has paid via a card. That's why many scams avoid taking card payments.
Crypto transactions are a bit more difficult to get back. The only option is to contact the bank or the exchange to sort things out if possible. As well, always make sure to change your details, such as your username and password. This is critical.
Grow Pro Markets Summary
When it comes to investing in the FX market, it's vital to keep your wits about you. As the saying goes, "fool me once, shame on you; fool me twice, shame on me." There are brokers out there that have garnered so many warnings against them and are known to be scams. This is quite problematic.
Before you entrust your money to anyone, do your due diligence and thoroughly research their track record. You shouldn't take this lightly. Remember that protecting yourself should always be your priority. So, please steer clear of entities with dubious reputations to avoid getting burned in the end.
FAQs
Is Grow Pro Markets Legitimate Broker?
Unfortunately, there are many warnings against Grow Pro Markets, and they are not regulated.
What is the Minimum Deposit for Grow Pro Markets?
The amount varies depending on the account type you choose. For starters, it's $250. However, it's not worth the risk to invest with them.
What Trading Products Are Available With Grow Pro Markets?
Grow Pro Markets offers a range of trading products including forex, stocks, commodities, and indices. However, this is a broker scam.