June 22, 2022
Reading Time:
4
min
An Overview of Home Equity Loans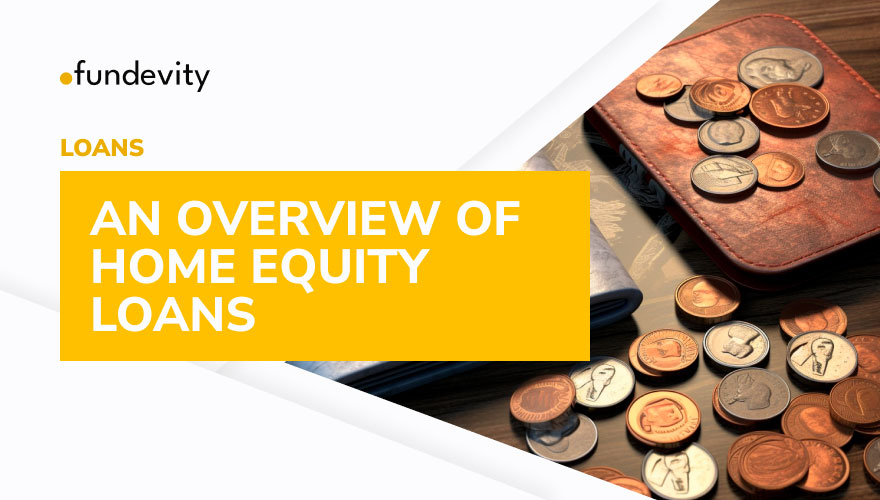 Home equity loans are used by house owners to get out of debt. They are denominated in the equity on their home which typically ranges from a few thousand to several million dollars or more.
You may acquire funds by utilizing your equity as collateral. Drawing from your home equity is usually less costly than taking out other forms of loans.
What Is a Home Equity Loan?
A home equity loan, sometimes known as a second mortgage, is a loan backed by your house. You are given a loan for a certain sum of funds that must be returned over a specified time frame. The loan is normally reimburse in equal monthly installments over preset time frame. Your creditor has the right to foreclose on your home if you do not repay the debt as promised.
How Do Home Equity Loans Work?
A home equity loan permits you to borrow a big sum of funds and repay it in monthly installments. The loan is secured by your home and can be used to consolidate debt or fund relevant purchases like home improvements, schooling, or automobile purchases. The interest rate and monthly installments are both fixed, ensuring that the repayment plan is predictable.
Prepare to begin repaying your loan once you have received it. Throughout the length of your loan, you might execute steady monthly settlements that include both principal and interest.
You may believe that choosing a shorter loan term will allow you to pay off your debt faster. Remember that monthly payments for a 10-year term would be greater than for a 15 or 30-year term.
Types of Home Equity Loans
Home equity loans are often classified into three categories:
Traditional Home Equity Loans. A home equity loan works as a second mortgage on your property. Traditional home equity loans permit you to borrow sum of funds at a set rate of interest.
Home Equity Line of Credit (HELOC). This is a short- to medium-term home equity loan with a lot of flexibility. With a HELOC, you just borrow what you require while paying interest solely on that amount.
Cash-out Refinancing Loans. This sort of home equity loan permits you to refinance the complete borrowed sum into a new loan, allowing you to boost the quantity of your existing mortgage. A cash-out refinance loan merges the borrowed funds with the principle of your current mortgage, eliminating the demand for two mortgages.
Pros and Cons of Home Equity Loans
You should be aware of the pros and cons before taking out a home equity loan. Take into account your monetary predicament to see if the pros exceed the cons.
PROS
They are less difficult to obtain than many other forms of loans.
The interest rate is preset and cheaper than many other types of consumer loans.
Many other consumer loans have shorter terms.
There are no limitations on how the monies can be used.
You have immediate access to the funds in a lump payment.
Payments are fixed each month, making them predictable.
CONS
On top of your regular mortgage, you'll have a second mortgage to settle.
If you default on the loan, you may face foreclosure.
If you sell your house, you'll have to pay off the entire loan total – as well as the balance of your primary mortgage — as soon as the sale is completed.
Unlike other consumer loans, you'll have to pay closing expenditures.
For short-term expenditures, home equity loans are not always the greatest financing option. If you take out a 10-year home equity loan to buy a car that you might only keep for five years, you may wind up paying more interest than you should. 
This is due to the fact that you'll be paying on the loan for a longer amount of time than you would with a car loan. While a car loan may have higher interest rates, the loan duration is shorter, thus the financial benefit of a home equity loan may be insignificant.
Who is eligible for a home equity loan?
The conditions for a home equity loan vary by creditor, but most creditors follow some fundamental guidelines. Examine your financial situation prior to enrolling for a home equity loan to discover if you qualify.
Debt-to-income ratio: Less than 43%
Once your possible new loan payment is taken in, your debt-to-income ratio should be below 43 percent to qualify for a home equity loan. You can reduce your debt-to-income ratio in one of two ways: by paying down debt and lowering your monthly obligations, or by increasing your income.
Credit score: Minimum of 620
In most circumstances, a credit score of 620 is required to qualify for a home equity loan, while in some cases, the ceiling might be as high as 660 or 680. However, there may still be opportunities for negative credit home equity loans.
House Equity: Minimum 15%
To qualify for a loan, you traditionally require at least 15% equity in your house (an 85 percent loan-to-value ratio), however many creditors will go beyond this.
If you meet all the requirements mentioned above, most likely you will be eligible for a home equity loan.
Understanding how equity work is a crucial part of getting ready to buy a new home or refinance your present one. You may utilize the equity you develop in your house to consolidate debt, pay for repairs, and make changes that will boost the value of your home in the long run.
However, it's critical that you weigh your options and select the best home equity loan for your needs. Before settling on any of these home equity options, speak with a mortgage professional who could explain the advantages and disadvantages of each.