May 18, 2023
Reading Time:
4
min
Exploring the Hazards of Offshore Crypto Brokers: An In-Depth Margex Review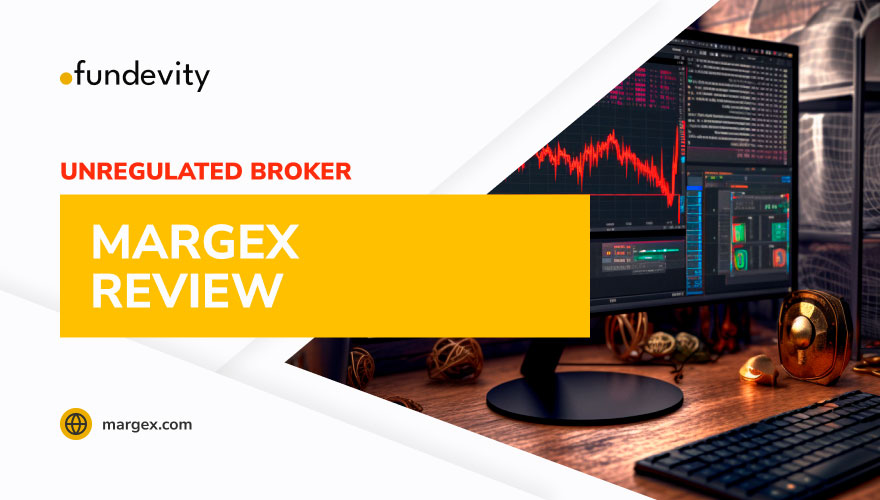 The world of digital assets is a wild and unpredictable place. Unlike traditional assets, the regulations for crypto coins and trading are still relatively undefined. This can make it a risky game for investors who are looking to navigate these murky waters.
When it comes to offshore crypto brokers, the risk factor is even higher. Without proper regulation and oversight, investors are left vulnerable to potential scams. This is where Margex comes into play – we'll be taking a closer look at the risks associated with this firm in our Margex review. So, stay tuned!
| | |
| --- | --- |
| Company | Margex Trading Solutions LTD |
| Headquarters | Seychelles |
| Website | margex.com |
| Warning | CNMV, FSMA, FI |
| Platforms | WebTrader |
| Minimum Deposit | $10 |
| Leverage | 1:100 |
| Spread | n/a |
| Review Rating | 1/5 |
License and Regulation
Here is a cautionary tale about Margex Trading Solutions LTD, the elusive company behind the alluring Margex broker. Nestled in the tropical offshore haven of Seychelles, this entity presents a facade of promises, yet behind the veil lies a grim reality.
Seychelles is not renowned for its financial regulations, fund security, or compensation protocols. In fact, it is often regarded as a bargaining bin for corporations seeking an affordable business setup. Alas, this hardly bodes well for the regulation of a broker like Margex.
And what about this broker? Well, according to the rules, such a broker should not offer services onshore. Margex chose to flout the law, a mistake that has earned them not one, not two, but three blacklists.
We advise you to tread with caution and avoid such dubious offerings. Instead, we implore you to seek out licensed brokers, especially those governed by Tier 1 regulations such as FCA, CNMV, BaFin, or FINMA. Safety should always be a top priority when it comes to your hard-earned investments.
Keep in mind that Margex is an unregulated Seychelles-based crypto broker whose deceptions have been exposed. Their actions have earned them a spot on the blacklist of multiple countries. The victims of their scams hail from far and wide, from the UK to the US, Spain to Australia, and even Pakistan.
Trading Software Overview
Let's find out more about a trading platform that promises power and potential yet delivers nothing but mediocrity. Beware of WebTrader, a browser-based platform that falls far short of the hype Margex built around it.
Oh, how we were disappointed when we laid our eyes on this lackluster platform. The charts were basic, the tools uninspiring, and the overall experience was underwhelming. In fact, it left us wondering if Margex had any idea what a powerful trading platform even looks like!
Alas, the shady broker only reinforced our doubts by refusing to support legit platforms such as MT4, MT5, or CTrader. We couldn't help but feel a sense of foreboding creeping up on us as we pondered the true intentions of such a move.
But wait, there's more! Mobile apps are also offered by Margex, supposed to give traders access to their accounts. However, given the lack of regulation surrounding Margex, we advise caution and urge you to tread with care. Now, let us turn our attention to the main attraction – crypto trading. That's right, Margex offers exclusively crypto trading against the US dollar and nothing else. Here's a list of the available crypto coins: BTC, ETH, XRP, SOL, LTC, YFI, ADA, and EOS. 
The lack of regulation, unimpressive WebTrader, and limited trading options should give you pause before investing your money. Beware of that. 
Available Account Types
Bear in mind that there are no different account types on offer. Instead, Margex offers only a live account, which you can access with a tiny deposit of just 10 $.
However, there's a catch, and it's a big one. Margex has come under fire for its controversial leverage cap. While the broker offers a leverage of 1:100, regulators have imposed a 1:2 cap on crypto trading. This means that Margex's offering puts traders at an unnecessarily high risk.
As you may know, the crypto market is a volatile one, and trading crypto at extremely high leverage can result in you losing all your money in the blink of an eye. We urge you to exercise caution and consider the potential risks before diving headlong into Margex's leveraged offerings.
Note: You should put your safety first and be careful when dealing with companies like Margex, BN93, and other suspicious organizations.
Deposit and Withdrawal Methods
Are you considering investing in Margex? Well, here's one tidbit you should know: the only way to deposit money into your Margex account is via Bitcoin. That's right, folks – if you don't have any BTC, you'll have to buy some from the Hong Kong-based exchange Changelly, which is the only option Margex offers.
But wait, there's more! The withdrawal process is also limited to BTC, which is definitely not the norm in the world of trading platforms. This raises some red flags and could lead to potential withdrawal issues down the line.
Here's the thing – scammers absolutely adore crypto transactions because they are hard to trace. So, if you're thinking of investing in Margex or EGMarkets, know that you're dealing with brokers that are quite shady.
How Do Offshore Brokers Scam People?
Beware of deceitful brokers who employ nefarious tactics to entice unsuspecting individuals. These brokers often dangle tempting and unrealistic profit promises, flaunting a secret formula that assures colossal returns.
They may publish fake positive reviews to fabricate a spotless reputation. Moreover, they may create an environment of pressure, setting unrealistic deadlines and making claims of limited-time offers to spur rash investment decisions.
Some may even bait prospective investors with "risk-free" trades, convincing them to invest without taking the necessary precautions. Be alert to these ploys and avoid falling prey to their scams. Protect your hard-earned funds by remaining vigilant and skeptical of too-good-to-be-true offers.
Margex Summary
All in all, Margex is an offshore crypto broker that operates from Seychelles, a homeland known for its lenient financial regulations. Margex is unregulated and has been blacklisted by three countries, making it a risky option for investors. 
The broker only has a live account with a $10 minimum deposit, and its WebTrader platform is lackluster, with limited trading options. Margex's controversial leverage cap also puts traders at an unnecessarily high risk. Deposits and withdrawals are only possible via Bitcoin, which could lead to potential issues in the future. Hence, it is highly recommended that investors exercise caution and choose regulated brokers. 
FAQs
Is My Money Safe with Margex?
No. This is not a regulated broker and it is not safe.
How Long Do Margex Withdrawals Take?
It is unknown as nobody was able to withdraw funds.
Does Margex offer Demo Account?
No, not exactly. While Margex provides access to the platform, trading is not free.