November 21, 2023
Reading Time:
4
min
Market Rebellion Review: Your Guide to the Ins and Outs of This Firm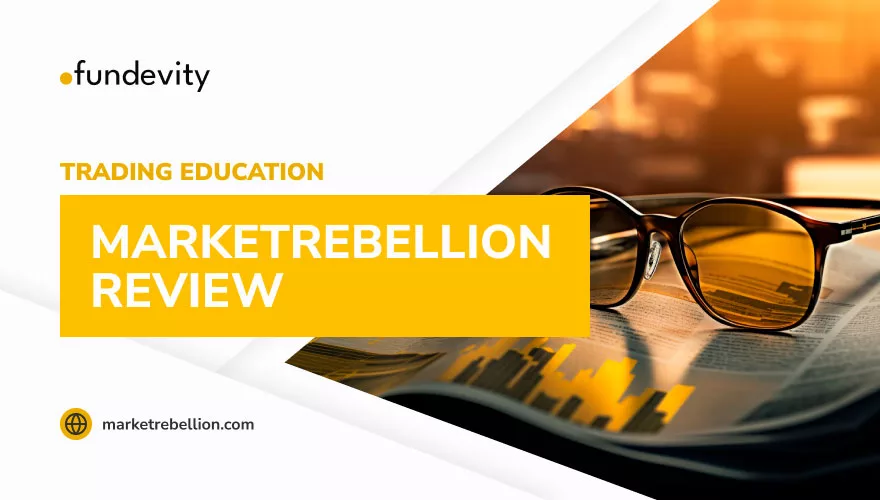 Are you curious to dive deeper into the specifics of Market Rebellion? Led by the dynamic duo, Jon and Pete Najarian, it's got a number of trading courses and personal coaching that might interest you. They're big on unusual options activity. But let's get real, is it as good as it sounds? Stick around, and let's talk about it in this informative Market Rebellion review.
| | |
| --- | --- |
| | General information |
| Name | Market Rebellion |
| Type of company | Trading Education |
| Regulation status | Unregulated/Not expected |
| Warnings from Financial Regulators | No official warnings |
| Website link | marketrebellion.com |
| Active since | 2019 |
| Registered in | 8201 Peters Road, Suite 1000, Plantation, FL 33324, USA |
| Contact info | 1 (888) 982-8342 |
| Trading platforms | Web |
| Majority of clients are from | United States, Canada, United Kingdom, India, Israel |
| Customer support | Phone and contact form |
| Compensation fund | No |
About Market Rebellion
First and foremost, what is there to know about this trading company? They're all about stocks, and options, and even care about the crypto niche. This company seems to think about traders of all levels. At least that is what we could see by examining their website. 
And here's the best part – they don't just throw trade ideas at you but they aim to make you a part of their team. You get a backstage pass to a members-only trading community, some one-to-one hangouts, and weekly webinars with them.
The Team Behind Them
Now, let's talk about the people running the company – Jon and Pete Najarian, the tag team of Market Rebellion. We can see these two are professionals who know what they stand for. They started optionMONSTER and tradeMONSTER, and guess what? They sold it to the E*TRADE broker. Now, they're all about making complicated trading stuff quite easy.
And don't forget CJ Reichel and Matt Montemayer. They're the crypto gurus leading the crypto trading room. They're not just advisors, as they manage a crypto hedge fund. Talk about street cred!
Market Rebellion Services
This company isn't throwing a ton of confusing tools at you. From short-term and medium-term swings to keeping an eye on unusual options activity and long-term investments, they've got something for everyone. We will talk about the services and a MarketRebellion price option for each feature!
Let's shine a light on 4 services that caught our eye. 
Unusual Options Activity Essential, 
Unusual Options Activity (UOA) Essential
They have a secret code called the "Heat Seeker" algorithm that shows where the smart money is at.
UOA Essential spills the beans every week in live webinars. Moreover, we can see it's not just about trade ideas.
Still, if you want VIP access to the algorithm's results, you might want to consider the UOA Pro upgrade.
Best for:

Newbies in the unusual options activity scene

What traders gain:

1 trade idea per week (via live webinar)

Pricing:

$99 per month or $995 per year
Note: Market Traders Institute truly has a range of courses. From basic knowledge to advanced strategies, this company offers a variety of options.
Rebel Weekly – Easy Swing Trading
Now, it's time to discuss Rebel Weekly. Two new momentum trades weekly, and guess what? It's not just about Market Rebellion stock support, as options are on the table too. It's like a weekly strategy session that won't make your head spin.
Best for:

Swing trading newbies

What traders gain:

2 trade ideas per week

Pricing:

$49 per month or $495 per year
Tip: MarketRebellion login is relatively easy. The process is straightforward, and you'll find the page and its features exceptionally UI-friendly.
Oracle Essential – Swing Trades with a Twist
Think of Oracle Essential as Rebel Weekly's addon, focusing on medium-term swing trades. With these, you can learn much more than handle your trades. Watch for triggers, and use the included checklist – it's like a trading school for swing enthusiasts.
Best for:

Those wanting to swing trade with options

What traders gain:

2 trade ideas per week

Pricing:

$99 per month or $995 per year
Affiliate Program Breakdown
We should also mention the affiliate program they have. You can earn a decent income with their easy-to-use reporting portal. We can see the program has top-notch financial content and attractive deals for traders of all levels. Plus, you get to team up with big names in the financial world.
You can earn by promoting pocket-friendly, low-risk trial memberships to your audience. Their program ensures you still get paid if your leads decide to make a purchase later on. Notably, this is thanks to their long cookie duration. We must agree that this is a solid option for everyone! 
Market Rebellion's Reputation
Are you wondering what people are saying about Market Rebellion? According to Trustpilot, they've received a solid 4.0-star rating. This is truly satisfactory! Positive reviews provide a reassuring nod when considering a trading company. This is a fact! 
Always lean towards firms with stellar reviews. Ideally, try to aim for tools and brokers with 4.5 stars or more. After all, the higher the stars, the better the chances of a smoother trading journey.
Tip: Spiking.com is a trading company that brings traders together globally. It offers some valuable learning resources. Still, aside from positive aspects like user ratings on Feefo, the lack of clarity is an issue.
Can I Make Money Trading?
What is there to know about making money through online trading? It's a breeze! We've got your back at every turn. Reach out for complimentary consultations and expert advice on the best FX trading platforms.
And there's our AI Analysis Bot, a tool that provides mind-blowing trading predictions!
And the best part? Try it for free for 20 days! It is entirely free! Dive into 5 detailed FX analysis reports and 5 stock analysis reports each month, effortlessly boosting your profits. Give it a shot today and let your earnings soar!
Final Words
In wrapping up, the trading world is a dynamic space, and choosing the right path is crucial. While Market Rebellion has kept a respectable rating, consider exploring alternatives like our AI Analysis Bot.
This tool is designed to truly upgrade your trading experience. You will get insights that go beyond the ordinary! Your success matters, so choose wisely in this big sea of opportunities.
FAQs
How Much Does Market Rebellion Cost?
They have many options, including Unusual Option Activity Elite for $4,995/year and UOA Essential for $199/month or $995/year.
Who Runs MarketRebellion?
The company was founded by Jon Najarian, Pete Najarian, and Dirk Mueller-Ingrand.
What is Proprietary Trading?
Proprietary trading is essentially when a company trades on behalf of its clients.