November 20, 2023
Reading Time:
4
min
MarketInOut Review: Your Ultimate Trading Counterpart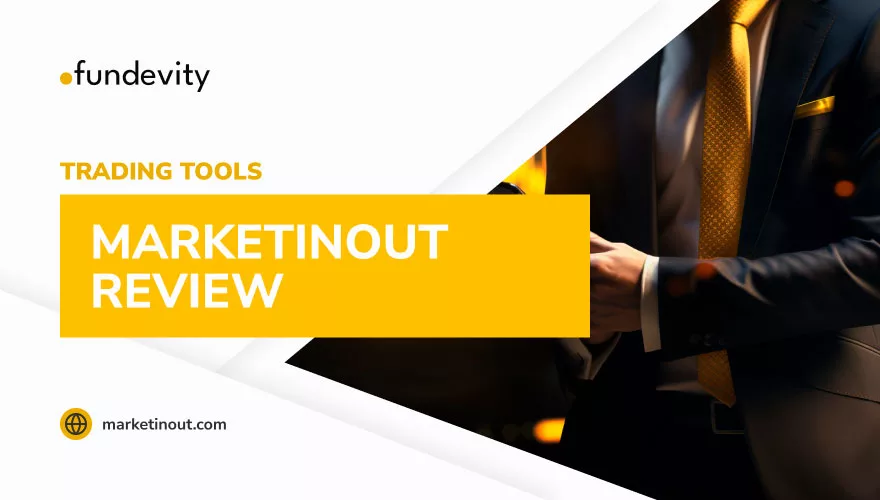 Are you searching for a trading tool that can help you make more profitable decisions? Take a look at MarketInOut. In this comprehensive MarketInOut review, we will look into the world of this interesting provider of trading tools. 
It doesn't matter if you're new to trading or not! This company offers a wide range of features to help you refine your trading strategy and make better investment choices. We will explore the ins and outs of this platform. Moreover, we will give you all the information you need to determine if it's the right tool for you. So stay tuned to discover more details here! 
| | |
| --- | --- |
| | General information |
| Name | MarketInOut |
| Type of company | Trading Tool |
| Regulation status | Unregulated/Not expected |
| Warnings from Financial Regulators | No official warnings |
| Website link | https://www.marketinout.com/ |
| Active since | 2022 |
| Registered in | United States |
| Contact info | Data is hidden |
| Trading platforms | Web |
| Majority of clients are from | India, United States, Australia, Canada, Saudi Arabia |
| Customer support | FAQs and contact form |
| Compensation fund | No |
What Is MarketInOut?
MarketInOut.com is an online stock screening platform. They created services for both new and experienced traders and investors. Even though the platform looks extremely outdated, this company has solid offerings. 
It helps users screen stocks based on a broad set of metrics, whether they're rooted in fundamental or technical analysis. Besides, they let users backtest their screening criteria, offering insights into how these criteria would have performed in the past.
Detailed Stock Screening
One of the popular features here is the support for various technical indicators.
You can find MACD, Stochastic, Ichimoku, Bollinger Bands, and SuperTrend. This extensive toolkit allows traders to truly conduct thorough stock screening, incorporating support and resistance levels, and classic trend lines. All this is for a deeper analysis of potential trading opportunities. 
What's more, this firm covers an impressive array of stock exchanges worldwide. Some of these are Nasdaq, NYSE, OTC, IEX, TSX, TSXV, CSE, LSE, MOEX, Tadawul, BSE, BM, SES, ISE, SHSE, SZSE, ASX, and NZX. Moreover, it doesn't stop there! This trading company also extends its support to FX and cryptocurrencies.
Backtesting for Historical Analysis
The backtesting feature here is a powerful tool. This one allows users to assess the historical performance of their trading strategies. 
For active traders, this feature proves priceless. We can get a glimpse into how their strategies would have fared in the past. This data-driven analysis can be a game-changer when it comes to refining your trading strategy. Remember that! 
Tip: Speaking of MarketInOut free trial, there is one! This company offers a 30-day free trial for its membership plans.
Comprehensive Trader Tools
Beyond the Market In Out screener and backtesting abilities, this firm provides many extra tools for your trading game. These include:
Strategy Backtest

Stock Quote

Stock Chart

Watch Lists

Portfolio Tracker

Trade Alert

Crypto Backtest

Correlation

Crypto Screener
These tools look amazing! They help traders monitor their investments, track market trends, and make some profits eventually.
Pricing and Value
This firm may initially appear as a free service. Yet, we can see that users are prompted to subscribe to the platform after performing a few screens. 
While the service suits active traders, its technical screens are its primary source feature. 
Yet, for those with a long-term investment horizon and a greater focus on fundamental analysis, there are alternative programs and services that may offer better value.
Tip: UnionStock is a trading firm that works from the Commonwealth of Dominica, in the Caribbean Islands. Sadly, this region lacks strict regulations, making it popular for scammers. 
UI-Friendly Interface
We can see that this company prides itself on its interface. Still, we must disagree here! It does look outdated. 
They do try to make navigation a breeze for traders and investors. Also, the platform provides direct links to screening criteria that use various indicators. 
This design could clearly be improved. In fact, they should do this to maximize the decision-making process.
Trader Reviews on Trustpilot
Are you curious about what other traders have to say? According to Trustpilot, this firm has received an average rating of 3.7 stars out of 5. While this rating is decent, it's important to note that it falls in the middle ground. It is not great, yet not disappointing either. 
Customer experiences can vary widely, so it's wise to consider multiple factors when making your decision. Keep that in mind! Also, make sure to use platforms with 4.5-star ratings or more. Do this for better security! 
Note: Concept Markets is a trading system that claims to offer many trading instruments. However, they lack regulation, and this may be a big disadvantage for many traders. Keep that in mind! 
Can I Make Money Trading?
Are you thinking about earning a steady income through online trading? The path to financial growth is more accessible than ever! We're here to lead the way! Our team offers free consultations and expert advice for you, helping you find top trading platforms. 
Besides, there is our AI Analysis Bot – your reliable research companion providing worthwhile trading insights.
The best part? You can try it for free for 20 days without any upfront payments. Explore 5 detailed FX analysis reports and 5 stock analysis reports each month. This will help you to effortlessly enrich your profits. Don't miss out – give it a try today!
Trading Bots 101
Trading bots are tools designed to assist traders. They work to manage trades and provide the freedom to focus on essential tasks. They can be integrated with manual strategies, reducing repetitive work. This is quite beneficial! 
These bots offer practical benefits. They boost efficiency by making logical decisions and multitasking effectively. Still, it's crucial to approach them with caution. Nothing can guarantee 100% profits. 
Proper knowledge of these tools and constant learning are key to successful trading. This approach ensures a smart and careful way to hop into automated trading.
In Conclusion
MarketInOut stock screener is a rich and versatile tool that cares about traders and investors of all levels of experience. It has extensive stock screening capabilities, backtesting features, and much more to offer. 
While its pricing structure may be more attractive to active traders, always assess your specific needs in advance. All in all, Market In Out is a tool worth exploring to elevate your trading journey.
This company looks solid, by all means. Still, with our AI Analysis Bot, you get the same if not better features! Don't forget to try it out today! 
FAQs
What is MarketInOut Screener?
MarketInOut Screener is a versatile tool that helps us screen stocks based on various metrics.
Does the MarketInOut App Exist?
Yes, the MarketInOut App exists on the Google Play Store.
What is Proprietary Trading?
It's when firms make money from market fluctuations by trading with their own funds.