April 17, 2023
Reading Time:
4
min
Mastertradeplusfx Review: Learn More About this Scam Broker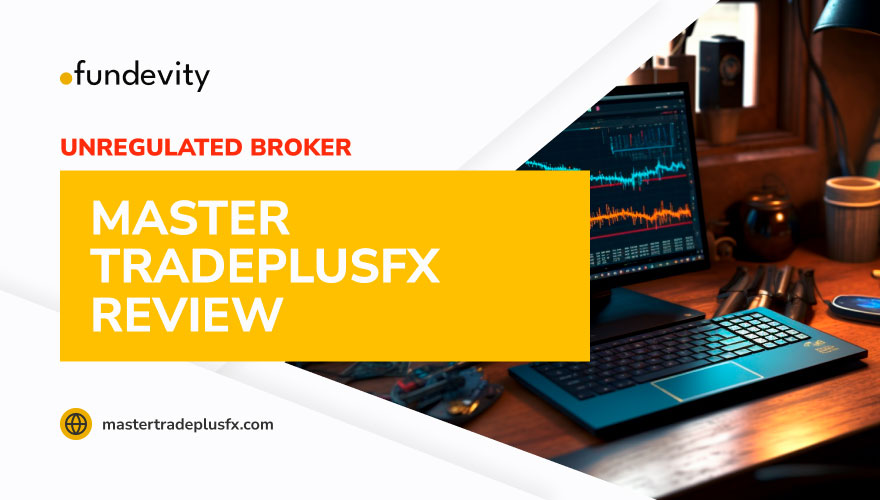 Discover the truth about this bogus broker in this revealing MasterTradePlusFX review. From the shady website design to the chaotic user area, it's clear this broker is a complete scam. 
They accept anyone and don't provide a trading platform, rendering their advertised trading conditions completely unavailable. 
The lack of regulation is also a red flag. Don't waste your time or money with MasterTradePlusFX, and stay tuned for more reasons why.
​​What's more, we strongly recommend that you avoid the fraudulent broker's Target Trading, Conalp, and Networkfsi.
| | |
| --- | --- |
| Leverage | N/A |
| Regulation | No |
| Headquarters | 30 Dukes Avenue, Hounslow, UK |
| Minimum Deposit | $50 |
| Review Rating | 1/5 |
| Broker Type | Forex |
| Platforms | N/A |
| Spread | N/A |
Regulation and Security at Mastertradeplusfx
The legal documents of MasterTradePlusFX transfer responsibility for compliance with the law to the user, making it seem like the user needs to be licensed. 
However, it's complete nonsense. The broker falsely claims to be regulated by the Financial Sector Conduct Authority (FSCA) in the UK and mistakes the FCA for a nonexistent entity.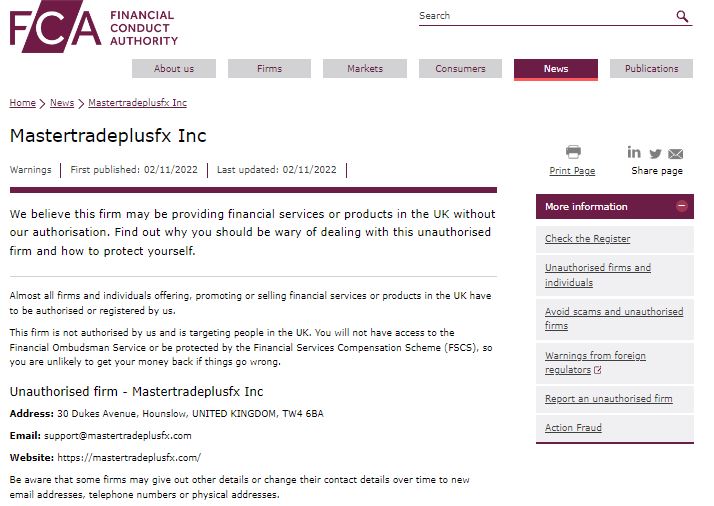 The FCA has issued an official warning against the firm, making it an unregulated broker and a proven risk to invested capital. Don't waste your money on unlicensed brokers. Instead, choose licensed brokers from Europe, the UK, the US, or Australia.
Tip: Don't be too quick to invest your money without proper consideration and research. Be cautious and think twice before taking any risks.
Available Trading Platform at Mastertradeplusfx
Not only does MasterTradePlusFX lack trading software, but its client portal is also empty. However, there is a binary options trading software in the user area that is far from impressive. 
It is unclear whether it is even binary options trading software, as the chart appears to be from a third party and many technical aspects are not functional. MasterTradePlusFX fails even at providing basic binary options trading software.
MetaTrader 4 (MT4) and MetaTrader 5 (MT5) are two of the most widely used trading platforms. These platforms have revolutionized the way traders execute trades, analyze markets, and manage their portfolios.
One of the key benefits of MT4 and MT5 is their user-friendly interface, which makes it easy for traders of all levels to navigate and execute trades. Additionally, both platforms offer advanced charting tools, real-time market data, and customizable indicators that can help traders identify trends and make the right decisions.
Account Types
MasterTradePlusFX does not provide any information about its trading accounts. They are literally leaving potential clients in the dark about what they're getting into. There is no mention of account types, or real trading conditions, which makes it impossible for traders to make the right decisions. 
Besides, the broker does not disclose any information about its real ownership or management, making it impossible to verify its legitimacy. This lack of transparency is a major warning sign and should warn any potential client wary of doing business with MasterTradePlusFX.
Deposit and Withdrawal Options
MasterTradePlusFX offers various deposit methods, including crypto wallets, e-wallets, and bank transfers. The minimum deposit required is $50, and the same methods are used for withdrawals. However, the legal documents mention withdrawal fees, without any further details or the exact value. 
Unfortunately, this is all the information available about their trading accounts. It is important to note that MasterTradePlusFX is considered a scam and a risk to all investors, with a high likelihood of losing any funds made.
Note: Sometimes, both individuals and companies who market trading systems, such as signal sellers or robot trading, market products that are untested and produce no profitable outcomes.
Scam Tricks Used by Offshore Brokers
Fraudulent practices are commonly employed by bogus brokers to fool unsuspecting clients. This is the unwritten rule. These tactics may involve misleading advertisements, fake assurances, and various scams. Operating in countries with less stringent regulations, offshore brokers often find it easier to commit fraud. 
It is therefore crucial to conduct thorough research and due diligence before engaging with offshore brokers in order to avoid falling prey to their tactics. In essence, it is important to remain vigilant and cautious when dealing with offshore brokers. Particularly be mindful if there's a warning against a particular broker. That should not be overlooked. 
Mastertradeplusfx Summary
MasterTradePlusFX falsely claims to be regulated by the Financial Sector Conduct Authority (FSCA) in the UK, which does not exist. It also lacks a trading platform and client portal, and offers no information on trading accounts or conditions, making it difficult for traders to make informed decisions. 
The lack of transparency around its ownership and management is also a red flag. Although the broker offers deposit and withdrawal methods, the legal documents mention withdrawal fees without any details or the exact value. 
Scam tricks are commonly employed by brokers like MasterTradePlusFX to deceive clients. This makes it important for you to research and choose only licensed brokers from reputable countries.
FAQs
What Are Mastertradeplusfx Deposit Methods?

MasterTradePlusFX offers different deposit methods, including crypto wallets, e-wallets, and bank transfers.
How Do I Withdraw my Earnings at Mastertradeplusfx?

You cannot withdraw your money from this broker as it is fraudulent.
Is Mastertradeplusfx Regulated?

No. MasterTradePlusFX is a fraudulent broker that falsely claims to be regulated by the FSCA in the UK.