June 23, 2022
Reading Time:
4
min
All You Need To Know About No Credit Check Loans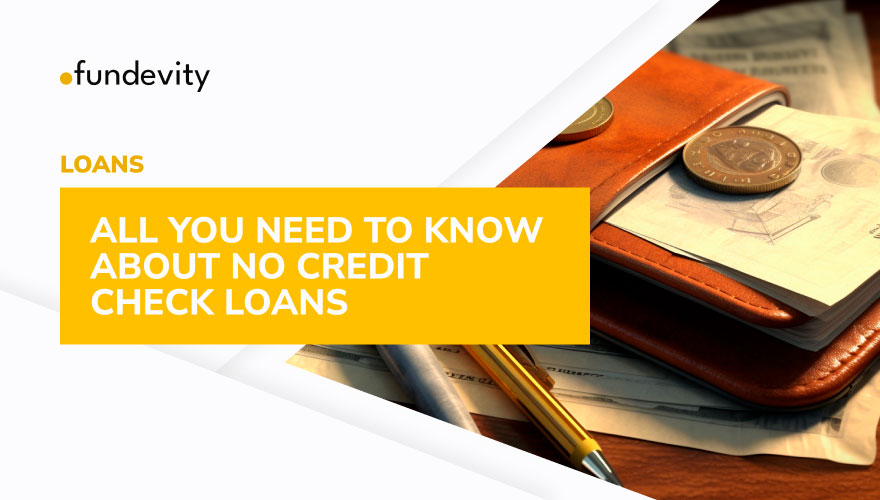 Individuals are trying to manage their finances in today's economic situation. People frequently find themselves overextended and unable to manage their finances as the cost of living continues to rise. No-credit-check loans may be the solution for those who find themselves in this scenario. These loans are granted to allow customers to borrow money at a cheaper interest rate with no-credit-checks. This makes them a stellar choice for people with poor credit.
No-credit-check creditors, on the other hand, may impose exorbitant interest rates, and fees, and have severe lending restrictions. It's vital to completely know the provisions of a loan offer before accepting it.
What Exactly Are No Credit Check Loans?
No-credit-check loans are a form of loan, that has been created to aid people with credit problems. If you face credit problems, you might feel stressed and overwhelmed with the process of acquiring a loan, especially if you do not have a source of income. If you possess poor credit and fear you won't be authorized for other types of financing, you might be tempted to apply for one.
How Do No Credit Check Loans Work?
No-credit-check loans allow consumers to acquire funds without having to worry about their credit score. This is accomplished by either ignoring the credit score entirely or taking into account other factors such as the consumer's salary.
A creditor may use your credit record  to identify how you've handled debt in the past and how likely you are to repay a new loan. Since the creditor doesn't know your credit history, the loan is dangerous, and many no-credit-check creditors compensate for this risk by charging exorbitant annual percentage rates.
These loans are generally for a few thousand dollars or less, with short repayment terms of a few weeks or months, making them difficult to pay back on time and potentially trapping the debtor in a debt cycle.
What Are the Drawbacks of No Credit Check Loans?
There are some significant drawbacks to no-credit-check loans:
Costly Interest Rates
The biggest downside of no-credit-check loans is their high cost. This is because those who take out these loans are viewed as riskier investments, therefore they pay greater interest rates.
The annual percentage rate (APR) on these loans can vary from 6% to 199% or higher, making them a costly investment in terms of interest charges.
Added Charges
The total cost of your loan could go up if you have to incur a one-time origination fee, late payment fees, and other fees.
Shorter Loan Terms
These short-term loans might impose a shorter repayment period, potentially putting you in a financial bind.
Unprecedented Withdrawals
Traditionally, you should give permission for loan payments to be automatically taken out of the related bank account. The loan payment might not be evident if you run out of money or if you still owe money to a mortgage lender, a landlord, or another biller.
Skipping a crucial monthly fee might put you in a difficult monetary predicament. Furthermore, bank overdraft penalties and credit blemishes for late loan payments might wreak havoc on your finances.
Alternatives to No Credit Check Loans
Even if you possess a low credit or no credit, there are various options for no-credit-check loans that will provide you with the funds you require. Here's a quick rundown of them.
Credit Unions
Credit unions typically have less stringent standards than banks. Even if you have low credit, a credit union may be able to qualify you for a loan as long as you are a member. In addition to your credit, credit unions are likely to examine your whole financial situation. Furthermore, their interest rate is limited to 18 percent.
Online Creditors for Bad Credit Loans
Personal installment loans are accessible from some internet creditors to persons with bad credit or no credit.
Installment loans permit debtors to make monthly payments on their debt. Some creditors who grant negative credit loans would conduct a credit check, while others will base their decision on your financial facts. To compare APRs, it's best to shop around multiple creditors.
Payday Alternative Loans
Some federal credit unions grant payday alternative loans (PALs) which are small, short-term loans. They're generally cheaper than payday loans and have extended repayment terms. A credit union might ask for proof of income when you request for a PAL to ensure that you can repay the loan.
Secured Loans
You would get authorized for a secured loan with negative credit since secured loans are less hazardous for creditors. Moreover, if you refuse to settle your loan, the creditor has the power to confiscate your asset.
Co-signed Loans
Finding a co-signeris another way to get a loan if you have no credit record or a low credit score. This individual will co-sign the loan application with you and might be held liable if you default. If a debtor has a co-signer, creditors are more willing to lend to someone who has no credit or low credit.
Loans from Family or Friends
A hard credit check on your credit history will not be required if you ask a household member or close acquaintance for a loan.
Don't take out a no-credit-check loan if you have low credit or no credit and need funds. Instead, consider the upsides and downsides of the various alternatives accessible  to you. You can save funds on interest and lower your overall borrowing costs by opting for an option like a loan from a bad credit servicer.
Because the excessive interest rates may trap people in a cycle of never being able to pay off the loan, many no-credit-check loans are labeled as predatory lending. Some creditors also charge additional fees, making it much more difficult to get your finances in order. 
Many no-credit-check loans are actually frauds. Finally, because this form of loan does not help you develop credit, you miss out on the chance to have your settlements aid you in enhancing your credit rating.