June 23, 2023
Reading Time:
8
min
ETrade Review: Unveiling the Pros and Cons of This Trading Platform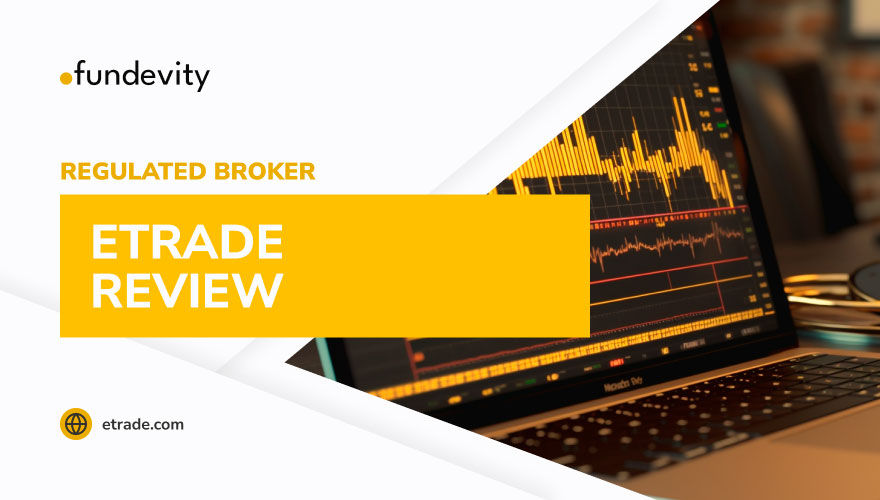 ETrade stands out by providing a true selection of investment options. It also provides a comprehensive set of trading tools. Accessible through its site, desktop, and 2 mobile apps, eTrade delivers outstanding convenience. Empowering new investors, the platform boasts an extensive educational catalog and a modern website design. It installs confidence in those entering the market. 
Seasoned traders, on the other hand, can use numerous analysis tools, charting functionality, and robust research tools. It's worth noting that eTrade does have some limitations. These include the lack of direct crypto support and international exchange trading. Keep reading our eTrade review for more! 
Is Etrade Safe?
E-Trade, a reputable broker, guarantees trading security. Offering a multitude of advantages, this firm stands out as a reliable choice. They include access to a vast selection of no-transaction-fee mutual funds and commission-free stock and ETF trades. 
So, investors can optimize their investment strategies while minimizing costs. Besides, eTrade provides a great number of research and academic resources, empowering new investors to boost their knowledge. Round-the-clock customer service is available in case of any queries. For more factual details, keep reading this eTrade review. 
| | |
| --- | --- |
| | General information |
| Name: | Etrade & E*TRADE Securities LLC |
| Regulation status: | Regulated Broker |
| Warnings from Financial Regulators: | No official warnings |
| Website link: | us.etrade.com |
| Active since: | 1982/1991 |
| Registered in: | Arlington, Virginia, U.S |
| Contact info: | 800-387-2331 |
| Trading platforms: | The Power E*TRADE app & mobile |
| Majority of clients are from: | The United States; India; Australia; Canada; Philippines |
| Customer support: | Yes, phone call |
| Compensation fund: | Yes |
Etrade History
US.etrade.com has a captivating history that spans over two decades. This marks its prominence in online trading and investment. Originating in 1982 as TradePlus, the company underwent a series of transformations before becoming ETRADE in 1996. With the advent of the internet, ETRADE seized the opportunity to revolutionize the financial industry by launching us.etrade.com in 1998. This offered individuals exceptional access to self-directed investing and cutting-edge tools. 
Over the years, the platform flourished. It attracted millions of investors with its user-friendly interface and wide educational resources. As technology advanced, us.etrade.com evolved in tandem, introducing innovative features. 
These are mobile trading, personalized portfolio management, and social trading communities. ETRADE's unwavering commitment to empowering investors has solidified its position as a trailblazer in the space. This has shaped the landscape of modern finance.
Diverse Offerings and Thriving Markets
US.etrade.com indeed has many offerings to cater to the diverse investment needs of its users. Investors can access an extensive selection of stocks, bonds, ETFs, options, and futures. The platform provides access to major global stock exchanges. This allows investors to trade equities from various markets. Besides, US.etrade.com offers fixed-income securities. 
For instance, corporate bonds and government treasuries for those seeking more stable investment options. With a robust selection of mutual funds and ETFs, investors can easily diversify their portfolios. Also, options and futures trading are available for those looking to engage in more sophisticated investment strategies. Overall, US.etrade.com provides a comprehensive suite of asset offerings. It lets investors build and handle diverse portfolios tailored to their financial goals and risk tolerance.
Tip: Another reputable broker worth exploring is Tradovate. In addition to its solid reputation and reliable services, Tradovate includes a wide spectrum of benefits.
E*TRADE Trading Software
The Power ETRADE platform is designed for intermediate and advanced investors. This full-featured trading platform is user-friendly and offers live Bloomberg TV feeds. With over 145 charting tools, ETRADE competes directly with the industry's leading platforms. It provides in-depth analysis for traders. Traders can easily access options strategies and risk probabilities.
The platform also includes paper trading. It allows beginners to practice their investing and trading skills before risking their own money. It presents features like watchlists, alerts, screeners, Level II quotes, and extended hours of trading.
Key features of Power E*TRADE include:
Streaming quotes, news, charts, and market details

Dynamic charting

Risk-reward analysis, including potential profits and losses

Single trade ticket for stocks, ETFs, easy and complex options, and futures

100+ technical studies and preset scans for unveiling potential trade opportunities

Simple and complex options trading strategies

Jargon-free explanations of options strategies and risk metrics

Automatic creation of support and resistance lines on charts

Preset scans to identify unusual activity, price movements, and technical indicators.
To access your eTrade account, simply visit their official website and use your eTrade login credentials to securely log in.
E*TRADE Mobile Platforms Available
E*TRADE includes various mobile platforms to support traders who prefer trading on the go. These mobile platforms provide convenience and accessibility. They allow users to manage their investments and execute trades from mobile devices.
The mobile platforms are beneficial because they enable traders to monitor their portfolios, receive real-time quotes, access market news and research, place trades, and set up alerts while on the move. They have essential trading functionalities, providing flexibility for active traders and investors.
Traders should pay attention to market trends, and perform thorough analysis using the charting tools and indicators available on the platform. They should also carefully consider options strategies and risk metrics. It's a must to stay updated with relevant news and market info to make informed trading decisions.
Explore the Diverse Range of E*TRADE Account Options
E*TRADE includes a range of account types to suit diverse investment needs and plans. The brokerage account is designed for investing and trading. It permits you to buy and sell a variety of assets. For instance stocks, ETFs, mutual funds, options, bonds, and more. For automated investment management, E*TRADE provides Core Portfolios. This service offers a diversified portfolio monitored and managed for you, with a low annual advisory fee of 0.30%. It also requires a minimum investment of $500.
If you're looking to boost your savings, E*TRADE offers the Premium Savings Account. With an impressive 3.85% APY, which is nine times the national average, this account allows your savings to grow faster. Besides, the account provides FDIC protection of up to $500,000.
E*TRADE offers Traditional and Roth IRAs. With a traditional IRA, your contributions may be tax-deductible. Moreover, your earnings can grow tax-deferred until retirement when you start withdrawing funds. On the other hand, a Roth IRA offers tax-free growth potential for your retirement investments. Qualified distributions are not subject to taxes or penalties, provided you meet the income limits for eligibility.
If you have an old 401(k) from a previous employer, E*TRADE's Rollover IRA allows you to take control of those assets.
How to Work With Etrade Account
Working with an ETRADE account involves understanding the various account classes available. You should select the one that aligns with your investment objectives and preferences. Once you have chosen an account, you can fund it. 
You can also explore investment options, and execute trades accordingly. ETRADE provides many tools and resources to help you manage your investments effectively.
General Trading Environment: Attracting and Engaging Users
Brokers employ various strategies to communicate and connect with their clients. They utilize multiple channels such as sites, apps, social media platforms, and email marketing. They do it to reach out to potential traders. These channels serve as avenues for sharing market updates, insights, and promo offers.
Brokers focus on building relationships with clients through personalized communication. They engage in informative, transparent conversations tailored to investment goals and risk tolerance. Communication style varies, but it often educates users about market trends, investment options, and risk management.
To ensure a secure trading experience, only download and use the official trading apps. The apps exist to provide easy-to-use interfaces, real-time market information, and secure trading.
Remember to stay vigilant and report any suspicious activity to the broker's customer support team.
Languages Available with E*TRADE
ETRADE recognizes the importance of serving a diverse clientele. So, it offers services in more than 140 languages. This allows users from different regions and language preferences to access their platforms. 
They can receive fast support in their preferred language. ETRADE supports commonly spoken languages, such as English, Spanish, French, German, and others, depending on their target audience's needs.
Fees and Commissions at E*TRADE
When considering ETRADE as your broker, it is critical to understand their fee structure and commission rates. ETRADE charges fees for services such as account maintenance, trade executions, and withdrawals. Commissions are typically associated with buying or selling securities. It is essential to review and compare E*TRADE's fee schedule to ensure it aligns with your trading style and objectives.
Some of the fees are:
Stocks, options, mutual funds, and ETFs: $0.

Options contracts: $0.65 and 30+ trades per quarter

Futures contracts: $1.50

Bonds (online secondary trades): $1.00
Research at E*TRADE
As an ETRADE user, you gain access to comprehensive research and analysis tools. ETRADE provides research resources such as market insights, analyst reports, company financials, and technical analysis. 
These resources enable traders to make educated investment decisions by staying updated on market trends and evaluating potential opportunities. Evaluate E*TRADE's research offerings to ensure they meet your informational needs.
Education with E*TRADE
ETRADE understands the importance of educating its clients about investing and trading. They offer a variety of educational resources, including articles, tutorials, webinars, and online courses. 
These materials cover topics such as fundamental analysis, risk management, and many strategies. Utilizing ETRADE's educational resources can enhance your market understanding. Also, it can boost your ability to make informed trading decisions.
E*TRADE Customer Support
ETRADE places a strong emphasis on customer support to ensure a seamless trading experience. Their dedicated support team is available to assist users with any inquiries or issues they may encounter. You can reach out to their customer support by phone (800-387-2331). The customer support team strives to provide prompt and helpful assistance.
If you have questions or require support, contact E*TRADE's customer support team for assistance.
eTrade Withdraw and Deposit Methods
When it comes to funding with E*TRADE, you have several convenient options available. Here are four easy ways to fund your account:
Transfer money. With E*TRADE's Transfer Money service, you can easily move money between your accounts and from outside financial institutions. It typically takes up to three business days to transfer.

Wire transfer. If you need a quick transfer, a wire transfer is ideal. It allows electronic fund transfers between accounts. This is even if they are held at different financial institutions. Wire transfers are typically processed on the same business day.

Transfer an account. Do you wish to consolidate your assets? If so, you can transfer an entire account from another financial institution to E*TRADE or Morgan Stanley Private Bank. This process typically takes around 10 working days to complete.

Deposit a check. ETRADE has two convenient methods to deposit checks into your account. You can either use the ETRADE Mobile app for mobile check deposits. Here, you can simply take a photo of the check. Or, you can deposit the check by mail. Depending on the method chosen, it may take up to five business days to process the check deposit.
These flexible options provide you with convenient ways to manage your E*TRADE account.
eTrade Customer Reviews
When considering the us.etrade.com broker, it is critical to address its low rating of 1.2 stars. While the rating may raise eyebrows, it is essential to note that this broker is legitimate. It has a long-standing presence in the industry. It is unusual for a reputable broker like E*TRADE to receive such a low rating. 
Many people complain about account transfers. It is possible that the low rating stems from specific isolated incidents or individual experiences. This does not reflect the overall quality and legitimacy of the broker. To form a well-rounded opinion, it is advisable to thoroughly research and consider multiple sources of information. Notably, this includes user reviews, industry analysis, and regulatory compliance records.
Exploring the Pros and Cons
When evaluating the pros and cons of the ETRADE platform, there are several key facts to keep in mind. On the positive side, ETRADE stands out by presenting a diverse selection of investment choices as well as tools. The platform is accessible through its site, desktop, and 2 apps. 
Also, ETRADE prioritizes education and provides an extensive educational resource catalog. However, ETRADE has some limitations. That is the lack of direct crypto exposure and international exchange trading. Also, the poor Trustpilot rating is really concerning. While evaluating the platform, it is crucial to consider these factors.
Long Story Short – eTrade
This is one mind-blowing company that has many things to offer. The platform is convenient and accessible on various devices. It provides a wealth of educational resources and instills confidence in users. 
Yet, it has limitations such as no direct crypto support and no international exchange trading. The low Trustpilot rating raises concerns, so thorough research is advised. Make sure to contact us to discover more reliable brokers like eTrade, StoneX, and TradeUP.
FAQ Section:
Can I use E*TRADE outside the US?
Yes, E*TRADE can be used outside of the US. It offers services to clients globally, allowing investors from different regions to access their platforms.
What bank owns E*TRADE?
Morgan Stanley is the bank that owns E*TRADE. In 2020, Morgan Stanley acquired E*TRADE
How much money do I need to start trading on E*TRADE?
The minimum amount required to start trading on E*TRADE depends on the type of account you choose.
What is the minimum amount for an E*TRADE account?
The minimum amount for an E*TRADE account is determined by the account type. For a regular account, there is no minimum requirement. Yet, certain account types, such as Core Portfolios, have an initial investment of $500.
How to find a broker for safe trading?
Reach out to us today for personalized assistance in selecting the perfect broker tailored to match your unique trading style and individual preferences!