May 27, 2023
Reading Time:
5
min
A Thorough Primiselite Review: Decoding the Enigma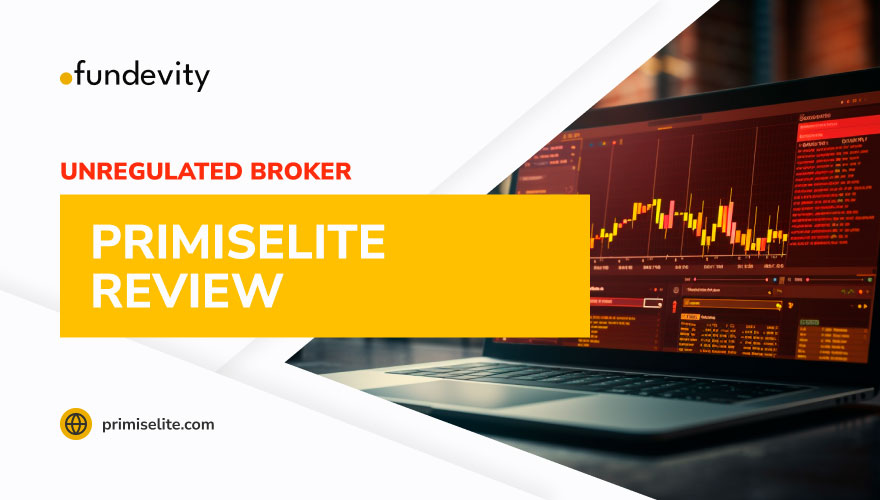 In the realm of crypto trading, Primiselite emerges as an enigmatic entity. With a stunning website that exudes credibility, questions arise regarding its true identity and the extent of regulatory compliance. As the shadows of doubt loom, it is imperative to exercise the utmost caution before entrusting your assets to Primiselite.
Join us on a detailed tour as we delve deep into Primiselite. This comprehensive Primiselite review sheds light on the red flags and uncertainties that permeate this mysterious brokerage. By examining our findings, you can decide whether this is a suitable investment avenue worthy of your trust.
| | |
| --- | --- |
| Company | n/a |
| Headquarters | n/a |
| Website | primiselite.com |
| Warning | OSC |
| Platforms | n/a |
| Minimum Deposit | n/a |
| Leverage | 1:200 – 1:400 |
| Spread | 2 pips |
| Review Rating | 1/5 |
Ensuring Security and Compliance: A Closer Look at Primiselite's Safety Measures
Primiselite's website may look enticing and persuasive. However, it lacks the necessary transparency to inspire confidence. The lack of a physical address raises doubts about the company's regulatory standing and oversight by official authorities. In contrast, legit brokers consistently provide verifiable data about their licenses and registrations, which fosters trust and assurance among their clients. The dearth of transparency exhibited by Primiselite should be regarded as a big warning sign when evaluating its legitimacy as a broker.
Based on the phone number displayed on Primiselite's website, it appears that this dubious crypto broker might be registered in either Denmark or Australia. However, it is noteworthy that both phone numbers are identical. Moreover, in their Anti-Money Laundering (AML) policy document, Primiselite asserts adherence to the guidelines set by the UK's Joint Money Laundering Steering Group. 
This conflicting information further raises concerns about the company's true location and regulatory compliance.
Despite conducting a thorough search of official records from the Financial Conduct Authority (FCA) in the UK, we found no mention of Primiselite. Given its anonymous nature, this lack of traceability did not come as a surprise. It is important to highlight that the Risk Warning disclaimer on their website features the name of another company, Any Ventures Limited, without any explanation regarding the relationship between the two entities.
Trading Platform Overview
We made several attempts to register with Primiselite but faced an error message stating that the company does not accept clients from our region. It's worth mentioning that we tried registering from different countries. Yet, why go through the hassle of such a demanding registration process? Furthermore, why choose a questionable broker who will keep you on edge throughout your investment journey?
Our advice is to save your time and money by seeking out a reputable FX broker that offers MetaTrader platforms. These platforms, namely MetaTrader 4 and MetaTrader 5, are renowned for their exceptional performance and reliability. They are widely regarded as some of the best and most efficient trading platforms today.
Account Types at Primiselite
This company includes a range of account types to choose from, including Standard, Gold, Business, and VIP accounts. Yet, the company fails to disclose its minimum deposit requirements, which is an important factor to consider. Generally, industry standards for deposits do not exceed $200. If a broker requests a higher amount, it's advisable to proceed with caution.
In addition, Primis Elite remains silent about the spreads it offers. We went the extra mile to uncover some concrete numbers and found that the spread on EUR/USD is approximately 2 pips. This humble spread may not be enticing for those prioritizing low spreads in their trading. If low spreads are important to you, it's wise to explore other broker options.
Moreover, this firm provides traders with gracious leverage, offering up to 1:400 on VIP accounts and up to 1:200 on Standard accounts. It's important to be wary of FX brokers promoting high-leverage trading as part of their deceptive practices. 
Often, this is merely a tactic to attract sign-ups. Effective use of high leverage requires knowledge and experience, which many inexperienced investors lack. So, if you opt for high-leverage trading, it's crucial to choose a reliable forex broker that offers negative balance protection. This ensures that your account is safeguarded against excessive losses if the market moves against your position.
Deposit and Withdrawal
Primis Elite states that they accept payments through various methods, including credit/debit cards (Visa and MasterCard), BTC, and bank transfers. It's important to note that card payments offer an advantage over crypto and bank transfer payments. With credit/debit cards, clients have the option to file for chargeback within 540 days of the transaction if needed. On the contrary, crypto transactions are much harder to trace.
Furthermore, reputable brokers typically provide a wide range of payment options to cater to clients' preferences and financial management needs. These options often include credit cards, wire transfers, and bank transfers, as well as popular e-wallet payment systems such as Skrill, PayPal, and Neteller. Having multiple payment methods at your disposal allows for greater flexibility and convenience.
How Did This Brokerage Perpetrate Fraud?
Broker scams employ many tactics to perpetrate fraud and deceive traders. They often create an illusion of legitimacy through professional-looking websites, superb promises of high returns, and persuasive sales tactics. These scams may engage in misleading practices such as withholding important information, manipulating trading platforms, or refusing to process withdrawals. 
They exploit the trust of their victims by posing as reputable brokers, making it difficult for investors to detect their fraudulent activities until it's too late. By using sophisticated techniques and preying on the vulnerability of individuals seeking investment opportunities, broker scams continue to be a significant threat in the financial industry.
Tip: Exercise caution when dealing with companies such as Primiselite and RightFX to prioritize your safety.
Connect With Us to Discover the Perfect Broker for Your Needs
Looking for the perfect broker that perfectly suits your trading needs? Look no further! Get in touch with us, and our team of experts will guide you in finding the best broker tailored to your needs. We understand that every trader has unique preferences and objectives, and we are committed to assisting you in making an informed decision. 
Whether you prioritize low fees, advanced trading platforms, comprehensive educational resources, or impeccable customer support, we have the expertise to match you with the perfect broker. Contact us today and take the first step towards an exceptional trading experience.
Primiselite Summary
Primiselite, a mysterious presence in crypto trading, raises concerns about its true identity and regulatory compliance. Despite an appealing website, the lack of transparency surrounding its physical address and regulatory oversight is a red flag. 
Our comprehensive Primiselite review delves into the uncertainties and warning signs associated with Primiselite. As you evaluate this broker's legitimacy, exercise caution and consider alternative investment avenues. For a seamless trading experience, explore reputable brokers that prioritize transparency. Also, choose firms that offer low spreads, and provide comprehensive support to ensure your assets are in safe hands.
Safety should be your top priority when dealing with companies such as Primiselite and Nexospro, so exercise caution.
FAQs
Is My Money Safe With Primiselite?
No. Your money is not safe with this broker scam.
What Is The Minimum Deposit for Primiselite?
The minimum deposit amount is not disclosed.
Does Primiselite Offer Demo Account?
No. This company does not offer a demo account.