October 27, 2023
Reading Time:
4
min
Shrimpy.io Review: A Popular Platform in the Crypto Sphere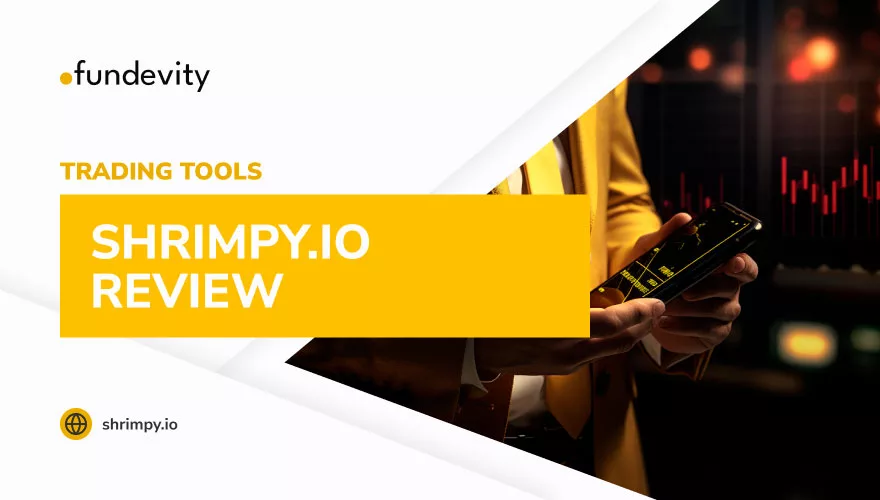 Crypto enthusiasts often find themselves at the crossroads of being either a steadfast holder or an active trader. The age-old debate centers around what's more secure and profitable. In this Shrimpy review, we dive deep into a third, smarter option. This one might just change the way you look at crypto trading. Is Shrimpy.io a scam or not? Read on! 
General information

Name

Shrimpy, Bethos Lab Inc

Type of company

Trading Tool

Regulation status

Unregulated/Not expected

Warnings from Financial Regulators

No official warnings

Website link

shrimpy.io

Active since

2018

Registered in

United States

Contact info

[email protected]

, 628-400-1753 

Trading platforms

Web Terminal

Majority of clients are from

United States, United Kingdom, Poland, India, Canada

Customer support

Email and phone

Compensation fund

No
Introducing Trading Bots
Trading bots are simply programs designed to assist traders. They operate automatically, ensuring your trades happen around the clock. Or, they can work alongside your manual strategies. 
These bots offer efficiency and the ability to multitask. Yet, it's important to note that fully automatic bots aren't a magical solution. Remember that they require smart decisions and constant monitoring. So, always test them out before trading! 
What Is Shrimpy?
Shrimpy, originally registered as Bethos Lab Inc., appeared as a revolutionary platform in the crypto sphere in 2018. The goal was to simplify investing in crypto while minimizing risks for investors.
Besides automating trading, Shrimpy offers helpful assistance in creating and using automated strategies. We can see that its superb interface makes portfolio management effortless. This tool has gained huge popularity over the last 5 years, becoming a go-to choice for crypto fans.
The Faces of Shrimpy.io
Their team includes 14 dedicated professionals. The team drives the platform's development, promotion, and business aspects. 
Led by visionaries like Michael McCarty and Matthew Wesly, the team ensures continuous improvements. We must say this is quite beneficial! 
How Does Shrimpy Work?
This platform stands out as a leading player in the portfolio rebalancing arena. It has an intuitive user interface, amazing support, and innovative features. Let's start with exchanges! 
Best Exchange for Shrimpy.io
The platform supports major exchanges such as:
Binance, 
Kraken, 
BitStamp,
Kucoin,
Coinbase Pro

, and many others
This truly makes it a versatile choice for traders. Shrimpy's key features include asset allocation, periodic portfolio rebalancing, backtesting, and much more. 
Shrimpy's Features
As we mentioned before, here you get asset allocation, rebalancing, and backtesting based on your trading strategy. The platform's community-driven approach allows us to replicate portfolios and follow the strategies of others. 
This promotes a collaborative environment for learning and growth. Moreover, Shrimpy's social tab enables users to connect with successful traders. Here, you can see valuable insights into their trading performance. They truly offer many superb features! 
Tip: Algoriz is another powerful, UI-friendly platform you can check out. It helps traders and investors make savvy decisions in the stock market.
Index Funds
One of the features is that this tool includes its very own built-in indexing tool. By creating their own index, each user can guarantee that their portfolio stays diversified. Shrimpy's indexing tool has a ton of parameters. 
What's more, these make it the most powerful indexing tool available in crypto portfolio tools. Users can create indexes and weigh them, too.
Smart Portfolio Rebalancing
Shrimpy's popular feature, portfolio rebalancing, is a game-changer for smart investors. The goal is to minimize risks and maximize profits. Portfolio rebalancing is definitely not a new concept. We know that traditional investors have used it for years. Shrimpy, however, brings this wisdom to the dynamic world of crypto.
How does it do this? By automatically buying and selling assets to maintain your desired allocation. This firm offers 2 strategies to achieve this balance:
Threshold Rebalancing

: This method swiftly corrects any deviations in asset allocation. Yet, it may lead to slightly higher trading fees due to its frequent adjustments.

Periodic Rebalancing

: A more straightforward approach. Your portfolio is reviewed at regular intervals, and adjustments are made to match your asset percentages. While it reduces trading fees, there's a slight increase in market risk, mostly at longer intervals.
But here's the best part: Shrimpy's backtesting tool. It lets you peek at the past 5 years of data. You can analyze the performance of your custom strategies, indexes, or portfolios. We must agree that this is an incredible feature.
History and Shortcomings
Shrimpy's history tab provides a transparent overview of its actions. They show portfolio rebalances and traded assets here. 
Their commitment to inclusivity means avoiding features that might confuse novice traders. They aim to guarantee a seamless experience for all.
Is Shrimpy Worth It and Safe to Use?
Shrimpy operates safely, with access limited to reading data and executing trades via the exchange API. Your funds remain safe, as Shrimpy cannot withdraw or steal your coins. 
Utilizing Two-Factor Authentication (2FA) adds an extra layer of security. Keep in mind that this guarantees peace of mind for many users.
Pricing Plans 
Here are the pricing packages this platform offers:
Zero Plan: Free of Charge
Unlimited spot trades

1 exchange

Backtests per day – 3
Standard Plan: $19 per Month
Unlimited spot trades

5 exchanges

Backtests per day – 25
Plus Plan: $49 per Month
Unlimited spot trades

25 exchanges

Backtests per day – 100
Different pricing plans are available to suit different traders' needs and preferences. We must say this is beneficial for traders! 
Trader Reviews on Trustpilot
According to Trustpilot, Shrimpy has earned an average rating of 3.0 stars from 109 traders. 
While this is decent, it's crucial to explore platforms with higher scores, ideally 4.5 stars and above. Do this to get a safer and more satisfying trading experience. Safe and popular firms, like LuxAlgo, have excellent reviews and should be the preferred choice for all traders.
Ready to Make Money with Online Trading?
Unquestionably! Making money through online trading is easy! Our AI Analysis Bot is there to help you out, offering invaluable trading predictions. 
With expert tips and a 20-day trial period, you can explore many things. You can get detailed FX analysis reports and stock analysis reports effortlessly. Boost your profits and get on a successful trading journey today!
Final Words
As you can see, Shrimpy.io stands as a reliable option for traders seeking community-driven support. However, they have average Trustpilot ratings, and they may not be as good as they seem. 
Yet, for a comprehensive and advanced trading experience, our AI Analysis Bot offers unparalleled insights. As you start with online trading, choose wisely, prioritize security, and always learn. 
FAQs
Is Shrimpy.io Legit?
Yes, Shrimpy.io is a trusted platform for crypto trading and portfolio management.
Is Shrimpy.io Free?
Shrimpy.io offers a free plan, providing essential features for users.
What is Shrimpy for Crypto?
Shrimpy is a platform for managing and trading cryptocurrencies.