June 01, 2023
Reading Time:
5
min
A Comprehensive SuperForex Review: Disclosing the Truth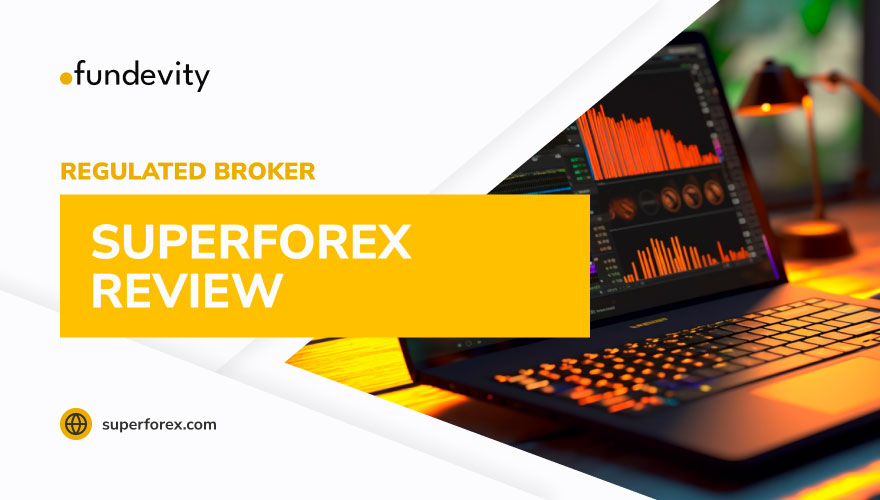 Amidst a sea of offshore brokers tarnishing the industry's reputation, we shine as a beacon of trust. We understand the concerns surrounding offshore brokers, but we refuse to be defined by their shortcomings. 
Professionalism, transparency, and client satisfaction are our unwavering commitments. Despite regulation alone, our internal controls and feedback system ensure we consistently exceed expectations. Explore our SuperForex review for transparent insights into the operations of this company. Join us on a transformative trading journey, where trust is restored, and success is guaranteed.
| | |
| --- | --- |
| Company | SuperFin Corp |
| Headquarters | Belize |
| Website | superforex.com |
| Warning | n/a |
| Platforms | MT4 |
| Minimum Deposit | $1 |
| Leverage | 1:2000 |
| Spread | 0 pips  |
SuperForex's Commitment to Regulation and Fund Security
SuperForex, owned by SuperFin Corp in Belize, falls under the jurisdiction of the IFSC, the Belize regulator renowned for its recent advancements in regulatory demands. Notably, in early 2016, the IFSC raised the minimum initial capital requirement for financial brokers from $100,000 to $500,000, reflecting a substantial leap in financial stability. Also, the annual license fee increased fivefold, from $5,000 to $25,000.
However, it is crucial to note that unlike the European regulator ESMA, the IFSC does not mandate the segregation of funds or the provision of a compensation scheme. Consequently, while SuperForex may hold a regulatory title on paper, safety concerns remain.
Compared to onshore jurisdictions such as the UK or the US, the IFSC requirements do not reach the same level of stringency. For those considering significant investments, it is advisable to seek a broker holding a Tier 1 license. This will ensure enhanced protection and adherence to strict regulatory standards.
SuperForex, an offshore broker situated in Belize, operates under the IFSC's regulation, offering trading opportunities in FX, CFDs, and crypto. Unfortunately, reports have surfaced regarding the broker's alleged fraudulent activities, targeting traders from South Africa, Tanzania, Indonesia, Nigeria, and Malaysia.
The Importance of Trading on a Licensed Platform
Opting for a licensed broker has significant advantages. Beware that stringent requirements and severe misconduct consequences are in place. For instance, in the UK, where the FCA governs the financial landscape, brokers must maintain a minimum capital of £730,000. 
Moreover, they are obligated to offer negative balance protection and segregate funds in a Tier 1 UK bank. Also, they are obligated to provide a compensation scheme of up to £85,000, and adhere to leverage restrictions (1:30). These conditions contribute to safer investing environments.
Note: Make sure you are cautious when dealing with companies like Astrocapitaltrade to safeguard your financial security and well-being. 
Supported Trading Platform
Introducing SuperForex's flagship trading platform, MetaTrader 4 (MT4), a name that resonates throughout the trading industry. With its iconic status, MT4 has become synonymous with cutting-edge tech, setting the standard for trading excellence.
Renowned for its extensive array of advanced features, MT4 revolutionized the trading landscape. It did that by introducing game-changing tools like automated trading, instant execution, live market reports, and a selection of over 30 built-in indicators. It stands as a formidable force, matched only by its successor, MT5.
SuperForex has made mobile trading easy for modern traders. The MT4 platform can be effortlessly downloaded on both Android and iOS devices. It allows traders to stay connected and trade on the go.
While mobile trading may present some limitations compared to its PC version, it offers distinct advantages. These include scalability adjustments and the ability to trade anytime, anywhere. Considering the concerns raised regarding SuperForex's services, exercising caution when using the platform is critical.
SuperForex's Bonus Offerings: Navigating the Controversy with Caution
SuperForex appears to prioritize its bonus program, an area that warrants a skeptical eye given the bans by leading European regulators. It is no secret that offshore brokers often entice traders with bonus offers accompanied by questionable policies.
Traders' reports reveal a concerning trend where bonuses have become the root cause of withdrawal issues. Alarmingly, SuperForex cancels bonuses just as traders approach the required trading volume, leaving them disillusioned and frustrated.
While bonuses can be enticing, traders must approach them with caution, thoroughly understanding the terms and conditions associated with such offers. 
Account Types Offered
Discover the array of SuperForex account types designed to cater to the unique needs of traders:
Standard – Starting at just $5, this account offers a solid foundation for those seeking conventional trading experience.

Swap-free – With a minimum deposit of $5, this account adheres to Sharia principles, allowing traders to trade interest-free.

No spread – Offering more exclusive trading, this account requires a minimum deposit of $50 and provides zero spreads.

Micro-cent – Perfect for beginners or those with limited capital, this account allows traders to start with as little as $1, enabling them to explore the markets without significant financial commitments.

Profi STP – Geared towards experienced traders, this account requires a minimum deposit of $500. It grants access to enhanced trading features.

Crypto – For cryptocurrency enthusiasts, this account requires a minimum deposit of $50 and allows traders to capitalize on digital assets' volatility and potential.
Within these account types, SuperForex offers two variations: STP and ECN. Although sharing similarities, they differ slightly in terms of minimum deposits, available currencies, leverage, and spreads. It is critical to note that ECN account types are not compatible with FX copy trading. This presents traders with distinct considerations when selecting the most suitable option.
Deposit and Withdrawal Options
SuperForex stands out for its extensive range of payment methods, ensuring hassle-free transactions for traders. The payment methods are as follows:
Credit/debit cards

Wire transfers

Crypto (BTC, LTC, ETH, and more)

E-wallets (Skrill, Neteller, FasaPay, etc.)

Local payment solutions

SuperForex money
According to the website, the minimum deposit requirement is as low as $1, empowering traders with flexibility and accessibility. Impressively, SuperForex claims to offer fee-free deposits and withdrawals, streamlining the financial aspects of trading. Traders can choose from three major currencies for their account base: USD, EUR, and GBP.
Unveiling Deceptive Tactics: Understanding Fraud Schemes
Deception runs rampant within offshore brokers, as they employ cunning methods to manipulate everyone. One of their preferred strategies involves tantalizing people with sky-high profits that defy reality. They claim to have a secret formula that generates astronomical returns without fail.
To further perpetuate their deceit, these fraudulent brokers resort to concocting positive reviews, weaving a web of falsehoods. This is to dupe investors into believing they possess an impeccable reputation. Besides, they leverage psychological tricks, preying on human vulnerability to induce hasty decision-making. Employing fabricated deadlines, false claims of limited offers, and instilling a sense of urgency, they manipulate emotions to their advantage.
The unscrupulous brokers may even entice investors with the illusion of "risk-free" trades, exploiting their desire for easy gains and hoping they will forgo due diligence. In the face of such treachery, it is paramount to remain ever-vigilant and well-informed about these insidious tactics. Refuse to let these corrupt brokers plunder your hard-earned money.
Guiding You to Excellence: Connect With Us to Discover the Best Broker
When it comes to finding the right broker, look no further. Our team of experts is here to assist you in navigating the vast landscape of brokerage options, ensuring you make an informed decision. 
With our extensive knowledge and unbiased insights, we can guide you toward the broker that offers the ideal combination of reliability, security, and tailored features. Connect with us today and embark on a journey toward trading excellence.
OceanFX
Summary
SuperForex is an offshore broker that strives to stand out amidst the industry's tarnished reputation. While it operates under the IFSC regulation in Belize, it lacks some safety measures and compensation schemes provided by stricter regulators. SuperForex offers the popular MetaTrader 4 (MT4) platform for mobile trading convenience. 
Yet, caution is advised, given concerns about the broker's services. The bonus program raises skepticism, as offshore brokers often accompany bonuses with questionable policies, leading to withdrawal issues. SuperForex provides different account types, flexible payment methods, and fee-free transactions. 
It's important to keep your trading journey secure by exercising caution and being mindful of fake companies like Liquidspro.
FAQs
What Methods Can I Use to Deposit Funds?
You can choose from options such as credit/debit cards, wire transfers, cryptocurrencies, e-wallets, and local payment solutions.
What is The Funding Method at SuperForex?
There are bank cards, wire transfers, crypto (BTC, LTC, ETH, and more), e-wallets (Skrill, Neteller, FasaPay, etc.), and local payment solutions.
What Trading Instruments are Available at SuperForex?
They offer opportunities to trade in Forex, CFDs, and crypto.