February 27, 2023
Reading Time:
4
min
TargoSwiss Review: Why It Definitely Should Be Avoided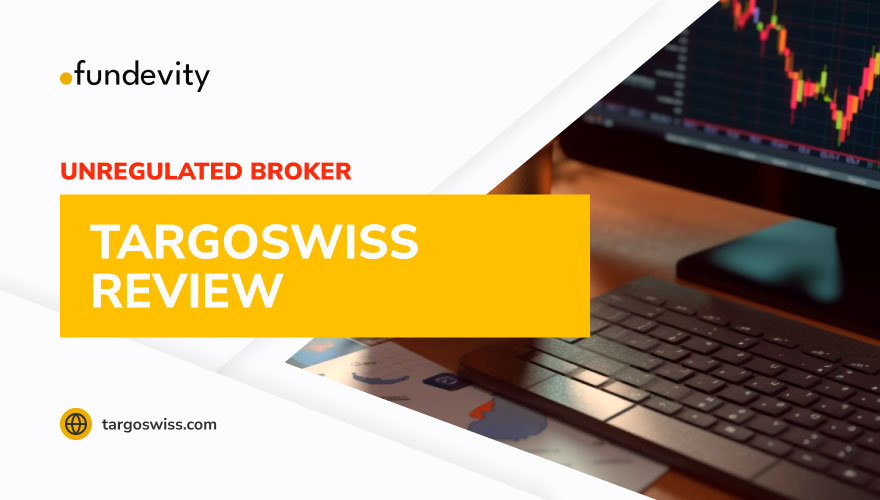 Initially, TargoSwiss' web page may seem reliable, by all means. TargoSwiss swears to be a regulated broker with 17 years of expertise.
However, many things point out that these are just lies. This TargoSwiss review will give you an accurate overview of why you should avoid it.
Let's dive into more details below! It shows many reasons why you should avoid the TargoSwiss broker scam.
This also applies to dealing with dishonest brokers like the ones I've named below TrustGates, Finex Trader, and TradeHUB.
| | |
| --- | --- |
| Leverage | 1:1000 |
| Regulation | No |
| Headquarters | Saint Vincent and the Grenadines |
| Minimum Deposit | EUR10,000 |
| Review Rating | 1/5 |
| Broker Type | Forex |
| Platforms | MetaTrader 4 |
| Spread | 0.5 pips |
Is TargoSwiss Legit? Regulation and Fund Security
TargoSwiss swears to be an EU-based firm. Yet, it does not reveal its address or any contact information. You may think that it is a Swiss corporation, by all means, but it's not.
We have checked the Swiss Financial Market Supervisory Authority (FINMA) record to see if any of the claims are reliable. Right now, all Swiss brokers should have a FINMA license to function lawfully. 
What's more, we dug into the Cyprus Securities and Exchange Commission (CySEC) record. It's safe to say that most European brokers are licensed in Cyprus due to its promising tax laws. After all, neither organization had a TargoSwiss presence anywhere in its registry.
The EU forex trade is rigidly regulated. So, scammers usually claim to have headquarters there to provide a fraudulent sense of safety.
Tip: Always think twice before taking any risks while investing money! You will save yourself many troubles if you stay cautious. Also, make sure to search for negative reviews about the company before you decide to use it. 
Trading Platform Offered at TargoSwiss
TargoSwiss says to present reliable trading via MetaTrader4 and WebTrader. Yet, our demo account ended up getting the not-approved status. After that, we were banned from their manipulative trading software.
Many deceptive brokers utilize MT platforms as a hook for their targets. MetaTrader 4 & 5 are some of the most popular trading venues in the world. Their UI-friendly elements make it effortless for traders to set up their accounts and start forex trading. 
Ultimately, what is the best formula for thriving, risk-controlled trading? Well, it is to utilize regulated brokers and practical charting tools via MT4 and MT5.
Tip: Check out the other TargoSwiss reviews as well. You will see how many people got scammed by this website. Never ignore the complaints about the broker.
Available Trading Instruments at TargoSwiss
What about TargoSwiss and its trading instruments? You will be able to trade the following: 
FOREX
Crypto
CFD trading
Stocks
Commodities
Each market has various strategic tools, tutorials, and custom reports. 
How Do They Initiate The Scam?
We are aware of the blast of cryptocurrencies and NFTs. Many want to start investing in the financial markets to make some money. So do the scammers! Scammers on the web are aware of that and take advantage of ignorance. 
They do this by making numerous web pages posing as brokers. These sites deliver no real brokerage benefits. It's safe to say that they only trick people into thinking they invested money.
What happens after you see a scam like that and give out your contact information? Experienced scammers will keep calling you. They will try to convince you that they can take on all those tricky parts of investing for you. However, you will never get any actual profits.
More often than not, you won't be able to withdraw any cash. Still, know that scams can happen to anyone! Never feel embarrassed about reporting a scam!
The terms and conditions of these sites are a puzzle. For instance, you may see high minimum trading volume needs. Fraudsters mask their addresses and names.
Moreover, they operate through offshore firms. Still, what if all the withdrawal conditions are met? They will disappear and move on to their next deceitful tactics.
Deposit and Withdrawal Methods
There is the lowest deposit requirement of $100. After that, you can see the amount differs leaning on the subscription. For instance, you will see a minimum deposit of $10.000. This pointer screams scam!
Depositing funds into TargoSwiss is only viable via shady payment platforms. Those are the GameChangers and PayPound. Scammers often use these platforms, so be aware of that! Ultimately, if you try to initiate a withdrawal, withdrawal issues will arise. 
TargoSwiss Summary
So, we can confirm that TargoSwiss broker is one of the many scam brokers out there. It makes it hard to identify the owner of the site. Websites hiding their identity always get a negligibly lower score.
Moreover, the number of visitors to this site is quite low. The domain has recently been registered, which is a bad sign. Scammy websites only last for a few months before going offline.
Overall, this is just another investment scam that you should avoid. Do you have any negative experience with this or any other fraudulent broker? If so, we would be grateful if you could share it with us. We are able to assist you by reporting your scammer! 
FAQs About TargoSwiss Broker
Is TargoSwiss Regulated?

TargoSwiss is not regulated. Everything that you may read online points out that it is a scam. What's more, there's evidence to prove it. 
What Are the Funding Methods for TargoSwiss?

The TargoSwiss broker offers you two deposit options. The first option is a wire transfer, and the second is a credit card.
How Long Does it Take to Withdraw from TargoSwiss?

Apparently, the website claims the withdrawal happens within 24 hours. Yet, many users stated this is false.