February 27, 2023
Reading Time:
4
min
TitanCFD Review: Who is Behind TitanCFD.Com?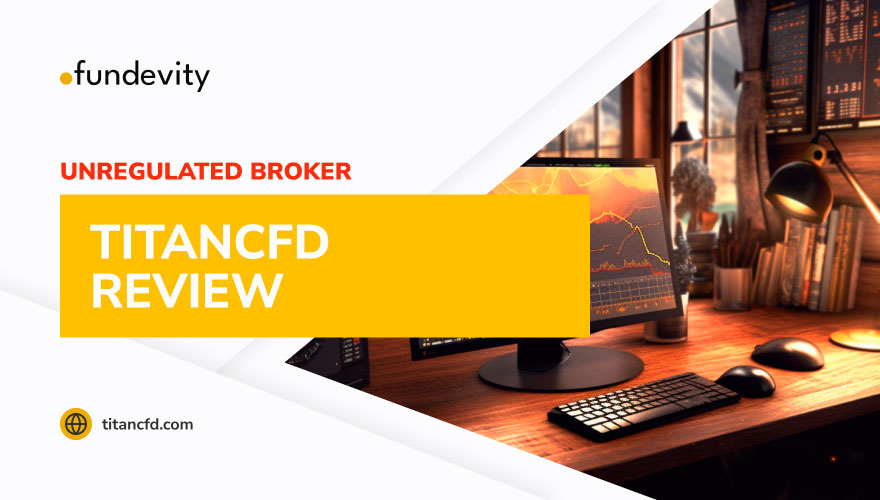 TitanCFD, an online trading brand from Estonia, is a scammer running an unscrupulous business on several similar websites. 
The websites are friendly and comprehensive, but you can immediately notice something is not right. Joining the site option is not functional, so access to the client area is restricted. Due to these circumstances, we couldn't test the trading platform and conditions. 
Claims about an HBMC are a fabrication, as no financial authority under that name exists.
As for titancfd.com, the domain is not active anymore. We sincerely hope you haven't already invested here, or your funds may be irreversibly lost.
Despite the scam allegations, titan-cfd.com is still working. Both websites are on the CONSOB blacklist due to operating without authorization for brokerage activities:  
Our TitanCFD review presents you with a detailed report on this scammer's activities.
Additionally, we caution you against using shady brokers, such as Broker Capitals, Cryptoneyx, and TradersHive.
TitanCFD Regulation and Security
TitanCFD casually lies about regulation and doesn't flinch. Estonian regulator – Financial Supervision and Resolution Authority (FSA) doesn't list this site as one of the legitimate brokers. 
On the other hand, HBMC is a non-existent regulator that TitanCFD mentions as their supervisor. Another fabricated lie is yet another proof of this con not being trustworthy. 
EU regulators enforce regulatory conditions that all licensed brokers operating in EEA have to respect. Segregated bank accounts, leverage limits, negative balance protection, and banning bonuses are some major criteria to respect. 
Above all, online trading services providers comply with MiFID rules of anti-money laundering and transaction reporting. Thanks to strict security standards, customers can expect full protection of data and capital.
Before coming to a definite conclusion, we scanned the databases of FCA, BaFin, AMF, NFA, ASIC, CySEC, CNMV, and CONSOB. Besides the CONSOB warning, we haven't found anything else on TitanCFD. 
TitanCFD, as an unregulated entity, cannot provide any of the settings that increase the safety of funds and customer protection.
Trading Software Used by TitanCFD
TitanCFD is advertising a prestigious web-based trading platform with custom parameters for the best trading experience. One domain is down and the other doesn't allow registration, so access to the trading platform is obstructed. 
Most of the scammy websites offer inferior trading software not worth the mention. Scammers carefully construct and control the distribution to show the information they want their victims to see. 
Instead of taking any risks, invest with brokers offering premium trading solutions like MT4, MT5, cTrader, and others. Exceptional execution speed, numerous indicators, timeframes, languages, and progressive features will provide an edge in every market. 
Account Types Available at TitanCFD
Retail clients will get lost trying to find an account type that suits their trading needs. Basically, what TitanCFD offers is accounts with fancy names yet unclear purposes. Nowhere is it visible what each account exactly offers, nor what the conditions and prices are. 
From what we could see on titan-cfd.com, accounts are numerous and the services are invisible. The prices are ridiculous and start from $200 for a Micro account to $100 000 for more expensive ones. 
TitanCFD claims to offer an attractive deal as far as accounts go. You are supposedly free to test the account types and platforms. Your funds lost during the first trades will be ''credited back to your trading account, but the generated profits shall also be reversed'' is what the site declares. 
When a scammer suggests this kind of deal, it can't be profitable for you. If the profits are ''reversed'' as they say, the capital you accumulate during your trades goes to the fraud. 
Deposit and Withdrawal Method
Investing with bogus brokers is a dangerous game to play. TitanCFD may want you to believe the funding methods are safe and instant. That's why they offer payment through credit/debit cards, bank wire transfers, and various E-wallets. However, it's easy to just spill lies that are unconfirmable. 
To make traders feel more comfortable TitanCFD describes withdrawals as simple and swift. The short paragraph on the site that refers to this process doesn't contain any practical substantial information. Customers supposedly have a team of experts at their disposal for any issues concerning refunds and issuing withdrawal requests. 
Offshore Brokers' Tactic to Steal Your Money
The rapid expansion of the Forex market has initiated the evolution of scamming methods. Perfected by the day, these strategies are designed to lead customers into investment traps that cost an extraordinary amount of money, energy, and time. 
Ever-friendly and polite agents stalking social networks easily locate the victims and get in touch. Extensive explaining and convincing take place until the target starts investing. After that, the game of cat and mouse can go on as long as the victim has investing potential left. 
The withdrawals are just like TitanCFD makes them. Everything sounds safe, instant, and fee-free. In reality, every withdrawal goes together with expensive processing, unreasonable fees, and unreachable trading turnover requirements.  
TitanCFD Summary
Giving TitanCFD access to your capital is immensely dangerous and will only lead to you losing. Our TitanCFD review hopefully raises awareness about this fraud. Brokers are obligated to keep your funds safe, while scammers like TitanCFD just look for new ways of robbing you. 
Cyber thieves are extremely skilled at covering their tracks and remaining under the radar. Their evasive abilities are what keep them safe from punishments for cyber crimes. 
As soon as you encounter a suspicious broker, just report them. Local authorities and jurisdictional regulators know how to deal with them. Refer to the same institutions if you are a victim of TitanCFD's illegal actions. In the end, we're here to hear you out and help in any way we can, so contact us today! 
FAQs About TitanCFD Broker
Is TitanCFD Regulated?

This is an unscrupulous company with fake regulations and is on CONSOB's blacklist. They are not regulated.
What Are The Funding Methods for TitanCFD?

Funding your trading account at TitanCFD supposedly goes through credit/debit cards, banks, and E-wallets. Methods are unconfirmable at the moment. 
What is the Minimum Deposit for TitanCFD?

A Micro account at TitanCFD costs $200 to open. More expensive accounts require deposits of thousands of dollars!